Just because the air starts to turn cooler and the leaves start to fall doesn't mean it's time to take refuge indoors just yet. Instead, grab your jacket, lace up your hiking boots, and explore the local trails. Below are six ideas to get you started.
Provin Trails Park
Featuring interconnected loops through pine needle-littered forest and a sand dune, all stunningly close to the city, Provin Trails Park offers a quick escape for those looking to breathe in some sanity and the scent of pines. Located off Four Mile Road and close to the East Beltline, it's a quick dip to get away from the city.
Trail Length: approximately two miles
Trail Conditions: Natural surfaces. Sandy and wide on the main paths, some side paths are narrower and rooted. Some elevation up sand barrens.
Seidman Park
Tucked away in Ada Township is Seidman Park, a wetland preserve with natural trails, bubbling creeks, and more than six miles of trails for an afternoon of exploration.
The 4,350-acre park is broken into color-coded trail segments and explores a stunning combination of forest and wetland. The 4.25-mile perimeter loop is a worthy starting place, but the several interconnected trails offer a day's worth of customizable exploration. Bring a picnic lunch and a blanket if you're so inclined, it's a good place to sit awhile and breathe in some tranquility.
Trail Length: over six miles
Trail condition: Wide and well maintained, but rocks and roots are plentiful.
Cascade Peace Park
A hidden gem controlled by Cascade Township, Cascade Peace Park can only be located by typing the physical address on Google Maps, not by typing in the park. The parks' address is: 8900 Grand River Avenue, Grand Rapids. The park takes it namesake from Wendell Berry's "The Peace of the Wild Things"  inscribed on a stone marker a quarter mile into the trail.
Then trail weaves in several color-coded loops through a combination of forest and grassland for a 2.7 miles interconnected system. Its meadows intersperse an old-growth forest of mature hardwoods, making the 198 acres an ideal habitat for warblers, hawks, and owls if birdwatching is your thing.
Trail Length: 2.7 miles
Trail Conditions: Dirt, roots, and grass.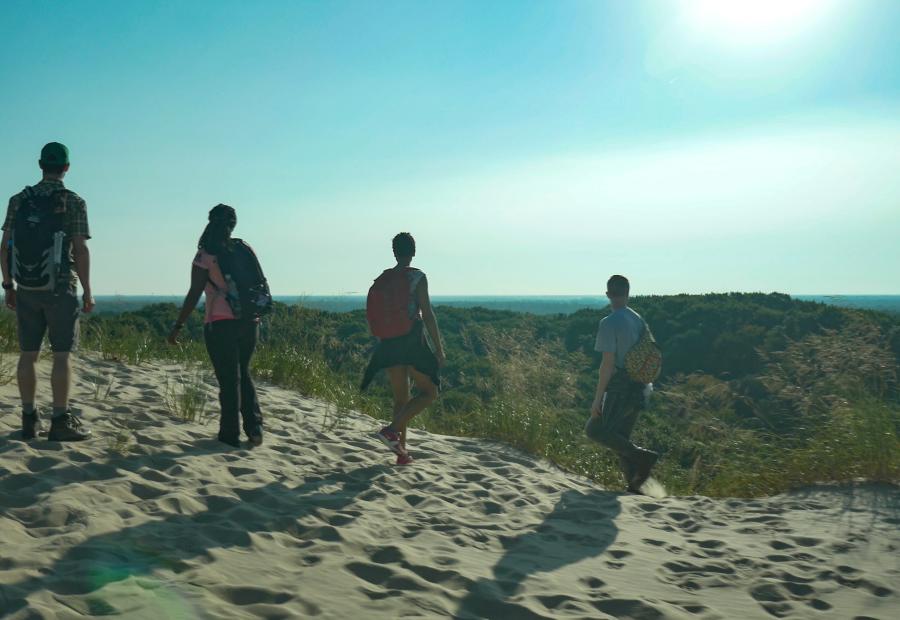 Hiking a trail in the PJ Hoffmaster State Park, which leads to a beach on Lake Michigan.
Photo by Experience Grand Rapids
PJ Hoffmaster State Park
The lake is often associated with hot summer days spent lounging waterside, but don't discount it in the fall. Lake Michigan's shores are far emptier and the water, though a bit chillier, is still worth ducking under for bragging rights.
PJ Hoffmaster State Park is the perfect place for such a fall outing. Combining the aforementioned pristine beaches with miles of forested trails, Hoffmaster strikes the perfect balance for a Michigan getaway. The dune climb takes you up 193 steps to a breathtaking lake vista and the more than 10 miles of trails take you from lakeshore to dune to wooded enclaves.
Make sure to check out Little Black Creek area in the north end of the park. Home to bald eagles in the winter, it boasts a plentiful bird and butterfly population in the warming months.
Note: Because this is a state park, you'll either need a recreation pass on your license plate or pay an entry fee, but it is well worth the fee.
Trail Length: over 10 miles
Trail Conditions: Sandy, generally well maintained, but still offering some challenge.
North Country Trail – Lowell to Fallasburg
In development since the late 1960s and officially approved in 1980, the North Country Trail spans Vermont to North Dakota. While most celebrated and better-known hikes such as the Appalachian, Pacific Crest, and Continental Divide trails makes hikers choose either a southbound or northbound route, the North Country Trail makes its way in a horizontal nature across the Midwest, showcasing Michigan's shoreline, a large loop in Michigan's Upper Peninsula, and hugging the Bayfield Peninsula in Wisconsin. It seems to be a little-publicized fact that such a storied trail passes through Kent County.
This stunning 10 miles starts in Lowell and travels through the Lowell State Game area, a 10-mile contiguous stretch. State Game areas permit camping from September through May making this the perfect place for a short, introductory jaunt into backpacking on your way to Fallasburg Park. Just remember to follow proper regulations. 
Trail Length: 10 miles
Trail Conditions: Naturally surfaced. Well maintained, but it is the North Country Trail so expect more of a true trail feel.
Maas Family Nature Preserve
Just North of Rockford and right along the White Pine Trail is a small jaunt that takes you along the forested Rogue River and offers an interactive experience with conservation strategies. Home to the rare oak-pine barrens ecosystem, the Maas Family Nature Preserve has been deliberately managed through a combination of forest thinning, invasive species removal, and prescribed burning.
In addition to being a rare ecosystem, the preserve supports endangered Karner blue butterflies. Visitors are asked to stay on the trails at all times in order to protect their habitats. Make sure to read through the preserve guidelines before you visit, and be smart and respectful in general.
Trail Area: 0.5 Acres
Trail Conditions: Wide, naturally surfaced.
This is just a small sampling of what the Grand Rapids area has to offer. Check out the video below for inspiration, and for more trail, hikes, and parks head over to Experience Grand Rapids trail page.