Your travel experience begins here
Whether you're flying to Grand Rapids for a conference, taking the family to the Rockies for some summertime hiking, or flying in for a Beer City beercation with friends, the Gerald R. Ford International Airport is where your experience begins. And everyone at the Ford International Airport works hard to make it the best experience possible.
This small hub serves roughly 3 million passengers each year, making it the second busiest airport in Michigan. Still, it's easy to navigate, friendly, clean, affordable and close to the heart of all that West Michigan has to offer. Not to mention it's served by six airlines offering more than 100 daily flights and over 30 nonstop routes to destinations nationwide.
Public-private partnership leads vision to elevate and expand service
Managed and operated by the Gerald R. Ford International Airport Authority—a seven-member body appointed by Kent County and comprised of leaders from the public and private sectors—Ford International Airport is never short on vision.
Experience Grand Rapids president and CEO, Doug Small, has served on the Authority Board since January 2020 and was appointed vice chair in January 2023.
"I was privileged to join the board at a very exciting time when several construction projects, new initiatives, and route additions were underway," said Small. "Our community is thriving. As head of our regional destination marketing agency, I see daily the critical role the Ford International Airport plays in the region's growth and success."
The Authority provides airport policy direction and oversight, and—in tandem with Ford International Airport Authority president and CEO, Tory Richardson, and his team—helps drive the mission to create an exceptional travel experience for passengers, and to drive growth and prosperity for all of West Michigan.
In pursuit of that mission, the Ford International Airport announced the Elevate expansion and improvement program in 2019.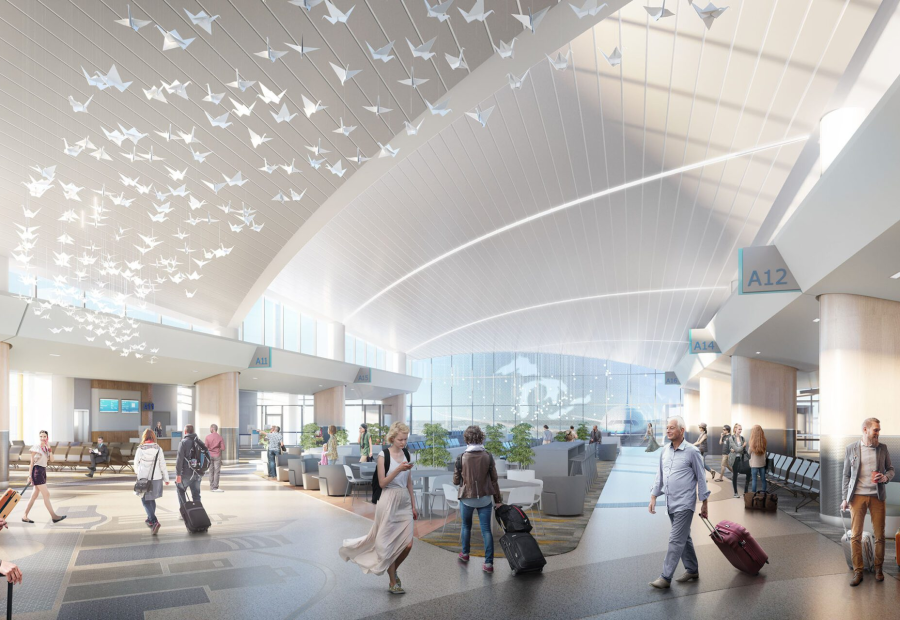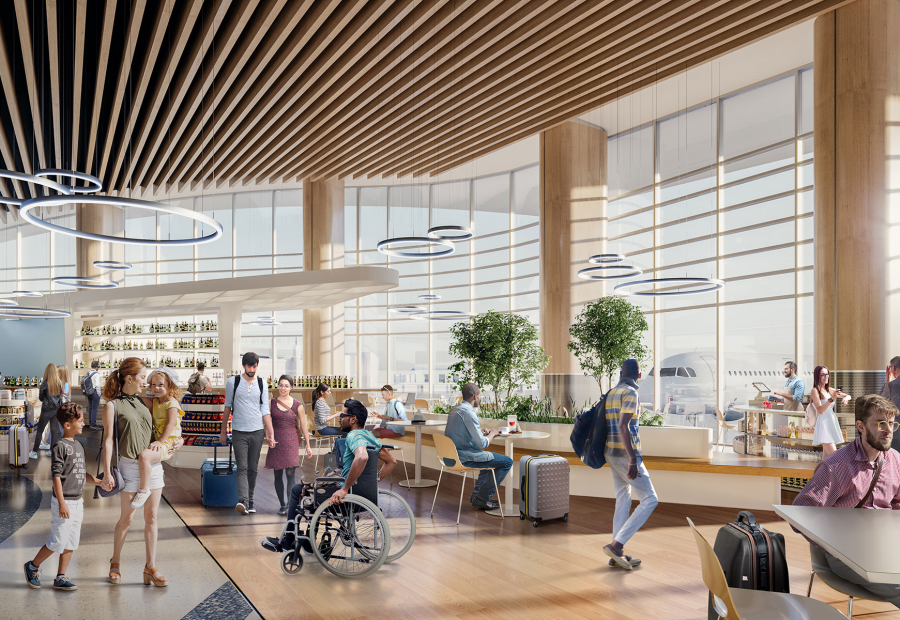 Airport Renderings
Photo by Gerald R. Ford International Airport
One of the biggest small-hub capital expansions in the U.S.
Bolstered in July 2022 by $8.6 million in Bipartisan Infrastructure Law funding, the Ford International Airport is undertaking one of the largest capital expansions in the U.S. for a small hub airport.
With a total estimated cost of $500 million, Elevate includes the expansion of the terminal apron, addition of eight gates and several amenities to Concourse A—doubling its capacity, the addition of a federal inspection station, expanded ticket counters, upgraded checked baggage inspection technology, enhanced rental car capabilities, additional parking and the relocation of the federally owned and operated air traffic control tower.
Well underway, Elevate is a multi-phase program that will take place over the next 10 years. This initiative is estimated to generate a long-term regional economic impact of $5.2 billion.
At the same time, it will lower the Ford International Airport's impact on the environment. Long committed to sustainable practices, the Ford International Airport is building new spaces that are efficient, long-lasting and environmentally responsible. Once the Concourse A expansion is complete, for instance, the building performance of the Ford International Airport targets a 70% energy reduction.
Let the journey begin
So, the next time your journey includes the Gerald R. Ford International Airport, take a breath, and enjoy the experience.
As Jorge Barrero, principal at HKS and lead architect on the Concourse A expansion said, "Your travel experience will start when you arrive at Ford International Airport, which wants to be part of your journey – not simply a building."