There are a lot of great ways to explore Grand Rapids history. You can browse the exhibits at the Grand Rapids Public Museum and Grand Rapids African American Museum & Archives, stroll the Heritage Hill historic home district and embark on a self-guided Heritage Tour, to name just a few examples.
One of the most unique and enlightening ways to gain insight into our past is to visit the city's historic cemeteries. These hidden gems of culture, landscape and architecture are an opportunity to travel back in time and gain insight into the beliefs, fears and values of the people who lived before us.
The six public cemeteries profiled below were established in the 1800s and have stood the test of time as neighborhoods have grown and shifted around them. They are free to visit, just be sure to observe the rules of cemetery etiquette set forth at the end of this article.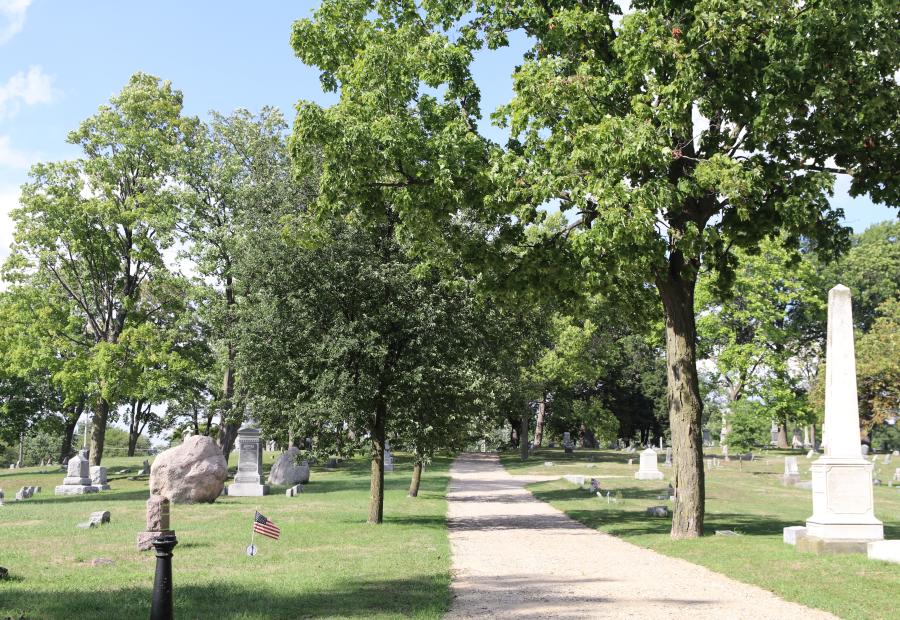 Opening in 1838, the Fulton Street Cemetery is Grand Rapids' first municipally dedicated graveyard.
Photo by Experience Grand Rapids
Fulton Street Cemetery
Located on the edge of the city's Uptown neighborhood, not far from Van's Pastry Shoppe and the Fulton Street Farmers Market, Fulton Street Cemetery is Grand Rapids' first municipally dedicated cemetery. Opened in 1838, it was originally only six acres. It quickly became overcrowded, leading Thomas Dwight Gilbert to donate an additional six acres in the 1860s. Gilbert was a prominent local businessman and public servant, and he funded the Civil War monument in downtown's Monument Park.
Fulton Street Cemetery is the burial site of some of the city's earliest settlers, many who came from New England, as well as children of those who fought in the American Revolution. Prominent citizens interred here include John and Mary Ball – whose local legacy includes the John Ball Zoo – and William "Deacon" Haldane, known as the father of the furniture industry that made Grand Rapids world-famous in the late 1800s.
This cemetery was developed by farmers and much of it is plotted in rows like crops. Most of the early grave markers face westward, a common end-of-life custom in which the deceased "faces" the rising sun. The white marble and granite headstones are modest, but you will find some tall headstones and monuments throughout the site.
Oakgrove Cemetery
Oakgrove Cemetery is the second-oldest burial site in Grand Rapids, and also the smallest in the city. Opened in 1839, it is nestled between the hubbub of 28th Street and Kalamazoo Avenue. First known as "Paris Township Cemetery," Oakgrove was a country graveyard for township residents, most of whom were farmers. The first person buried at this cemetery was a two-year-old baby, Harriet M. Guild, daughter of the Daniel Guild, one of the township's earliest landowners. Plotted geometrically in neat little rows, this graveyard is very modest and devoid of ornate and elaborate markers.
Fairplains Cemetery
Fairplains Cemetery, originally known as Mt. Pleasant Burial Grounds, was established in 1851. It was renamed "Fairplains" in 1872. Operated and managed by Forest Tucker and Erastus Knap, first officers of the Fairplains Burial Association, it was a source for income and allowed for the development of "much-needed municipal burial space without imposing the costs of the enterprise upon a municipality," according to the book The Art of Memory: Historic Cemeteries of Grand Rapids, Michigan by the late author and local historian Thomas Dilley. In 1940, the city of Grand Rapids took over the cemetery as they had the resources to manage the public lot.
This cemetery has a unique design driven by the increased popularity of gardening and landscaping in the mid-19th century. There are more decorative elements compared to earlier colonial-era cemeteries, signifying a transition to a more park-like design. Most markers are made from white and gray marble slabs, though granite headstones and larger monuments can be found as well since that was the norm in the late 19th century.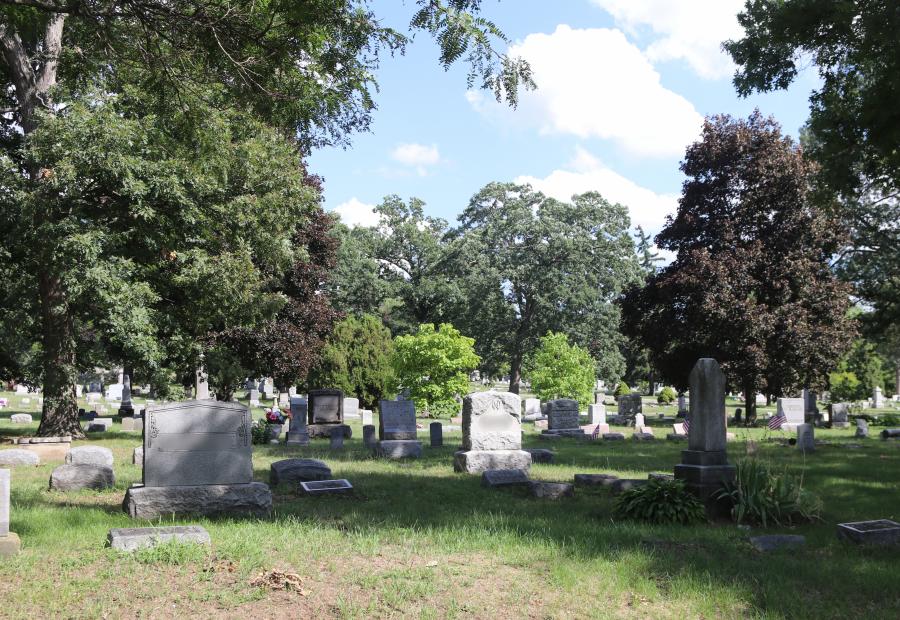 Oakhill Cemetery is filled with grand mausoleums and monuments.
Photo by Experience Grand Rapids
Oakhill Cemetery
Oakhill Cemetery was the first of its kind to debut as a park cemetery in 1853 when J.A. Baxter created it. The original portion of Oakhill sits north of Hall Street at the corner of Eastern Avenue. J.A. Baxter sold the cemetery in 1859 to J. Allen Giddings for $2,300. Giddings developed the cemetery with rolling plains and curving drives. He even created named streets and lanes to give the cemetery a park feel. In 2021, Oakhill became West Michigan's first accredited arboretum, achieving international standards for stewardship of tree conservation and diversity.
Oakhill started as a small Jewish cemetery and there are several headstones of local Jewish citizens, including Julius Houseman, whose name is still known today due to "Houseman Field," an 8,000-seat multipurpose stadium owned by Grand Rapids Public Schools. Houseman was the mayor of Grand Rapids in 1872 and also served as a state representative from 1883-1885. The small stones that sit atop markers here are a Jewish custom that symbolizes love as strong as a rock.
Oakhill mausoleums and monuments incorporate Romanesque, Greek, Gothic and Egyptian Revival architecture. The biggest and likely most eye-catching mausoleum was created for A.B. Watson, a Civil War major, Muskegon lumber baron and Grand Rapids investor. His Egyptian Revival burial chamber sits in the center of the cemetery and boasts two sphinxes, one on either end. Watson's granite mausoleum, which cost $200,000 back in the 1900s, is a recreation of Mastaba, a famous Egyptian temple.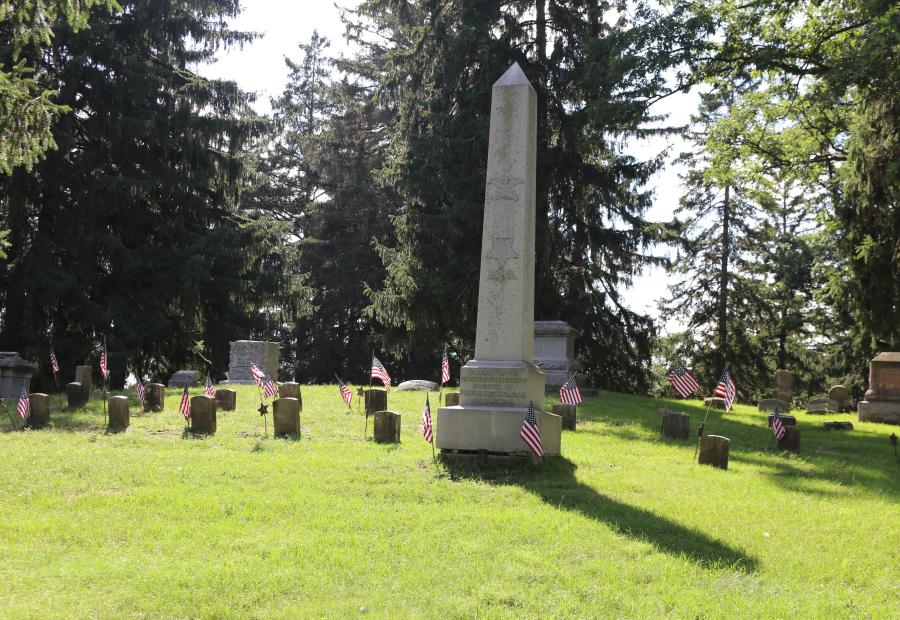 Greenwood Cemetery sits on 80-acres and displays three types of landscape designs common in cemeteries: park, lawn and hybrid.
Photo by Experience Grand Rapids
Greenwood Cemetery
Greenwood Cemetery was established between Leonard Street and Walker Avenue in 1859,  when farmers Daniel and Sophronia Bush sold 20 acres to the city. Another 20 acres were added in 1883 and an additional 40-acre plot came in 1889. The 80-acre burial ground displays three types of landscape designs. It was established as a park cemetery in its early years, then  evolved into a "lawn cemetery style" in the 1860s, with graves placed near gardens and trees. The north end of Greenwood is a hybrid of sorts; part lawn cemetery and part memorial park, with large monuments and curved drives paving the footpath around the grounds.
The headstones at Greenwood Cemetery aren't particularly lavish, since most families buried here were of modest means. The one exception is a large monument of William H. Harrison, a successful wagon and carriage manufacturer. His family, including his first and second wives, are buried at the foot of the monument.
Woodlawn Cemetery
Woodlawn Cemetery was established in the 1920s when the city purchased approximately 260 acres from the Pantlind family. This cemetery sits between Kalamazoo Avenue and Alger Street SE, and is divided east and west between Protestant and Catholic burials. The early markers in this cemetery are modest because the city adopted a set of rules in 1921 that limited the installation of large and ornate memorials. The new rules would keep all grave markers uniform in size, height  and shape to preserve the grounds' landscaped curves. Many of the markers are made of granite.
While this humble burial site reflects modest style, there are a few exceptions – such as the only two mausoleums on the site. One of them belongs to the William Alden Smith, U.S. senator and owner/publisher of the Grand Rapids Herald newspaper. Its burial chamber exemplifies the Greek Revival style.
Touring Cemeteries
The city of Grand Rapids provides detailed maps of all six cemeteries to aid you in exploring them on your own. Various local organizations and groups offer guided tours, often around Halloween. The Experience Grand Rapids Events Calendar is the best place to search for such offerings.
All year-round, Grand Rapids Running Tours offers guided group running or walking tours of Fulton Street Cemetery, Oakhill Cemetery and Greenwood Cemetery. The Fulton Street and Greenwood tours are also available as presentations.
Cemetery Etiquette
"Cemeteries are a wonderful place to visit to learn about culture and history, as well as pay respect to loved ones," says Gina Bivins, President of the Grand Rapids Historical Society. "I see many people from the neighborhood come out and walk, mingle with each other, and take in the beauty that surrounds these cultural sites - and I encourage that."
She stresses that visitors should reflect and observe in a respectful, quiet manner without touching headstones, graves or any markers.
Good cemetery etiquette also means not leaving litter behind and exiting the grounds at dusk. Dogs are not permitted, per The City of Grand Rapids Cemetery Rules.
Visit any or all of these cemeteries for a glimpse into Grand Rapids' rich and storied past.