After "How did you two get engaged?", the most popular questions new couples seem to be asked are "Have you set a date yet?" and "Where are you getting married?". As an experienced wedding guest, I'm happy to highlight some of the great Grand Rapids wedding venues I've danced in and some that come highly recommended. From old-world charm to classic white linen tablecloths and everything in between I hope this round-up gives you ideas when scouting wedding locations. Soon you'll have an answer to all of the above questions. 
One of the many things I love about Grand Rapids is its rich history and continued growth means there are a wide variety of unique wedding venues all offering something a little different. From downtown splendor to surprising locations, there is something for everyone. Let's go!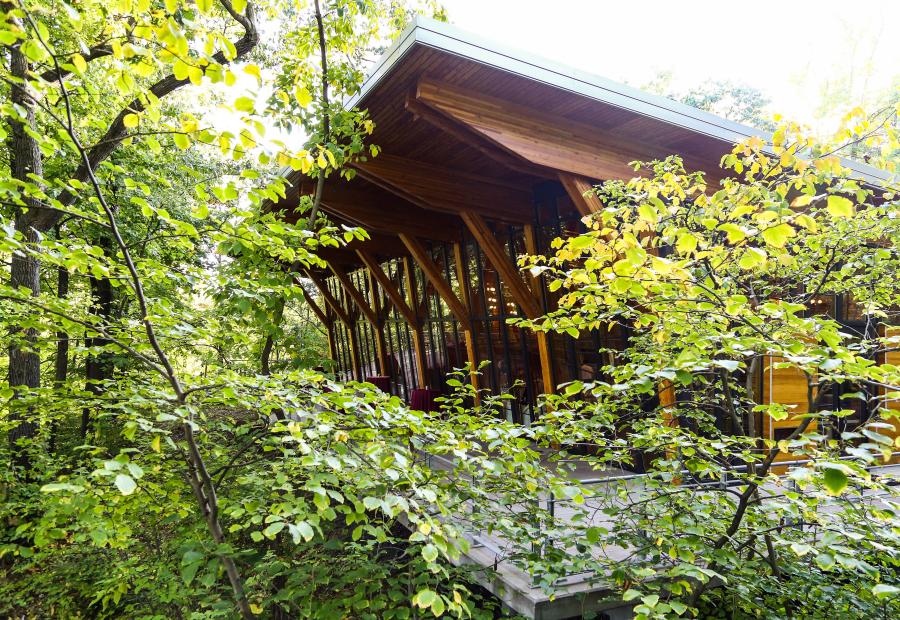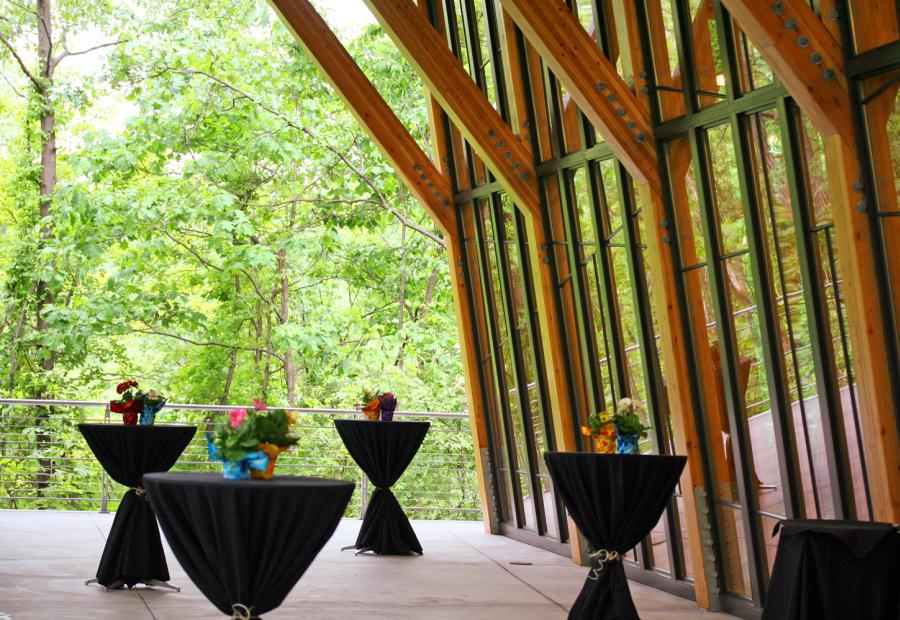 The Bissell Tree House can seat up to 180 guests.
Photo by Tiberius Images
Bissell Tree House at the John Ball Zoo
The Bissell Tree House is beautifully situated on one of the highest points in Grand Rapids at John Ball Zoo. The Tree House seats up to 180 wedding goers April-November and 120 guests December-March. This venue provides a unique feel of both nature and city in an intimate wooded setting, I was lucky enough to attend a wedding there and could not get enough of the Grand Rapids skyline. Breathtaking! 
Your guests can transported via executive shuttles or the zoo funicular, an experience in and of itself. And, the venue booking goes directly into supporting the non-profit zoo. 
The Sweet House 
The Sweet House has been hosting one-of-a-kind events since 2018. Built in the 1860s, the Sweet House is an Italianate mansion lovingly restored and decorated with vintage chandeliers and timelessly elegant architectural details. I love this historic home is open to the public for one-of-a-kind events. Friends who held their wedding at The Sweet House said they loved the 11-hour rental since they didn't feel rushed and were able to relax and enjoy their day.  
The space holds 115 for dinner and offers ceremony and reception/dance spaces along with a beautiful private suite. Located in Heritage Hill, your rental includes free parking, free Wi-Fi, table set-up/tear down and linen rentals for your event.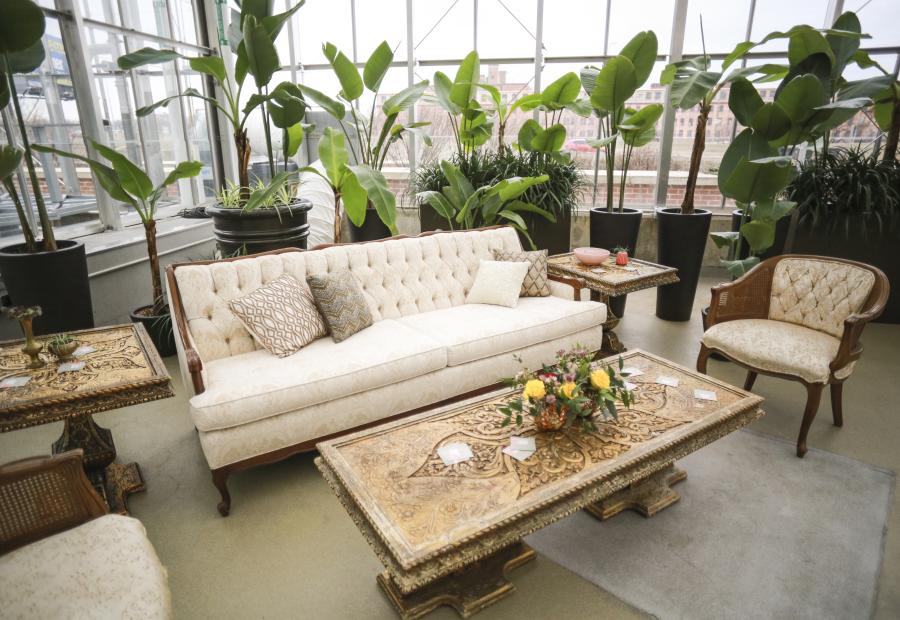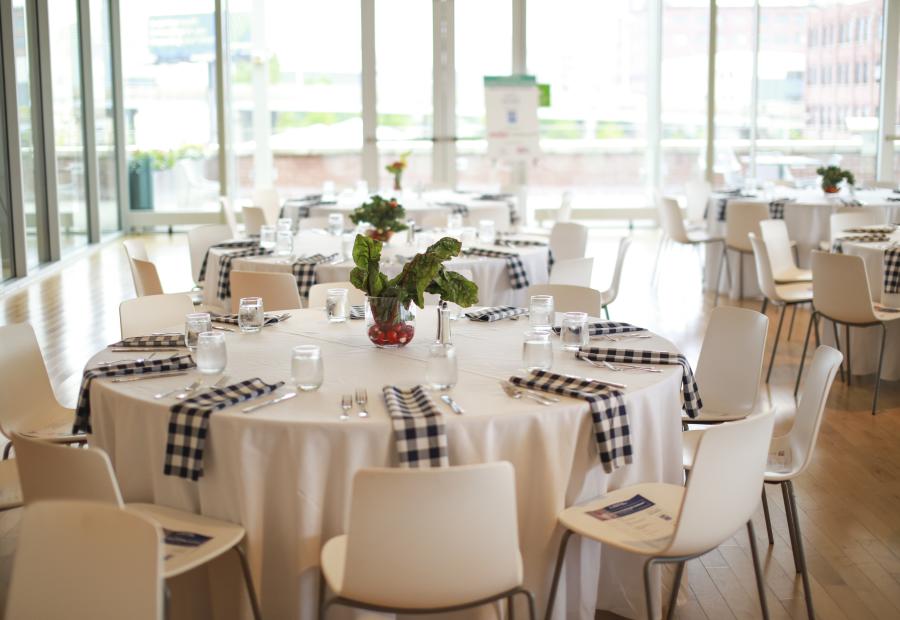 The Downtown Market offers an additional room connected to its Greenhouse for more intimacy and greenery.
Photo by Grand Rapids Downtown Market
Downtown Market - Grand Rapids
The Downtown Market is another unique Grand Rapids location to celebrate your wedding day. Couples can customize their event by hosting ceremonies in their greenhouse and receptions in their banquet space, among other rooms within their venue. 
The Downtown Market can seat up to 180 in the Greenhouse and about 180-200 comfortably in the banquet space. We attended a wedding that also used the Garden Room connected to the Greenhouse for a cocktail hour amongst all the greenery which made the evening extra special. 
A wide variety of catering options are available and organized with each couple along with an in-house beverage program focused on local craft brews and unique spirits. The Downtown Market is also home to dozens of small, local businesses ready to support your event.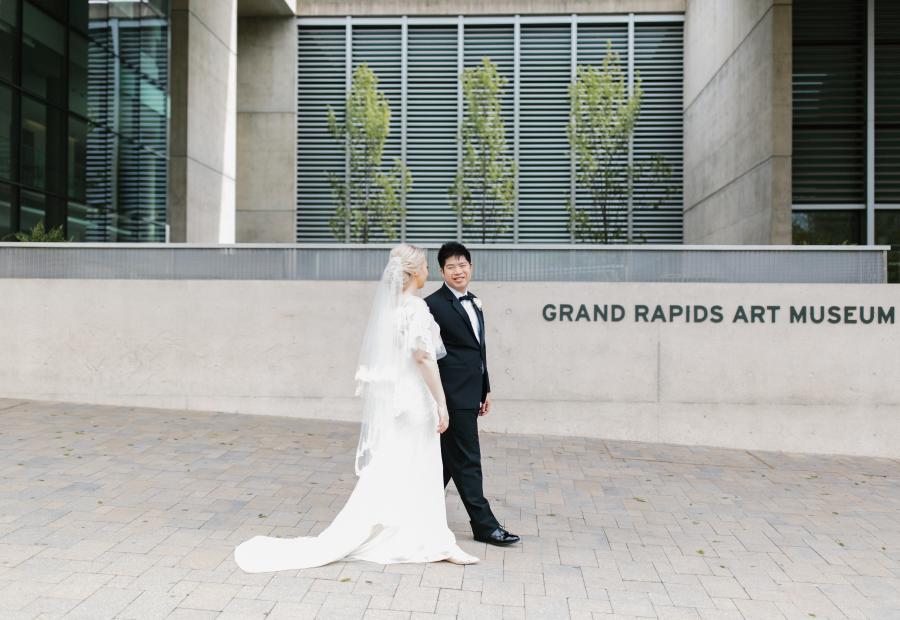 Wedding at the Grand Rapids Art Museum
Photo by Michael Murphy IV Photography
Grand Rapids Art Museum
If you are looking to exchange your vows near gorgeous art and architecture, then the Grand Rapids Art Museum (GRAM) is perfect for you. Offering both indoor and outdoor venue options, the GRAM can accommodate up to 300 guests in this unforgettable setting.  
The Revel Center 
The Revel Center, which is conveniently across the street from the Canopy Hotel, is a unique venue whose coordinators pride themselves on making their clients' day special and memorable. How unique you might ask? Well, how about offering a retro arcade space and their own built-in photo booth room? 
The space offers seating for up to 200 people and many more amenities, including two private suites for getting ready. As the ceremony space is being transformed into the reception room, guests can enjoy the cocktail lounge, outdoor patio, and of course the arcade.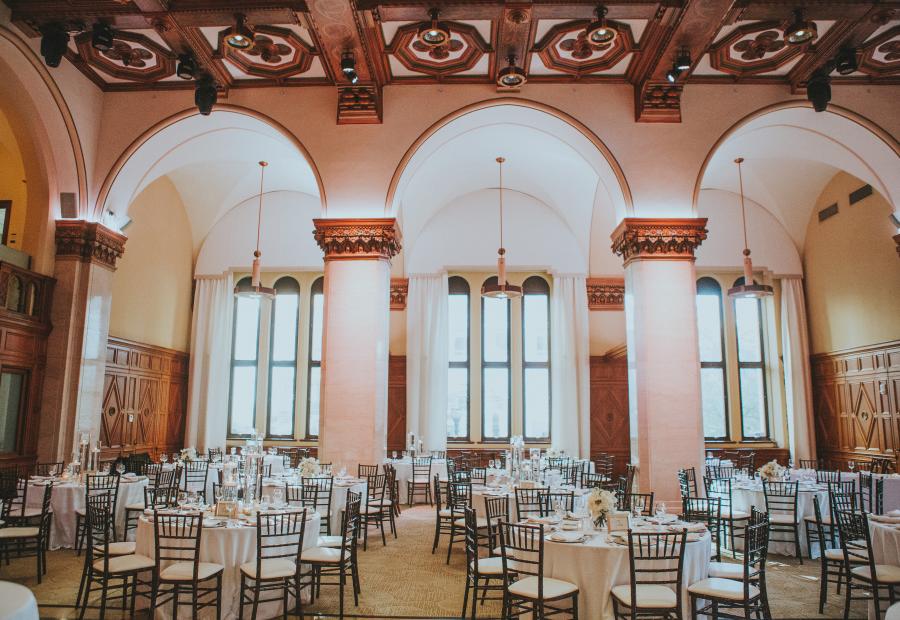 The Ballroom at CityFlatsHotel provides grand views and high ceilings for a timeless wedding venue.
Photo by Nathan English Photography
The Ballroom at CityFlatsHotel
The Ballroom at CityFlatsHotel located within CityFlatsHotel is a "one-stop shop" when it comes to your wedding day. 
The boutique hotel in the heart of downtown Grand Rapids offers The Parlour Blow Dry Bar + Full Service Salon on-site for hair and makeup needs, a location for the ceremony and reception with a cocktail hour space, event spaces for rehearsal dinners and post-wedding brunches. 
The Ballroom can host up to 200 guests. Additionally, CityFlatsHotel is connected to the city-owned Monroe Center Parking Ramp which makes it easy to get to and from wedding festivities.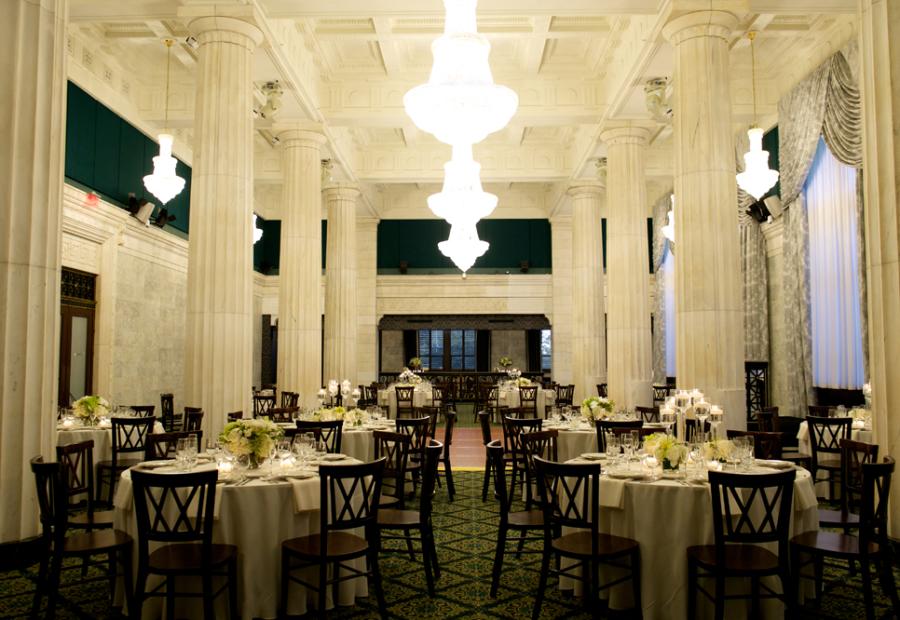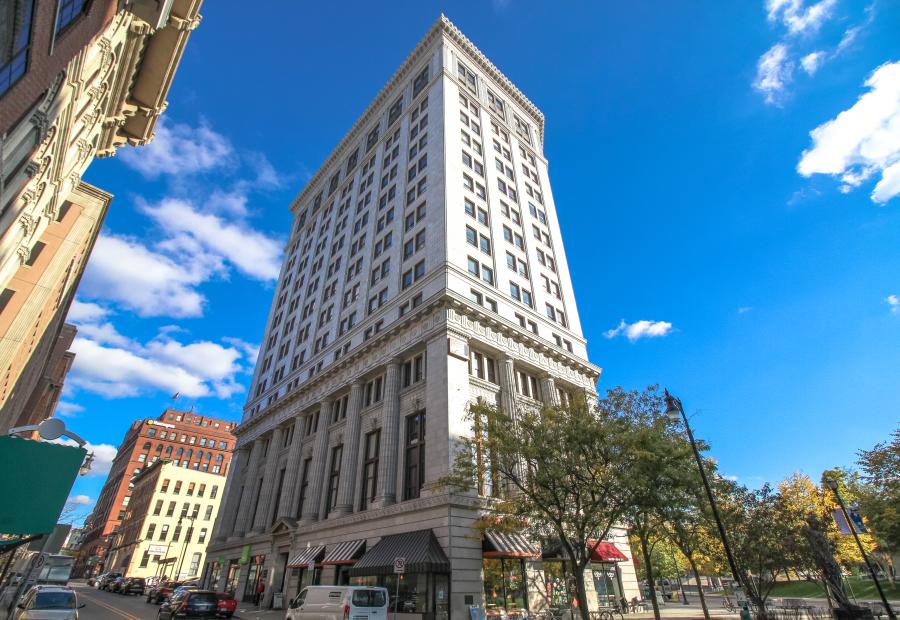 The Ballroom at McKay was once the Grand Rapids National Bank.
Photo by McKay Towers
The Ballroom at McKay
The second floor of the historic Grand Rapids landmark, McKay Towers, is home to the fabulous The Ballroom at McKay. 
The grand, yet warm setting offers a customizable floor plan with floor length linens in over 30 colors, wood mahogany chairs, and a large parquet dance floor. Guests will be wowed by the ballroom's vaulted ceilings, jaw-dropping chandeliers, and polished marble architecture. 
The ballroom's seated dinner capacity is 200 guests and there are a wide variety of parking options, hotels, and amazing photo opportunities surrounding McKay Tower. 
The Cheney Place
With roughly 20,000 square feet of space that can be tailored to your needs, free onsite parking, and an eclectically furnished lounge, it's easy to see why The Cheney Place is a must-see spot when considering a wedding venue. The full-service venue can seat up to 300 for dinner and offers all couples a team of coordinators to execute their dream wedding, including handling décor set up and tear down.  
What really makes the Cheney Place stand out to me is that couples can work with a Cheney Place coordinator to select from a variety of décor options in their warehouse of vintage furniture. Couples can mix and match items to reflect their own, personal aesthetic. I enjoyed the cozy seating complete with chandeliers at a recent reception. So chic!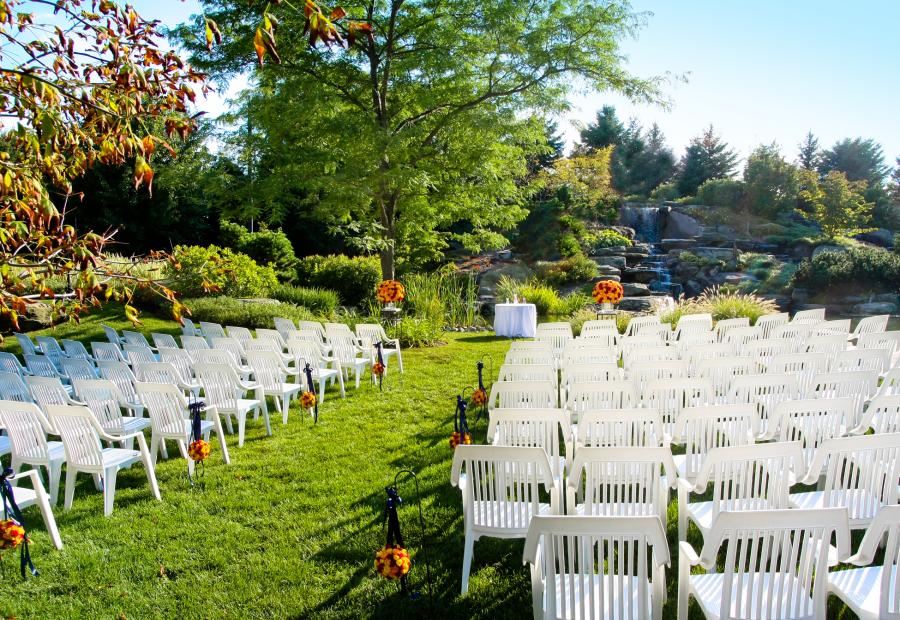 Frederik Meijer Gardens & Sculpture Park offers a variety of venues for weddings of all sizes.
Photo by Tiberius Photography
Frederik Meijer Gardens & Sculpture Park
Need a large venue? Frederik Meijer Gardens & Sculpture Park can accommodate up to 5,000 guests when utilizing the entire grounds for the ultimate event. For those interested in slightly smaller affairs, the venue is happy to accommodate any number of guests in one of their 11 indoor event spaces. 
There is something for every couple at Meijer Gardens. The Huizenga Grand Room combined with the Atrium can comfortably seat 400 with plenty of room for a dance floor placed under the amazing Chihuly chandelier. They also offer rentals of the greenhouses for a true garden experience and hold outdoor wedding ceremonies in nearly a dozen locations including the Richard & Helen DeVos Japanese Garden and the Sculpture Park Waterfall.  
For an intimate wedding, the Stuart and Barbara Padnos Rooftop Sculpture Garden is spectacular. Seasonally available from June through September, this urban garden setting is capped at 100 for cocktail parties and 60 for a seated dinner.  
Frederik Meijer Gardens & Sculpture Park offers a variety of catering options. Their Executive Chef will source local products and create customized meals for anyone's taste and budget with their in-house catering or couples may choose one of the garden's preferred caterers. 
A dream wedding can be yours thanks to the wide selection of special venues in the Grand Rapids area. Plan a visit to one or all of these venues and start getting excited! 
Written by Amy Busse.