Choosing a wedding venue can be one of the toughest parts of wedding planning.
Luckily, Grand Rapids is home to a wealth of distinctive wedding venues all offering something a little different. From classic downtown locations, to outside-the-box venues, we've rounded up some of the city's unique and popular wedding venues, along with helpful advice from local event coordinators.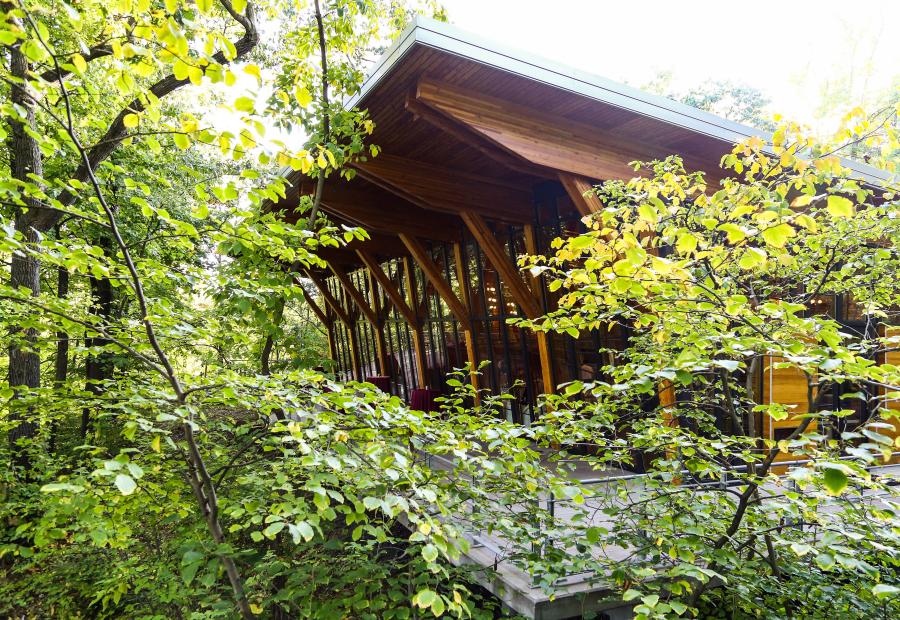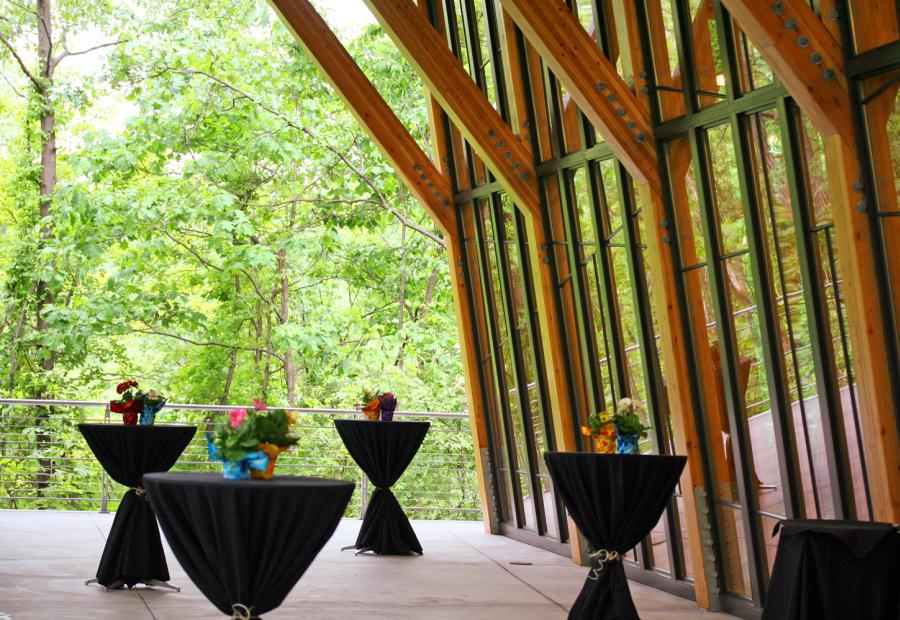 The Bissell Tree House can seat up to 180 guests.
Photo by Tiberius Images
Bissell Tree House at the John Ball Zoo
The Bissell Tree House located on one of the highest points in Grand Rapids at John Ball Zoo provides up to 180 wedding guests with a unique feel of both nature and city. In addition to a beautiful, intimate wooded setting, the Bissell Tree House offers stunning views of Grand Rapids' skyline.
A wedding at the Bissell Tree House is a memorable experience from start to finish. Skye Thebo, one of three rental and event coordinators for John Ball Zoo said guests arrive at the Bissell Tree House via the zoo funicular, which adds an extra special touch to the event. Thebo added, "And the best part is that booking our venue goes directly into supporting our non-profit zoo!"
Visit the John Ball Zoo's website to see what the Bissell Tree House has to offer, and for contact information in order to speak with an event coordinator.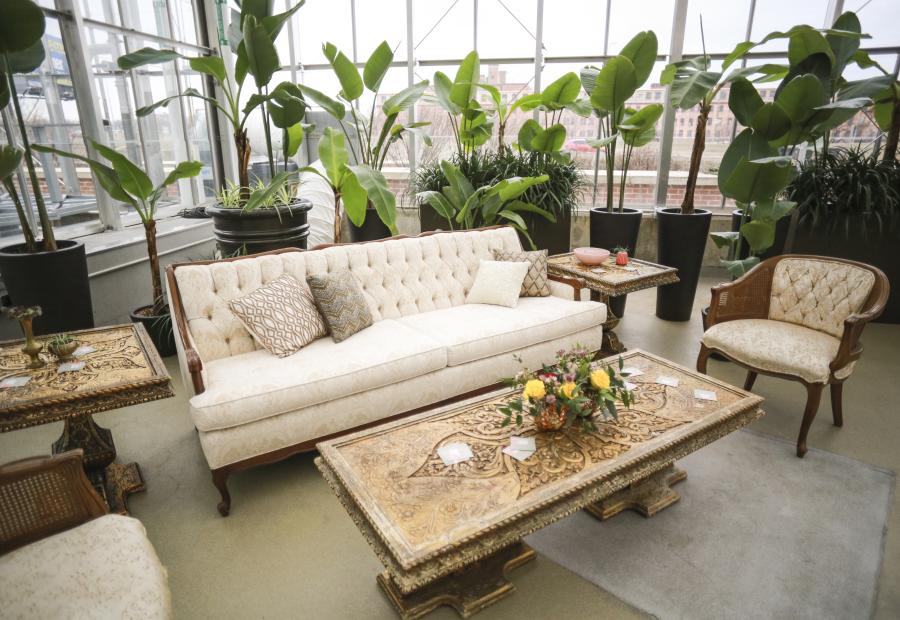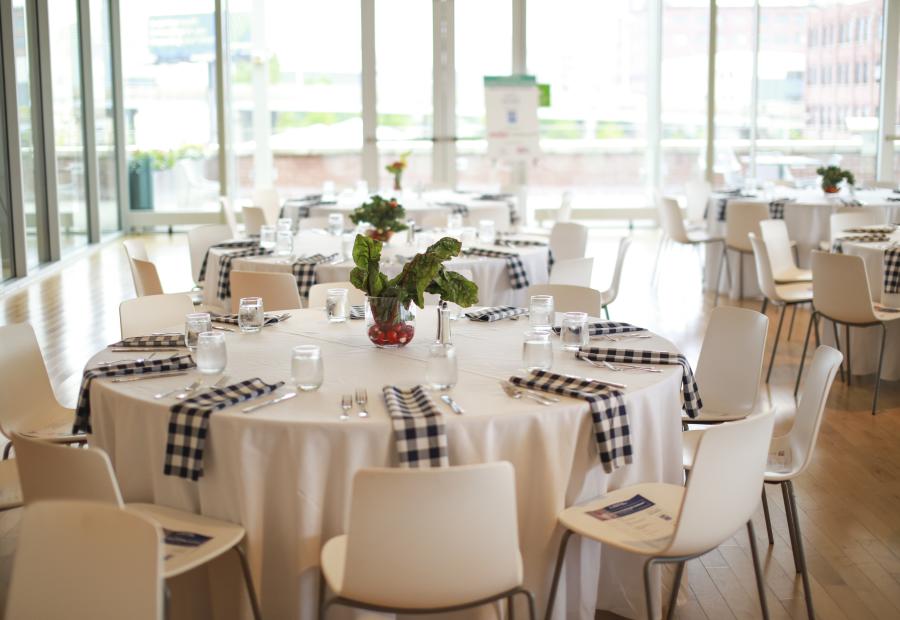 The Downtown Market will open an additional venue this fall, The Garden Room, which will be connected to its Greenhouse.
Photo by Grand Rapids Downtown Market
Downtown Market - Grand Rapids
The Downtown Market - Grand Rapids is another great location to celebrate your wedding day. Carrie Zandbergen, director of sales and events for the Downtown Market, says the venue offers a customized approach to events, by hosting ceremonies in their greenhouse and receptions in their banquet space, among other rooms within their venue.
"The Downtown Market can seat up to 150 in the Greenhouse and about 180-200 comfortably in our banquet space," Zandbergen said. "We are also excited about our new space opening in the fall called the Garden Room. This additional space connected to our Greenhouse will be available for larger groups, or as a standalone room."
A wide variety of catering options are available and organized with each individual client along with an in-house beverage program focused on local craft brews and unique spirits. The Downtown Market is also home to dozens of small, local businesses ready to support your event.
Visit the Downtown Market's website for more information on hosting your wedding at the venue.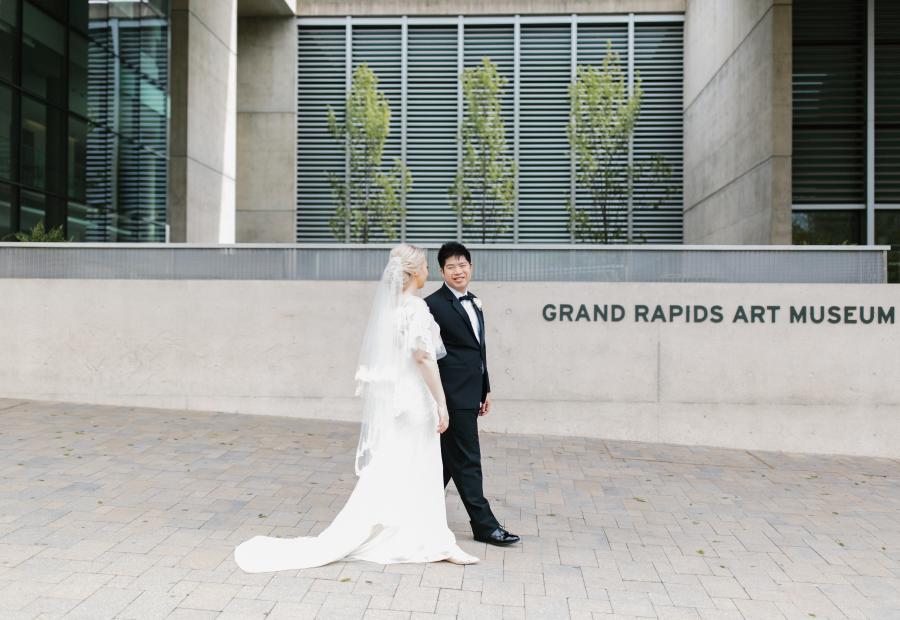 Wedding at the Grand Rapids Art Museum
Photo by Michael Murphy IV Photography
Grand Rapids Art Museum
If you are looking to exchange your vows near gorgeous art and architecture, then the Grand Rapids Art Museum (GRAM) is perfect for you. Offering both indoor and outdoor venue options, the GRAM can accommodate 225 for dinner in the Wege Pavilion and 150 guests in the Cook Auditorium assuring all your guests have an unforgettable night.
"The simple lines and understated beauty of the GRAM's architecture provide a one-of-a-kind backdrop for your wedding ceremony and reception," said Elizabeth Payne, communications manager for GRAM. "In a building designed to showcase art at its finest, weddings at GRAM will be forever captured in the mind's eye of your guests."
GRAM offers a wide selection of approved caterers along with a knowledgeable and attentive staff that will help make your special day an event that everyone will remember.
View the GRAM's extensive website to learn more about what the venue has to offer, including facility rentals, rental pricing, and contact information for the GRAM's events team.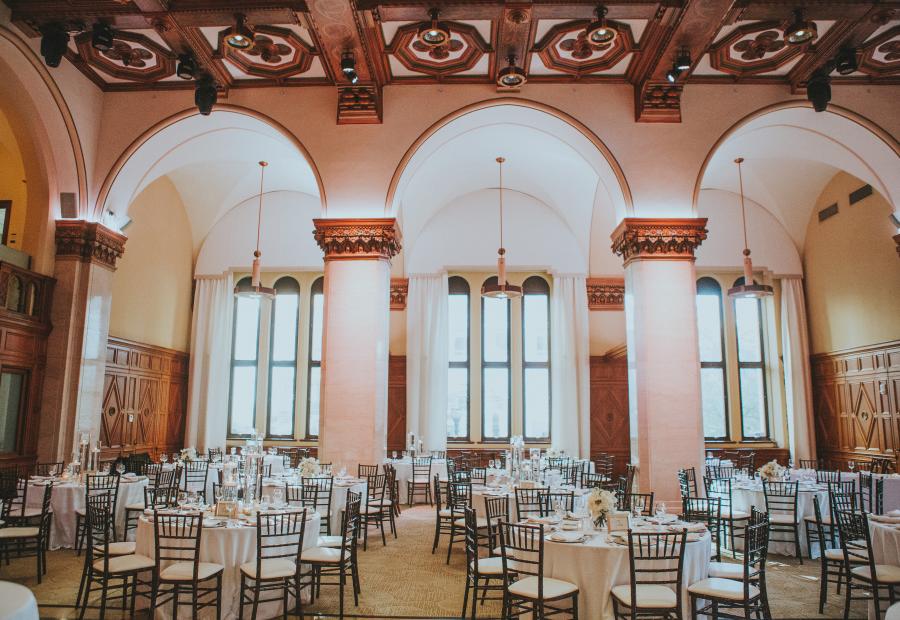 The Ballroom at CityFlatsHotel provides grand views and high ceilings for a timeless wedding venue.
Photo by Nathan English Photography
The Ballroom at CityFlatsHotel
The Ballroom at CityFlatsHotel located within CityFlatsHotel is a "one-stop shop" when it comes to your wedding day.
Katrina Scott, ballroom and events manager for the Ballroom at CityFlatsHotel says, "Our boutique hotel in the heart of downtown Grand Rapids offers in-house The Parlour Blow Dry Bar + Full Service Salon for hair and makeup needs, a location for the ceremony and reception with a cocktail hour space, event spaces for rehearsal dinners and post-wedding brunches, and of course hotel rooms."
The Ballroom can host up to 200 guests for your special day while the Event Room can accommodate up to 150. Additionally, CityFlatsHotel is connected to the city-owned Monroe Center Parking Ramp giving your guests the option to keep their cars in a covered parking ramp for easy access to-and-from wedding festivities.
Scott advises the happy couple to soak it all in on their wedding day, "The day goes by so quickly. Really take the time to live in the moment. Trust that your vendors are in control and just enjoy your day!"
Visit CityFlatsHotel's website for more information on having your wedding at The Ballroom.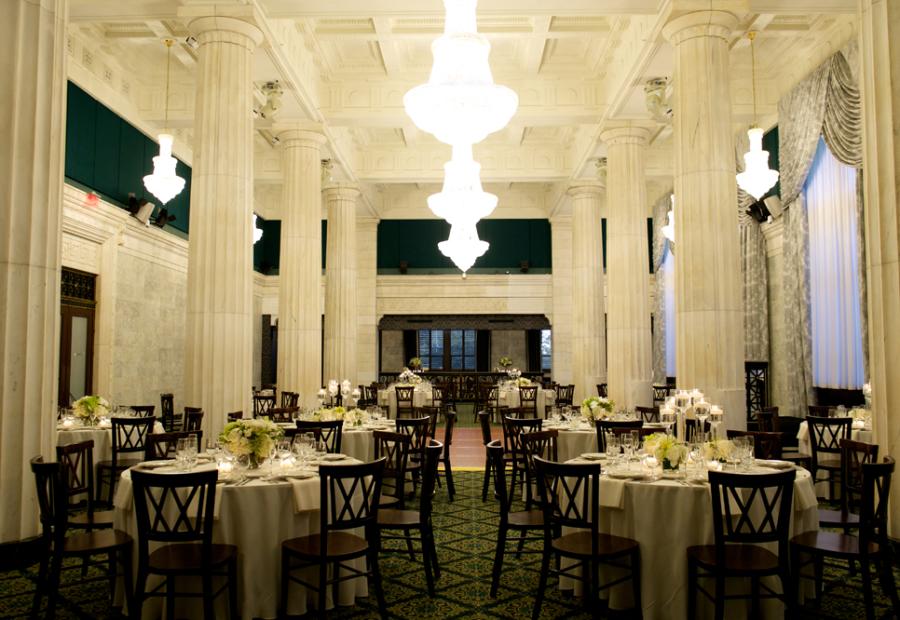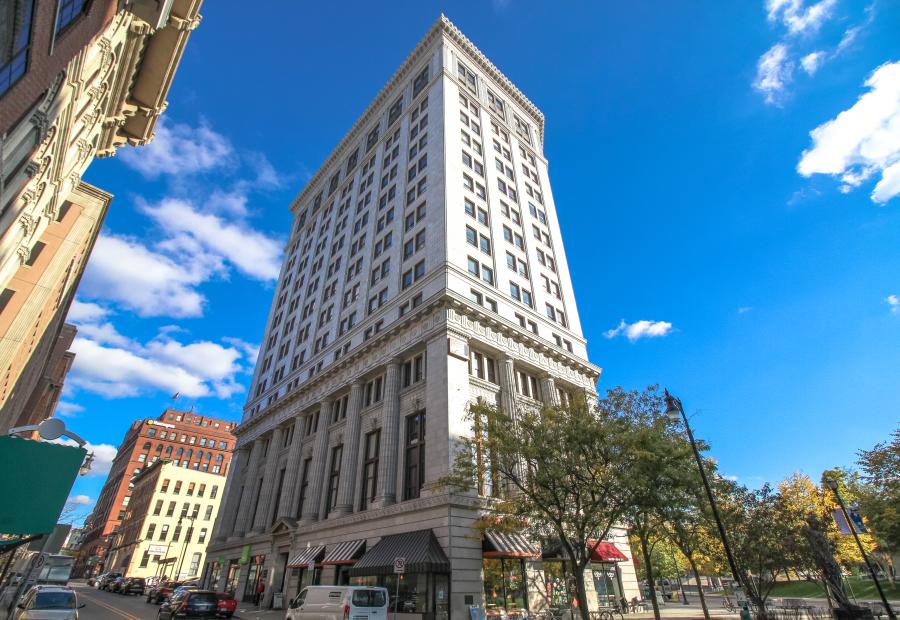 The Ballroom at McKay was once the Grand Rapids National Bank.
Photo by McKay Towers
The Ballroom at McKay
The historic Grand Rapids landmark, McKay Towers, recently revitalized the former its second floor (which was once Grand Rapids National Bank) into The Ballroom at McKay.
The Ballroom is a formal event space that provides a one-of-a-kind wedding experience.
Nicole Weichelt, venue coordinator for The Ballroom, said, "The Ballroom is grand, yet intimate, and all details are customizable. From its floor plan, to caterers, to bar offerings. The Ballroom includes touches not found at other venues. [Some of these] include floor length linens in over 30 colors, wood mahogany chairs, and a large parquet dance floor."
The Ballroom's seated dinner capacity is 200 guests and there are a wide variety of parking options, hotels, and amazing photo opportunities surrounding McKay Tower.
Weichelt's advice for the big day is to take time to enjoy each other and be in the moment by including the 'little things,' such as: "A first look, sweetheart table seating during a reception, and personally thanking guests for being part of their big day."
For more information on hosting your wedding at The Ballroom at McKay, visit the venue's website.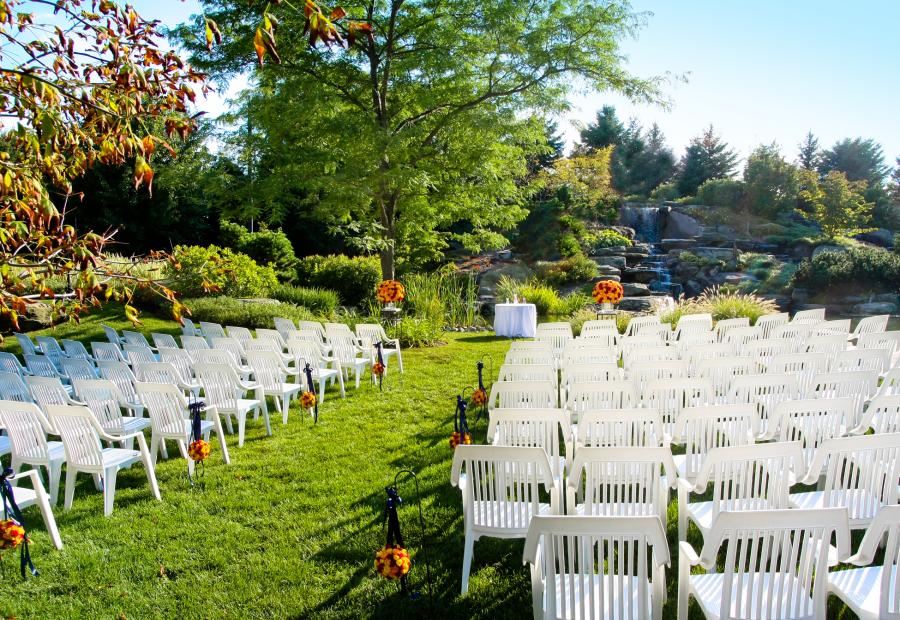 Frederik Meijer Gardens & Sculpture Park offers a variety of venues for weddings of all sizes.
Photo by Tiberius Photography
Frederik Meijer Gardens & Sculpture Park
Need a large venue? Frederik Meijer Gardens & Sculpture Park can accommodate up to 1,500 guests when utilizing the entire building for the ultimate exclusive event. For those interested in slightly smaller affairs, the venue is happy to accommodate any number of guests in one of their 15 indoor event spaces.
"Our Huizenga Grand Room with the addition of the Atrium can comfortably seat 400 with plenty of room for a dance floor romantically placed under the Chihuly Chandelier," said Annemarie Smartz, hospitality sales manager for Meijer Gardens. "We also offer rentals of the greenhouses for a true garden experience and hold outdoor wedding ceremonies in nearly a dozen locations including the Richard & Helen DeVos Japanese Garden and the Sculpture Park Waterfall. And we have plans to build a new Roof Top Garden that should be ready by fall of 2019 that is likely to be the hottest new venue for weddings in all of West Michigan!"
Frederik Meijer Gardens & Sculpture Park offers a variety of catering options. Executive Chef Andy Krause will source local products and create customized meals for anyone's taste and budget with their in-house catering or feel free to choose one of Frederik Meijer Gardens & Sculpture Park's preferred caterers.
How to make the day the best for you? Smartz offers these final words of wisdom:
"Think about what is most important to you and stick with it. Too many people have too many suggestions and opinions and soon your dream wedding is no longer your dream, it is someone else's. Follow your hearts; it is what brought you together. Remember to focus on your marriage and the rest of your lives together."
With so many exceptional wedding venues and vendors in the Grand Rapids area, there is something to fit everyone's style and budget. Start exploring and happy planning!
Written by Amy Busse.