With ample churches, ballrooms, event halls, and beautiful "River City" scenery, Grand Rapids is becoming a popular wedding location. In fact, it was listed as one of the most romantic cities in America by OpenTable.
Experience Grand Rapids interviewed couples about their Grand Rapids weddings for insight into their special day. This is the first installment of a Wedding Blog Series designed to make couples' trips down the aisle in Grand Rapids that much easier.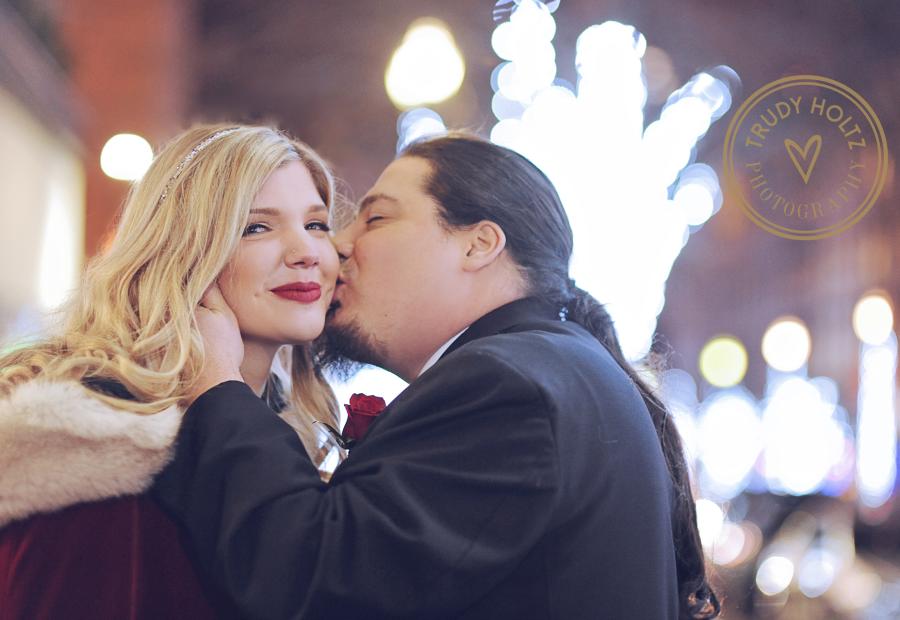 The VanAlstines appreciated Grand Rapids' scenic and easily walkable downtown, convenient amenities, and the variety of reception and wedding venues.
Photo by Trudy Holtz Photography
About the Couple
For Justine and Gary, Grand Rapids was the perfect location to hold their classic, timeless winter wedding, complete with black tuxedos, red roses, and a stately horse and carriage.
"I was born and raised in Grand Rapids," Justine says. "As I've gotten older I've fallen in love with the city and all its character and charm."
As a couple, Justine and Gary loved that Grand Rapids offered a scenic and easily walkable downtown, convenient amenities, and had a variety of reception and wedding venues.
The couple got engaged the end of May and decided on a December wedding. With only a six-month engagement, things needed to move quickly!
Choosing Venues
Justine and Gary knew from the beginning they wanted their ceremony in Fountain Street Church, due to the church's ideology and its gorgeous sanctuary.
Deciding on a reception location was a bit more challenging with all the amazing options available for couples in Grand Rapids, but they eventually picked the ballroom in the CityFlatsHotel.
"We loved being in the historic bank with gorgeous marble floors and old-world glamour. Once we saw the ballroom the decision was made," Justine says. "Between the in-house catering, a fantastic downtown location that allowed guests to enjoy the city, and Monroe Center as a photo backdrop, it was the perfect spot for us."
The couple booked blocks of rooms for overnight guests around the city at a variety of price points. "That's another great thing about Grand Rapids," Justine says. "There are so many hotel options, guests don't have to feel pressured to spend more than they want."
Gary said most of the guests chose a downtown location so they could explore the city: "My family is from the Upper Peninsula. They loved the big town restaurants and nightlife coupled with the small-town friendliness Grand Rapidians are known for."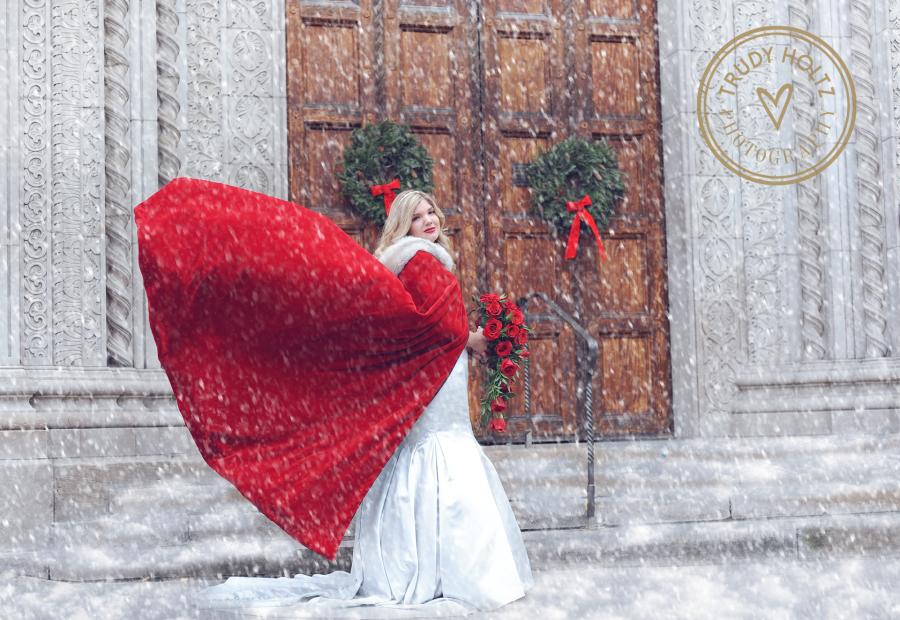 Justine VanAlstine outside of Fountain Street Church, where she married her husband, Gary.
Photo by Trudy Holtz Photography
Benefits of Winter Weddings
Justine and Gary encourage other couples to think outside the typical May-August wedding dates, adding that there were many hidden perks to getting married in the winter.
For one, downtown is full of beautiful holiday lights that make a gorgeous backdrop for wedding photos. Churches, as well as hotel lobbies, have holiday "extras" like flowers and candles that give an extra glow to your ceremony and the overall feeling of your special day.
"With all the extra flowers and décor at the church, we were able to save some money with our florist since everything already looked so beautiful," Justine said. "We also saved money by booking a Friday wedding."
To make it easy for out-of-town guests to make the ceremony, the couple decided to hold the ceremony later in the evening. Afterward, everyone was able to head straight to the reception.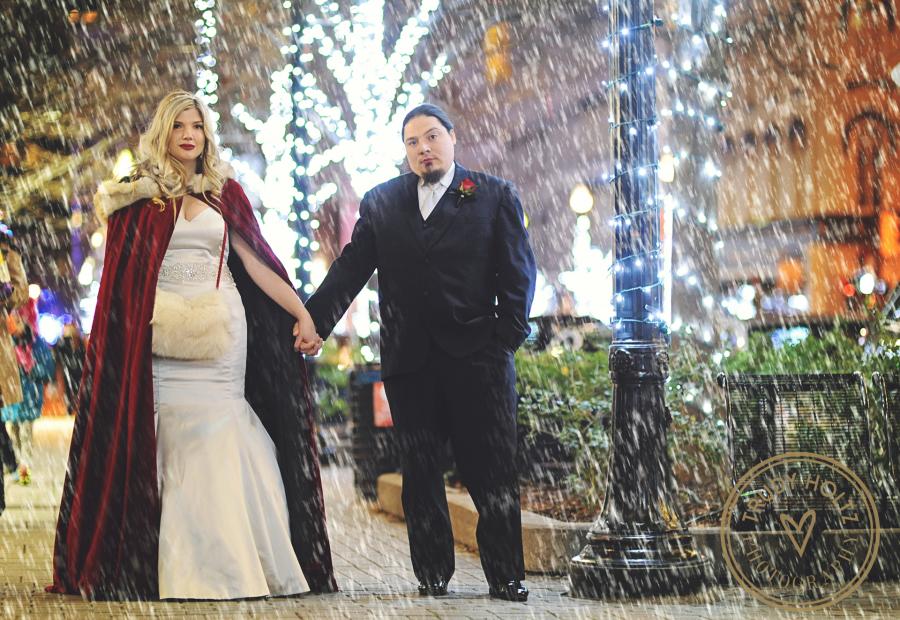 Grand Rapids provided the perfect wintery backdrop for the VanAlstine's December wedding.
Photo by Trudy Holtz Photography
Other Tips
Justine also enjoyed working with a wedding coordinator, especially with their tight timeframe. "Using a coordinator made securing flowers, cakes, and our fantastic band so much easier," says Justine.  
"It goes by way too fast!" Gary says about his wedding day. "Take a moment to breathe and look around and appreciate it all because before you know it, the ceremony is over, then you're greeting people at the reception, and then it's done!"
Overall, the word the couple used to describe their wedding experience was "fantastic."
"We loved our Grand Rapids wedding from beginning to end," they state. "We couldn't imagine starting our life together anywhere else."
For more information on hosting your wedding in Grand Rapids, visit the Weddings page to learn more about ceremony and reception venues, opportunities for additional wedding events, as well as tips for guests. If you're in search of a hotel, Experience Grand Rapids offers complimentary assistance in finding just the right place for you and your guests to stay.  
Congratulations, and happy planning!
Written by Amy Busse and all photos courtesy of Trudy Holtz Photography.
Note: This story was originally published in 2019 and has been reviewed by Experience Grand Rapids staff for accuracy.