Grand Rapids was named America's Jolliest City for the way we celebrate the holidays. Generous and friendly residents coupled with fun holiday events, safe streets and Christmas tree farms make this one of the best places in the world to get into the spirit of the season. No wonder the Travel Channel picked Grand Rapids for having the state's most dazzling holiday light display. 
Holiday light displays are an essential part of our end-of-year festivities. From twinkling trees to beautifully decorated storefronts to one-of-a-kind seasonal attractions, Grand Rapids truly becomes a magical winter wonderland – whether or not we have snow!
Here are some of our best "lightseeing" suggestions.
Downtown Walking Tour
The city center is especially beautiful at night, when you get the full impact of all of the lights. There are many ways to explore all of the downtown holiday decor, and any of these stops are great on their own if the walk isn't an option. 
If you want to see as many holiday lights as possible, here's one suggested route to help you hit the highlights.
Ellis Parking Lot: Start Here
Park in or near the Ellis Parking lot at the Monroe Street/Lyon Street intersection. The waving Santa on the Ellis Parking Ramp building and lighted trees in the parking lot will start your evening off with a smile. (The Pearl Street side of the building is also decorated with lights.)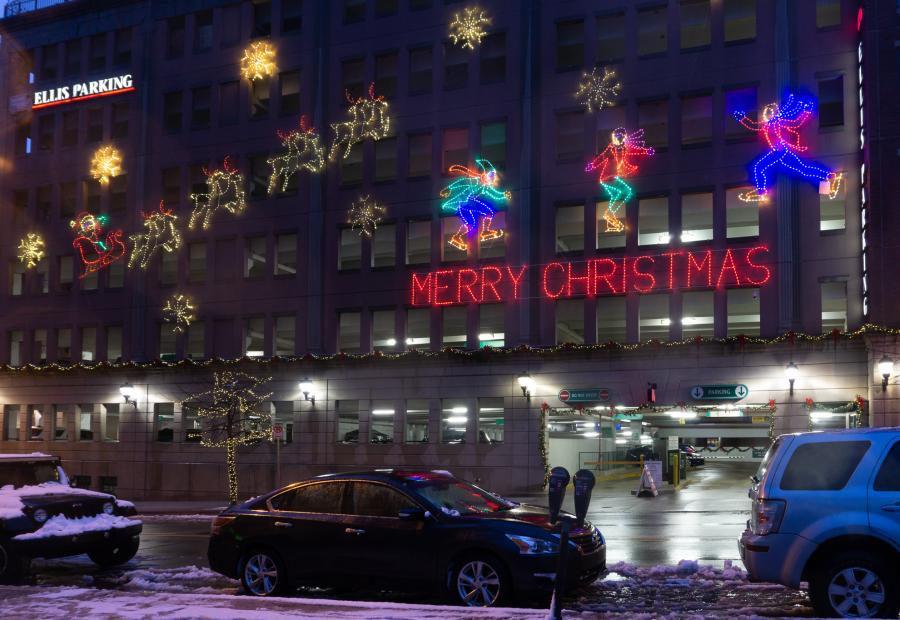 Ellis Parking ramp illuminated with holiday lights.
Photo by Brian Craig for Experience Grand Rapids
Monroe Center 
Now head south on Monroe to Pearl Street and cross to get to the diagonal Monroe Center Street NW, where 50+ trees and lampposts glimmer with hundreds of miniature white and blue lights over several blocks. Monroe Center is a perfect vantage point for viewing the city holiday tree – at 42 feet tall, it's hard to miss – and it's lined with shops and restaurants if you want to pop in for a gift or a bite.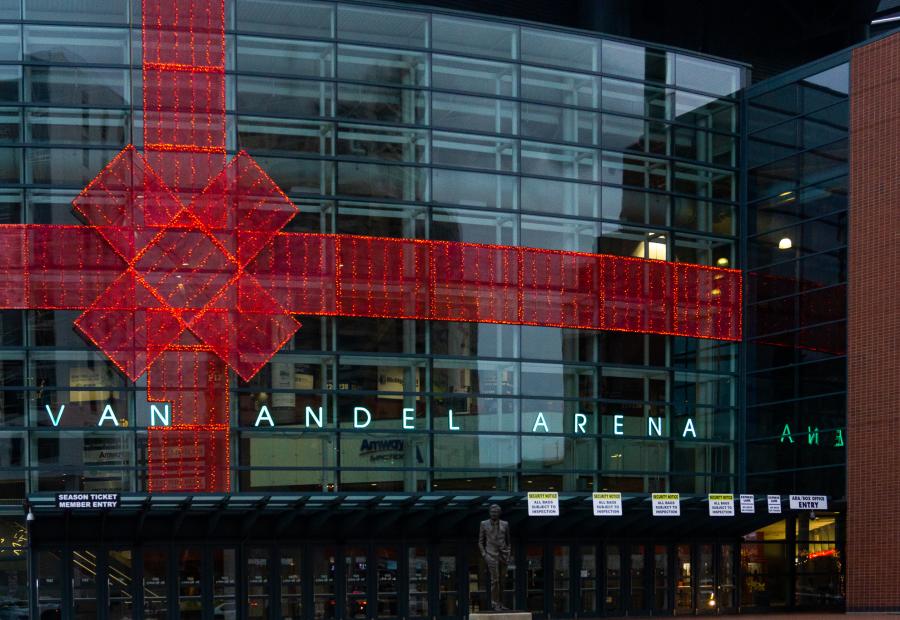 Be sure to check out the giant bow across the front of the Van Andel Arena.
Photo by Brian Craig for Experience Grand Rapids
Van Andel Arena
Continue down Monroe Center Street towards Ottawa Avenue. The trees that line the street are aglow with tiny white lights, making the walk especially bright. As you approach Fulton Street, you'll see the lights of Van Andel Arena, and the huge holiday bow that spans the entire front of the building.
Plaza Tower Apartments
Turn right on Fulton and walk one block west to the corner of Fulton and Monroe. There, you'll see twinkling lights on the trees in front of Plaza Tower Apartments. As you head northeast up Monroe, don't miss the pretty white lines outlining the top of the AC Hotel (on your right).
Louis Campau Promenade
Continue north on Monroe to the Louis Street intersection. Just past Louis, look to the left to see lit trees in Louis Campau Promenade, home of the iconic pop art LOVE sculpture. On your right, you'll pass more lighted trees decorating the lawn in front of Rosa Parks Circle.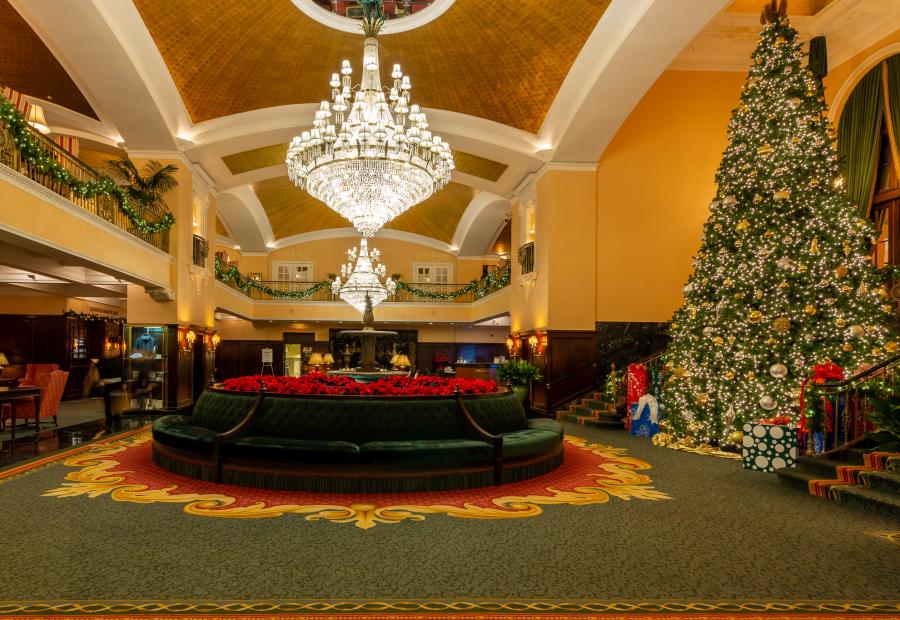 During your tour, stop into the lobby of the Amway Grand Plaza Hotel to see its holiday decorations.
Photo by Brian Craig for Experience Grand Rapids
Amway Grand Plaza Hotel, South Entrance
Walk west (left) at the Pearl Street intersection to see the Amway Grand Plaza's entrance draped with hundreds of lights in a display that will make your heart leap. Head inside the hotel to take in the exquisite decorations and towering lobby Christmas tree.
JW Marriott Grand Rapids
Back outside the south entrance of the Amway Grand Plaza, cross Pearl Street at Campau Avenue and head toward the main entrance of the JW Marriott Grand Rapids hotel. Trees lining the entrance are dressed up in dazzling whites and blues.
Grand River Bridges
Head back to Monroe Avenue and turn left (west) to cross the Grand River. As you walk across the Pearl Street Bridge, you'll see the famous Blue Bridge to your left, which is lit up in festive hues every night of the year. Look right and you'll see the warm white glow of lights adorning the Gillett Bridge.
Museum Row
Just across the river, the front lawn of the Grand Rapids Public Museum (at your left) is decorated in holiday finery. Across the street to your right, you'll see a glimpse of decorated trees and wreaths at Gerald R. Ford Presidential Museum.
City Skyline
Turn back to the east to see the lights of the city skyline. Red and green lighting at the top of the Amway Grand Plaza celebrate the season while the signature blue light "stripe" that spans the vertical length of the JW Marriott Grand Rapids seems even more festive at this time of year.
You can head back to the city center the way you came (via Pearl Street) or follow the Riverwalk trail to a pedestrian-only bridge: go north past the Gerald R. Ford Presidential Museum to the Gillett Bridge or south past the Grand Rapids Public Museum to the Blue Bridge. All paths lead back to Monroe Avenue and your original starting point, Ellis Parking.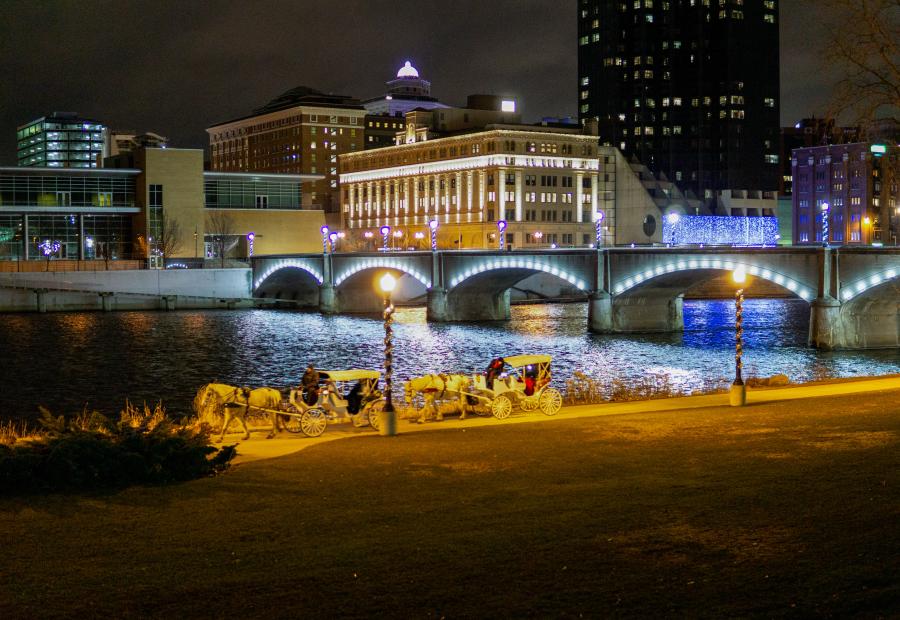 Taking a carriage ride on a holiday "lightseeing" tour is a favorite local pastime.
Photo by Russ Climie of Tiberius Images
How About a Ride?
Hop on board the BYOB Holiday Lights Trolley for a guided tour of downtown lights and finery – including the 42-foot tree out front of Rosa Parks Circle – plus visits to the Christmas Lite Show at LMCU Ballpark and various residential lighting displays around town. You're invited to bring your own beverages – and since it's assumed that most will be alcohol, this is a 21+ event. The trolley runs Friday, Saturday and Sunday through December 30.
If you're looking for a more intimate experience, consider a horse-drawn carriage ride through the streets of downtown. Classic Carriage LLC  is found on the southwest corner of Pearl & Monroe, in front of PNC Bank and across from the Amway Grand Plaza Hotel on Friday and Saturday evenings, beginning at 7:00 pm (other days and times are by appointment only). The holidays are a popular time of year for carriage rides, so reservations (call 616-498-6090) are recommended, but walk-ups will be accommodated with availability. Rates start at $60 for a half hour.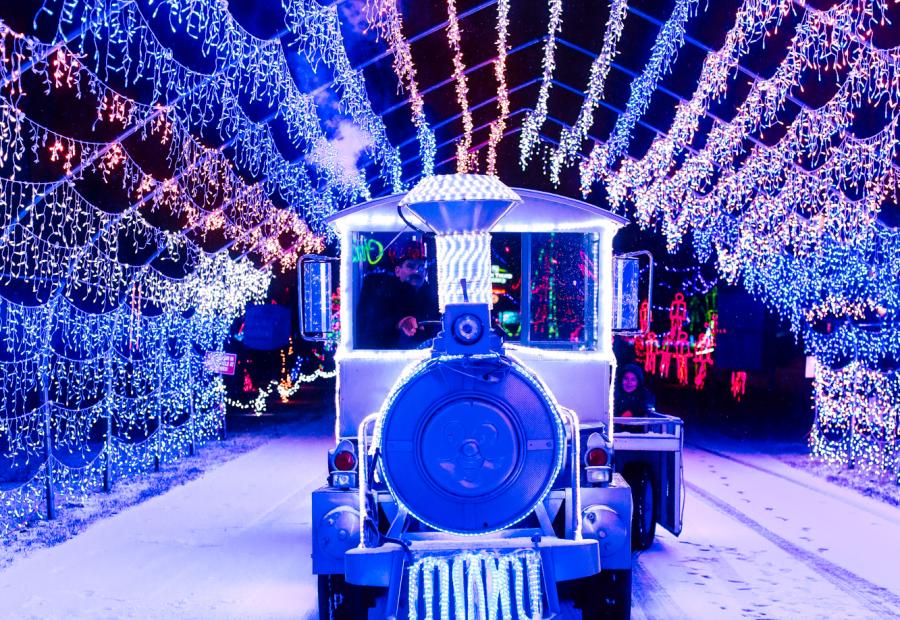 Lake Michigan Credit Unions's annual Christmas Lite Show is bigger and better than displays from previous years!
Photo by The Christmas Lite Show
More Ideas
Lake Michigan Credit Union Ballpark
Speaking of rides – the annual Christmas Lite Show at Lake Michigan Credit Union Ballpark invites you to view more than a million lights and 50 animated displays from the comfort of your car, as you drive through the nearly two-mile route.
The Christmas Lite Show is open nightly through January 1 and tickets start at $28 for a family vehicle. Or you can ride the Memory Lane Train for a 360˚ views of the lights – it's $30 per bench seat, which comfortably seats two adults (small children may sit on laps for free).
Roger B. Chaffee Planetarium
You'll have to head indoors for this light show at the planetarium located in downtown's Grand Rapids Public Museum. Let it Snow! features thematic animation, immersive special effects and full-dome scenery set to festive holiday music from the likes of Frank Sinatra, Chuck Berry, Burl Ives, Brenda Lee and the Trans-Siberian Orchestra. It runs Saturdays and Sundays through December 19, with a final show the day after Christmas.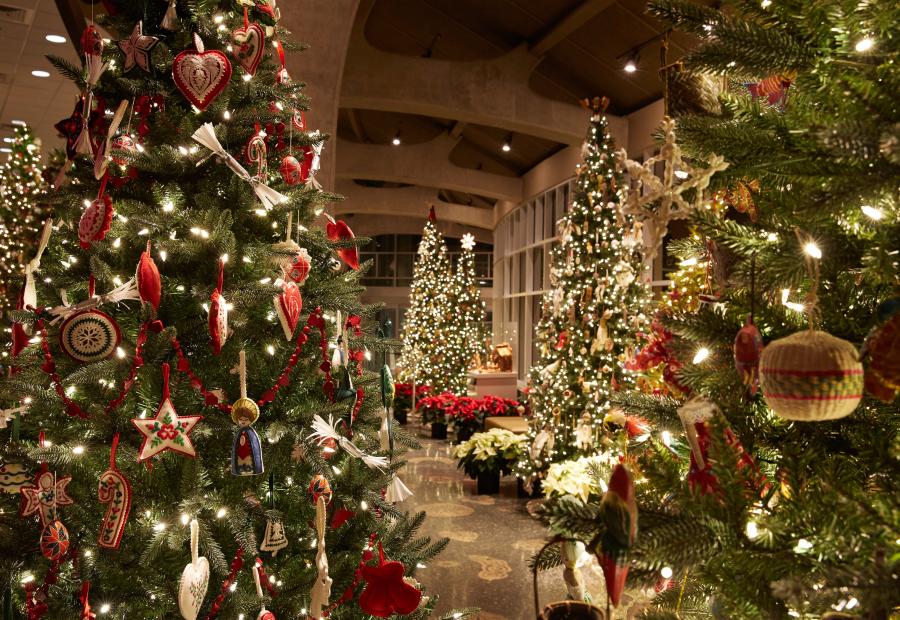 Christmas trees representing cultures around for the world on display a Frederik Meijer Gardens & Sculpture Park.
Photo by Frederik Meijer Gardens & Sculpture Park
Frederik Meijer Gardens & Sculpture Park
The world's best sculpture park pulls out all the stops for the holiday every year. Its University of Michigan Health-West Christmas and Holiday Traditions show features more than 300,000 colorful lights plus 46 international trees and displays decorated with handcrafted symbols of beloved holiday traditions.
There are guest appearances by carolers, live reindeer, and Santa and Mrs. Claus. A companion Railway Garden exhibition is a unique horticultural display that incorporates garden design, miniature buildings handmade from natural materials, and model trolleys and trains. 
Admission is $14.50 for guests 14-64 years old, $11 for guests 65+, $7 for guests 5-13 years old, and $4 for guests 3-4 years old. Children two and younger get in free.
Cannonsburg Ski Area
Take a half-mile walk through The Glowing Forest at this ski resort. The forest is dark, but the entire path is lit from overhead Christmas lights and displays. Your favorite Christmas music will play as you make your way along the rambling, uneven terrain. Book your tickets online – $20 for adults and $15 for children under the age of 13. (Kids under two are admitted free.) Hurry, the Forest is only open Fridays and Saturdays through December 18.
Everett's Gardens Christmas Light Display
Everett's Gardens, a retail plant nursery in Byron Center, stages a drive-through light display every Friday and Saturday through December 18. It's just $5 per vehicle – and free if you purchase a Christmas tree.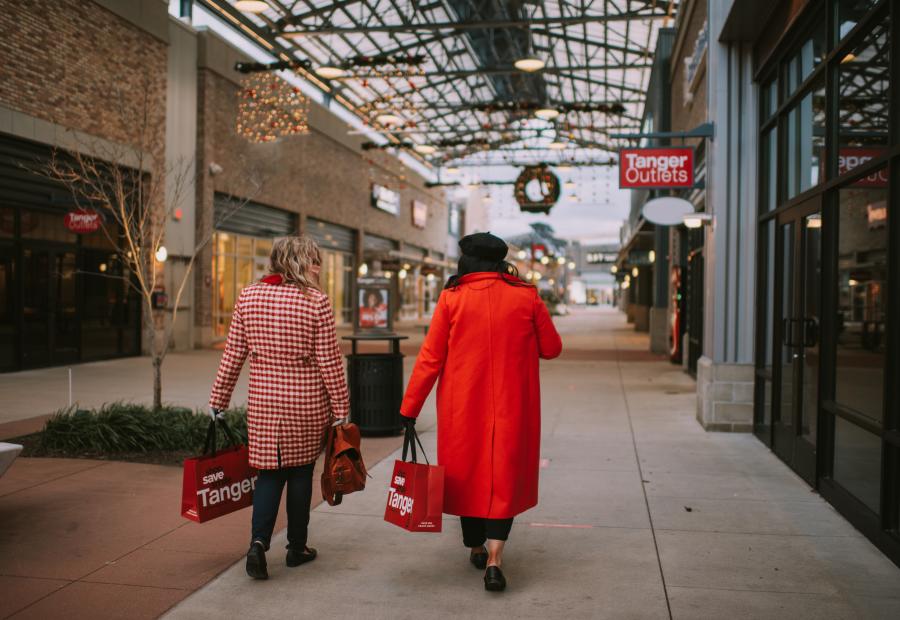 You can take in the festive decorations while doing some holiday shopping at Tanger Outlets.
Tanger Outlet Mall
Enjoy the holiday display while shopping 70+ stores at Tanger Outlet Mall. Stroll the heated sidewalks and warm up at the cozy fire pits underneath the beautifully decorated, larger-than-life Christmas tree as you check off your gift list. Join the Elf on the Shelf Scavenger Hunt to win a prize.
Ada Covered Bridge
This picturesque historic wooden bridge – pedestrian-only – is festooned with twinkling lights set to music. It's on the Ada Village Winter Lights Walking Trail, which loops for nearly one mile through the charming downtown area decorated with more than 25,000 lights.
Allendale Township
Head west on Fulton Street from downtown GR – the road becomes Lake Michigan Drive – and in about 20 minutes, you'll reach Allendale, site of an All Is Bright Holidays Competition. Drive or stroll around to see businesses and homes compete for best overall décor, best kid-friendly décor, most over the top & outlandish décor, and more.
East Grand Rapids
The tree-lined residential streets of this GR suburb are a favorite for holiday lightseeing, either on foot or by car, as many homeowners consider decorations part of their civic duty. The city's Gaslight Village business district is also decked out for the holidays. 
Holiday Dragons
The Haunting of Storybook Hollow in Comstock Park transforms from a Halloween haunt to a Christmas fantasyland for the season. As you drive by this private home, keep your eyes peeled for the dragon trying out for Santa's sleigh team, a life-sized gingerbread house and elves at work.
While you're in Comstock Park, check out the Dana Street neighborhood, which features seven houses with lights synced to music.
Sparta Candy Cane Lane
For a true small-town holiday experience, head 20 minutes north of GR to downtown Sparta, in the heart of Michigan's apple country. Drive through streets lined with lights and decorated storefronts, and take a stroll down Candy Cane Lane, a lighted walkway just beyond Santa's workshop (you can take a peek inside his workstation).
Grand Rapids is a great place to experience the many cold weather activities here!