Furniture City has evolved into a diverse manufacturing mecca
As early as the 1830s, Grand Rapids was recognized as the leading producer of fine residential furniture in the world. By the mid-1900s, office furniture had begun to eclipse residential production and now accounts for the vast majority of furniture production in the region. Industry giants Steelcase, Herman Miller and Haworth, mainstays of the West Michigan manufacturing landscape for decades, collectively generated over $7 billion in annual sales in 2021.
Despite this, they are not the only titans of manufacturing in the region. With 120,000 manufacturing jobs and 2,500+ manufacturers in West Michigan, this is hardly a region dependent upon a handful of companies or a single industry.
What distinguishes West Michigan as an ideal region for manufacturing? Experts point to diversity and collaboration.
Manufacturing thrives in West Michigan because it is highly diversified. Unlike the branded giants of the office furniture industry, the majority of today's West Michigan manufacturers are vital components in the supply chain for a wide range of industries, including office furniture, automotive, medical devices, food processing, and aerospace and defense. That diversity demands agility and know how.
Veneer companies, foundries, metal stampers, plastics, and wood product manufacturers, and tool & die are all part of the mix.
West Michigan's global manufacturers supply customers with everything from circuit boards and medical devices, to personal care products, to bullet-proof composites for military and industrial vehicles, to smart rearview mirrors that record video and link to home automation. Grand Rapids' thriving craft beer industry has even driven manufacturing innovation, with one small startup designing and manufacturing a tool that allows breweries and cideries to can their own beverages for carry out directly from their taproom bars.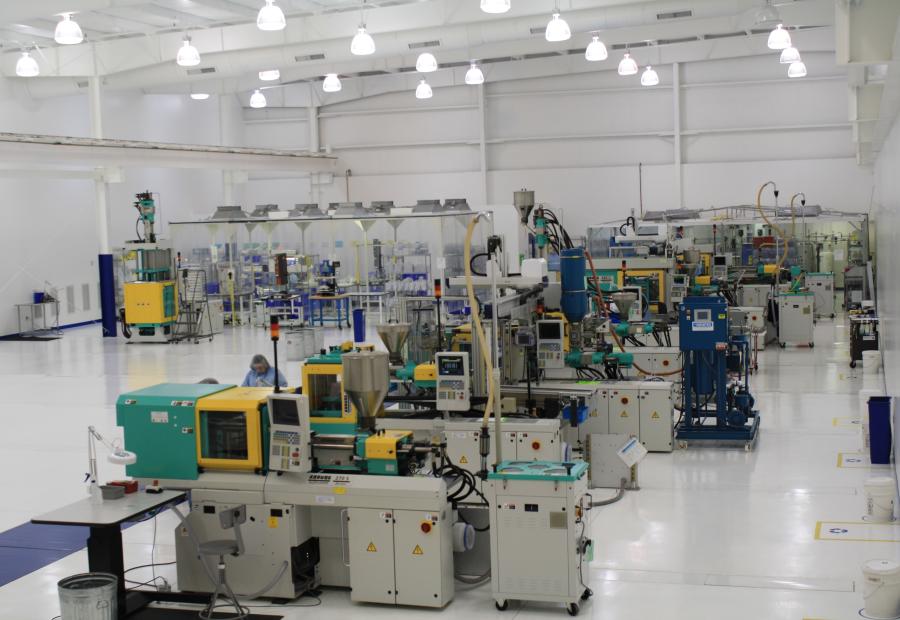 Medbio
Photo by The Right Place, Inc.
Collaboration advances manufacturing efficiency, innovation and investment
But beyond diverse capabilities, the West Michigan manufacturing sector thrives on something less expected – collaboration.
The Right Place/MMTC-West Manufacturers Council – a group of nearly 50 manufacturing leaders plus presidents of area colleges and universities – collaborates to promote, facilitate and advocate for "best-in-class" manufacturing throughout the region. Competitors and colleagues, alike, meet monthly at one another's facilities to tour, problem solve, discuss best practices and share lessons learned.
Taking their lead from the Manufacturers Council, various manufacturing industries have formed their own councils and collaboratives to innovate, take advantage of complementary skill sets, create efficiencies, and attract investment and talent. 
MiDevice, for example, is comprised of 28 leading medical device manufacturers and suppliers in Michigan. According to The Right Place, the regional economic development organization that convened the group, "MiDevice is the only Michigan-based organization dedicated to medical device design, development, manufacturing, and distribution. The consortium works to speed the growth and development of medical devices by emphasizing and encouraging collaboration among members to meet overall product lifecycle and supply chain needs. The goal is to build collaboration around core competencies, create opportunities to leverage these competencies, and ultimately grow the medical device industry in the region into a nationally recognized medical device cluster."
One recent example is Michigan State University establishing Grand Rapids Innovation Park in the heart of downtown as a collaborative health innovation hub for biomedical research, bioengineering and health technology. The three buildings at the site house researchers, manufacturers and care providers who can leverage idea and information sharing to bring new products to market – like the world's most advanced medical scanners, installed here in 2021 by BAMF Health.
Similarly, West Michigan's Aerospace and Defense industry has pooled its strengths through participation in the Michigan Defense Center. The MDC formed in 2006 to target statewide defense and homeland security opportunities for Michigan businesses. The aerospace and defense industry in Grand Rapids has thrived in this collaborative environment, earning a spot as one of the most diverse aerospace and defense material supply chains in the country.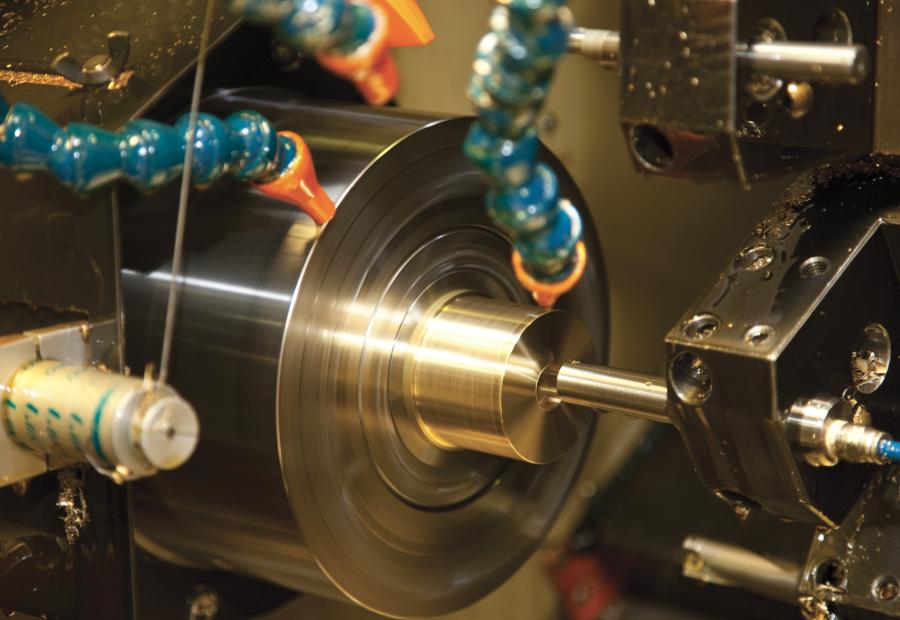 Amerikam
Photo by The Right Place, Inc.
Growing strong and hiring
Growth in manufacturing throughout the region does not appear to be letting up anytime soon.  
The medical device industry, for instance, employs over 2,500 people in West Michigan with a 10-year growth rate of 27%, outpacing the national average by 11%. Whether pioneering production of component parts or shepherding products from concept to market, West Michigan medical device manufacturers like Medbio, Aspen Surgical and Autocam Medical, demonstrate the full range of design innovation and manufacturing capabilities.
More than 40,000 people are employed in automotive manufacturing jobs in West Michigan. Food & beverage manufacturing accounts for another 36,000+ jobs, and has experienced a 10-year growth rate of 45%, exceeding the national average by more than 25%. The aerospace & defense sector supports 9,800 jobs, with a five-year job growth rage of 15.3%, outpacing the national average rate of 1.6%.
The region enjoyed a manufacturing job growth rate of 29.1% from 2011-2020, a significant edge over the national rate of 7.6%. Companies like Grand River Aseptic Manufacturing, Goiton, King Milling, LG Energy Solution, Metal Flow, Profile Films, Technoform USA, and Unismack have made or announced billions of dollars in investments in West Michigan in 2021-2022.
Manufacturing exports – valued at $8 billion in 2015 – are on the rise, too, growing at a rate of 13.4 percent, twice the national average.
With the power of diversity and collaboration fueling its growth, the Grand Rapids manufacturing sector has turned Furniture City into one of the best places to make just about anything in the world.
Grand Rapids is Michigan's fastest growing metro area and one of the nation's strongest economies, fueled by a creative, collaborative spirit that generates global, national and entrepreneurial investments. Experience Grand Rapids highlights leading sectors of the local economy to underscore the city's suitability for innovation-focused meetings.