With 9,000 farms and 1.1 million acres of harvested farm land, West Michigan is one of the top agricultural regions in the country. It is also home to over 60 craft breweries and Beer City USA. A growing number of West Michigan farmers and food producers have stepped up to meet area brewers' demand for top-quality, locally sourced ingredients – and beer-related agribusiness is now flourishing.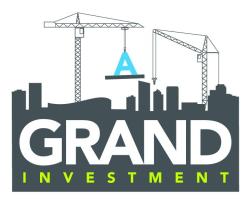 With thousands of different craft beers available in brewpubs and bars across America, it's hard to imagine that there are just four primary ingredients in every pint: water, yeast, malt and hops.

Craft brewers will explain that the proportion of those ingredients and the variety of malt and hops determine the style of beer. Beyond that, breweries have crafted a myriad of proprietary recipes using ingredients like coffee, citrus and herbs, or techniques like bourbon-barrel aging to enhance the flavor, fragrance and color of their brews.
But even before the culinary craftsmanship takes place, the taste, character and quality of a beer are rooted in something even more elemental: the soil. More accurately, the soil, climate, topography, even the latitude of the fields where the hops and malt grains are grown.  
In wine production, this is referred to as the terroir – a term that is being applied more and more to craft brewing.
In West Michigan, where the number, quality and reputation of craft breweries have put the region on the map of best U.S. beer cities, local growers and processors have stepped up to deliver distinctive, fresh, quality ingredients to meet the growing demands of the local craft beer industry.
Do you know where your malt comes from?
When Grand Rapids-area native Erik May, a 15-year U.S. Air Force veteran, decided it was time to hang up his uniform, he started asking some local craft brewers a lot of questions. He had what he describes as a nagging idea to be part of the craft beer industry. He wanted to know what was involved and where the ingredients came from.
"When I asked brewers where their malt came from, they always answered with a company name," May said. "When I asked who grew it or when it was harvested, I'd be met with a blank stare. It's funny, my mom taught me to never take food from strangers, yet that's what the industry was doing. I knew it could be different."
In 2012, May opened Pilot Malt House, a 17,000 SF malt processing plant in Byron Center just south of Grand Rapids. In beer making – as in distilling certain spirits – malt provides the essential sugars that the yeast converts to alcohol. Malt also contributes much of the color and aroma to beer.
To make malt, a processor starts with a small grain – usually barley, but sometimes rye, wheat or other grain – carefully steeps it allowing it to germinate, converting starches in the grain to sugars, then brings the moisture content back down, removes the tiny rootlets, cleans and bags the malt for the brewer or distiller.
May worked with several local farmers and convinced them to include barley in their crop rotation. In its first year of production, Pilot contracted with local growers for 10 acres of barley. In 2016, the company processed barley and other small grains from 3,000 acres, producing about 300 tons of malt.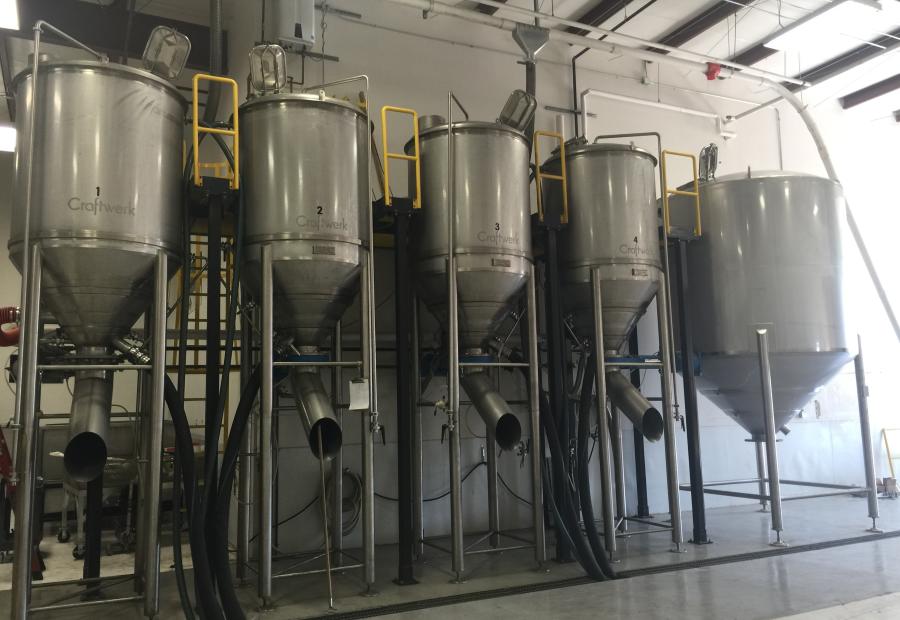 Steep tanks at Pilot Malt House.
Photo by Pilot Malt House
While May has sold his Michigan malt in 15 states, the District of Columbia and even Mexico, 70 percent of the company's product goes to brewers and distillers in the mitten state. The majority stays in West Michigan, where a thriving craft beer industry and growing number of craft distilleries have helped propel Pilot to its position as the largest craft malt house in the Midwest.
Michigan malt production is still small by comparison to that in several West-Central states, including Montana, Idaho and the Dakotas. But May is capitalizing on the distinctive nature of malt grown in a climate dominated by the Great Lakes. Lake effect snows in the winter and humidity in the summer add moisture to the soil and the growing environment. As a result, Michigan malts tend to be darker, with an earthier depth of flavor.
"It's terroir in action – science in action," says May. "The flavor profiles in our malt are drastically different. And because we process it quickly from local growers, it's fresh. The freshness and earthy depth of flavor are the 'value add' that we bring to the table."
Great Lakes, great hops
That distinctively-Michigan taste is true of hops, as well, according to Hopyards of Kent's Pam Miller.
"Michigan hops have a distinct aroma profile when compared to hops grown in the Pacific Northwest," she says. "We can grow the same variety in Michigan, and the recipe will taste and smell quite different. The reason is our terroir – our water and soil."
Hops are flowers. The fragrance within the hop flower, or cone, comes from oils in the lupulin gland. These oils add aroma and bittering flavor to beer. In Michigan, growing season for this perennial begins in April, with the plants sprouting 8-10 inches per day in the spring. The tall bines grow on trellises, reaching a height of 20 feet in about four weeks. Hop burrs, similar to buds of a flower, mature into conical shaped flowers in about six weeks. The plants are ready to harvest when the oils in the cones have matured in late August or September.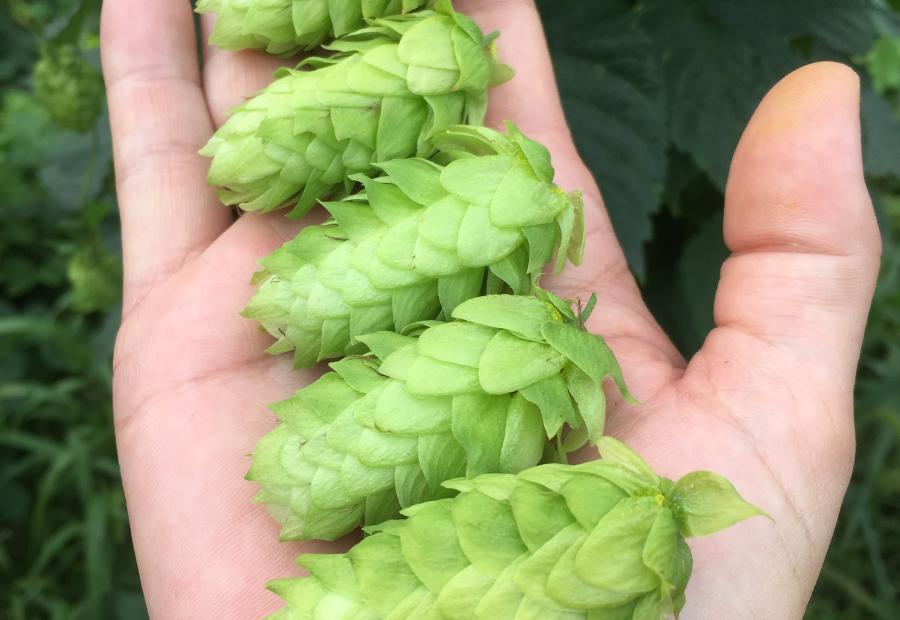 Hop cones.
Photo by Hopyards of Kent
The young Michigan hop industry has grown tremendously over the past 10 years. The first big hop farms in the state included Empire Hops Farm near Empire, Hop Head Farms in Barry County and Michigan Hop Alliance on the Leelanau Peninsula. Hop Growers of Michigan board member Sean Trowbridge, who co-owns Top Hop Farms in Goodrich, estimates that there are now at least 50 hop growers throughout the state farming more than one acre. 
While estimated at just under 1,000 acres – tiny in comparison to Washington, Oregon and Idaho – Michigan hop production now ranks fourth in the U.S.
Miller – who founded Hopyards of Kent in 2011 with her husband, John, and son-in-law Ian Mortensen – serves as the farm's head agronomist and business manager. Their farm sits about 30 miles northeast of Grand Rapids in Greenville, where they grow five varieties on 14 acres, producing about 1,500 dried weight pounds of hops per acre each year.
Before launching the operation, they visited the heart of U.S. hop-growing country – Yakima Valley, Washington – where their son-in-law had grown up surrounded by thousands of acres of hops. They worked with seasoned growers who taught them the labor-intensive process needed to grow a high-quality crop.
A year after their Pacific Northwest sabbatical, the Millers had planted their first acre of hops. In the 4-5 years it took for the plants to fully mature, they continued to study and perfect their skills as growers.
As they learned and grew, they added a Harvest Center eight miles from their farm. Qualifying network growers can bring their hops to the center to be harvested (the process of removing the cones from the bines), dried and baled for processing. From there the bales go to United Hops Brokerage, another Greenville-based operation that processes the baled hops into pellets, provides cold storage and delivers the pellets to brewers as needed.
The Millers are very selective about the hops that come through their harvest center. "Our standards are very high because the brewers' standards are very high," she explains. "The hops need to be in the top 10 percent of the quality ranking – that's what brewers have come to expect."
Pam is an evangelist for quality hop production in Michigan. But she doesn't just preach it, she teaches it, working with about 50 growers and prospective growers who visit Hopyards of Kent each year. They come for a day, a week or a season to learn what it takes to grow strong, top-quality hops.
She has been working with Rob Sirrine of Michigan State University Extension to formalize her program into a three-course curriculum that combines textbook lessons with three 2.5-day farm-based workshops. During the on-farm workshops, growers learn about everything from trellis building and planting to irrigation, pest management and harvest.  
"We're all as strong as our weakest farm," she says. "When we got started, we learned from people who have been growing for generations, and I want to pay that forward. We've built a place where people can learn how to grow quality hops in Michigan. For us, it's not about being the biggest. We're chasing quality, and when we connect, we grow better together."
Ironically, as the craft beer industry in Michigan grows, it's growing even more local. Because when the farmers who grew the hops and the grains, the people who processed the malt and the hops, and the brewer can all sit down in a brewpub and raise a pint together, that's accountability – and it's farm-to-table at its best.
"A Grand Investment" is an ongoing series exploring the business landscape of Grand Rapids. Michigan's fastest growing metro area and one of the nation's strongest economies, Grand Rapids is fueled by a creative, collaborative spirit that generates global, national and entrepreneurial investment. This series highlights leading sectors of the local economy and underscores the city's suitability for innovation-focused meetings.
Editor's Note: As of June 2018, Pilot Malt House has closed.