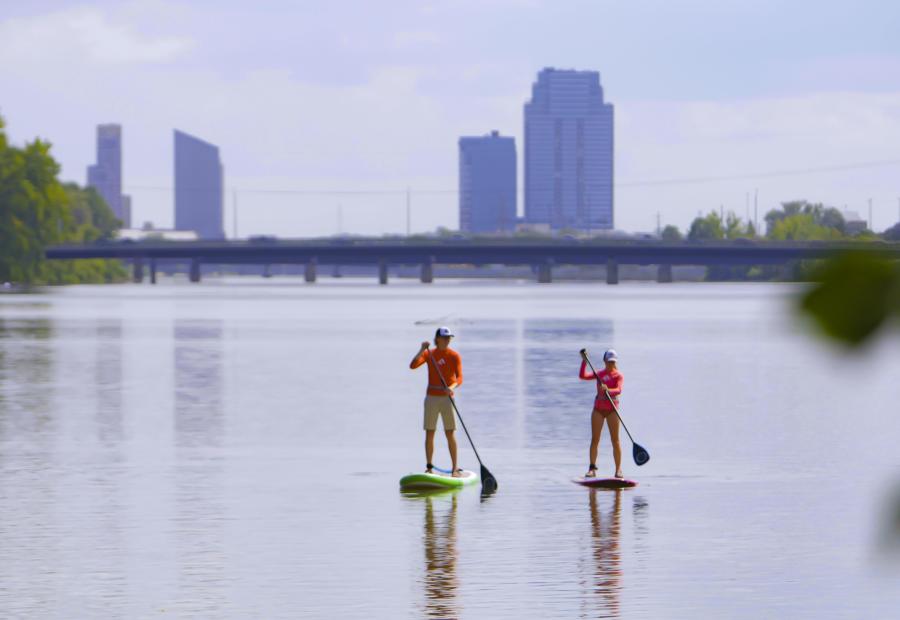 Stand up paddling towards downtown on the Grand River.
Photo by Experience Grand Rapids
Stand Up Paddle Boarding
The Grand River that flows through downtown Grand Rapids is a major focus of aquatic adventure. For experienced paddlers with their own paddleboard, it's a fantastic waterway for stand up paddle boarding.
If you don't own a paddleboard, no worries. Living Water Adventures is a mobile business that rents and delivers paddleboards to you wherever you're planning to SUP in the Grand Rapids area. While their primary business is renting flyboards and jet skis, they have a small inventory of paddleboards that are perfect for a small group of friends or family visiting West Michigan.
One great place to SUP is the section of the Grand River that runs from Lowell to Ada. It's about an eight-mile paddle on a SUP, which generally takes people two-and-a-half to three hours. Or SUP around Mill Pond in the Flat River in Lowell, then grab dinner or drinks in the quaint downtown. 
At the western end of the Grand River, you can paddle the Grand River Heritage Water Trail. While you may not want to paddle the entire 35.7-mile length of the trail, there are water trail access points at 18 Ottawa County parks. Or you can simply enjoy a paddle around its bayou.
Other local rivers that are great for SUPing are the Rogue River, Flat River, and Thornapple River (from the Cascade dam to the Ada dam).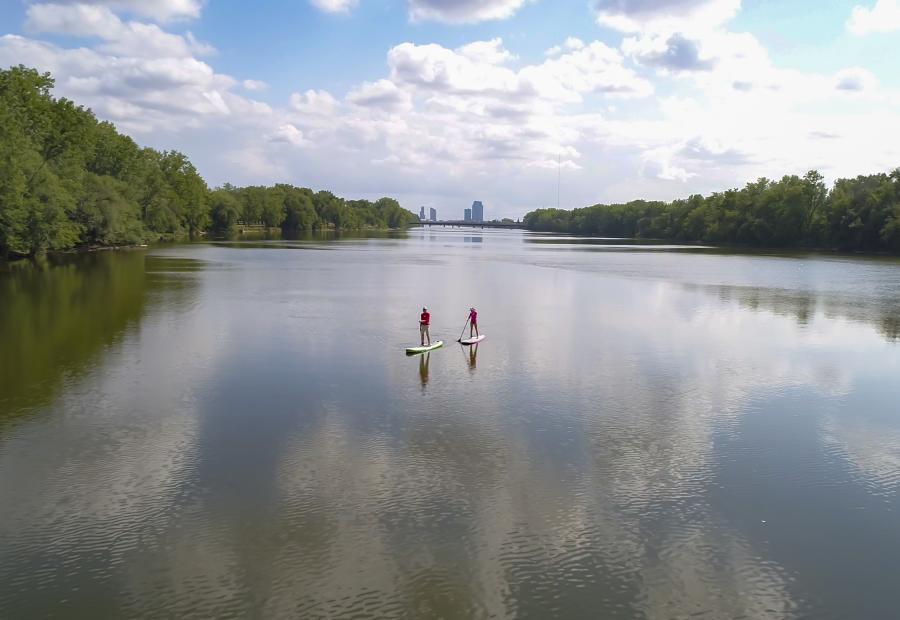 The Grand Rapids area offers many lakes and rivers that are great for SUPing.
Photo by Experience Grand Rapids
Beyond rivers, West Michigan has many lakes with public boat launches. A few that are ideal for SUPing are Wabasis Lake, Versluis Lake, and Reeds Lake, the latter of which has a kayak launch which is even easier for paddle boarders to use than a regular boat launch. 
If you're looking for a little serenity, there's a channel between Big Wabasis and Little Wabasis that's quiet, scenic, and surrounded by cattails. For more ideas, check out Kent County's Water Trail Access Points map, which includes county parks with access to local river trails as well as other access points.
To try SUPing at a staffed facility, you can rent paddleboards (in addition to kayaks, canoes and paddleboats) at the DeVos Family Boathouse at Millennium Park, just five minutes from downtown Grand Rapids. The park has 100 acres of water and four miles of shoreline that are easy to explore. Staff is on-site to answer any questions. 
If you decide to brave Lake Michigan, which is less than an hour drive from downtown Grand Rapids, rentals abound at and near state parks. Check out SUP rentals from beach towns like Holland, Grand Haven, and Saugatuck. 
If you plan to try SUPing on Lake Michigan, go on a low-wind day. Wind can create a chop on the water that can make it really difficult, almost impossible, for beginners to paddle.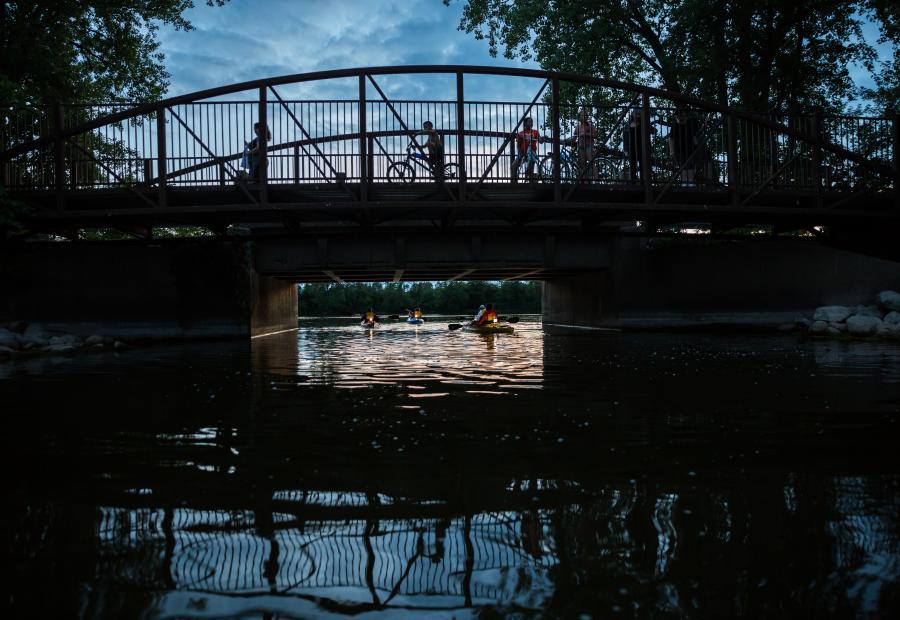 Paddlers enjoying kayaking at nighttime at Riverside Park.
Photo by Emily Sierra Photography
Canoe/Kayak Liveries
Grand Rapids area has several canoe liveries that rent canoes and kayaks and provide transportation, as well as other outlets that rent them to those who plan to arrange their own transportation.