Stop by Belknap Park in downtown Grand Rapids any summer or fall evening and you're liable to see upwards of 100 people playing (or waiting to play) the fastest growing sport in America. Pickleball, often described as a cross between tennis, badminton and ping pong, is in the midst of a certified boom, according to the Sports & Fitness Industry Association. Since 2020, the pickleball-playing U.S. population has increased by 39%, and Grand Rapids is one of the Midwest's best and most supportive places to play.
"The pickleball facility at Belknap Park is one of the finest in the Midwest," confirms John Frizzo, president of the Grand Rapids Pickleball Club, which was formed in 2012, before there were any pickleball courts at Belknap. The group raised the funds to transform some of the park's rundown tennis courts into six pickleball courts that summer. They added more courts over the next decade – it's up to 21 outdoor courts now – and recently upgraded lighting fixtures and fencing.
Over the same decade, club membership grew from a handful of people to roughly 1,150 in 2022. "That's up from 650 or so the year before," says Paul Richards, who is the Club's Director of Advanced Play and also serves on the Board. Member benefits include access to club tournaments, events and ladder leagues, a format of play designed so that players compete mostly against others of similar skill levels.
Just as importantly, members enjoy the fellowship of a friendly and supportive community while helping advance the profile and reach of the sport throughout West Michigan.
A Sport for Everybody
"Pickleball is a very social experience," explains Frizzo. "It's a great way to meet new people." Richards agrees: "I've met so many people through pickleball that I wouldn't have otherwise. I'm 70 years old and I have 400-500 new friends I didn't have a few years ago."
Those friends range from kids to 80somethings. While pickleball was first embraced by the senior citizen crowd, the average player age has dropped to 38 years old and the fastest growth is among players under 24. Frizzo, who played in his first pickleball tournament in 2018, says Grand Rapids is experiencing the same influx of young pickleballers.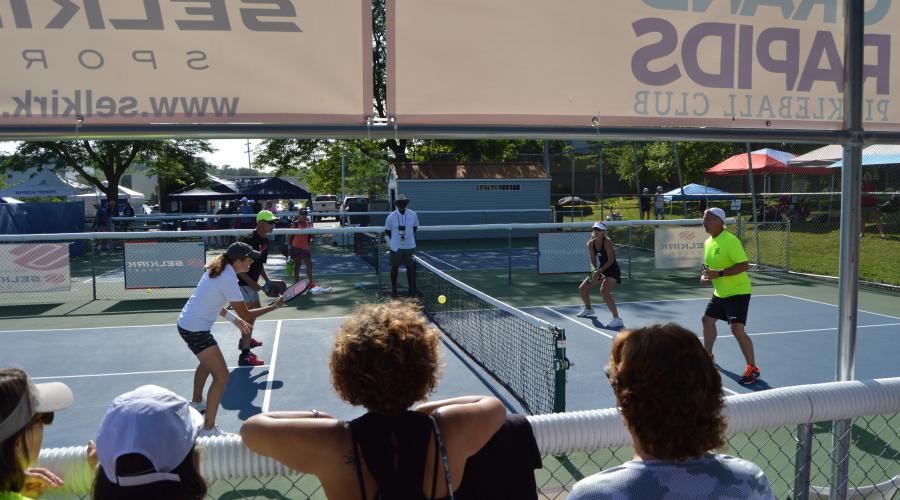 The Beer City Open attracts pickleball players from all over the world.
Photo by West Michigan Sports Commission
The Beer City Open
Pickleballers of all ages come to Grand Rapids every summer to compete in the Beer City Open at Belknap Park. Co-founded by Richards and Andrea Koop, who ranks in the top 10 of professional women players nationally, the Beer City Open began in 2018 with 350 participants and $12,000 in prize money. Just four years later, it had become one of the biggest tournaments in the country, attracting 882 players from 38 states and five countries to compete for $90,000 in prize money.
"We have both pro and amateur divisions, and it's a real thrill for the amateurs to see the pros in action," says Richards. In 2021 and 2022, the Open was a stop on the Association of Pickleball Professionals (APP) tour and hosted some of the top-ranked players in the world. Amateurs could earn a "Golden Ticket" to the USAPA National Championships by virtue of their performance in Grand Rapids. In-person spectators cheered on the athletes and select matches were streamed on ESPN+.
Friendly and Welcoming
While it's a pro-level facility, the Club is not at all intimidating to newbies. "We offer Intro to Pickleball classes and four of the courts in the back are for beginners," says Richards. "Another six courts are for family and friends to play together. Or you can show up and play with random people, there's always someone who's at your skill level. Just do a little online research first." USA Pickleball has a good primer on mastering the basics.
The Club at Belknap Park is the biggest pickleball facility in the area, but it's not the only one. "Many club members use this as their home base but they also play elsewhere in the city," says Frizzo. The Club maintains a list of 25+ additional places to play, indoors and out, on its website.
All in Pickleball Gym, West Michigan's first indoor gym devoted exclusively to pickleball, opened in Byron Center in 2023. The facility has five regular courts, two trainer courts and a lounge area. It's open from 4am to midnight, seven days a week, to accommodate as many players and games as possible.
There are even more local venues to come, as the West Michigan Sports Commission (WMSC) has announced plans to build 20 pickleball courts at the Meijer Sports Complex in Rockford, further enhancing the area's reputation as a pickleball destination. The WMSC is currently conducting a capital campaign to fund the expansion – which will also include new softball and baseball fields, a new concession building, additional parking and more – with the aim of beginning construction in 2024.
If you're new to the sport, be forewarned: "It truly is addictive," says Frizzo. "You become addicted to the sport and the people who play it," adds Richards. "It's so much fun – come out to Belknap and listen to the laughter."
Planning for the 2023 Beer City Open is now underway and organizers revealed a few exciting developments to us. This year's prize pool is $100,000 – the highest yet ­– and a new major sponsor is expected to join the list of local and national companies that help make the tournament possible. The registration process will also be streamlined by requiring participants to identify their doubles partner and provide payment when they sign up.
Keep an eye on the Beer City Open website for more details to come – including a registration date. Last year, the tournament sold out in less than an hour, so you'll want to mark your calendar!