Summer is a great time to explore all the amazing things to do right here in West Michigan.
Visitors will find that Grand Rapids is an easy place to get to by car or by plane, the city is full of great things to do, and it's also a perfect home base for short (under an hour) day trips promising even more fun and adventure. That's the perfect setup for a multi-day escape. It also gives locals a great reason to plan a staycation and explore these distinctive destinations close to home.
So grab the family and hit the road for some local adventures!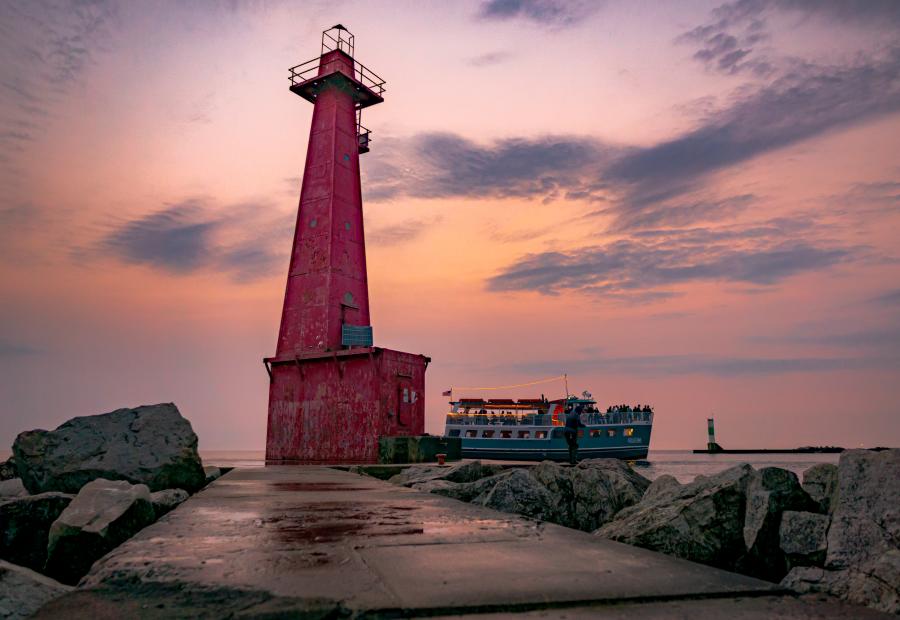 No trip to this port city is complete without a stop at Pere Marquette Park.
Photo by Nick Irwin Images
Muskegon
Situated on the Lake Michigan coast about 40 miles northwest of downtown Grand Rapids, Muskegon combines a walkable center city – its 12-block social district allows patrons to stroll outdoors with alcoholic beverages – with plenty of wide-open spaces for outdoor recreation.
No trip to this port city is complete without a stop at Pere Marquette Park. This state park features a fantastic beach (raked daily) plus a handicap-accessible playground and picnic areas for when the hunger hits. Kiteboarding, kayaking and paddleboarding are popular here. Bring your fishing gear for the fishing pier and your camera for some great lighthouse shots.
Summer's also a great time to visit the Muskegon Winter Sports Complex, which despite its name offers year-round fun. In warm weather, the winter luge track turns into the only wheel luge in North America. Your ticket includes instruction time and the track accommodates persons with disabilities. There's also a zip line, archery range and Trail Quest scavenger hunt.
Grand Haven
This Lake Michigan beach town about 40 minutes west of Grand Rapids is justly proud of Grand Haven State Park, which was named the "Best Beach Town on a Lake" in 2021 by PARENTS' magazine. The incomparable "squeaky sand" (thanks to its high silica content) and miles of beach and water set the scene for a perfect summer day.
Jump on the boardwalk from the beach for a short stroll into downtown Grand Haven, where plenty of outdoor seating and redirected traffic make it easy to dine and drink while soaking up the sunshine. Try the handcrafted spirits at Long Road Distillers and the micro-brews at Odd Side Ales. Locals swear by the gyros at Mr. Kozak's and the ice cream from Sweet Temptations. The latter is located near Lynne Sherwood Waterfront Stadium, which is looking forward to hosting spectators for nightly Grand Haven Musical Fountain shows again this summer.
Stick around into the evening to take in a glorious sunset as you stroll along the channel or enjoy a bite on the Noto's at the Bil-Mar deck.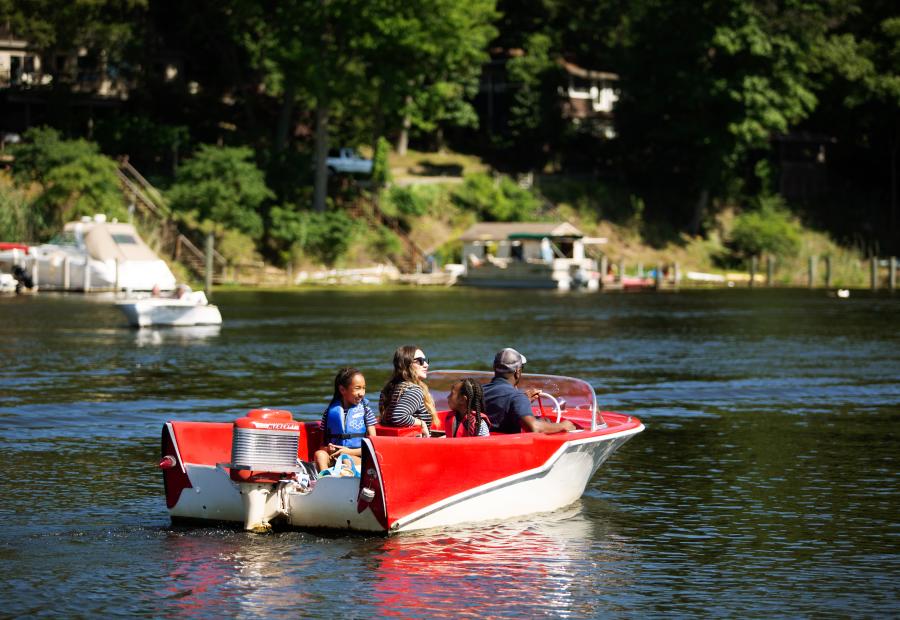 Have fun cruising the channel in a Retro Boat tour.
Photo by Experience Grand Rapids
Saugatuck
This charming waterfront town 40 miles southwest of downtown Grand Rapids may seem small, but it's packed with activities. Get your heart pumping with a dune ride at Saugatuck Dune Rides. Besides gorgeous views of Lake Michigan and the towering sand dunes, the dune buggy drivers are filled with fun historic facts about the area – like the ghost town buried beneath the dunes.
After all that excitement, take a breather and walk around Saugatuck to explore art galleries, retail stores, restaurants and everything in between. An outdoor social district lets visitors enjoy food, to-go drinks and socializing from 11am-11pm daily. Participating restaurants include The Butler and New Holland Brewing.
For a different view of Saugatuck, rent a boat from Retro Boats and enjoy cruising the channel. Most rentals are available from 1.5 to 4 hours and some can seat up to 16 people. Reserve yours soon to make your day in Saugatuck unforgettable.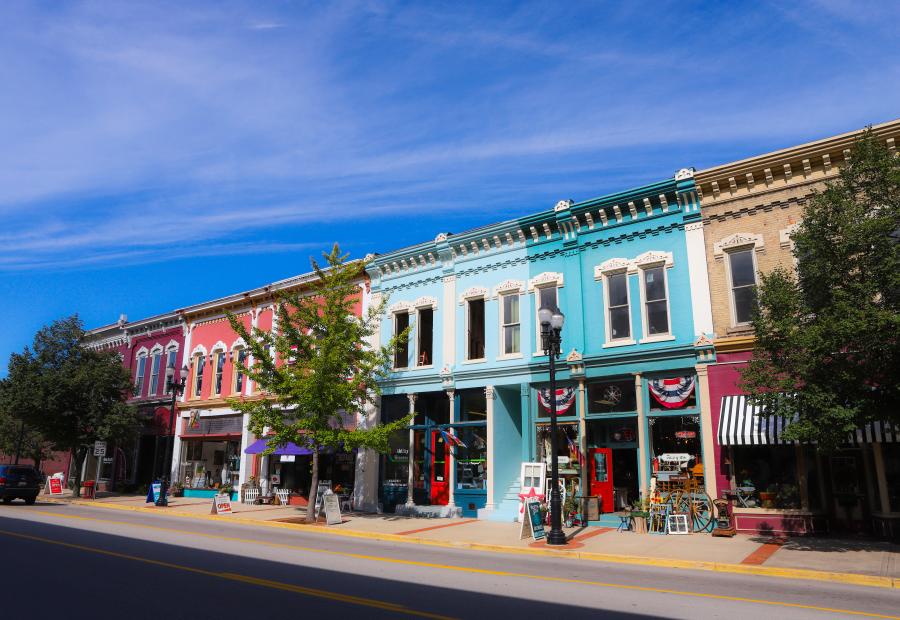 Experience retail therapy in historic and scenic downtown Lowell.
Photo by Experience Grand Rapids
Lowell
Lowell, about 25 minutes east of downtown Grand Rapids, is a beautiful destination any time of year. Take a trip to Fallasburg Bridge, one of only two covered bridges in the state that is still open for car traffic. Be sure to stop and take some photos of the occasion and enjoy a picnic lunch in scenic Fallasburg Park.
After your photoshoot, stop at Big Boiler Brewing or New Union Brewery for some delicious craft beers and food. Both are part of the Showboat City Social District in the city's historic downtown. This riverside district allows patrons of Big Boiler, New Union and four other restaurants to purchase alcoholic beverages and stroll throughout the five-block area.
It's just a short walk from there to the retail shops lining Main Street – including Flat River Cottage (home to many vintage treasures) and Chimera Design (custom jewelry).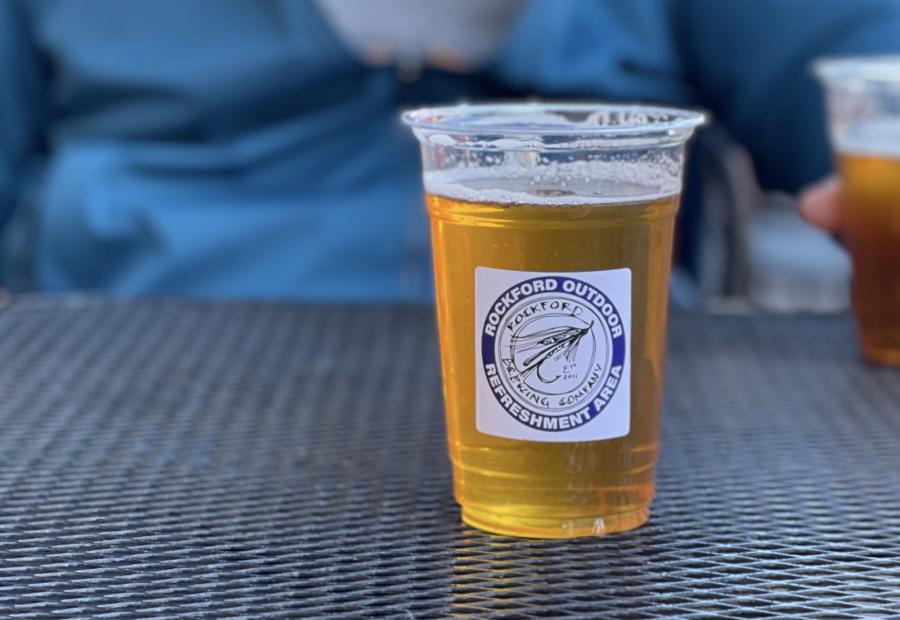 Explore the Rockford Outdoor Refreshment Area.
Photo by MI Playground for Experience GR
Rockford
A quick 20-minute drive from downtown Grand Rapids, Rockford is a small town with a big-town feel. Its picturesque, walkable downtown, nestled alongside the scenic Rogue River, includes an Outdoor Refreshment Area that allows visitors to purchase alcohol from participating businesses and carry them anywhere within the district's boundaries.
The Corner Bar and Rockford Brewing Company, two mainstays of the city's dining scene, are included in the Refreshment Area. Try to get on The Corner Bar's Wall of Fame by eating as many hotdogs as you can.
Rockford also features plenty of shopping, from women's retail standout Lee & Birch to the delightful Aunt Candy's Toy Company to the Rockford Footwear Depot, which offers great deals on products from Wolverine World Wide, the global lifestyle brand headquartered in Rockford.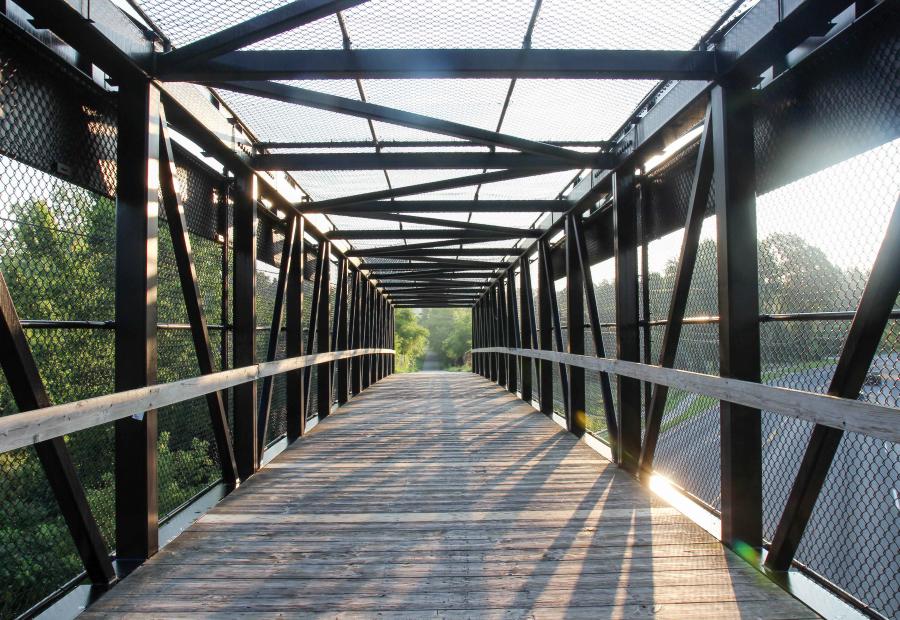 Scenic White Pine trail runs through Rockford and Cedar Springs, all the way up to Cadillac.
Photo by Matthew Medendorp
Cedar Springs
Just 15 minutes past Rockford lies Cedar Springs, a hidden West Michigan gem. Make time to hit the Fred Meijer White Pine Trail either on foot, bike, ski, skate or however you prefer to move! The trail runs 92 miles north to Cadillac but don't feel pressured to do it all in one day.
After all that exercise, Cedar Springs Brewing Company is an ideal refueling spot. It offers ample outdoor seating and a full menu featuring food and beverages from the Upper Bavaria region of Germany as well as American smokehouse dishes.
Now that you're refreshed and recharged, head to Fisk Knob, a small park open from May 1 to October 31 that contains the highest point of elevation in all of Kent County. You can park and hike up a short gated drive to the peak to enjoy the scenic bird's-eye view.
Vacations don't have to involve plane travel or a multiple-hour drive when you're in Grand Rapids. All it takes is a plan and a tank of gas. Happy traveling!