If cabin fever has kicked in thanks to the low temperatures and mounds of snow outside, it's time to bring a little summer fun to your winter.
The Grand Rapids area has several family oriented water parks, one of which is within 10 miles of downtown and the other is slightly over an hour away, making them perfect destinations for a quick day trip out and about. 
The Little Dip Splash Pad at the Holiday Inn Express Grand Rapids South
The 10,000 square feet of water park fun at The Little Dip Splash Pad includes a splash pad, a vortex pool, zero depth entry (perfect for young children), a lap pool, and a hot tub for adults and teenagers 16 and older. The air temp is a balmy 85 and the pool water is kept at 80-82, a pleasant change if you're seeking refuge from the wintery outdoors.
Overnight guests in a standard room receive four waterpark passes with their room and can purchase additional passes for $15. Day passes for non-overnight guests are also $15.
The waterpark is open from 9:00AM to 10:00PM daily.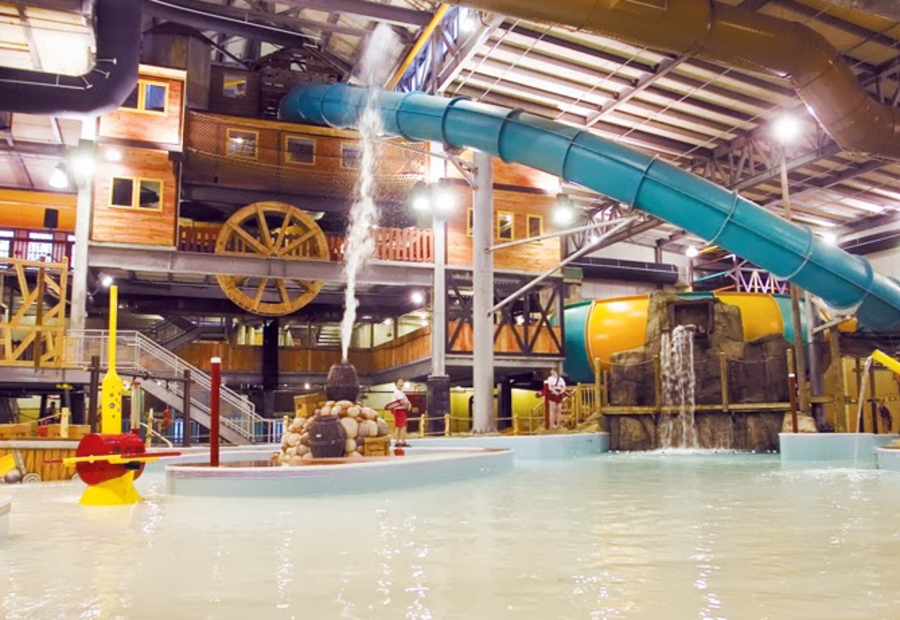 Go back to the Old West at the Double JJ's Gold Rush waterpark!
Photo by Double JJ Resort
Gold Rush Water Park at Double JJ Ranch & Golf Resort
While you may think of the Double JJ Ranch as a place to play in the summer, their Gold Rush Indoor Waterpark is a great winter destination. At just over an hour-long drive in Rothbury, it is far enough to feel like you're getting away but close enough to justify a day trip.
Thrill seekers will love racing down Rustler's Gulch, West Michigan's tallest indoor waterslide. Gold Rush also boasts three other waterslides, including Thunder Canyon, a four-person white-water raft ride that will keep the whole family laughing. Kids who like waves will go crazy for the wave pool, while others will enjoy playing basketball in the Golden Pond, or floating around the Lazy/Crazy River. Little ones can also splash around in their own toddler pool, while adults can relax in the adult-only hot tub. There is also a hot tub available to all ages.
Passes for the water park are sold separately from the rooms. Double JJ Resort often offers packages that include water park passes with the room check their website for details. Day passes for adults and children range from $20 to $35 depending on the day of the week. Young children under 3 years old are free. 
Gold Rush is open Friday 4:00PM to 9:00PM, Saturday 10:00AM to 9:00PM, and Sunday 10:00AM to 5:00PM. They also open up full time between Memorial Day and Labor Day for the summer. 
Aquatics Center at The Salvation Army Kroc Center
The Aquatics Center at The Kroc Center houses a giant waterslide, water basketball court, zero-depth play area, a hot tub and a lazy river ideal for inner tubing and gentle aerobics. There are also three 25-yard lap lanes for more serious exercise.
Visitors can purchase a day pass – $8 for ages 0-11 and $12 for ages 12+ – to access the Aquatics Center and other open recreation areas. Different aquatic activities are offered at different days and times, so check the Program Guide at the Kroc Center website to plan your adventure. All aquatic areas are open during Open Swim times.
Built with funds donated by the late Joan Kroc, the wife of McDonald's founder Ray Kroc, the Kroc Center aims to nurture children's social skills and athletic potential. Part of that mission includes the assistance of trained professionals, and non-members can take advantage of American Red Cross swimming lessons for everyone from pre-schoolers to adults.