When Experience Grand Rapids first rolled out the Brewsader® program in 2015, we thought it would be popular, but wow! You guys have gone for it: to date, more than 4,400 beer aficionados have become an official Brewsader®, choosing from 23 local breweries to earn their title. Visitors and locals did so by gathering stamps from 8 of those 23 breweries in their "beer passport," which earned them the Brewsader® title and an awesome Brewsader® t-shirt.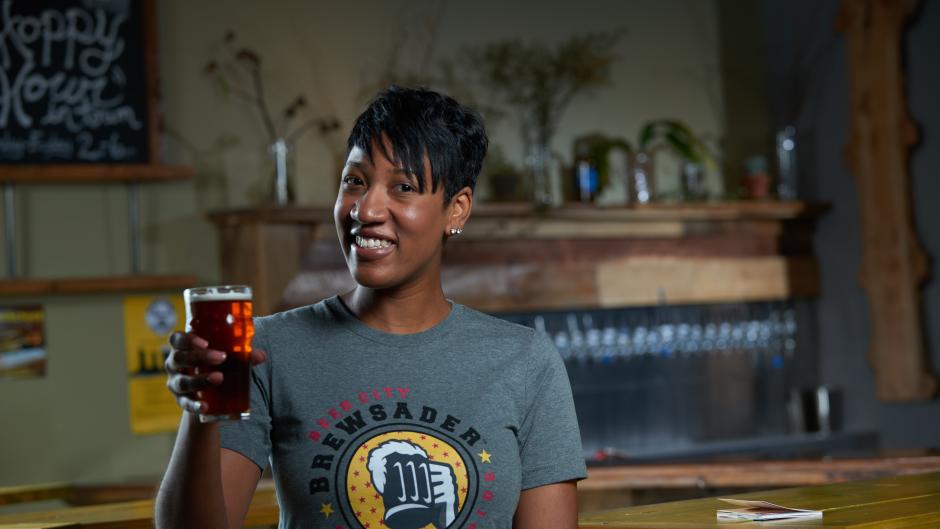 ---
Since then, the beer scene in Grand Rapids has continued to thrive and grow. And now, so is the Brewsader® program. As of this month, 9 additional breweries have been added to the beer passport, bringing the stamp-giving total to 32 breweries. Here are the nine who've recently joined us:
(Click here for a complete list of participating breweries.)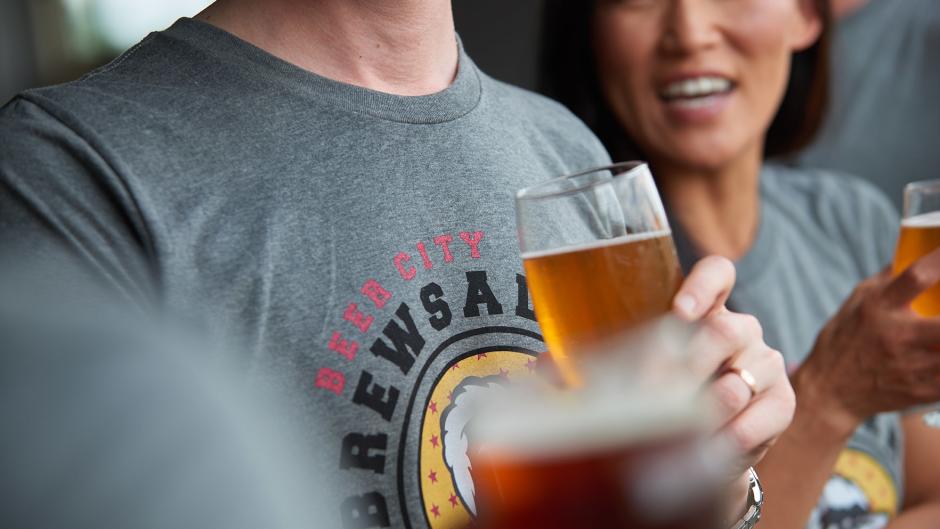 Brewsaders at Harmony Hall
Photo Credit: Experience Grand Rapids
---
What hasn't changed?
To become a Brewsader® and earn both the title and the t-shirt, you still only need stamps from 8 of the participating breweries. If you have already earned your 8 stamps and t-shirt, you're still a Brewsader®. Cheers! If you've collected less than 8 stamps, the stamps you already have still count—just add a few more and join the Brewsader® club. And, naturally, you still have to be 21-years or older to participate.
What's new: Become an Ultimate Brewsader®
In addition to the 9 new breweries, beer lovers now have the chance to become an Ultimate Brewsader® by acquiring stamps at all 32 of the beer passport breweries. Ultimate Brewsaders® will receive a wallet card that earns them discounts at GrandRapidsStore.com and surprise perks at local businesses. Brewsaders® will receive a quarterly newsletter letting them know about current perks and those perks will also be listed on our Experience Grand Rapids website. Check back often, perks will be updated regularly. 
New Beer Passports
If you already have a beer passport, you're in luck…you don't need a brand-new one. Just head to any of the 9 new breweries and ask for "another round" to add to your passport – it's new pages that stick onto your old beer passport, making it complete.
If you've never received a beer passport and want to get started, any of the participating breweries can issue you a beer passport and get you started with your stamps.
Here's to you, future Brewsader®!
Don't miss a post!
Sign-up for the Insider Experience blog