Grand Rapids is a college town, but not in the usual sense. Instead of being home to one main college, 13 colleges and universities have a presence here. Having students from different universities add to GR's energetic and creative vibe... and it can make hosting friends and family from out of town a bit of a challenge. Often important college dates like move-in day, family weekend, homecoming, and graduation overlap, and that means you've got to plan ahead.
As a recent college graduate, I've spent many hours scouring student Facebook groups for hand-selected restaurant and activity recommendations suited for out-of-town guests. Luckily, with my combined love for planning, hosting, and all things Grand Rapids, I've curated a list that will solve your "where should we go?" dilemma. Whether you're looking for breakfast, lunch, or dinner options or an activity to keep your guests entertained, I'll cover some of my favorites around the city.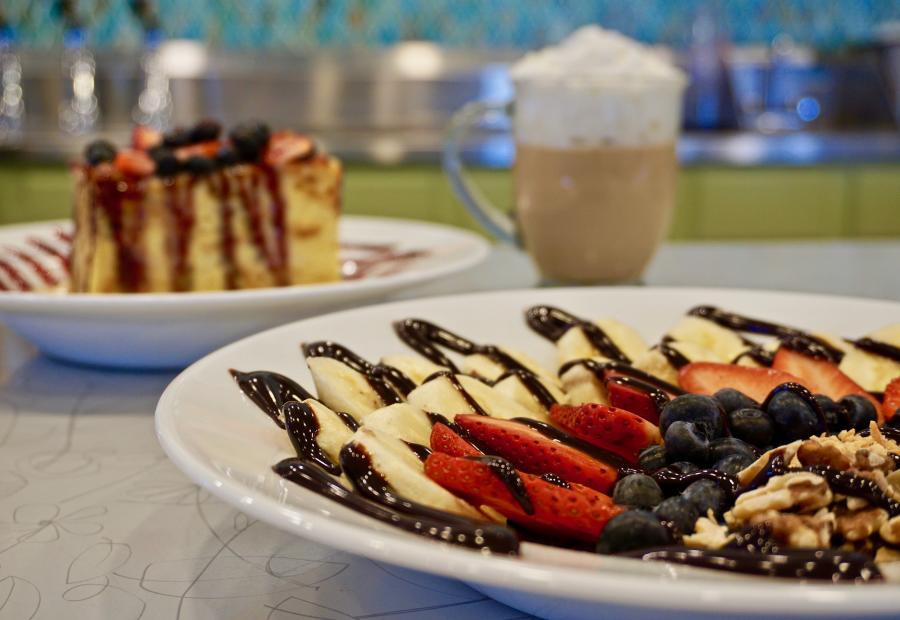 Anna's House has West MI locations in Grand Rapids, Grandville, Holland, Grand Haven, and Kalamazoo.
Photo by Experience Grand Rapids
Breakfast/Brunch
Anna's House
With convenient locations all around West Michigan, Anna's House is sure to be a hit. The large menu satisfies both sweet and savory breakfast cravings and has an entire vegan menu featuring popular plant-based products. My roommate and I often hear, "Can we go back to Anna's House when we're back in town?" from our families. To avoid the brunch rush, I'd recommend hopping on their Yelp waitlist before arriving at one of their locations.
Lucy's 
Lucy's takes a more traditional approach to brunch, offering their spin on delicious morning classics. My personal pick is the Spicy Hash Skillet, which is filled with potatoes, chorizo, pickled jalapenos and onions, chimichurri, and eggs. Pair your meal with one of Lucy's coffee options or even a morning mocktail.
Brown Butter Café
This Instagram worthy French café located in the Uptown neighborhood has a creperie menu for both sweet and savory lovers, in addition to a selection of Belgian waffles. Brown Butter Café has a warm and homey feel, perfect for a breakfast with family and friends.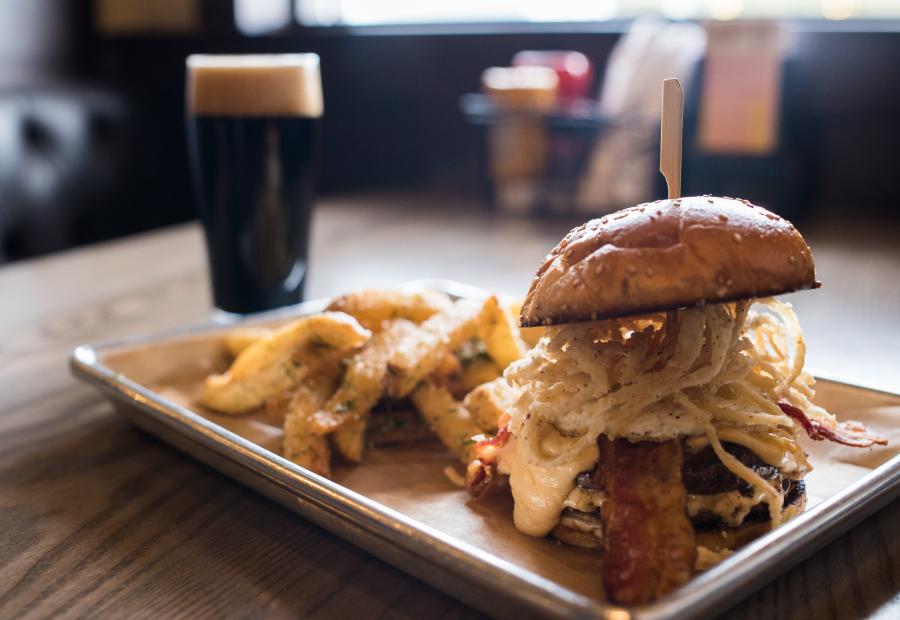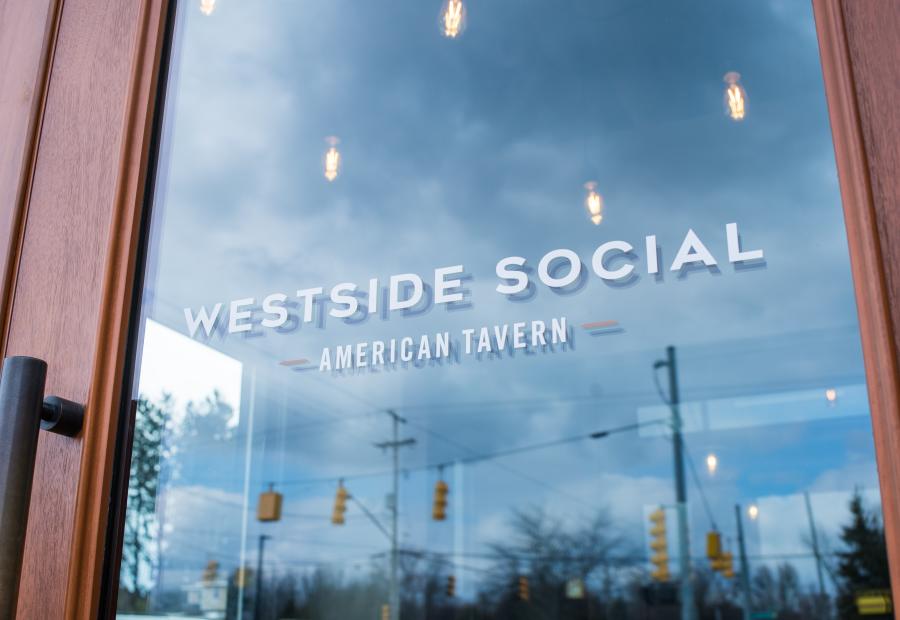 Jump on Westside Social's Yelp waitlist to avoid long wait times during lunch and dinner.
Photo by Experience Grand Rapids
Lunch
Westside Social
If you attend Grand Valley State University, I'm betting that you've been to Westside Social a time or two. Their convenient location on Lake Michigan Drive makes this a go-to lunch destination. This American Tavern offers something for everyone, and their Skillet Macs are delicious!
Nonla Burger
Opening their doors on the West Side of Downtown in early 2023, Nonla Burger's retro diner vibe pairs well with good company. Their menu items include traditional hamburgers, cheeseburgers, wings, chicken sandwiches, fries, and shakes.
Noori Chicken
A quick five-minute drive from Frederik Meijer Gardens, Noori Chicken, offers delicious Korean fried chicken. This restaurant makes it easy to share courses, making it a great lunch destination when my family and friends come to town.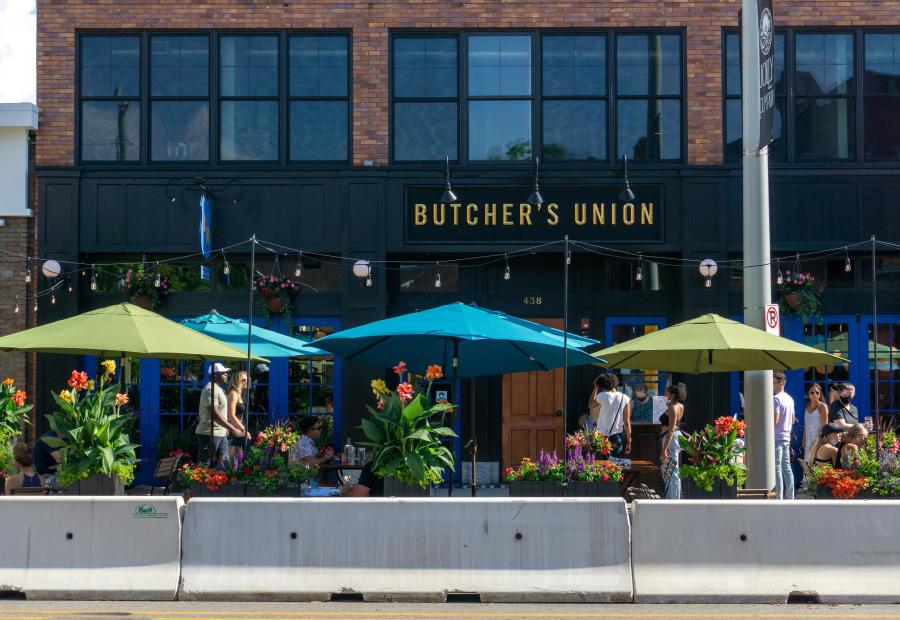 During warmer weather, Butcher's Union offers outdoor seating on both their front and back patios.
Photo by Experience Grand Rapids
Dinner
Butcher's Union
If you're looking for a restaurant to wow your family and friends, look no further than Butcher's Union. This upscale Bridge Street location has a fantastic selection of unique entrees, appetizers, and house cocktails. The dark wood and candle-lit environment of the modern gastropub gives Butcher's Union a more intimate feel, making it a great place for conversation. Skip the long wait times and join the Yelp waitlist to have a seamless dining experience.
Forty Pearl
Whether your group is celebrating a birthday, graduation, or a reunion of sorts, Forty Pearl goes the extra mile. Their reservation system makes it simple to book a table in the heart of downtown Grand Rapids. Forty Pearl's menu items are created with the intention of pairing well with hand-selected Michigan made wines to encapsulate a "Pure Michigan Experience".
Tupelo Honey
Serving up their sides family-style, Tupelo Honey's southern cooking is a delicious option. The combination of the twinkling lights, overhead greenery, and stylish bar is sure to charm your out-of-town friends and family. Book your table ahead on OpenTable to avoid the dinner rush.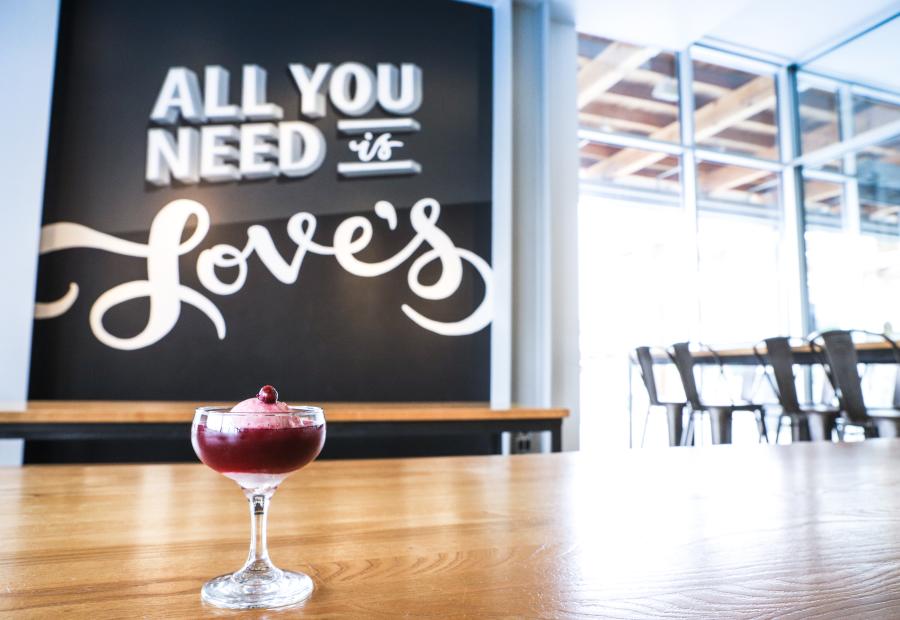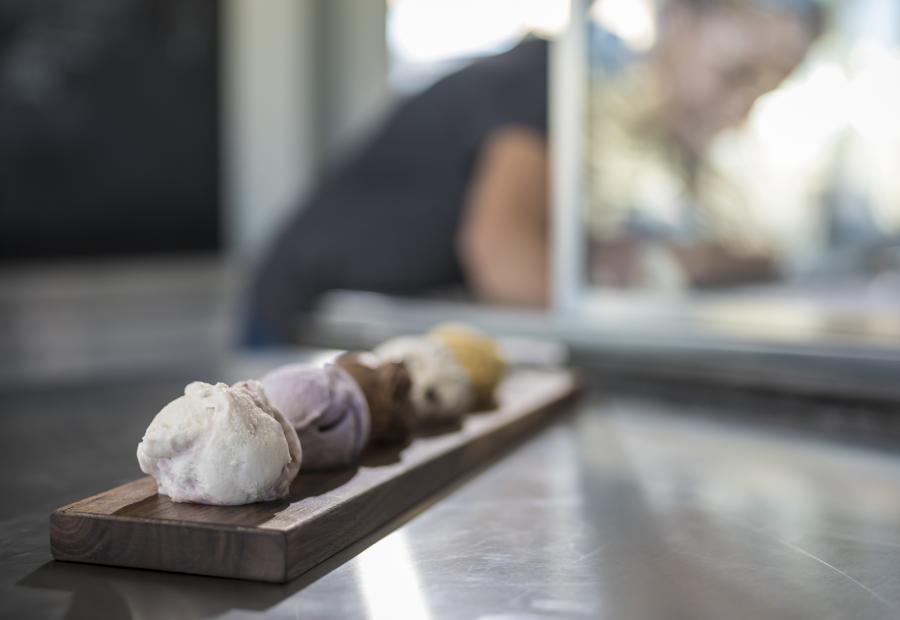 Love's creates their ice cream from scratch and offers flights of five different flavors to try.
Photo by Experience Grand Rapids
Dessert
Love's Ice Cream and Chocolate 
Located inside the Downtown Market, Love's Ice Cream and Chocolate is sure to hit your sweet spot. With so many tasty flavors, they offer ice cream flights, so you get to experience more than one.
Ding Tea
I've been to almost every boba tea spot in GR and Ding Tea takes first prize. My go-to is the monster milk tea which is a latte filled with tapioca pearls, brown sugar syrup, and sea cream. With a large menu selection, there's something for everyone.
Furniture City Creamery
Open all year round, this hand-made ice cream shop has such a homey feel. During warmer days, head to the back of the shop to order through the back window. With an abundance of flavors, toppings, and vegan options, Furniture City Creamery is a spot you don't want to miss.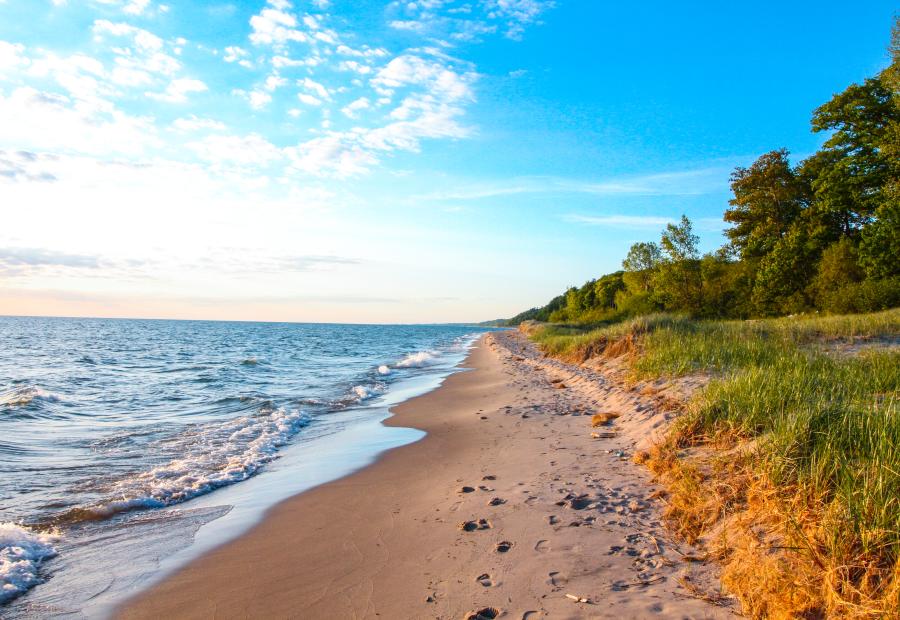 Take a quick drive outside of the city to see the beautiful views of Lake Michigan.
Photo by Paul Jendrasiak - Experience Grand Rapids
Activities
Fulton Street Farmer's Market
A stroll down Fulton Street Farmer's Market is a great start to your morning itinerary. With over 100+ vendors selling a mix of fresh produce, snacks, unique handmade items, and more, my guests and I never leave empty-handed when stopping here.
House Rules Lounge
I think board games are the perfect way to spend some quality time with your out-of-town guests. For a $5 gaming fee per person, enjoy up to three hours of entertainment and choose from over 550 games. The Lounge allows you to bring in your own food or have food delivered and serves craft cocktails. Reserve your group's table ahead of time on the House Rules Lounge website.
Lakeshore Communities
After showing off the city to my guests, I usually head out to one of our Lakeshore Communities for an adventure. Being a short car ride away from Lake Michigan, these destinations offer beautiful scenic views that'll dazzle your family and friends. My itinerary usually includes the Grand Haven State Park or Oval Beach in Saugatuck.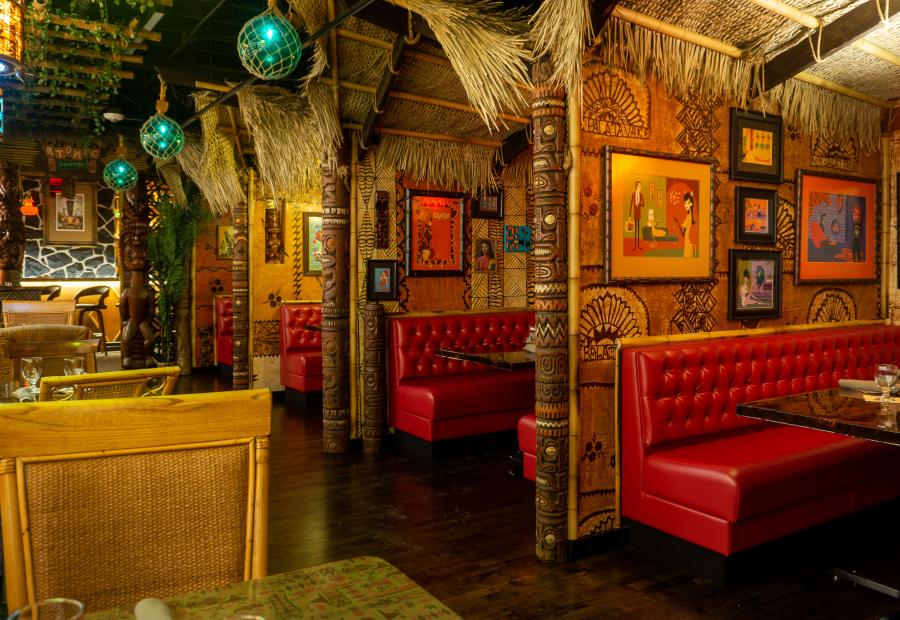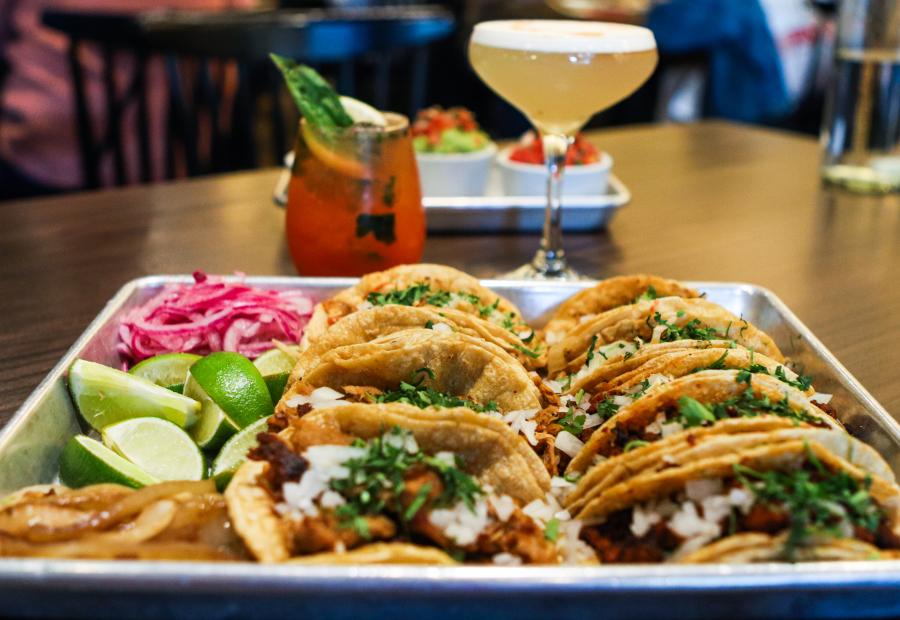 Max's elaborate tiki décor and Luna's delicious tacos are sure to impress your visitors.
Photo by Brian Craig for Experience Grand Rapids