The bustling downtown of Rockford, approximately 15-mile drive north of downtown Grand Rapids, is filled with abundant recreational opportunities, unique shops, a variety of restaurants, and its own award-winning brewery. Sitting on the banks of the scenic Rogue River, the quaint downtown is a lovely place to spend a day by yourself, with friends, family, or significant other.
It's a short drive from downtown Grand Rapids but there are plenty of other ways to get there. You can grab an Uber or Lyft to deliver you directly to downtown Rockford, or if you don't mind the three-mile walk from the bus stop to downtown, you can take a Greyhound bus ride for about $6 from the Grand Rapids station to Rockford. If you're a bicycling enthusiast, opt for riding the picturesque 8.2 miles on the White Pine Trail from Comstock Park, which runs along a defunct railway's intended path.
Ready to take a day trip to Rockford? Here are just a few of the many options the town has to offer:
Paperdoll Boutique carries a variety of women's clothing, shoes, and accessories.
Photo Credit: Experience Grand Rapids
---
Shop Downtown
Downtown Rockford is a fantastic place to shop for the perfect gift for friends, family, or yourself!
Looking for a unique piece of jewelry or an outfit for your next night out? Peruse the shopping racks at Jade, Lee & Birch, and Paperdoll Boutique, all of which sell a wide array of beautiful, stylish clothes for women.
For beautiful home décor, gifts and lots of inspirational ideas, stop by Right at Home. From wall art to glassware to accent furniture, you're sure to find items you'll want to grace your home. If you can take a day during the holiday season in December, it's worth the trip—the seasonal display is gorgeous and you'll walk away not only with something new but also with lots of ideas for your home.
Bailey and James is another must-stop shop, specializing in a curated collection of home décor, gifts, and items made by local makers as well as the best baby burp cloth gifts around. For outdoorsy and "up-north" type of gifts, check out the fantastic selection at Great Northern Trading Company.
If the creative urge strikes, pop by Accidental Art to paint a piece of pottery. Whether you choose a set of teacups or want to beautify a vase, the unique pieces make fantastic gifts!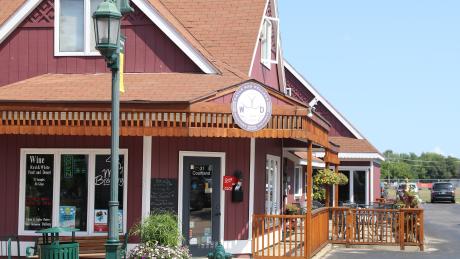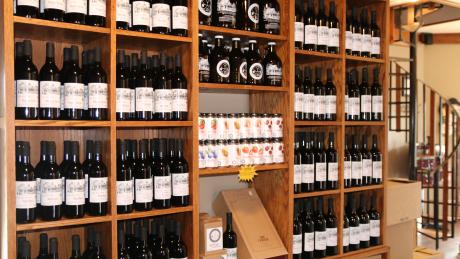 KaylaRae Cellars & MI Brewery are sure to have something for everyone. The two locations carry wines, hard ciders, beers and non-alcoholic rootbeer.
Photo Credit: Experience Grand Rapids
---
Cheers!
No matter the time of year, when you're ready for a break, Rockford has lots of fun options to grab food and/or drinks. Kayla Rae Cellars' wine bar and tasting room is a great stop after a day of shopping. If you're in the mood for a beer, instead, you're in luck. Try whatever's currently on tap at MI Brewery, located right inside Kayla Rae Cellars. 
If you're looking for lunch or dinner with your beverage, check out the menus at Ramona's Table, Rogue River Tavern, and Rockford Brewing Company (RBC)– winner of the 2017 Small Brewpub and Small Brewer of the Year awards at the Great American Beer Festival in Denver. Two of RBC's beers also earned props, with Sheehan's Stout pulling in a silver medal and Rogue River Brown earning a bronze. Be sure to stamp your Brewsader Passport or check in on the app when you visit RBC or MI Brewery.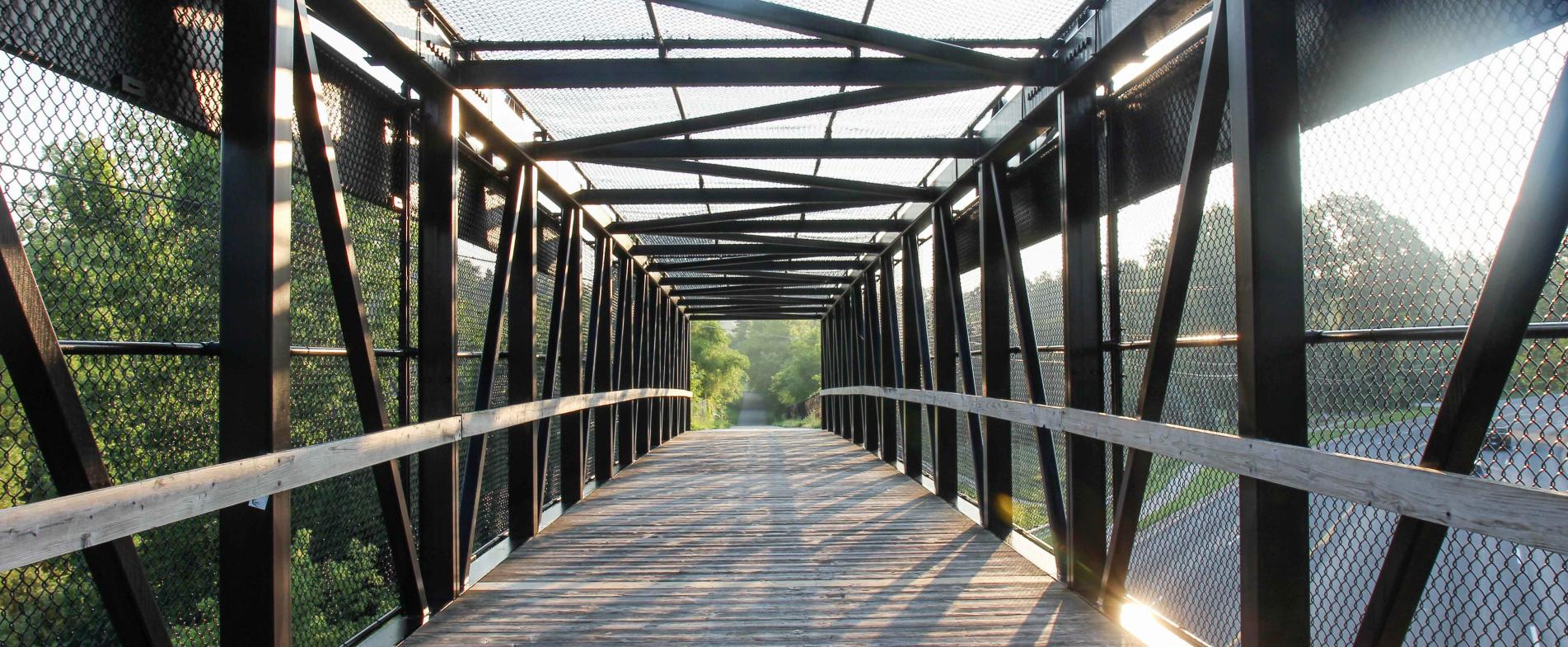 Rockford, Michigan, boasts plenty of areas for outdoor recreation, including the White Pine Trail.
Photo Credit: Matthew Medendorp
Fitness & Food
On a beautiful Michigan spring, summer, or fall day, jump on your bicycle and ride through Rockford around the White Pine Trail or Rogue River Park. Both parks are great for biking with the family too! Don't let the winter blues get you down: make sure to ride these trails with your fatbike during the winter as well.
Rockford also has great mountain biking trails: Luton Park offers trails for various levels or, for more advanced riding, try Merrell Trail, which featuring fast descents, table top jumps, and elevated bridges.
If a day on the Rogue River appeals, you can rent kayaks from Rogue River Rentals, which offers a great kayak route for families and another for more experienced paddlers, or from AAA Canoe Rentals. The latter rents canoes and tubes, too, so you can float the day away.
Anglers love to fish the Rogue River, which has excellent steelhead fishing and is stocked with brown trout and rainbow trout annually. Find the equipment you need at River Bound Fly Fishing Outfitters and Great Lakes Fly Fishing Company.
If golf is more your style, hit the links at the public North Kent Golf Course, a beautifully manicured 18-hole course, with an all-grass driving range and challenging practice putting green.
Yoga lovers will be thrilled to try their Downward-Facing Dog and Warrior poses at Yoga at the Dam, which takes place at Rockford Dam Overlook on Saturday mornings during the summer. The program is run by SheActive Boutique and takes a collection for charity each week—please double check their schedule before attending.
After expending all of that energy, wind down with a refreshing treat in downtown Rockford from the Pump House, Rocky's Dairy Depot, or Custard by the Dam. About 3 miles east of downtown Rockford, you'll find Sprinkles Donut Shop, another delicious option.
If you're ready for a meal or drink, downtown Rockford has lots of great possibilities. In addition to Kayla Rae Cellars, Rogue River Tavern, Ramona's Table, and RBC (mentioned above), you could grab a hot dog from the newly reopened The Corner Bar. If you're done for the day and up for a short drive, Bostwick Lake Inn is less than 15 minutes from downtown Rockford and so w  orgeous!
The seasonal Rockford Farmer's Market is open every Saturday from May to October from 8 AM to 1 PM.
Photo Credit: Experience Grand Rapids
---
Family Fun
There are so many fun things to do with your family in Rockford that you may need more than one day trip to do all of them. In addition to many of the activities mentioned above , Rockford throws great annual celebrations for kids of all ages, including the Harvest Fest, which is filled with fun activities for families including games, a petting zoo and pony rides, a kids' costume contest, an antique tractor show, a chili cook-off, a classic car show and lots more.
If you're up for picnicking, stop by the outdoor Rockford Farmer's Market, which runs every Saturday May-October, and take your bounty to the Rockford Dam Overlook, which offers a splendid view of the Rogue River. If you're bringing your pup along, check out Rockford's dog park.
The Art Van Sports Complex, a championship-caliber facility with eight fields, holds lots of youth and amateur baseball and softball tournaments. Check the calendar to see if you can catch an event while you're in town.
Ready to make the trip?
With picturesque downtown Rockford and all it has to offer only about a 15-mile drive north of downtown Grand Rapids, it's a great day trip to add to your calendar in any season.
We'd love for you to try some of these suggestions, but keep in mind that these ideas are just a few of the things Rockford has to offer. There's so much to see and do there that a comprehensive list would be impossible!
If you have a favorite place or activity in Rockford we'd love for you to share it in the comments.
Header photo by S. Walker
Don't miss a post!
Sign-up for the Insider's Experience blog