During a time when there has been an increased emphasis on enjoying the great outdoors, Kent County offers a variety of parks and hiking trails for outdoor enthusiasts of all levels. In fact, the Kent County Parks system currently includes 42 parks, green spaces, and trails totaling more than 7,000 acres. 
That's a lot to explore by yourself, so I typically enlist my far out canine companion, The Dude, to keep me company while he sniffs the local flora and fauna. While dogs are allowed to join you on most trails, there are a few guidelines from the Kent County Parks Department to keep in mind. These include always keeping your dog on a leash that doesn't exceed six feet, and cleaning up after your pup. 
Before you hit the trails, don't forget that dogs need a few supplies to keep them happy and safe outdoors. Here are a few suggestions, courtesy of Petfinder:
Fresh water and a collapsible bowl
Food and treats
Current ID tags and a well-fitting collar
A sturdy leash for walking or securing your pet to a specific area
Doggie bags for waste
Padded protective booties for rocky/rough terrain
First aid kit
Towel to clean your dog
Doggie backpack for sharing the load (as long as your dog is accustomed to doing this)
Check out a few local trails that Dude and I have explored and others that come highly recommended below. Also be sure to visit the Experience Grand Rapids trails page to find even more options for you and your fluffy friends.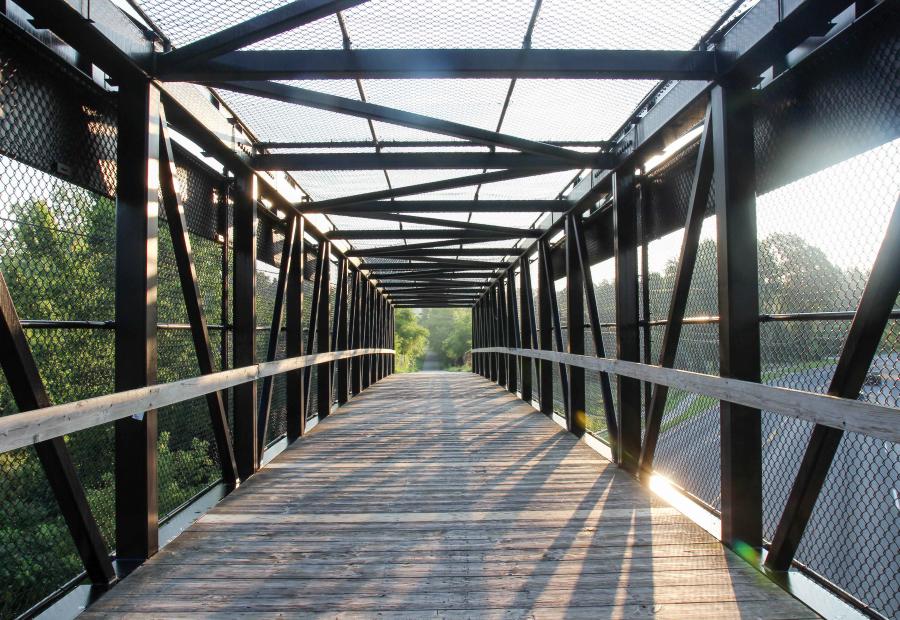 White Pine Trail spans more than 93 miles and connects to hotspots like downtown Rockford, just north of Grand Rapids.
Photo by Matthew Medendorp
Fred Meijer White Pine Trail
Perfect for dog walking, biking, running, and skating, the Fred Meijer White Pine Trail spans 93+ miles, with endpoints in Cadillac and Riverside Park located on the northern end of Grand Rapids. The trail connects to many local communities, so you and your dog can enjoy areas like downtown Rockford. There, the trail passes by the Rockford Dog Park, Custard by the Dam, which includes tasty pup cups on the menu when it's open March-October, and Ramona's Table, where you can always find a container of free dog treats at the front door.
Rockford Brewing Company is a must-stop destination every time we hit the trail as well so Dude can enjoy sipping some water while I enjoy sipping a refreshing craft beer, like the brewery's Hoplust American IPA. Insider tip: dogs aren't allowed on the patio itself, but they can still relax by your side while secured to the trail-side of the patio's fence.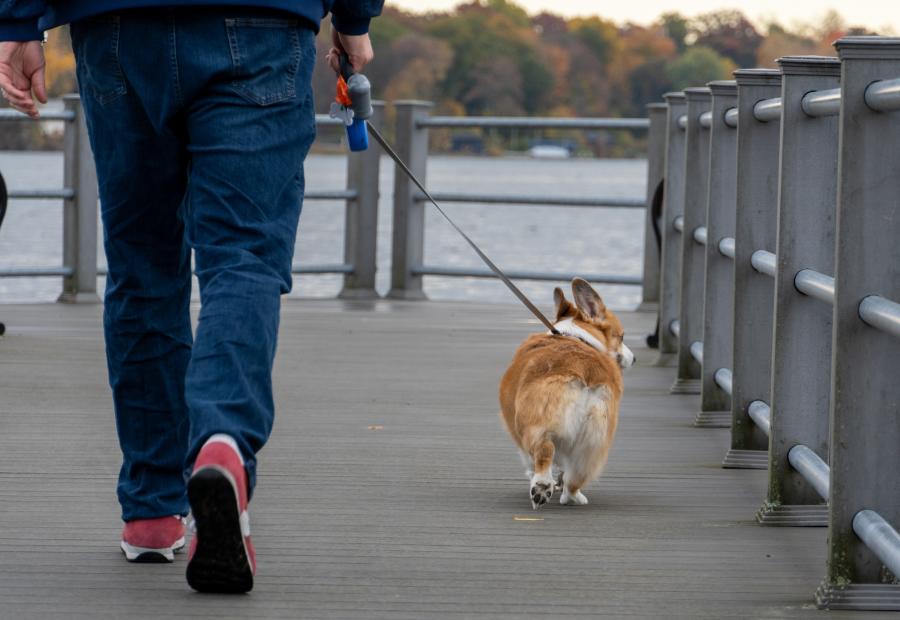 The 4.5-mile Reeds Lake Trail consists of paved paths, elevated boardwalks, and residential sidewalks.
Photo by Brian Craig for Experience Grand Rapids
Reeds Lake Trail
Reeds Lake, one of Kent County's largest inland lakes, is a stunning focal point of East Grand Rapids. It's surrounded by the 4.5-mile Reeds Lake Trail, which consists of paved paths, elevated boardwalks, and residential sidewalks. This trail is a paradise for dogs like Dude who live to sniff the world around them because in this bustling area, you'll most likely walk the same steps as other dogs, ducks, geese, and, dare I say it…squirrels.   
Along the trail, you'll also discover a few short pocket trails that don't lead to anywhere other than beautiful and peaceful vantage points of Reeds Lake. Dude and I also enjoy exploring the sights and sounds of John Collins Park, Waterfront Park, Hodenpyl Woods, and Manhattan Park — the largest park in the city at 40+ acres where you can also find a trail system. Visit the East Grand Rapids Parks & Recreation Department website to find a full map of the trail.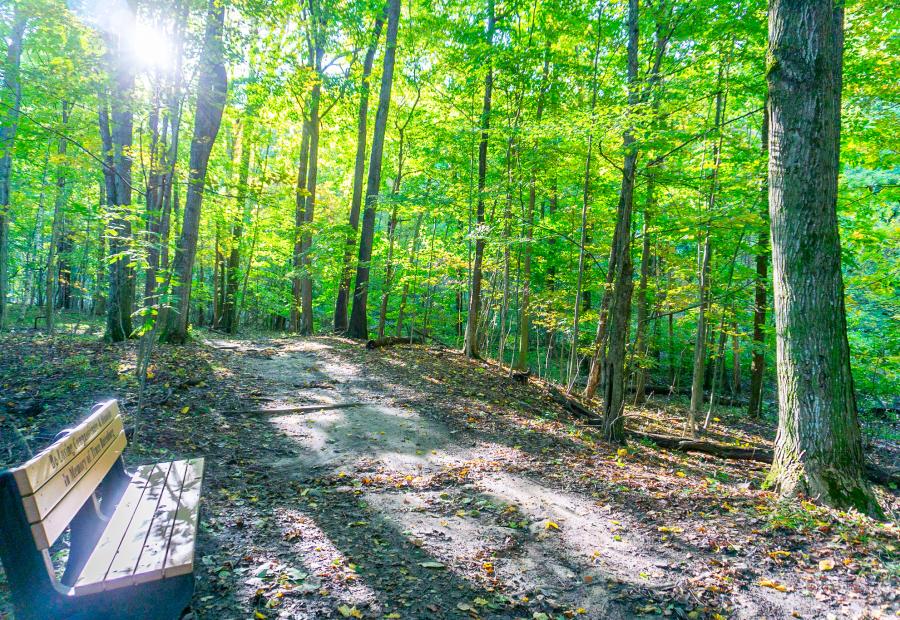 Dogs are allowed everywhere at Blandford except on the Wildlife Trail and inside buildings (with the exception of service animals).
Photo by Brian Craig for Experience Grand Rapids
Blandford Nature Center
While Dude and I haven't visited Blandford Nature Center yet, my parents frequently take their grandkids there to explore the center's series of eight (dog-friendly) trails that are open daily from dawn until dusk and cover just over one mile. Considering my dad's ideal retirement is living in a cabin in the woods, I trust his recommendation that this natural space is a must-visit. 
When visiting, park in the Visitor Center lot and then start enjoying being surrounded by scenic meadows, forests, and wetlands. Dogs are allowed everywhere on the property except on the Wildlife Trail and inside buildings (with the exception of service animals). Before visiting, note that there is a $3 admission fee that helps support Blandford's various experiences and programs.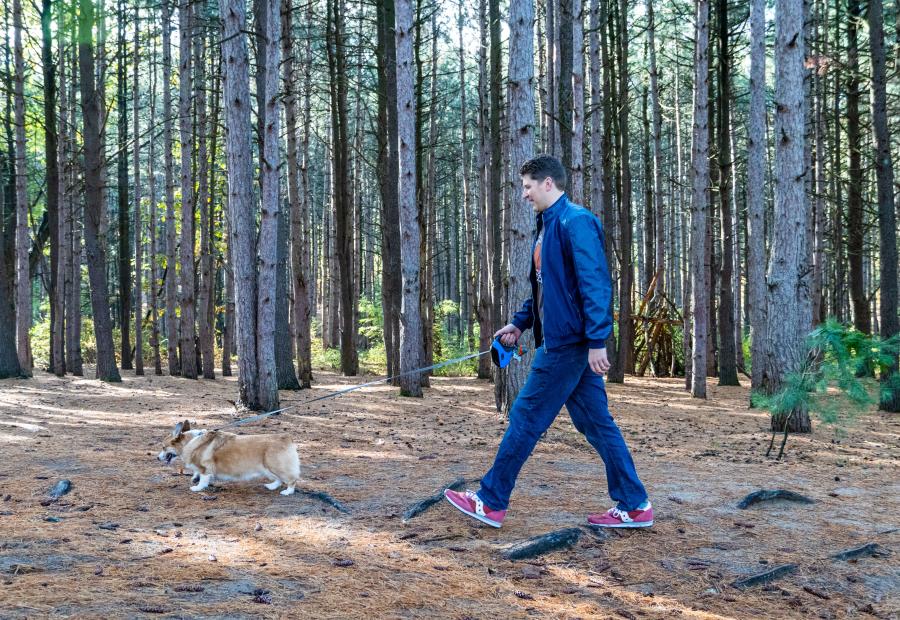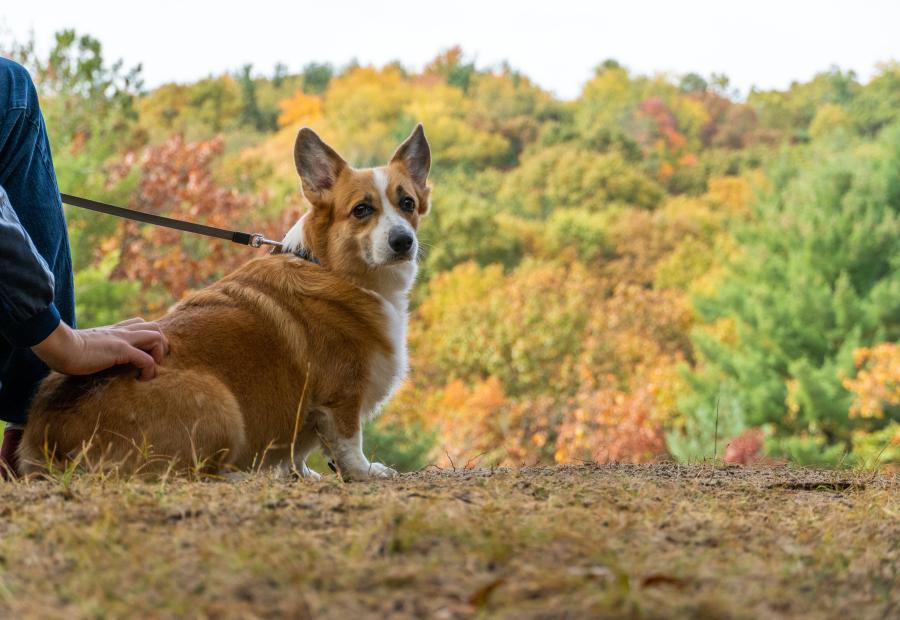 Provin Trails offers plenty of scenic views during every season.
Photo by Brian Craig for Experience Grand Rapids
Provin Trails Park
Provin Trails Park is a natural wonderland where Dude will tell you the diversity of smells is bountiful. The system consists of interconnected loops of serene wooded trails surrounding a large sand dune, which always provides a stunning overlook when Dude and I are taking a breather (especially in the fall when the colors are really popping). 
The trail system is additionally great for running during the fall, summer, or spring, or cross-country skiing in the winter. The park is also the convenient neighbor of Robinette's Apple Haus & Winery where you can find post-hike sweet treats year-round. Bonus: dogs are allowed anywhere outdoors on Robinette's property.
Seidman Park Trail
The Seidman Park Trail system will take you and your pup along up to nearly five miles of natural trails and boardwalks throughout the 400+ acres of woods, fields, and wetlands of Seidman Park. The trail system is made up of three linked loops of varying terrains and difficulties with color-coded posts (red, blue, and yellow) at most of the intersections. Both trailheads have nice and detailed maps as well. Right after you hit the trail, you'll find a wooden bridge over an active creek, which is perfect for dogs like Dude who enjoy slurping from nature's water cooler before a good workout. 
There are two parking lots with seasonal restrooms located at the north and south ends of the trail, which also connect with the paved, multi-use trail that stretches throughout Ada, a township located about 15 minutes east of Grand Rapids.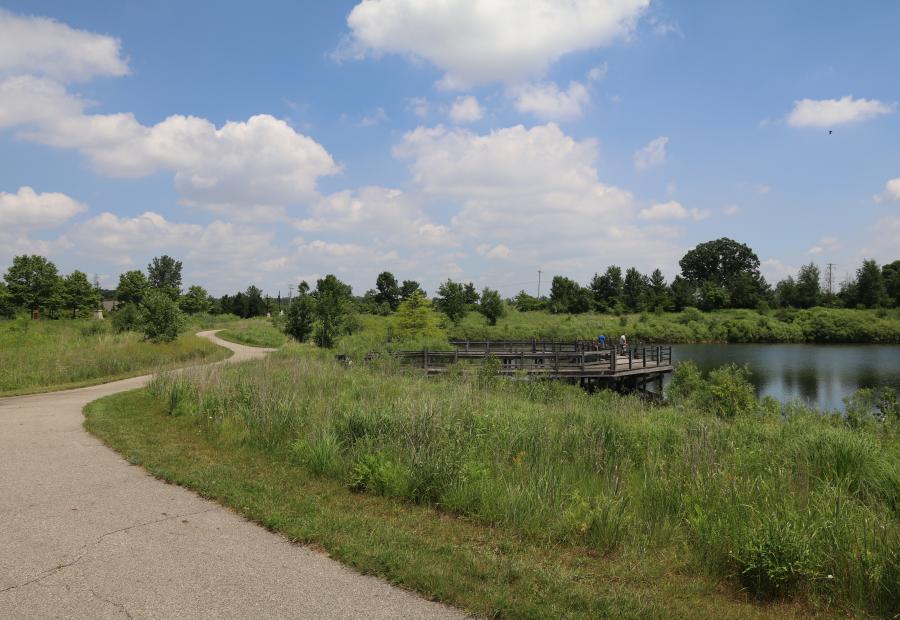 Millennium Park offers more than 18 miles of dog-friendly trails along the serene Grand River.
Photo by Experience Grand Rapids
Fred Meijer Millennium Park Trails
Millennium Park, one of the largest urban parks in the country with 1,400 acres, offers about 18 miles of trails along the serene Grand River. Most of the trails are paved, although Dude typically diverts us across the many naturally surfaced trails for a more rustic experience. 
In addition to wetlands, forest, meadows, and trails, Millennium Park offers a recreation area with a beach and splash pad, plus two large parking lots with seasonal restrooms. 
Before you and your pup jump back into your car to leave, Dude and I recommend pivoting over to the Sandy Hansen Shoreline Trail for an enjoyable route around the perimeter of the lakes found in the park's main recreation area. Fun fact: The park is also a trailhead for Kent Trails for easy access points. 
What are some of your favorite Kent County trails to explore with your dog? Let us know in the comments below or on social media!