The Makowski family loves flights. Not of the airplane variety, however. I'm talking about "flights" typically associated with beer, pizza, ice cream, dips, donuts, or really anything you can turn into a sampling of variations of things you love. For our family, that now includes playgrounds thanks to our adventurous toddler son, Levi.
Levi absolutely loves playgrounds, so we often explore around Grands Rapids to sample multiple locations in a single outing to create different "playground flights" that we can tap into when we want to have fun and burn some of his plentiful toddler energy. From our different playground flights, we've developed our own master "playground trail" of 12 favorite playgrounds that form a "loop" around downtown Grand Rapids if you visit them in the order they appear below in our list. Whether you're visiting Grand Rapids or you're a local looking for new adventure spots with your kiddos, you can enjoy these playgrounds a few at a time or, if you're feeling adventurous and no nap is required, all in a single day.
Along with the playgrounds in our list, I've included some of our family's favorite local attractions, dining options, and shops located near each (<20-minute drive and/or <30-minute walk) as well as travel tips about directions, parking, and more.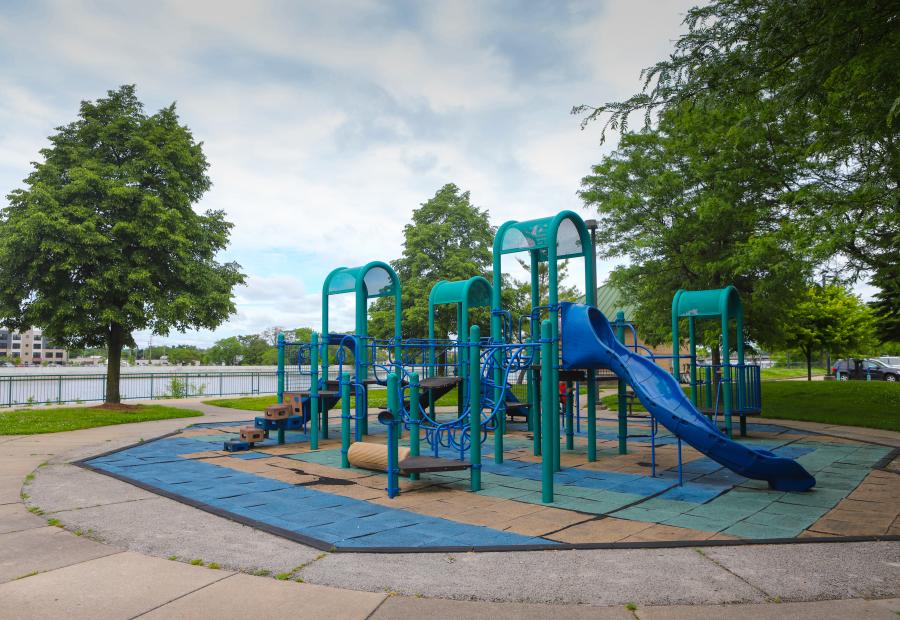 Canal Park connects with the Sixth Street Park and outdoor fitness stations along a paved trail.
Photo by Paul Jendrasiak for Experience GR
Canal Park
Nestled along Grand Rapids' Riverwalk Trail, the Canal Park playground is perfect for the jungle gym lovers in your family as it's mostly climbing structures, but also includes five blue slides and a pipe telephone, all on a turf surface with a cool teal and blue color palette. I find we commonly come for the playground, but stay for the scenery since the play area's location offers a beautiful view of the Grand River and the historic Sixth Street Bridge. Canal Park conveniently connects with Sixth Street Park, includes public restrooms, and gives you access to six outdoor fitness stations along the paved trail. 
Travel Tips: There is a metered parking lot and metered street parking near the playground, so bring some spare change or download the MOTU Grand Rapids app, which applies to all metered parking in Grand Rapids. The Embassy Suites by Hilton Grand Rapids Downtown and bus stops for The Rapid's Downtown Area Shuttle (DASH) are also located near the playground.
Nearby: City Built Brewing Company, SpeakEZ Lounge, Field & Fire Cafe, Linear, Garage Bar & Grill, Eastern Kille Distillery, Rocky's Bar & Grill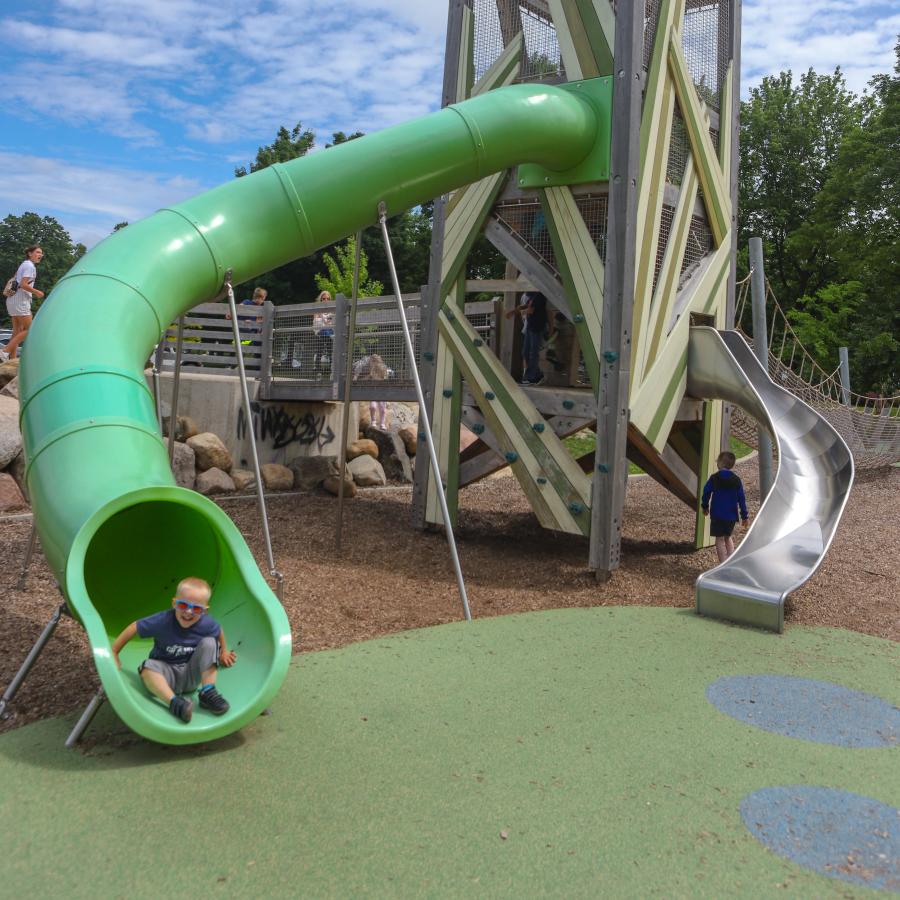 John Ball Park is home to four different playground areas, including a universally designed playground.
Photo by Paul Jendrasiak for Experience GR
John Ball Park
In addition to offering easy access to John Ball Zoo, one of Grand Rapids' most popular attractions, John Ball Park has the most individual playgrounds (four play areas) in a single location on our list. The universally designed playground, located on the corner of Park Street SW and Valley Avenue SW, includes something for kids of all abilities. This play area was constructed using mostly natural materials and incorporates sensory features for kids with visual impairments. This playground's focal point is a giant play structure that reminds me of a castle tower. It consists of a metal slide, a big green tube slide (that is only reachable by climbing a rock wall), rock climbing elements on the exterior, and a rope bridge. Swings and wooden/rope climbing structures surround the tower for additional fun. 
The Valley View playground is closest to John Ball Zoo's entrance and includes plenty of picnic tables that are available to rent under ample shade. This area's one big play structure is very toddler-friendly, which prompted Levi to proclaim "this is awesome!" in his limited toddler vocabulary while playing here for the first time. The structure consists of four slides, climbing walls, swings, signage that teaches some sign language and Spanish, and a separate wooden climbing structure with ropes and elevated steps. Plus, it's within walking distance to restrooms in the zoo's administration building.
While both of these playgrounds are very fun, they can become rather crowded on busy zoo days. Luckily, there are two other playgrounds located away from the busyness. The playground at Picnic Acre, which can be found south of the zoo on the corner of Park Street SW and John Ball Park Drive SW, includes a fun play area with swings, two slides, a climbing structure, picnic tables and benches, and, conveniently, its own public restroom. Hilltop Playground, also known as "The Hidden Playground," is accessible by driving up and around the access road off Butterworth Street SW. There, you'll find a picnic pavilion, a restroom, and a play structure with treehouse vibes, three slides, and a few climbing options.
Travel Tips:  There is ample free parking in the John Ball Zoo lots, but they get congested at times, so I recommend first searching for free street parking along Valley Avenue SW east of the zoo if you're only visiting the playgrounds. There's also a stop for The Rapid's Laker Line at the corner of Fulton Street W and Valley Avenue SW. 
Nearby: Grand Valley State University's Pew Campus, Rise Authentic Baking Co., Joey's Tavern, Fulton Street Pub & Grill, Bitter End Coffee House, Vito's Pizza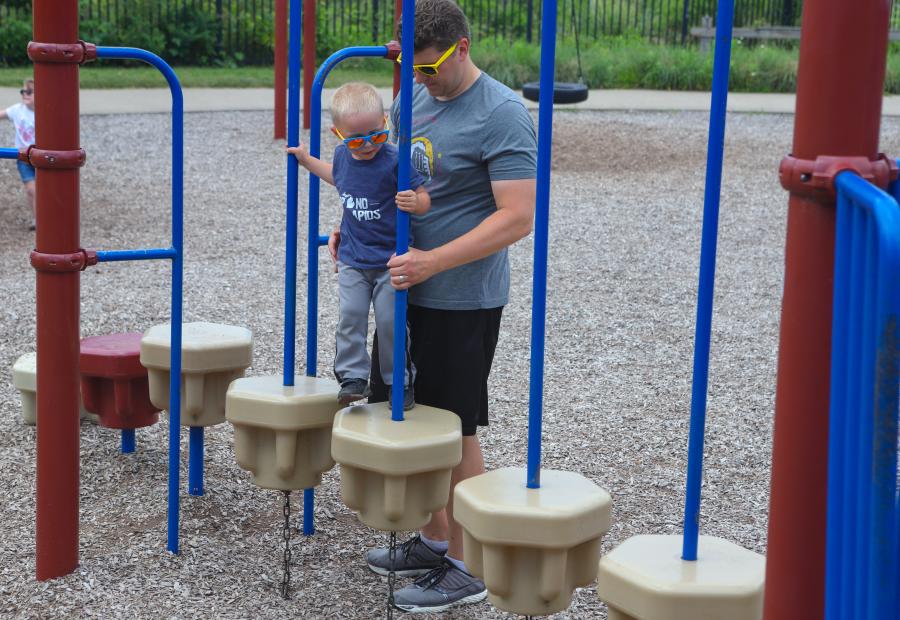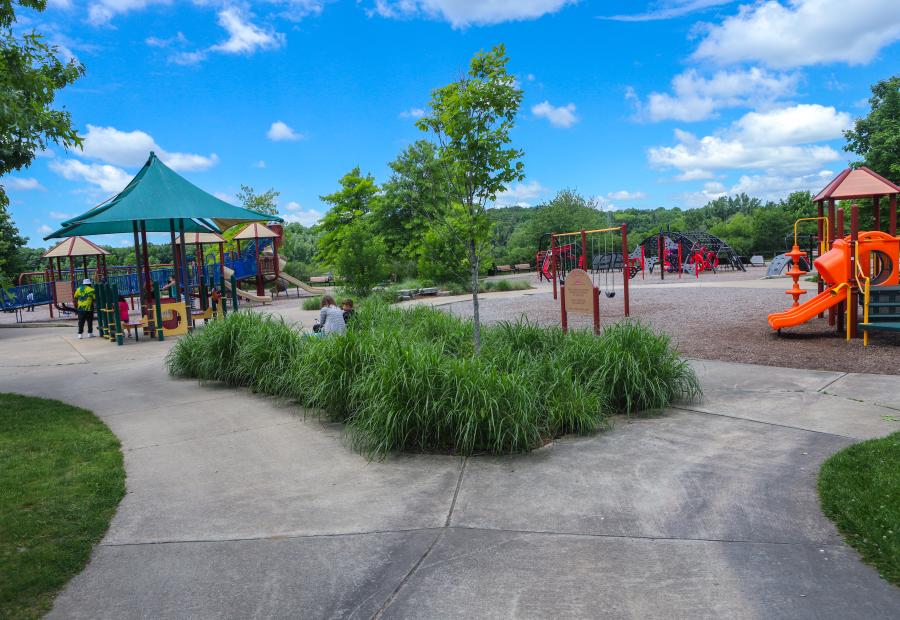 Ninja Warriors in training will enjoy the climbing structures and obstacle courses at Millennium Park.
Photo by Paul Jendrasiak for Experience GR
Millennium Park
As one of the largest urban parks in the United States, with portions stretching into Grand Rapids, Walker, Grandville, and Wyoming, Millennium Park is a must-see spot for any Grand Rapids visitors or locals. Within the 1,400 acres of rolling terrain and six miles of frontage along the Grand River is a six-acre beach and splash pad (both have an entry fee), boat rental facilities, about 18 miles of trails, the amphitheater at Secchia Meadows in Millennium Park, and a large playground with three different areas. One area is designed for younger kids (2-5 years old) and consists of one play structure with various climbing elements and two slides. Another area is perfect for older kids (or fearless youngsters like Levi) and includes monkey and other climbing bars, a big "swirly twirly" slide (as Levi calls spiral slides), swings, and a rock climbing wall. The third area has multiple obstacle courses and climbing structures for Ninja Warriors in training. There are a few covered picnic shelters, restrooms, and plenty of open-air picnic tables around the playground area.
Travel Tips: The parking lots in Millennium Park are free and I recommend parking in the lot with signage marked with "Section B" and "Playground" since it is closest to the playground and splash pad/beach. If you're biking to the park, the Fred Meijer Millennium Trail Network connects with Kent Trails and with a City of Grand Rapids trail along Wealthy Street SW.
Nearby: TwoGuys Brewing, Tastefull Vegan Frozen Desserts, Lombardo's Pizza of Wyoming
Cherry Park
The 100-year-old Cherry Park is an adorable gem nestled in the southeast side of Grand Rapids on the corner of Cherry Street SE and Eastern Avenue SE. The playground area consists of a wooden play structure, a tall and orange "swirly twirly" tube slide and a few other slides, swings, a merry-go-round, a geometric climbing dome, and a few picnic tables. There's also a seasonal splash pad on a concrete surface that sprays several water streams. Adding to the quaintness of this historic park is the backdrop of the "Pink Building," a little pink house that is home to the East Hills Council of Neighbors and includes a single public restroom for park visitors.
Travel Tips: Cherry Park is very accessible regardless of how you're traveling to the playground. There is a bus stop for The Rapid right in front of the playground along Cherry Street SE, surrounding free street parking (there is no parking lot), and bike racks and a bike lock station in the playground area.
 
Nearby: The Parlor at Cherry Hill Market, grove, Brewery Vivant, Furniture City Creamery, The Green Well, Maru Sushi & Grill, Cheri Inn
Fuller Park
Tucked between the hustle and bustle of Grand Rapids' Medical Mile and the Eastown area of the Uptown neighborhood is Fuller Park. Surrounded by a good deal of green space, the playground includes one large play structure with three slides and lots of climbing structures as well as a green tube slide, swings, a seesaw, a geometric climbing dome, and a merry-go-round. To beat the seasonal heat, Fuller Park also uniquely offers a free splash pad, and you can even bring your furry children along since it is within walking distance to Hillcrest Dog Park. A quick note that if you plan on visiting the dog park after playing at Fuller Park, I recommend following the paved walking path located south of the parking lot up the hill. 
Travel Tips: There is a free parking lot off Fuller Avenue NE, but you'll have to walk around the nearby baseball diamond to reach the playground. For those visiting Grand Rapids, Fuller Park is located near Hampton Inn & Suites Grand Rapids Downtown.
Nearby: The Cheese Lady, Fulton Street Farmers Market, Cakabakery, Van's Pastry Shoppe, Argos Comics & Used Book Shop, Schnitz Deli, Harmony Brewing Company-Eastown, Wolfgang's Restaurant, Electric Cheetah, Outside Coffee Co., Donkey Taqueria
Manhattan Park
Manhattan Park, Grand Rapids' largest city park, is located off Cascade Road SE just west of the East Beltine and includes two play structures, a separate "swirly twirly" blue slide, swings, a four-person seesaw, and a unique rock arch for older kids to climb, all on a wood chip surface. A soccer field, sand volleyball courts, baseball diamonds, tennis courts, public restrooms (near baseball diamonds), a pavilion, a few under-the-sun picnic tables, and some nice shaded areas created by large trees surround the playground area. Uniquely, Manhattan Park also has a seasonal sledding hill that's accessible by walking a very short nature trail from the playground. 
Travel Tips: There are two ways to enter Manhattan Park - the first is an entrance off Cascade Road SE near the East Beltline and the other is on Manhattan Road SE. I recommend the latter to access a free parking lot that's right next to the playground (the entrance sign reads Manhattan Recreation Area). You can also get to the playground from the Cascade entrance's free parking lot, but it requires a little walk. 
Nearby: Reeds Lake/Reeds Lake Trail, Woodland Mall, Rose's on Reeds Lake, Gaslight Kitchen Asian Cuisine, Jersey Junction Ice Cream Parlor, Carolina Lowcountry Kitchen, Jose Babushka's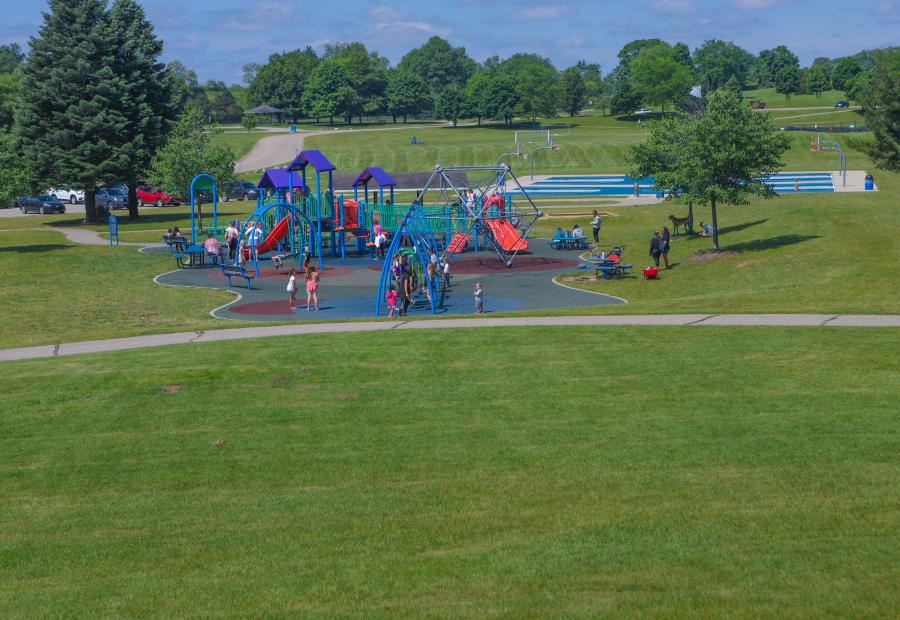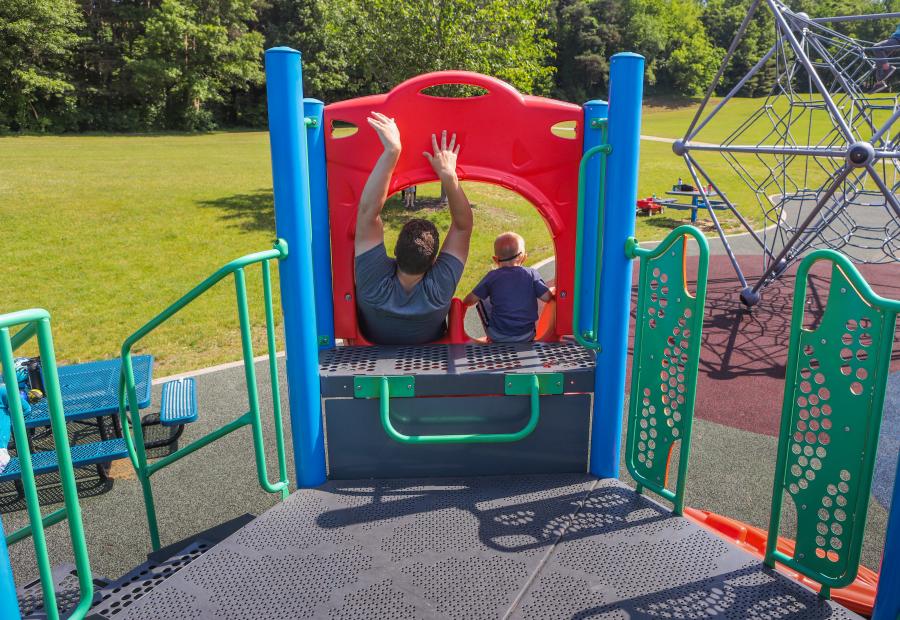 Colorful playgrounds, lots of greenspace and other playing fields make the Cascade Township Park worth the drive.
Photo by Paul Jendrasiak for Experience GR
Cascade Township Park
Cascade Township Park is a little bit of a hike from downtown Grand Rapids, but it's worth the drive. The Marion and Claude Robinson Children's Playground not only looks like it was pulled straight from a Dr. Seuss' book with its hues of blue, orange, red, purple, and green, but it is also massive with lots of twists, turns, and fun angles. The playground, all on a soft turf material, includes a unique "jam box" that plays music, multiple climbing elements, a "rocking boat," plastic leaf steps leading up to two slides, and an orange tunnel that Levi practically lives in when we visit. There is also a giant roped web climbing structure, a small sandbox, and swings, including some double swings so parents or older kids can swing with little ones.
The 55-acre Cascade Township Park as a whole is expansive with ample lush green space, a dog park, a one-mile pedestrian path, a multi-purpose field for soccer/football, an 18-hole disc golf course, tennis and basketballs courts, two softball/baseball diamonds, a sand volleyball court, four horseshoe pits, and a large hill perfect for winter sledding or, as Levi and I can personally vouch for, rolling down during warmer months. There are also public restrooms, a shelter adjacent to the play area, a pavilion, a gazebo, and picnic tables scattered throughout the park. 
Travel Tips: Cascade Township Park includes free parking lots, and as a bonus for travelers or any kiddos who love airplanes as much as Levi does, it's about 10 minutes away from the Gerald R. Ford International Airport. As a result, there are frequent and low airplane flyovers and you're close to the airport's Viewing Area, which is another of Levi's favorite local play spots. You'll also be near the Holiday Inn Express & Suites Grand Rapids Airport and Hampton Inn & Suites Airport.
Nearby: Thornapple Brewing Co., Fowling Warehouse, The Gathering Place, Frosty Boy of Cascade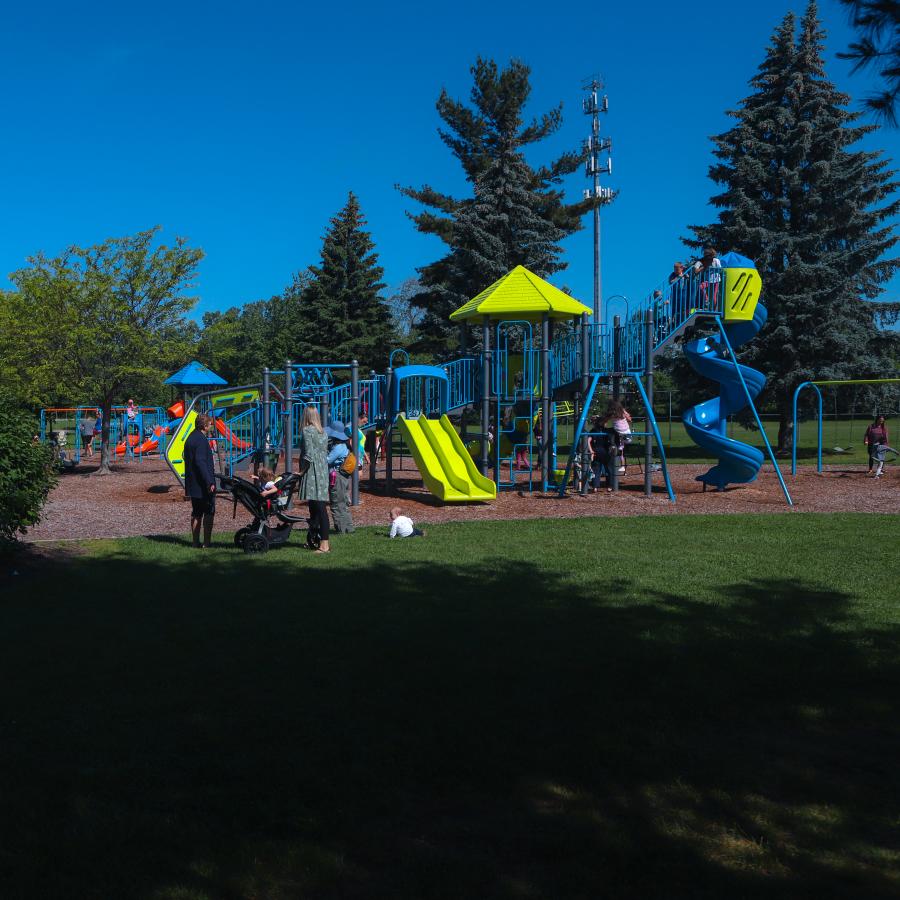 The "swirly twirly" slide (aka spiral slide) at Grand Rapids Township Park gets rave reviews.
Photo by Paul Jendrasiak for Experience GR
Grand Rapids Township Park
Grand Rapids Township Park is without a doubt one of Levi's favorite playgrounds for three reasons: 1.) there are two big play structures and one of them includes a very tall, blue "swirly twirly" slide, 2.) he loves construction vehicles and there is a large sandbox with two metal excavator toys, and 3.) he loves fire trucks and the playground is conveniently located right behind the Grand Rapids Charter Township Hall, which is home to two fire engines, so he occasionally gets to bask in the bright red glow of a fire truck. In addition to the two bigger structures, this playground uniquely has a play area specific for younger kids that includes two colorful play structures, swings, a balance beam, a merry-go-round, and even a ladybug and a snail that are large and springy to ride. The playground is near tennis courts, a baseball diamond, public restrooms, and a pavilion with plenty of picnic tables. 
Travel Tips: This park has a large and free parking lot next to the playground. When you arrive and turn right off the East Beltline, turn right again to follow the road and playground signage around the township hall to find the playground.
Nearby: Frederik Meijer Gardens & Sculpture Park, Celebration Cinema North & IMAX Theatre, HopCat Knapp's Corner, Bro's Doughs, TreeRunner Grand Rapids Adventure Park, The Village at Knapp's Crossing (shopping/dining)
 
Richardson-Sowersby Park & Pickett Park
Downtown Rockford, which is about 15 miles north of downtown Grand Rapids, offers a two-for-one playground experience since two popular playgrounds are a stone's throw away from each other right off the White Pine Trail and on either side of the Rockford Dog Park. Richardson-Sowersby Park is tucked along the Rogue River with a playground on a wood chip surface that includes one large play structure with multiple slides, a big slide shaped like a dinosaur, a small, metal play structure shaped like a car (a favorite of Levi's), and swings. This play area also offers a pavilion with picnic tables and public restrooms. Pickett Park is located west of Richardson-Sowersby Park and also includes a car as well as swings, a play structure with a red tube slide, and climbing bars.
Travel Tips: While there is a free parking lot connected to Pickett Park you can access by taking Gaylord Drive off West Division Street NE, there is no parking lot attached to Richardson-Sowersby Park. One option to get to that playground is to park at Pickett Park and then take a very short walk east. Alternatively, you can find free parking in either the parking lot of Rockford Brewing Company, Epilogue Books, and Flavors on the Promenade off East Bridge Street NE or the lot on Towers Drive and then briefly walk south on the White Pine Trail. 
Nearby: Rockford Brewing Company, Custard by the Dam, Dam Dogs, The Corner Bar, Rogue River Tavern, Rocky's Dairy Depot, Aunt Candy's Toy Company, Rockford Lanes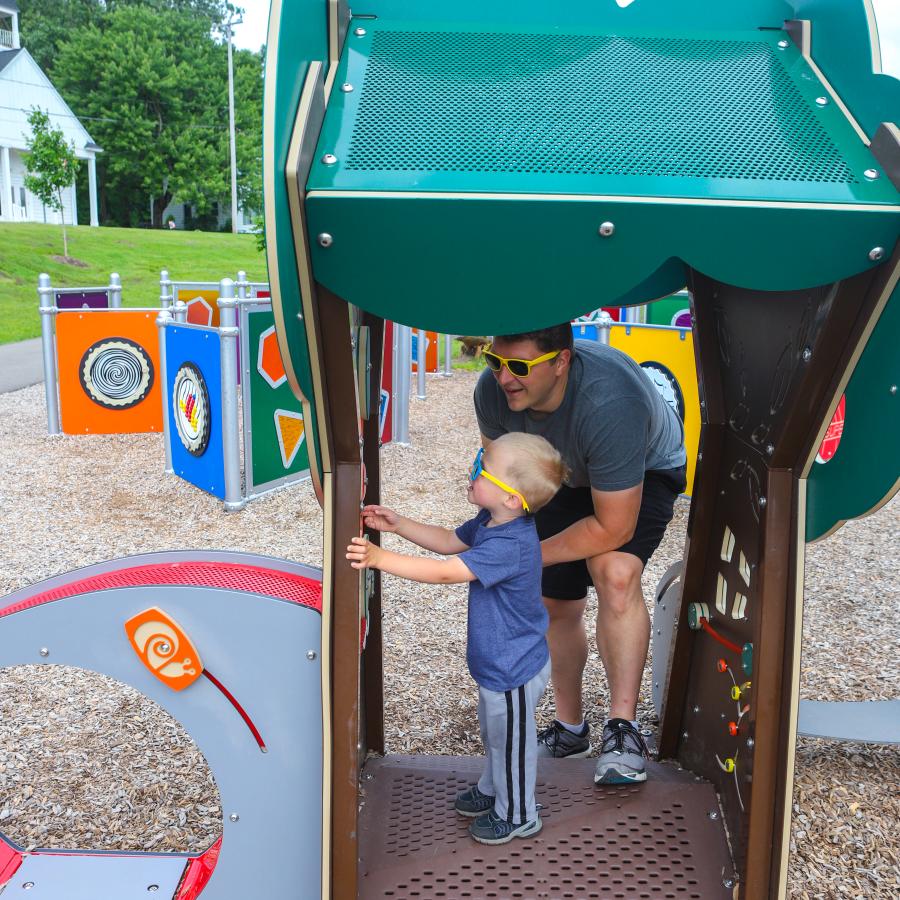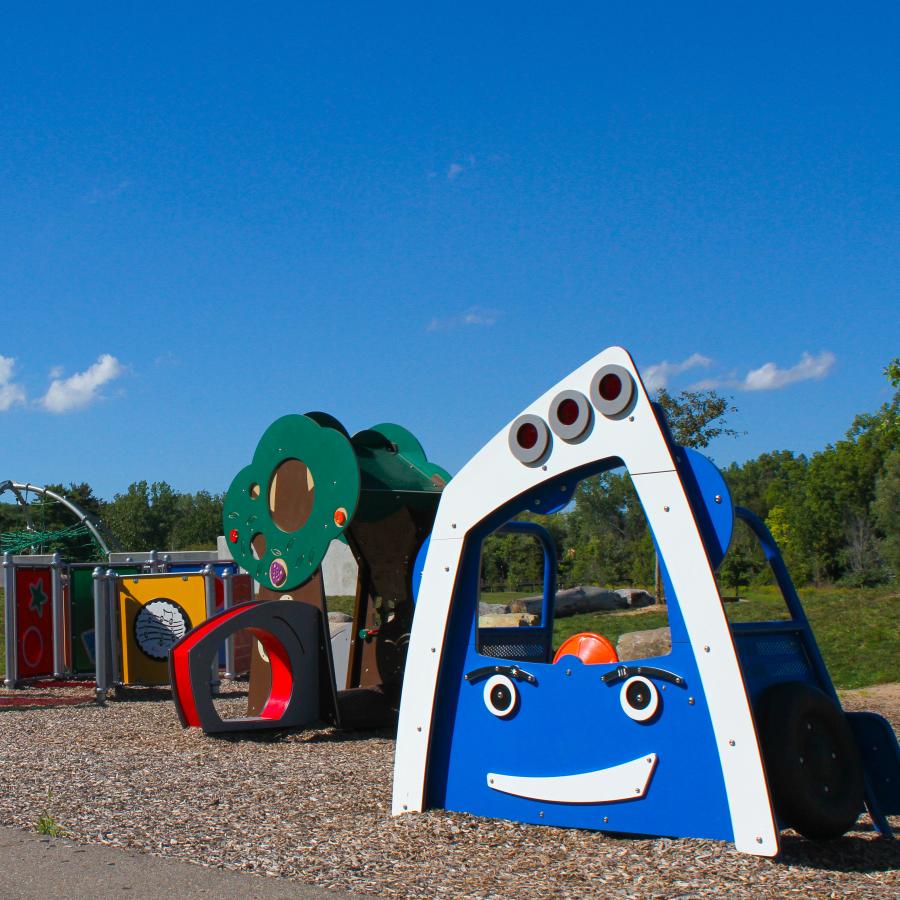 Dwight Lydell Park offers lots of play options for younger and older kids alike.
Dwight Lydell Park
The play area at Dwight Lydell Park in the heart of Comstock Park is known as "the maze playground" in our household because it has a fun, unique, and colorful activity maze that Levi loves. But that's not the only piece of play equipment that keeps us coming back. There are also play/activity structures shaped like a tree, a police car, and a birdhouse as well as swings, a large rock climbing wall, a unique slide made of concrete (it's surprisingly fast!), and a giant rope obstacle course for older kids. Beyond the playground, Dwight Lydell Park includes 39 acres of recreation space with natural areas, two open picnic shelters for group reservations, multiple pavilions, a paved trail two-thirds of a mile long that encircles the main recreation area and partially runs along Mill Creek, and a historic train depot that houses the Grand Rapids Model Railroad Historical Society.
Travel Tips: Dwight Lydell Park offers easy access to and from U.S. 131 and there are three nearby and free parking lots — one next to the Kent District Library Comstock Park Branch, another at the corner of West River Drive NE and Leland Avenue NE, and another near the train depot. This park is also near Tru by Hilton - Comstock Park.
Nearby: Dairy De-lite, LMCU Ballpark (home of the West Michigan Whitecaps), AJ's Family Fun Center, Mill Creek Tavern, Mad Dogz, Vitale's of Comstock Park, Eternal Coffee, Alter Ego Comics & Books, Fluff Buckets Cotton Candy
Huff Park
The playground at Huff Park is one of the smaller playgrounds on the list, but no less fun. Impressively, the play structures are almost entirely crafted from wood with some parts that cater to fans of obstacle courses, like a spider web of rope to climb and a hanging log balance beam. There are also swings, including a circular, webbed tree swing that Levi spent most of our time on during our first visit, which says a lot since he's not a big fan of swings. This area of Huff Park includes multiple picnic tables under a pavilion, a few baseball diamonds, and access points to the 3,500-foot Cattail Crossing at Huff Park Nature Preserve walking trail. This stunning trail offers a .57-mile short loop and a 1.07-mile long loop consisting of footbridges, sidewalks, and a boardwalk that was constructed from over 60,000 recycled plastic containers.
Travel Tips: Huff Park is fairly large, so take note that the playground entrance is located on the northwest corner of the park off Aberdeen Street NE, where you'll find a free parking lot. 
Nearby: Riverside Park, Lucy's, Frosty Boy - Grand Rapids, Creston Brewing, Kingma's Market, The Reservoir Lounge

What Grand Rapids area playgrounds should Levi and I add to our playground trail? Let us know in the comments below!