If you've been dreaming of a romantic getaway but don't have the time or money to fly to France, look no further: Grand Rapids has award-winning bed and breakfasts that are the perfect local getaway.
Prairieside Suites Luxury Bed & Breakfast
Prairieside Bed & Breakfast, located in Grandville, MI, just 5 miles from downtown Grand Rapids and 20 minutes from West Michigan's award-winning lakeshore, is the recipient of 14 national and international awards, including 3rd Best Overall B&B in North America. Most recently, Prairieside earned a ranking as one of the world's 9 most romantic inns!
Whether you're enjoying a couples' hot stone massage in their dedicated massage room, or soaking in the Jacuzzi for two that's featured in every guest room, it's easy to relax and melt your cares away at Prairieside B&B. The award-winning B&B offers a variety of packages to suit your liking. Boost the romance factor by choosing their Firelight Romance or A Night to Remember package. Or enjoy an evening on the town with their Dinner and Movie Getaway package. No matter which package you choose, Prairieside caters to your whims.  (Click here to see all of Prairieside's current packages.)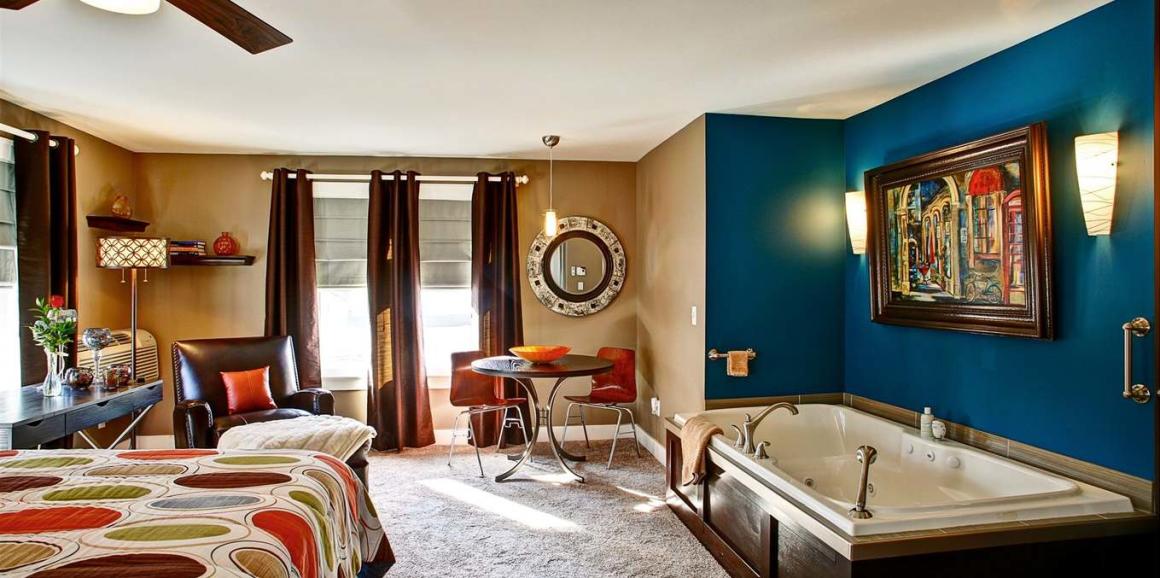 New York Loft room. Photo courtesy of Prairieside B&B.
The rooms at Prairieside drip with luxurious amenities and special touches. Owners and licensed builders Cheri and Paul Antozal carefully designed each room with their guests in mind.  "When people get away, at the bare minimum they want to have everything they have at their own house. But, ideally, they want more.  They want to be dazzled, they want to be pampered, and they want to leave not just refreshed but inspired to make their own house a little more like a haven on a day-to-day basis," says owner and designer Cheri Antozal. She and Paul strive to create a luxurious place of respite where all of those things can happen.
"We want every room to be outstandingly fabulous," says Cheri. And they are. Whether you opt for the gorgeously European Tuscan Villa room, go big-city style with the New York Loft room, or choose one of the others, you're in for a treat  at Prairieside.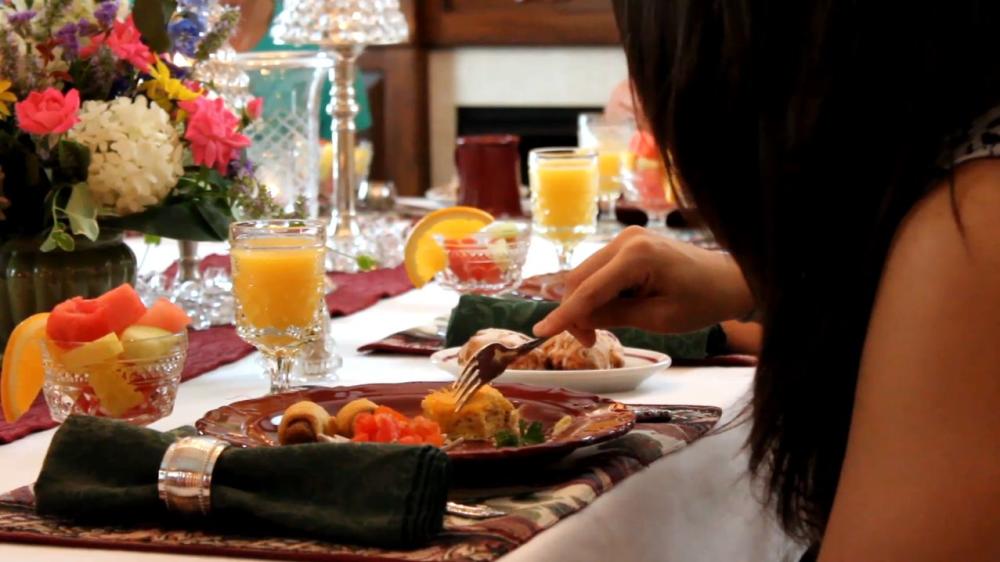 Breakfast photo courtesy of Prairieside B&B.
In the morning, you'll feast on a scrumptious hot breakfast served by candlelight in the dining room, where you can mingle with other guests and share conversation. If you prefer a little more privacy, the Antozals are happy to deliver a full hot breakfast to your room. They can also prepare a continental breakfast for you to stash in your room's fridge, so you can enjoy it whenever the mood strikes.
Book a reservation at Prairieside Suites, or find out more, here.
Peaches Bed & Breakfast
When you book a stay at Heritage Hill's Peaches B&B, it's like taking a step back in time. The beautiful Georgian Country Manor style home, built in 1916, features an intricate Flemish mosaic tile floor and leaded glass sidelights as well as beautiful cathedral skylights.
Owner Jane Lovett's grandfather owned peach orchards in South Haven in the early 20th century. The historic B&B takes its name from his sign, which graces now graces the B&B's foyer.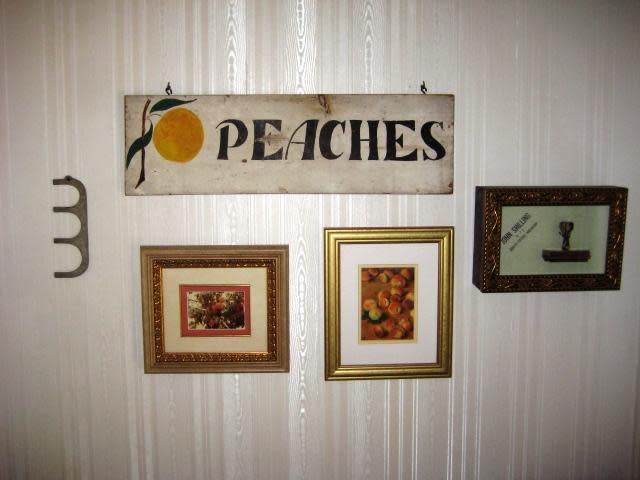 Peaches historic sign, courtesy of Peaches B&B.
Although downtown GR doesn't boast peach orchards, we do have plenty of breweries. Fans of Beer City USA choose Peaches for its proximity to a couple of those. Lovett says Peaches is conveniently located just .7 miles from Brewery Vivant and .7 miles from Grand Rapids Brewing. And other great brew stops aren't far away!
When you're not out and about, you can relax amidst the gorgeous antiques and artwork that fill Peaches. While the décor is vintage, the amenities are all 21st century: the former ballroom, sporting Depression-era wall murals and Art Deco chandeliers, is now a game and TV room, where you can play cards and shoot pool or kick back with games and DVDs.
The traditionally decorated rooms are comfortable, cozy, and stocked with amenities for travelers. Each bathroom features a wonderful giant bathtub and all of the rooms also provide free Wi-Fi for guests.
When you're not in your room, you can relax and enjoy a breath of fresh air in their enchanting garden, where the owners grow perennials that bloom throughout the year. The garden also features a weeping peach and mimosa tree, as well a giant specimen cucumber magnolia. "We're big fans of iris," says owner Jane Lovett. "We're in the process of putting in a new, more advanced, iris collection. It should be going in next fall or spring."
When you're relaxing on the new patio (in progress now), don't be afraid of the dragon! "Edgar is sort of like our mascot," laughs Lovett. The harmless and beautifully intricate dragon, created for the inaugural ArtPrize competition, now resides in Peaches' garden. Unlike a "typical" dragon, Edgar's quiet presence adds to the beauty to the garden.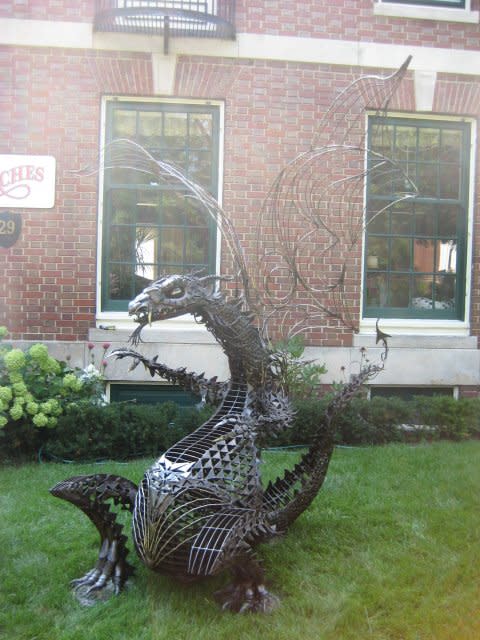 Edgar the Dragon, courtesy of Peaches.
Besides the resident dragon, another unique feature of Peaches B&B is the electric charging station for cars. Committed to green practice, Peaches has been certified by the Michigan Department of Labor & Economic Growth's Green Lodging initiative since 2007.
Look for announcements on their website later this year about celebratory events: In 2016, Peaches historic home turns 100! You can also make reservations on the website.
Other Grand Rapids area B&Bs
Leonard at Logan House B&B: This historic B&B is housed in a turn-of-the-century mansion that's located close to all that's happening downtown.
Lafayette House: Another close-to-downtown, B&B, this federal style home was built in 1874.
River Edge B&B Gathering Place: This Lowell, MI 1880's farmhouse boasts 100 acres, and about one mile of private frontage on the Flat River.
Grand Rapids Ranch B&B: This operational horse, cattle, and egg ranch in Caledonia, MI boasts an in-ground swimming pool and welcomes you and your horse.