Although I'm a relative newcomer to Grand Rapids, I am still a Midwesterner, and I can tell you we're a practical bunch. Case in point: winter. Midwesterners make the best of this season with festivals, outdoor adventures, and warming food.
And while I am likely biased, if you're looking for an easy winter getaway, the Grand Rapids area is where you need to be. In fact, I can prove it to you with this weekend itinerary designed with adults in mind.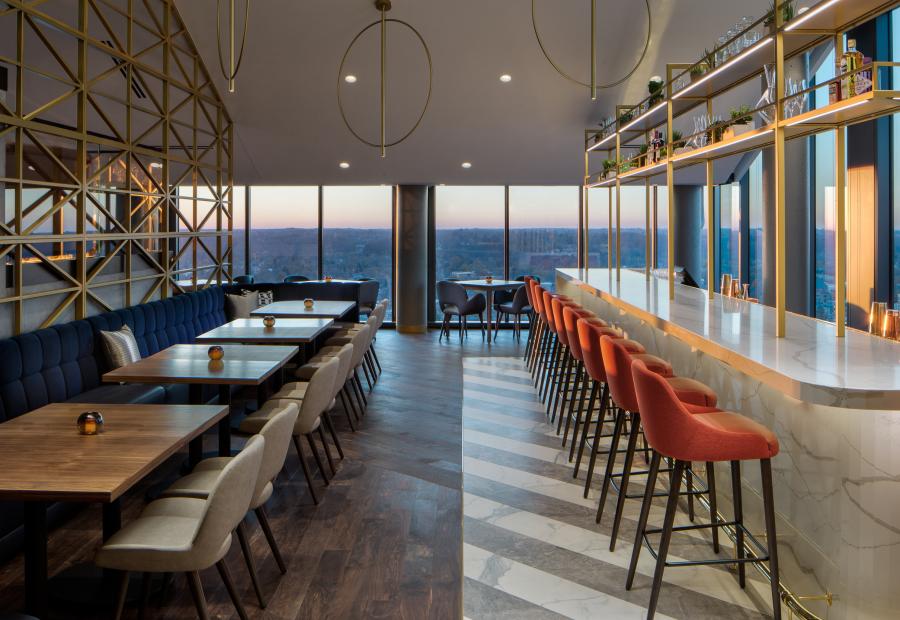 MDRD's elevated dining (literally and metaphorically) is a must-try while in GR.
Photo by Credit: AHC Hospitality
Friday: Exploring Downtown and World of Winter
While I think it's fun to stay Downtown, hotels in the suburban areas of the city are generally only a 15-20 minute car ride to the center of the city.
Wherever you stay, head Downtown early to score a seat at MDRD's bar for a pre-dinner drink and snack. The restaurant's reservations fill up quickly, but locals know the bar is open seating. I recommend the patatas bravas (crispy potatoes with a spicy aioli) with the gin and tonic, which they elevate with a raspberry granita and rosemary. Enjoy breathtaking skyline views, thanks to the restaurant's location on top of the Amway Grand Plaza Hotel. 
For dinner, Ionia Street is filled with lots of options, though the Polynesian vibe at Max's South Seas Hideaway is especially enticing this time of year. Their menu features options for a variety of diets, including vegetarian and vegan (the vegan curried vegetable bowl is my go-to) and feature an extensive cocktail menu, though I always order Aku Aku.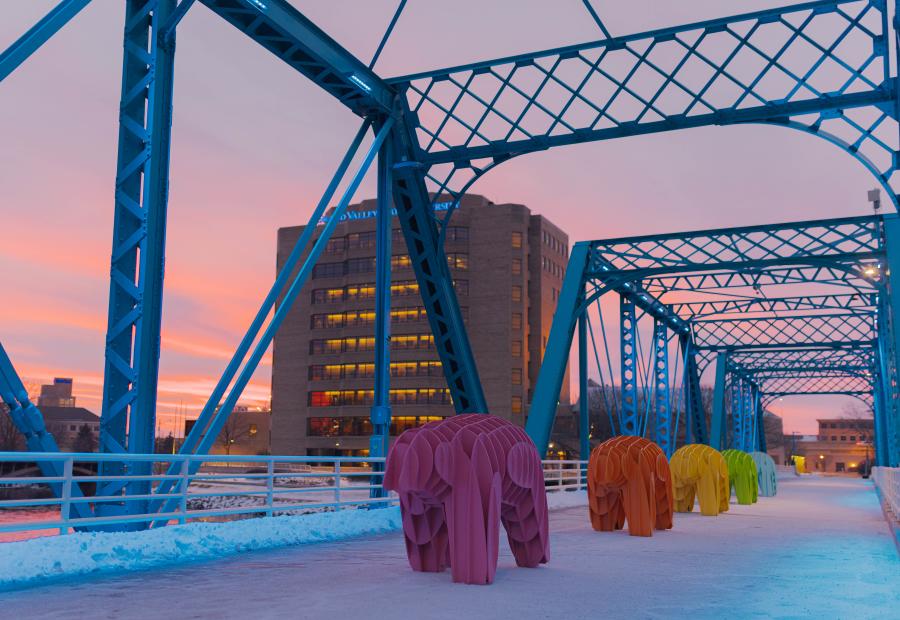 The Massimals is one of the outdoor art instillations of World of Winter, a perfect post-dinner activity.
Photo by Massimals: Grand Rapids | Scroggin Studios
Next, walk off dinner by taking in World of Winter outdoor art installations. The evening is an ideal time to view these installations as many of them light up the night in unusual ways. DGRI, the organization hosting the event has created a handy interactive map to help you find your way around. 
Don't be surprised if you see people walking around with adult beverage in hand. The Downtown Refreshment Area encompasses several city blocks allows you to enjoy an alcoholic drink while outside while in the designated area.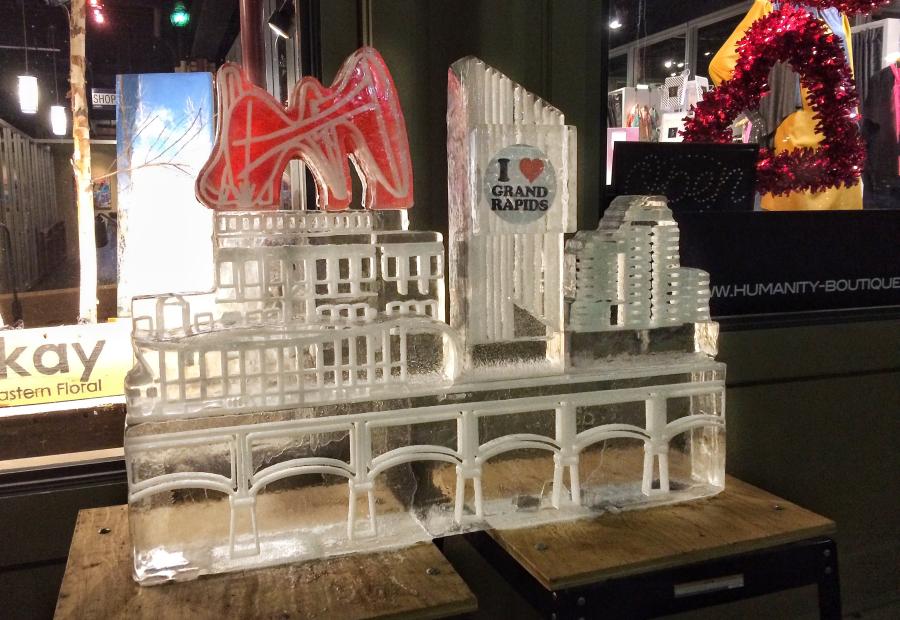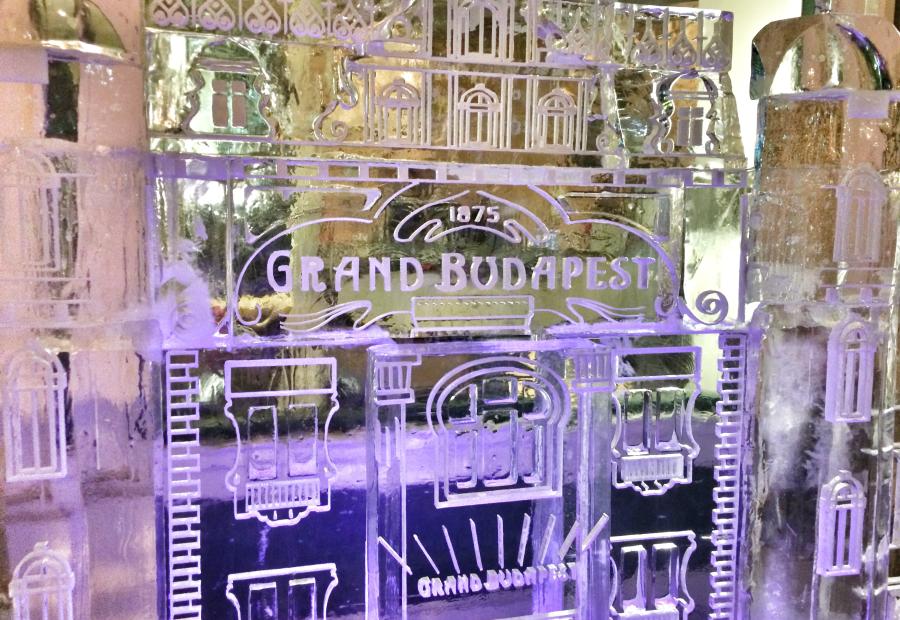 Checking out the Valent-Ice sculptures is a great way to explore the city.
Photo by Melody VanderWeide
Saturday: Touring Valent-Ice and Shopping Uptown
Today is all about urban exploration, so let's start with a hearty breakfast… or at least coffee.
San Chez Bistro's wide selection of menu items, including lots of vegetarian options, is a favorite of my husband and me. Do yourself a favor and try their coconut oil latte—it's so good and warming. While reservations aren't required, they are strongly encouraged and are easily made on their website. For a cup of coffee and a lighter bite, try Terra Bagels or Madcap.
Valent-Ice is another World of Winter program featuring ice sculptures placed throughout the downtown area. You can plot your own route from this map, but if you're coming from San Chez, I would head east on Fulton to Division, then left onto Monroe to check out a great concentration of sculptures. Make your way to the front of the Grand Rapids Art Museum to check out the large community ice sculpture called "The Kraken Scene."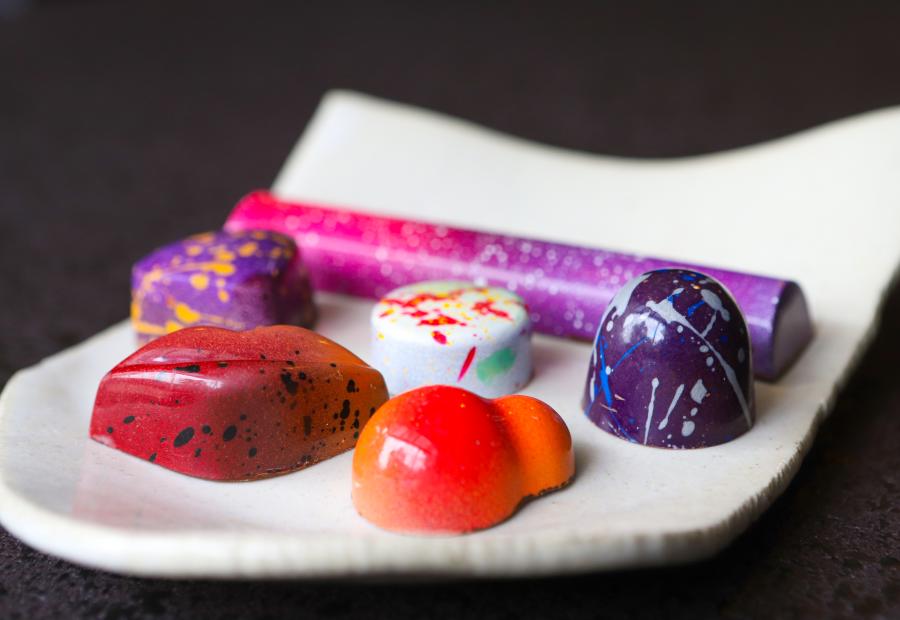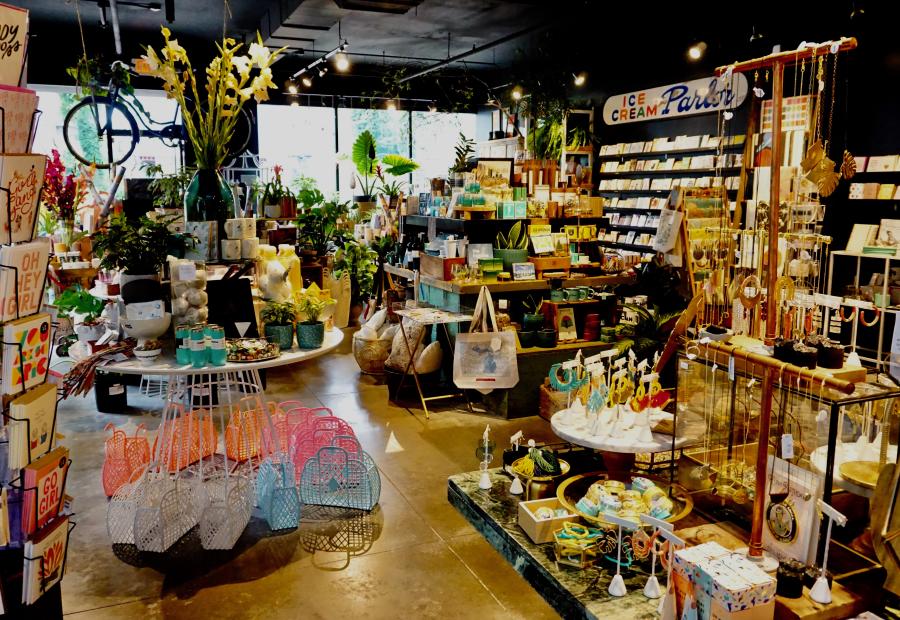 I like to enjoy a sweet treat from Mokaya (left) while I'm visiting local shops like Rebel (right) in the Uptown neighborhood.
Photo by Experience Grand Rapids
From there, it's about a 10-minute car ride to cover the two miles or so to the Uptown neighborhood. Even my husband, who is not much of a shopper, likes to join me. We also like to intermix our shopping with stops at neighborhood restaurants for coffee, snacks and meals. There are so many wonderful shops to visit in this area. Below represents the tiniest fraction of this area's delights, listed from closest to furthest from Downtown.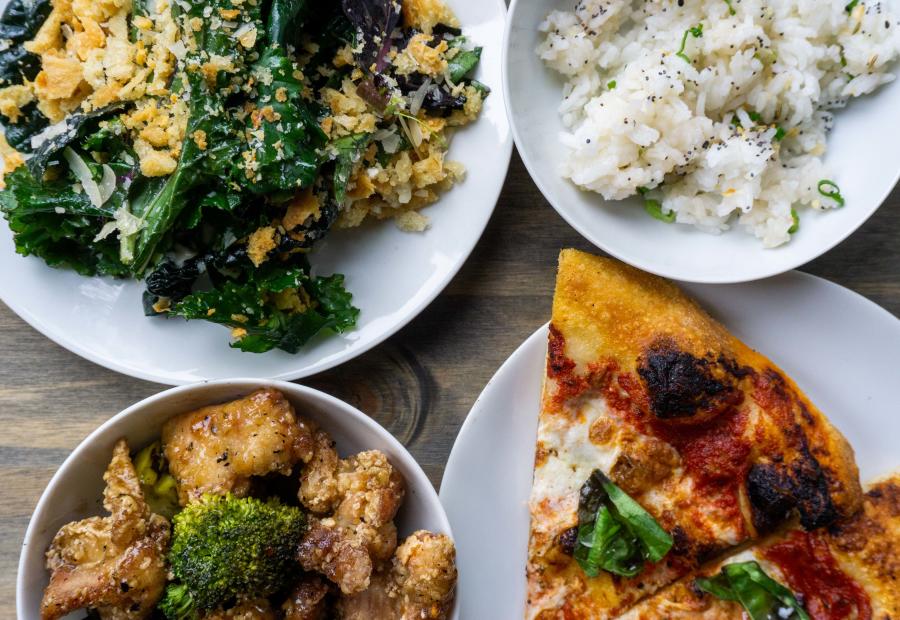 The focus on seasonal ingredients is a common value of many Grand Rapids area restaurants, like Terra pictured here.
Photo by Experience Grand Rapids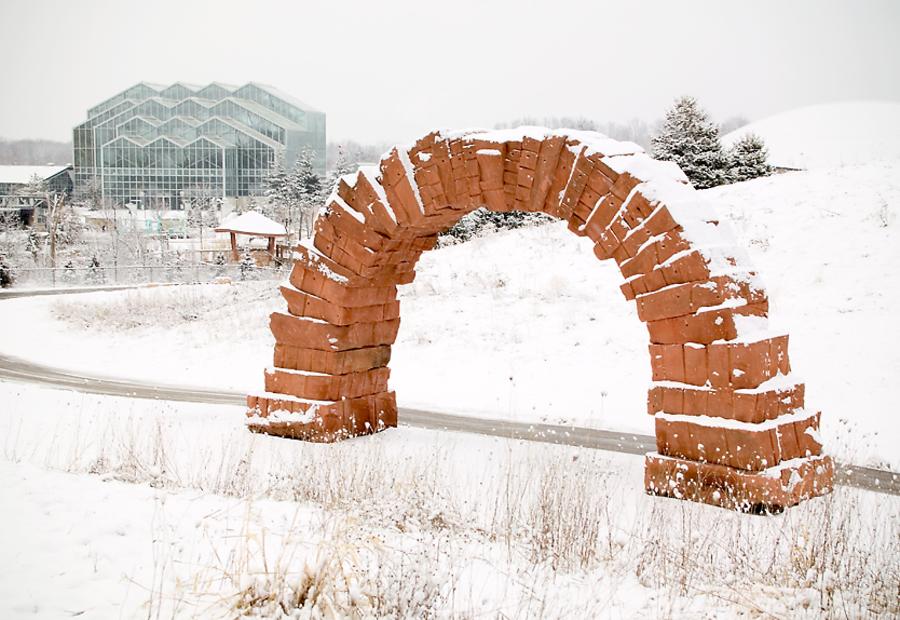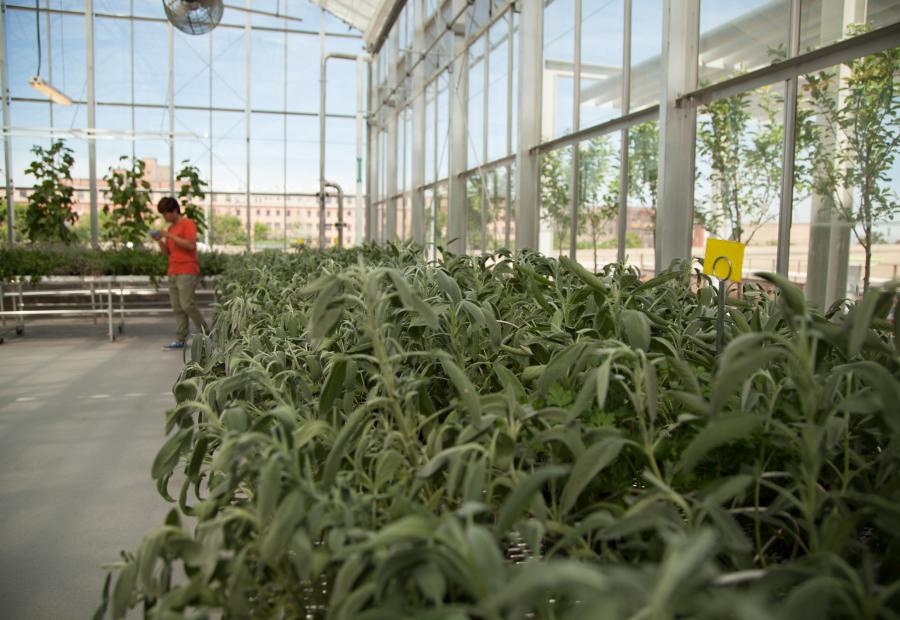 There's plenty to see and explore, both indoors and out, at Frederik Meijer Gardens & Sculpture Park.
Photo by William J. Herbert, Courtesy of Frederik Meijer Gardens & Sculpture
Sunday: Spending Time in Nature
Have a leisurely brunch in West Side neighborhood at Morning Belle.
You don't have to go far from the city to enjoy nature. Blandford Nature Center is about six miles out from downtown and generally less than a 15-minute car ride away. You can hike the trails or, depending on weather conditions, rent snowshoes for a wintery excursion.
A little further out of town is Cannonsburg Ski Area, where you can ski, snowboard, and tube down their pristine slopes. Cannonsburg rents equipment for all of the above. They also have a winter trail system for fat biking, cross country skiing and snowshoeing.
Frederik Meijer Gardens & Sculpture Park has beautiful outdoor grounds and winter adds its own beauty. The sculpture park has completed a multi-million-dollar renovation to its visitor center that features a breathtaking sculpture called "Utopia" by renowned artist Jaume Plensa.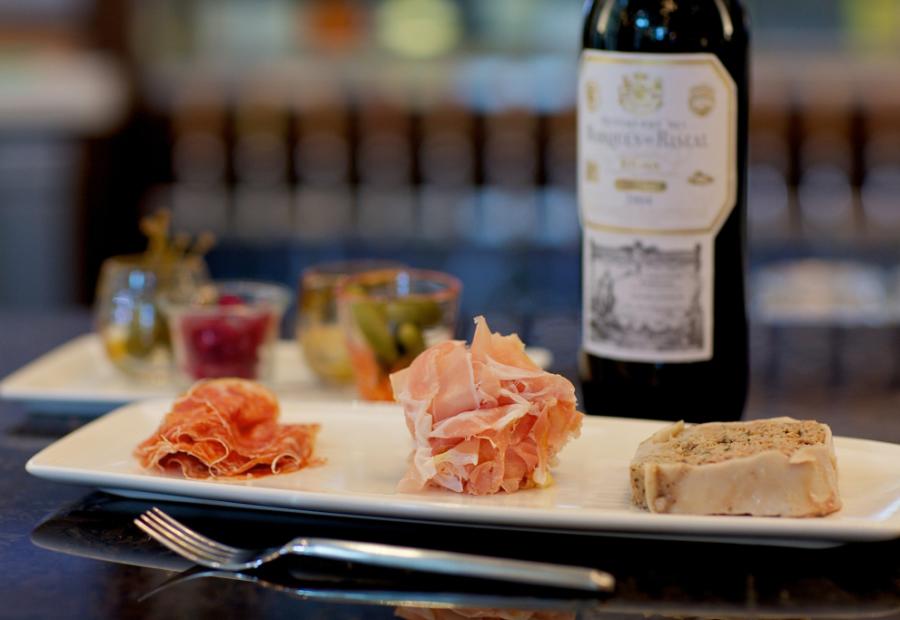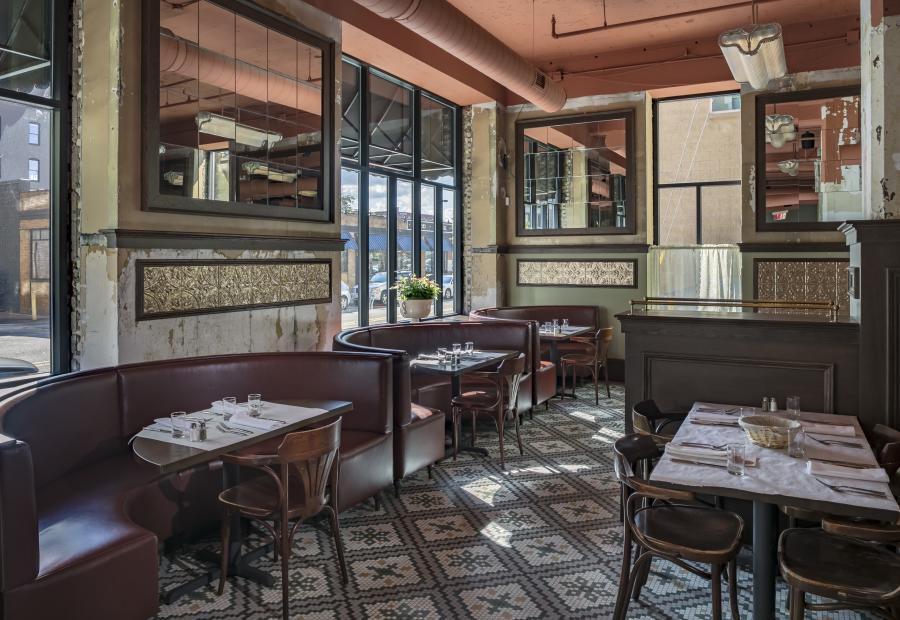 If you don't mind dining during off peak hours, you can still find reservations at many romantic restaurants like Max's Southseas Hideaway (left) or Mertens Prime (right).
Photo by Experience Grand Rapids
Since this weekend is about romance, an intimate dinner for two is a must. First among them, Reserve, whose elegant décor and seasonally inspired cuisine has made it a date night favorite among locals. Other options equally delicious and romantic: Divani, Bistro Bella Vita, Forty Pearl, Margaux, Mertens Prime, MeXo and portico, to name a few. 
Consider going to dinner during an off-peak times. I love doing this because it allows for plenty of time for another stop either before or after dinner. GRNoir, a jazz and wine bar, makes for a fantastic pre- or post-dinner activity.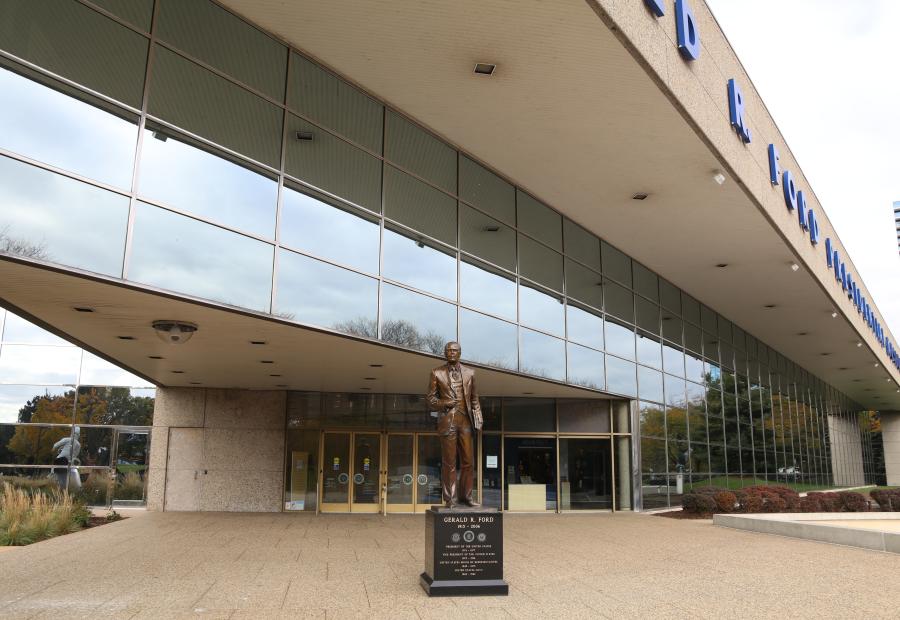 As the hometown of President Gerald R. Ford, Grand Rapids is one of the few cities in the county that can claim the honor of being the birthplace of a president.
Photo by Experience Grand Rapids
Monday: Heading Home
If you happen to be taking your long weekend over the President's Day Weekend, you'll have the chance to take in a bit of presidential history before you head home. After all, Grand Rapids is the hometown of President Gerald R. Ford. 
First, head to one of the many coffee shops that Grand Rapids has to offer for a quick breakfast. Ferris Coffee & Nut Co., Lyon Street Cafe and Lantern Coffee Bar and Lounge are all great options. Grab a beverage to go and take a stroll along the Riverwalk in front of the Gerald R. Ford Presidential Museum. Purchase your admission tickets online and make your way over to my favorite exhibit: a full-size replica of President Ford's oval office. President and Mrs. Ford are laid to rest on the grounds. While pausing there, in the heart of the city, think about your favorite parts of your weekend in the city; after all, those memories are the best souvenir.
I'd love to hear your tips for long weekend getaways in Grand Rapids. Let me know in the comments below!
photo by Terzes Photography, Courtesy of Frederik Meijer Gardens & Sculpture Park
photo by Aaron Peterson for Experience GR.