Romance is never far away in Grand Rapids. Celebrate your love with a weekend full of dates at area restaurants, attractions, and hotels. There are so many ways to be romantic here that Trip Advisor recently named Grand Rapids in its list of 16 Incredibly Romantic Getaways in the Midwest. 
As a longtime Grand Rapids resident, I've had the opportunity to celebrate many Valentine's Days, anniversaries, and birthdays here. In other words, I've had plenty of time to explore the area and find places I think are worthy of your time during a romantic escape. 
Here are a few places I think would make your beloved's heart soar on Valentine's Day or whenever the romantic mood strikes.
Before you visit
Start the weekend off right by making your valentine happy that you've booked a romantic-themed getaway ahead of time. Check out these romance-themed lodging packages:
Firelight Romance Package at Prairieside Suites Luxury Bed & Breakfast 
Couples Getaway at The Grand River Hotel 
Date Night Extraordinaire at Country Inn & Suite East Beltline 
JW Love Package at JW Marriott Grand Rapids 
Romance Package at Holiday Inn Grand Rapids Downtown 
Romance Package at Downtown Courtyard by Marriott Hotel 
Spa Romance Package at Amway Grand Plaza, Curio Collection by Hilton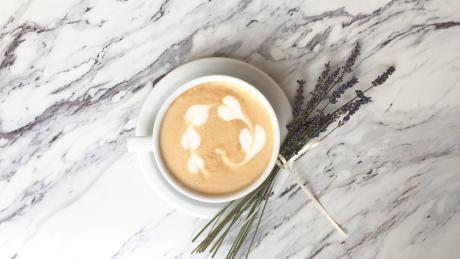 Sweet treats are a perfect way to kick off a romantic weekend in Grand Rapids.
Photo Credit: Experience Grand Rapids
---
Thursday, February 13
Treat Yourselves
After you've checked in, make a visit to one of these unique local confectioners. You and your sweetheart are sure to love their delicious handmade chocolates and other treats.
Kilwin's Chocolates & Ice Cream has used the same candy-making methods since it opened in 1947. Hand-crafted chocolates, smooth and creamy caramels cooked in traditional copper kettles, fudge made in-store, and so much more await.
MoKAYA opened its doors in 2016 and has since been turning out hand-crafted, artisan chocolates and confections. MoKAYA pairs chocolate with interesting flavor profiles to create goodies like Thai Basil Black Pepper truffles or, one of my personal favorites, Himalayan Pink Sea Salt Caramel truffles. In a nod to Grand Rapids' many award-winning craft beers, and designation as Beer City USA, the shop also features an assortment of chocolates and caramels made with craft beer. You can create your own "beer flight" with flavors like Elk Coffee Porter Dark Chocolate and Brewery Vivant Farmhand Butter Caramel. 
Sweetland Fine Homemade Candies is a fourth-generation local business that recently celebrated its 100th year. Patrons go for the truffles, brittles, and other fine chocolates and candies. If you just can't choose one, Sweetland has lots of gift boxes with assorted chocolates, truffles, and caramels. I'm especially partial to the latter two—they practically melt in your mouth. If you'd like to sit and eat your treats with some coffee, make the short drive to Rockford to visit the second location, Sweetland Chocolates and Coffee. 
Le Bon Macaron offers a taste of Paris right here in Grand Rapids. Located in the Uptown neighborhood, they offer more than 40 flavors of macarons, along with cream puffs, scones, and more. For an extra special romantic treat, create your own afternoon tea with their goodies, including macarons, scones, cheese, and crackers. They also have a wonderful lavender latte if that's more your style.
For even more ideas, read our post about where to find sweet treats in Grand Rapids.
If sipping cocktails and dining by twilight appeals to you and your beau, try Max's South Seas Hideaway for dinner and drinks.
Photo Credit: Brian Craig for Experience Grand Rapids
---
Places to Say Cheers: Romantic Places to Sip Cocktails 
When the evening hour beckons, relax with a cocktail and then enjoy dinner at one of these romantic spots. 
Enjoy the warmth and charm of the historic Lumber Baron Bar at the Amway Grand Plaza. I love their comfy leather club chairs and roaring fireplace.
New Hotel Mertens is a retro-chic brasserie that serves French classics in a historic former lodging establishment. Its classic 1920s Art Deco-inspired atmosphere harkens back to an earlier era. Be sure to take a peek at the beautiful, original floor tile in the bar.
The chef at Leo's delights patrons with seafood that's artfully presented, as well as creatively prepared. You can enjoy cocktails and dinner in the more casual bar area or in Leo's dining room, with soaring ceilings and white tablecloths.
The leather-bound cocktail menu at Buffalo Trader's Lounge offers a wide selection of classic cocktails, as well as plenty of classy modern creations. The creative bartenders are also happy to create a special cocktail designed just for your palate.
The three-story urban oasis called Max's South Seas Hideaway is a tiki-themed marvel that feels like a distant tropical paradise. I think it's wonderful in the cold winter months! Two stories are currently open for dining and drinking, and the third is scheduled to open in late 2020 as a boutique lodging venue.
If you like the idea of cozying up outdoors, the following places have outside patios with heaters or fireplaces. Keep in mind that it's still winter, so you'll want to dress warmly despite the ambient heat. I highly recommend wearing a scarf:
 For a cool twist on the outdoor experience, visit The Sovengard, which has three heated "glamping tents," each with a different design theme, in its outdoor beer garden. 
Friday, February 14 
Champagne and Chocolate 
Start the day off right at The Local Epicurean's Champagne and Chocolate Buffet lunch. Indulge in their popular chocolate sugar waffle and other seasonal treats, including lots of hand-made chocolates, shortbreads, tarts, and dipped fruit, all while sipping Italian champagne. What better way to start Valentine's Day?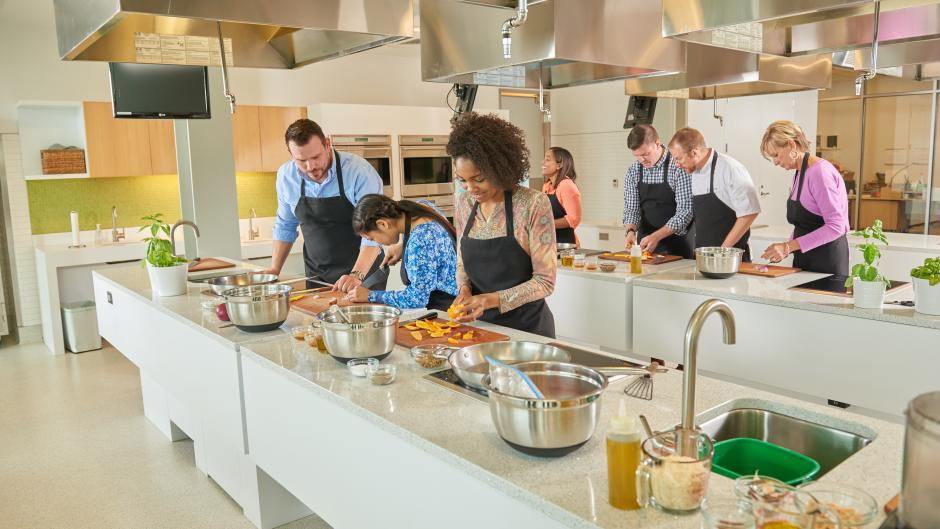 Try a Valentine's Day cooking class at the Downtown Market, Local Epicurean, or Sur La Table.
Photo Credit: Downtown Market
---
Cooking Class
If you prefer to get creative in the kitchen yourself, consider taking a hands-on cooking class instead. At The Local Epicurean, you can learn to make pasta ribbons, gnocchi, ravioli and more. Check their website for the most current class times and offerings. Classes are currently scheduled to take place at 11 AM, 1 PM, 3 PM, and 5 PM.
If your sweetie is a Francophile, they will love the Valentine's Day Macarons class at Sur La Table, taking place at noon. They'll teach you to make an almond macaron with raspberry lemon buttercream and a beautiful gold-dusted vanilla bean macaron with white chocolate rose ganache. Yum!
If you'd prefer a later cooking class, maybe before a later dinner, you have a couple of options.
Sur La Table is hosting Date Night: Bold Tuscan Flavors at 4 PM and 7 PM where you'll make potato gnocchi, create bold Italian sauces, and enjoy a little mint chocolate chip gelato. 
The Downtown Market is also offering a cooking class with a romantic twist: That's Amore: A Romantic Evening in Italy. You'll learn to make a sweet and nutty butternut squash ravioli and emulsify balsamic vinegar imported from Italy. You'll also create a traditional Italian compote from figs, apricots, and a Sicilian marsala—perfect over ice cream. The class runs from 6 PM – 8:30 PM.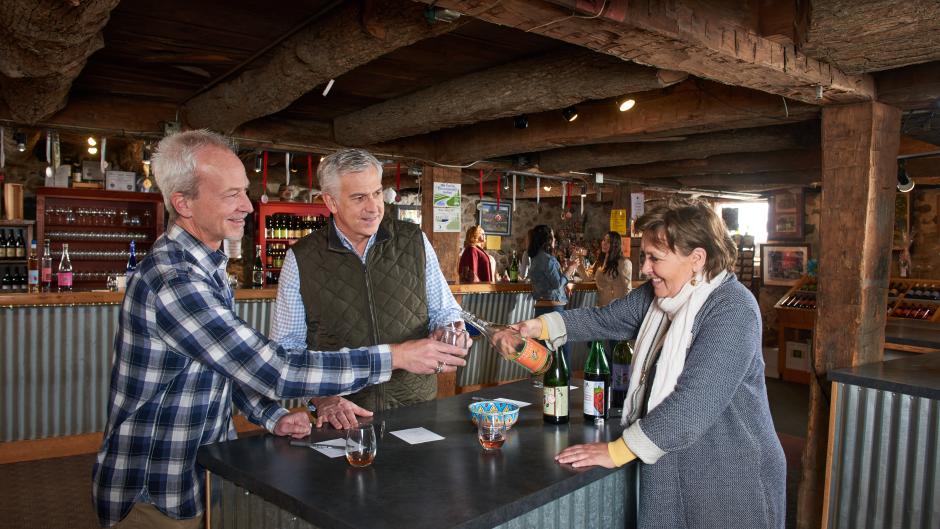 You can find wine tasting events at many wineries in the Grand Rapids Area, including Robinette's Apple Haus & Winery.
Photo Credit: Experience Grand Rapids
---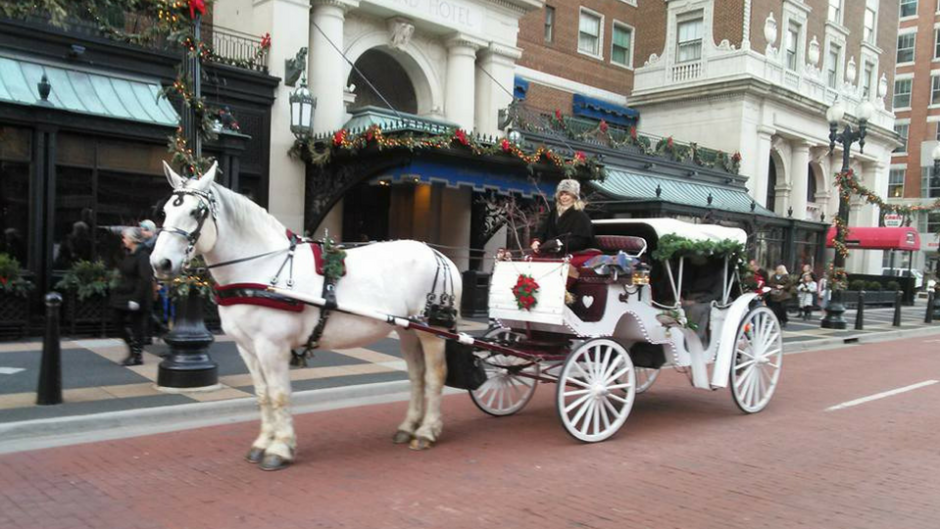 To hop on a Common Gentry Carriage ride, head to the corner of Monroe and Lyon on Friday and Saturday nights.
Photo Credit: Common Gentry Carriage Company
---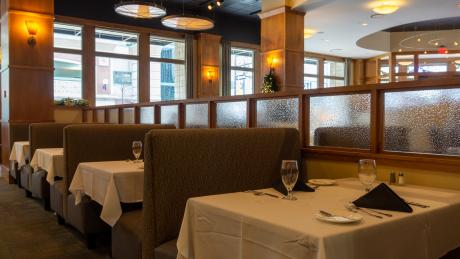 Grand Rapids offers plenty of romantic dining spots, like Reserve Wine & Food and Leo's restaurant.
Photo Credit: Experience Grand Rapids
---
Dinner Downtown
The vibrant food scene in Grand Rapids gives you lots of options, from elegant seafood to unique farm-to-table creations. You won't go wrong wrapping up Valentine's Day with a romantic dinner at any of these delightful restaurants. 
Margaux at the JW Marriott offers a sophisticated take on a traditional French bistro. The Chilled Seafood Tower for two would make a special treat on Valentine's Day. 
The specialty at The Chop House is steak, but the seafood and other menu options are also quite good. No matter what you order, consider a side of delicious au gratin potatoes. They're worth the extra carbs, I promise.
At Reserve Wine and Food, you can share a wonderful cheese and charcuterie board and then enjoy one of many farm-to-fork specialties. 
I know I mentioned Leo's earlier but its seafood is so good, and the atmosphere is so romantic that I want to mention it here as well. If you don't stop by for cocktails, the delightful seafood is worth a look for dinner. From the simple but delectable calamari appetizer to the creamy lobster bisque or Chilean Sea Bass, it's hard to go wrong. There are plenty of land and pasta options for non-seafood eaters, too. 
Bistro Bella Vita consistently delivers delicious modern French and Italian cuisine. The menu changes regularly, but if it features the spicy pork meatballs or saffron risotto, those options deserve serious consideration. Bistro Bella Vita is one of my favorites all year long for reliably awesome food and service.
If you're up for a short Uber ride, head to Grove in the Uptown neighborhood. Grove's menu is created using simple, seasonal ingredients, locally and sustainably sourced as often as possible. The menu changes regularly, but whatever the chef's serving is worth a try.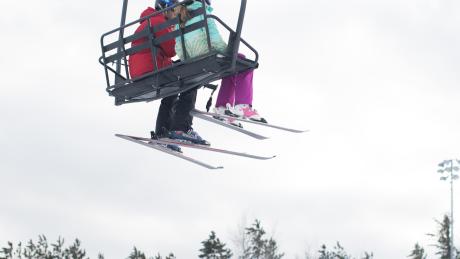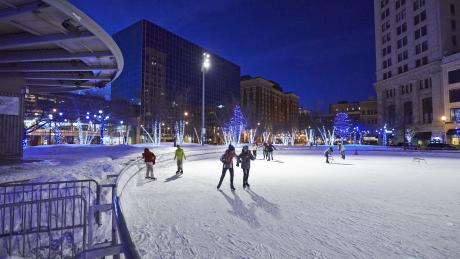 West Michigan is full of winter outdoor activities, from skiing at Cannonsburg to ice skating at Rosa Parks Circle.
Photo Credit: Cannonsburg Ski Area
---
Saturday, February 15
Enjoy the great outdoors
Get your warm-weather gear on! The best way to survive a Midwest winter is to embrace it. 
Grab your sweetheart and head to Wittenbach Wege Agriscience and Environmental Education Center in Lowell to snowshoe, then pop into Lowell's quaint downtown to grab food and drinks at Flat River Grill or Main St. BBQ. 
Another great option for snowshoeing is the scenic Blandford Nature Center. If you go that route, stop by Vitale's in Comstock Park for fantastic Italian food.
Skiers can head to Cannonsburg Ski Area, then enjoy an après-ski meal and beverage at Honey Creek Inn.
If you're into fat tire biking, check out the Indian Trails Golf Course (they also offer snowshoeing and cross-country skiing). Follow your ride with a pint at Brass Ring Brewing Company in nearby Alger Heights.
Ice skating aficionados should head to Rosa Parks Circle to join the skating fun, then pop over to nearby Bull's Head Tavern for food and refreshments. Also, be sure to check out Valent-ICE at Rosa Parks Circle, along with other World of Winter events going on!
Be sure to get your Beer City Brewsader® Passport before you head out, so you can collect stamps as you go. With Grand Rapids' recognition as Best Beer Scene by USA TODAY readers, you may want to try some other stops along the Beer City Ale Trail before heading back to your room to relax.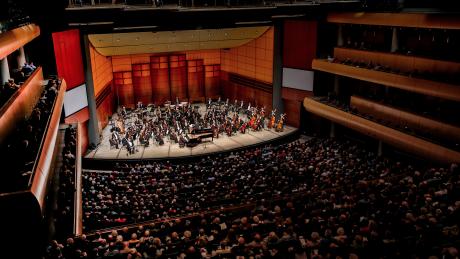 There's no shortage of venues or events for a night out enjoying a live performance in Grand Rapids.
Photo Credit: Experience Grand Rapids
---
Live music and entertainment
After an active day outdoors, you and your date can enjoy indoor entertainment at one of Grand Rapids' many local music venues. There are so many events to choose from – here are a few suggestions:
At Van Andel Arena you can kick back with fellow country music fans for the Luke Combs: What You See Is What You Get Tour.
If rock is more your style, check out Brooklyn rock trio Highly Suspect at 20 Monroe Live, as they croon their raspy vocals to amped-up guitar chords. Slothrust opens the night.
The Pyramid Scheme promises a music-filled evening featuring the Broken Hearts Show with Secret Forte + Abner + Patty Pershayla & The Mayhaps + Ghost Coasts.
At Devos Performance Hall, Marcelo Lehninger conducts the Grand Rapids Symphony playing Schubert's "Great," featuring Brahms, Andrew Norman, and more. Plus, the Grand Rapids Ballet will be exploring themes of love and desire with their performance Eternal Desire, which runs February 14-16.
And if you're looking to grab dinner or drinks before a show, Saturday, February 15, kicks off Beer Month GR, so head to any nearby participating brewery for mouth-watering food and beer pairings!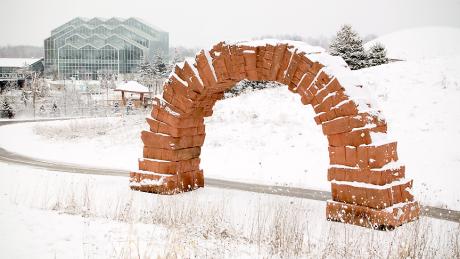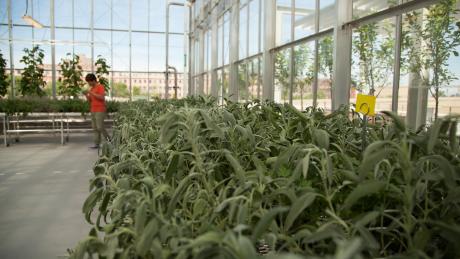 There's plenty to see and explore, both indoors and out, at Frederik Meijer Gardens & Sculpture Park.
Photo Credit: William J. Herbert, Courtesy of Frederik Meijer Gardens & Sculpture
---
Sunday, February 16
Spend a day with nature (inside or out) and serenity
It's the last day of your romantic getaway, so finish strong by taking a stroll around Frederik Meijer Gardens & Sculpture Park with your sweetheart. If yesterday's outdoor activities were enough for one weekend, stay inside and enjoy one of their five indoor theme gardens and sculpture gallery.
Afterward, grab a quick bite at the Meijer Gardens café, and then head over to the nearby full-service Woodhouse Day Spa, where you've thoughtfully booked a couples' massage for you and your valentine. They've always exceeded my expectations.
I hope these suggestions help you have a very happy, love-filled Valentine's Day. Keep in mind that not all of these places are in downtown Grand Rapids. Some require a short drive or ride from Uber or Lyft. 
Be sure to leave us a comment to let us know your favorite romantic event of the weekend.
Never miss a post!
Subscribe to the Insider Experience blog.