'Together Again'
If you have never been to the Grand Rapids Pride Festival, you'll want to check it out on Saturday, June 18 from noon to 10 p.m. at Calder Plaza in downtown Grand Rapids. One of the largest one-day events in Grand Rapids, the festival continues to grow in popularity each year.
After going virtual in 2020 and 2021 due to COVID-19, this year's Pride Festival will be back in-person as "Together Again" promises to be a hit.
The event is free with proceeds going to the Grand Rapids Pride Center in support of social programs, support groups, health initiatives, advocacy, and more.
The Grand Rapids Pride Festival focuses on bringing the LGBTQ+ community together with local businesses, allies, and organizations to celebrate diversity and inclusion. This year's event will span Ottawa Avenue from Michigan Street to Lyon Street and Calder Plaza with entertainment, food, vendors, drinks and more.
The Grand Rapids Pride Festival includes a variety of featured performers, all of which will have a connection to Michigan, including the headliner for 2022: Jax Anderson (previously known as "Flint Eastwood"), an alt-pop artist from Detroit. Other performers include singer-songwriter and producer Ella X, Valentiger another Michigan-based group, pop artist Siena Liggings, and Grand Rapids own Lady Ace Boogie. There will be a mix of comedians, poets, spoken word, drag and local DJ Keller Shaw keeping everyone on their feet all day long. Look for a full lineup as the date nears.
Leading up to the event, you can sign up to volunteer, become a Pride Festival 2022 vendor, or become a 2022 sponsor.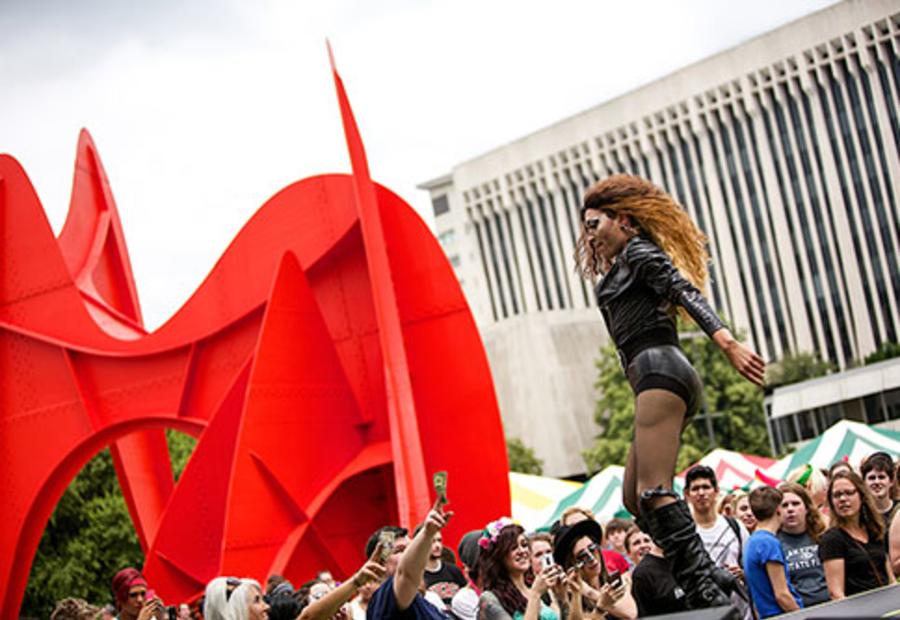 Calder Plaza will be packed with food, drinks, and live entertainment for the 2022 Pride Festival.
Photo by Experience Grand Rapids
What to Expect
Details are still sparse as the event is a month away and planned entirely by volunteers, but Experience Grand Rapids was able to secure the following information.
A dedicated children and family area sponsored by Meijer in partnership with the Grand Rapids Children's Museum and the Children's Advocacy Center will take place from noon – 4 p.m. on Calder Plaza.
The beer garden (AKA The Queer Garden) will feature beer from City Built, New Holland, Mitten Brewing and Brewery Vivant. Local restaurant group Barfly Ventures will be offering two flavors of seltzers: watermelon and grapefruit.
A food court will take over a portion of the Fifth Third Bank parking lot just adjacent to Calder Plaza where a few food vendors including Patty Matters and Crepes by the Lakes will be on hand.
A variety of other community organizations and businesses will be present for the street festival portion of the event that will span Ottawa Avenue between Michigan Street and Lyon Street.
Spectrum Health's All of Us research program and Healthy Pride Internal Resource Group will be on-hand as well as many other local organizations that attend to share their mission and commitment to
the LGBTQ+ community.
The official Grand Rapids Pride Festival after party will be hosted at GLC 20 Monroe Live in 2022. The theme is "The Prince Experience" which likely entails lots of singing and dancing to Prince tunes from the past.
Get Involved: Volunteer
If you have some spare time and would like to be more involved, the Pride Center still needs volunteers for this year's big event. A variety of roles are still available including staffing the main entry to the
event, operating the beer garden, and more.
Volunteering at the Pride Festival is a great way to support this event and the mission of the Pride Center, whether you're a local or a visitor.
If you are interested in volunteering, feel free to contact the Pride Center or checkout the online application form.
Other Pride Happenings Around Grand Rapids
There are a variety of different pride-related events taking place throughout the month of June and all
weekend long during the Grand Rapids Pride Festival.
Here are a few to consider: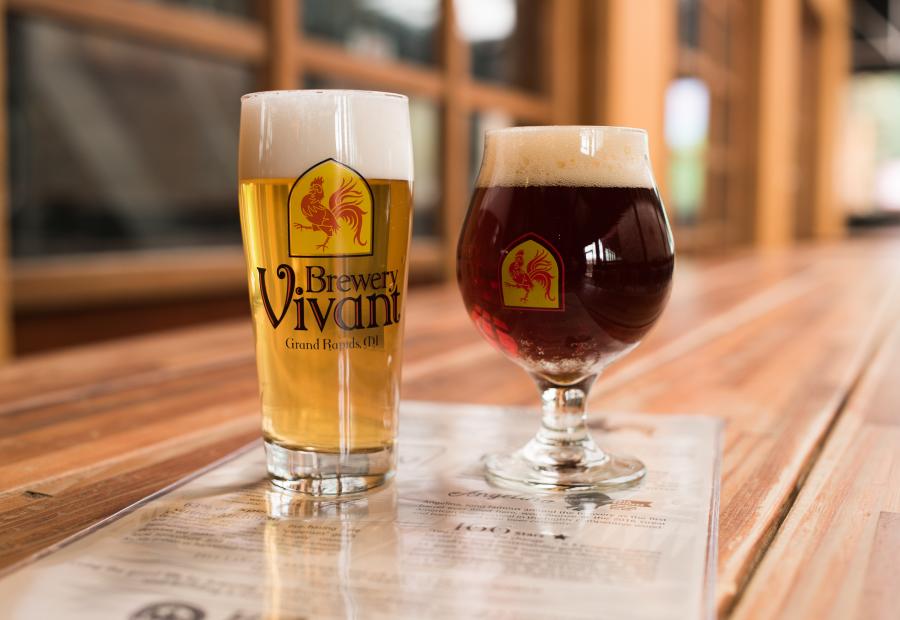 Stop by Brewery Vivant to try their new collab beer with Guardian Brewing Company.
Photo by Experience Grand Rapids (taken by Bree Girard)
Throughout the Month
Vivant Brewing will be brewing a collab beer with Guardian, and $1 from each sale in the month of June will benefit the Grand Rapids Pride Center.
Bobcat Bonnies and New Belgium Brewing will partner throughout the state of Michigan, donating $1 per Fruit Smash Hard Seltzer sale at each location during the month of June.
Lowell Pride
Lowell Pride will be held on Saturday, June 4 at the Lowell Riverwalk with the theme of Authentically You. Kicking off at 11 a.m., the all-day event will feature a variety of vendors and performances.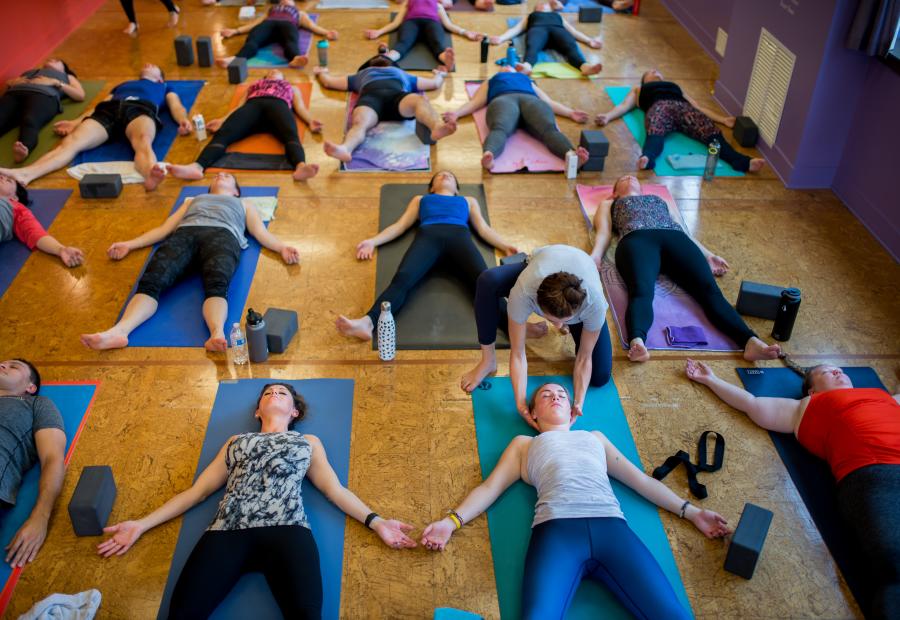 De-stress and challenge yourself with a class at the Funky Buddha Yoga Hothouse.
Photo by Funky Buddha Yoga Hothouse
Funky Buddha Yoga Hothouse
The Funky Buddha Yoga Hothouse will host a summer kickoff yoga class on Sunday, June 5, with donations from patrons supporting the Grand Rapids Pride Center.
West Michigan Whitecaps
The West Michigan Whitecaps will celebrate diversity, inclusion, and unity by hosting a Pride Night Celebration for fans at LMCU Ballpark on Thursday, June 9. The game kicks off at 6:30 p.m. and fans are encouraged to show support on social media throughout the night by using #CAPSPRIDENIGHT. There will be fireworks at the end of the game, and food and drink specials all night long.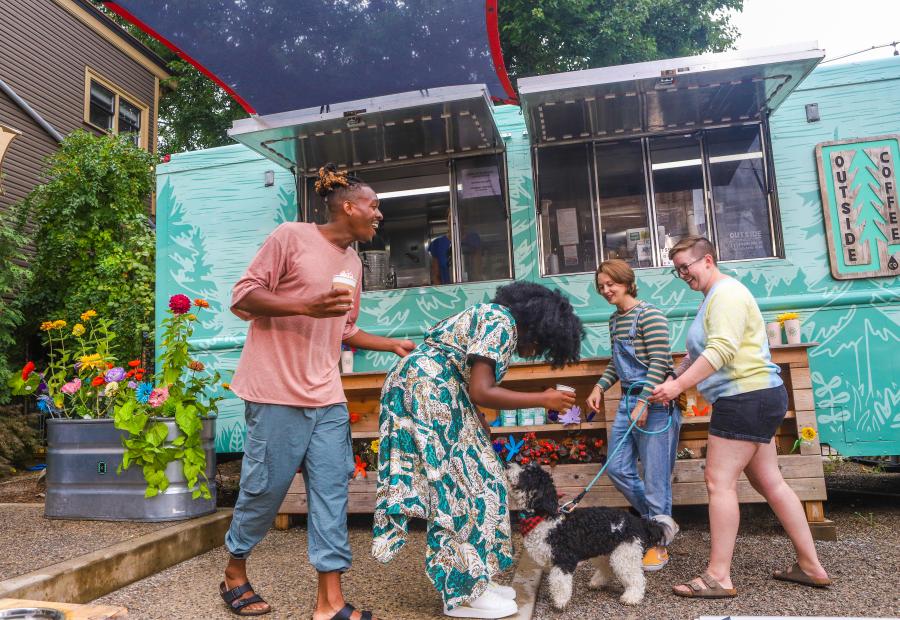 Outside Coffee Co. serves a variety of delicious beverages and treats, including their new Fruit Loop Matcha coming this June.
Photo by Outside Coffee Co.
Outside Coffee Co.
Outside Coffee Co. is hosting a variety of pride-themed events throughout the month. On Friday, June 10, there will be a Pride Garden Party taking place outdoors at the shop all day long. Event goers can play yard games and drink special "Fruit Loop Matcha" while supplies last. Comedian Brittany Devon will be leading improv at 3 p.m., and Beauty Beyond Drag will have a drag show at 7 p.m. The tickets are $20 and also include a beverage.
On Saturday, June 11, Brittany Devon will be holding an additional improv class at 11 a.m. Tickets are $5 for this event and RVSPs are encouraged.
On Sunday, June 12, the Queer Dog Walking Club will meet in the garden at 10 a.m. for a walk around Heritage Hill. But if you can't make it on the 12th, don't worry because this group meets every Sunday at Outside Coffee Co.
The following week, stop by on Thursday, June 16 for their Pride Outside Market from 4 – 8 p.m. (part of their Outside Summer Market series, which reoccurs on the third Thursday of the month from May – September). There will be 10 local queer makers and merchants selling their wares, with Basalt serving up Tex-Mex food (queer-owned) and Olly's Mini Donuts truck parked in the driveway all afternoon.
Naughty Bettie
Naughty Bettie will host a Spill the T! A Naughty Bettie Workshop Into Transgender Style on Friday, June 10 from 6 – 9 p.m. The event is free and open to the public and will be focused on style and personal care for Transgender, Non-binary, and Gender Nonconforming friends and families.
Terra Firma Bouldering Co.
Terra Firma Bouldering Co. will host a Pride Meet Up on Friday, June 17 from 6 – 10 p.m. $12 day passes for rock climbing will be available for the evening, with a portion of proceeds going back to benefit the Grand Rapids Pride Center.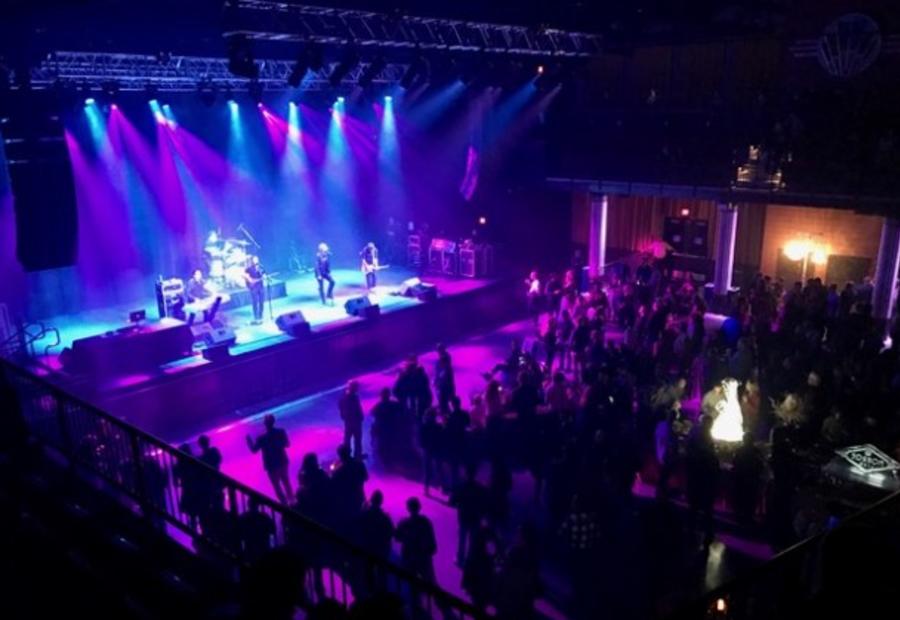 Don't miss the after party for the 2022 Pride Festival at 20 Monroe Live.
Photo by Andy Rent
GLC Live at 20 Monroe
GLC Live at 20 Monroe will host the official after party for Grand Rapids Pride Festival featuring the Prince Experience on Saturday, June 18 at 8:30 p.m. Visit their Facebook page to stay updated and to purchase tickets.
Maggie's Bar
From June 18 – 19, Maggie's Bar will have a variety of food and drink specials to celebrate Pride with a percentage of proceeds going back to the Pride Center. Stop by to quench your thirst, get fed, and support the cause.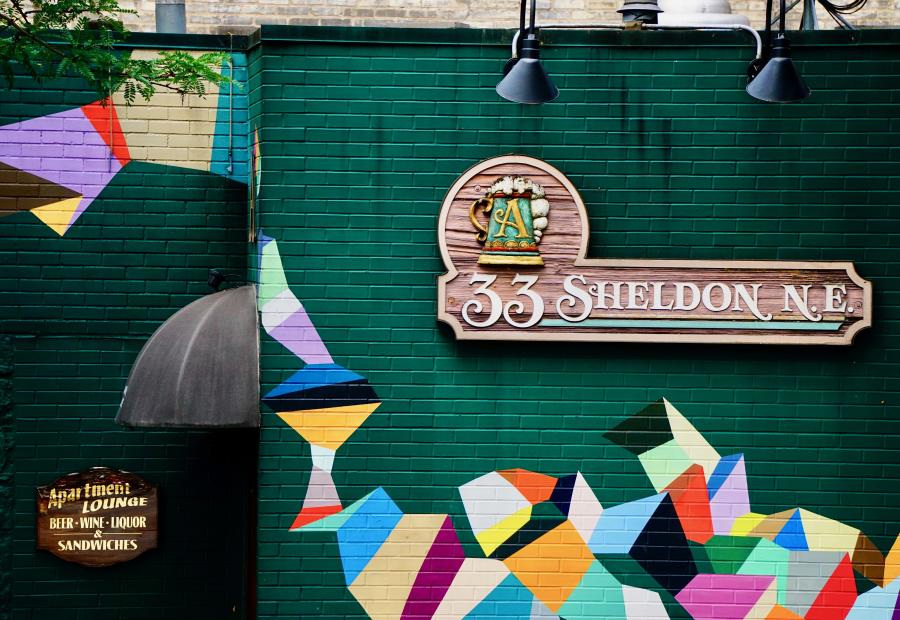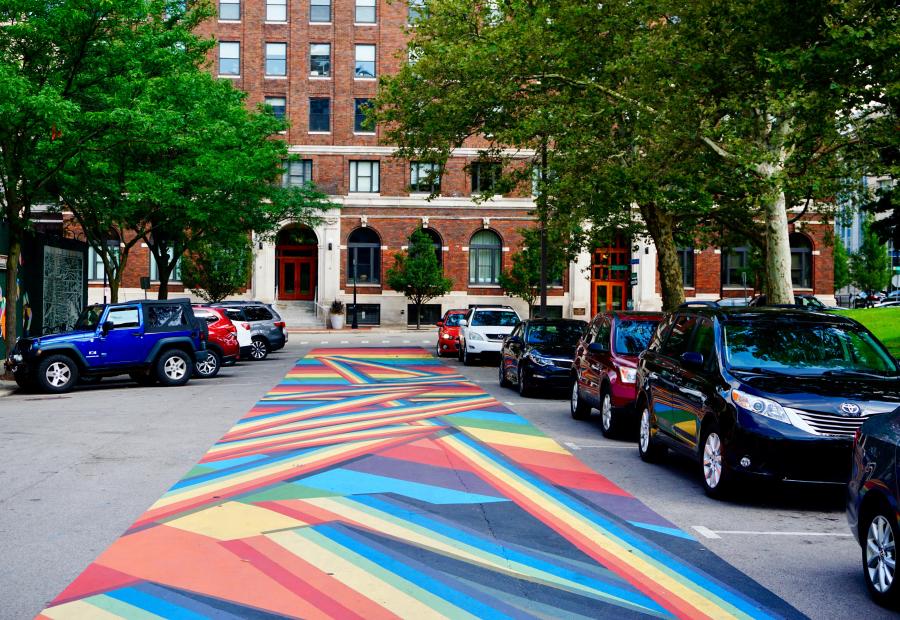 Don't miss the Apartment Lounge's annual block party!
Photo by Brian Craig for Experience Grand Rapids
The Apartment Lounge
On Sunday, June 19, the Apartment Lounge will host its annual block party on Sheldon St. There will be various live performances featuring LGBTQ+ entertainment from 2 – 10 p.m., with Betty headlining. Expect food, drinks, games and more outdoors, along the freshly painted Rainbow Road.
Circle Theatre Grand Rapids
Circle Theatre Grand Rapids will be performing a Pride Night Pop Up lawn performance/storytelling event on Monday, June 20. Lawn seating opens at 6:30 p.m. with the show beginning at 7 p.m.
Harmony Hall
On Saturday, June 25 Harmony Hall will join forces with Beauty Beyond Drag Productions for a drag show raising awareness for the Grand Rapids Pride Center. The show starts at 9 p.m. at Harmony Hall and it is recommended to purchase tickets in advance.
Holland Pride Celebration
The Holland Pride Celebration will be held Saturday, June 25 from 12-5pm in Centennial Park. The afternoon-long event will feature a variety of vendors and performances.
With all this fun taking place in and around downtown Grand Rapids, you can make a day trip to celebrate Pride with friends and family or book a room in a local hotel and make a full weekend visit!
This story was updated June 12, 2022