Celebrating pride in Grand Rapids for 35 years
If you have never been to the Grand Rapids Pride Festival, you'll want to check it out on Saturday, June 17, from noon to 10 p.m. at  Calder Plaza in downtown Grand Rapids.   
This year the event will ring in 35 years of celebrating Pride in the city of Grand Rapids, with the theme this year being: unapologetically me. Plan to attend as your own authentic self.
One of the largest one-day events in Grand Rapids, the festival continues to grow in popularity every year. 
My partner, Eric, and I always make a point of heading downtown to celebrate with friends and family. My parents, brother, and sister-in-law came with us last year and brought my niece and nephew (3 and 5 years old). They had a blast watching their first drag performance, dancing in Calder Plaza, and handing dollar bills to the queens when they came around. 
We wandered the streets and checked out the many local organizations that had prizes, giveaways, and plenty of rainbow swag to share. We even got rainbow temporary tattoos on our cheeks and an unforgettable ice cream sandwich from the Underground Cookie Club. The kids loved it!   
The event is free to enter, with proceeds benefiting the Grand Rapids Pride Center in support of the nonprofit's social programs, support groups, health initiatives, advocacy, and more. Donations are also accepted and appreciated. 
This year's event will span Ottawa Avenue from Michigan Street to Pearl Street and Calder Plaza with entertainment, food, vendors, drinks, and more. 
Eric and I always recommend making a day of it, or at least half a day, as there is so much to see and do. And if you need a break, there are bars, restaurants, and parks within walking distance of the event.  
Grand Rapids Pride Festival showcases a variety of featured performers that are locally and even nationally recognized. Headlining acts have come from far and wide to perform in previous Prides we have attended.  
The sensational musician Robin S. will be headlining the event on June 17. Get ready for an unforgettable day of music, love, and celebration.
Robin S. is a true icon in the music industry and has captivated audiences worldwide with her powerful vocals and infectious energy. Recently, she has seen a spectacular resurgence thanks to the release of Beyonce's newest single, "Break My Soul," which samples her iconic 90's anthem, "Show Me Love."
More Must-See Shows
Beauty Beyond Drag Productions, the premiere all-inclusive drag production based in Grand Rapids, will also perform at the event. If you don't usually have an opportunity to see this group perform, this is a great chance to experience the art of drag.
And, of course, the Brunchettes of MI Drag Brunch will be there performing. This drag group is Michigan's original drag brunch, touring statewide at rotating venues. You may not be fed food for this set, but they'll definitely be serving an experience to remember.
BAM (Black Art Matters) Talent will also be on-hand. This group is a professional theatrical foundation created to enrich, inspire and enable Black, Queer, and underrepresented voices. BAM said they are ecstatic that they are bringing a sample of the vast amount of talent they have to offer, hosted by their Producing Artistic Director, Darius Colquitt. BAM Talent will grace GR Pride stages for three different sets; Queer Moments in Musical Theatre, #BlkWordsMatter Poetry, and a comedy set.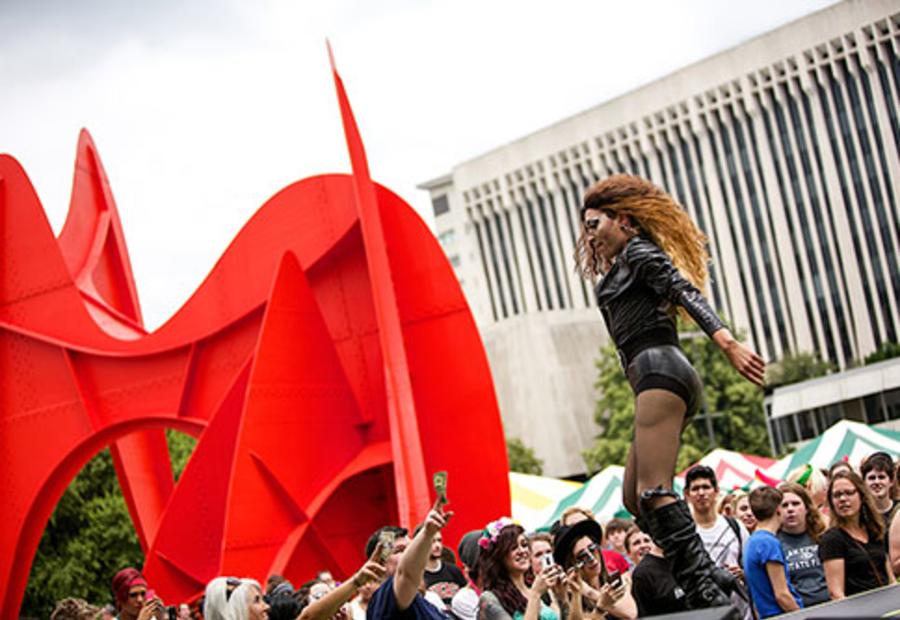 Calder Plaza will be packed with food, drinks, and live entertainment for the 2023 Pride Festival.
Photo by Experience Grand Rapids
What to Expect
A dedicated children and family area will be located at Calder Plaza, with space for kids to rest and relax if they need a break from the music or crowds. 
There will again be a variety of local brews and seltzers to enjoy, and a food court, including several well-known local food trucks, will be operating with different options to eat and drink throughout the day.   
Many other community organizations and businesses will be on-hand for the street festival portion of the event, which will span Ottawa Avenue between Michigan Street and Lyon Street.  
We like to start the day by visiting the many organizations that took the time to be a part of Pride, so be sure to check out the street festival.  You'll no doubt head home with some rainbow sunglasses or a pride tee shirt you couldn't resist. And you'll be able to connect with local businesses and organizations that are inclusive and affirming. I don't know about you, but I prefer to support businesses that support me.   
We'll then likely visit the children's area with my niece and nephew again. Fun games and prizes are always a win with the kids.  
Then we will grab a drink and a snack and hopefully catch another drag performance before sending the kids home for naps (Eric and I may sneak home for a couple of hours for a disco nap too).  
Later in the evening, we like to meet our friends back at the festival for a few more libations and live music and drag performances.  And we will no doubt end the night at either the Apartment Lounge or Rumor's Nightclub.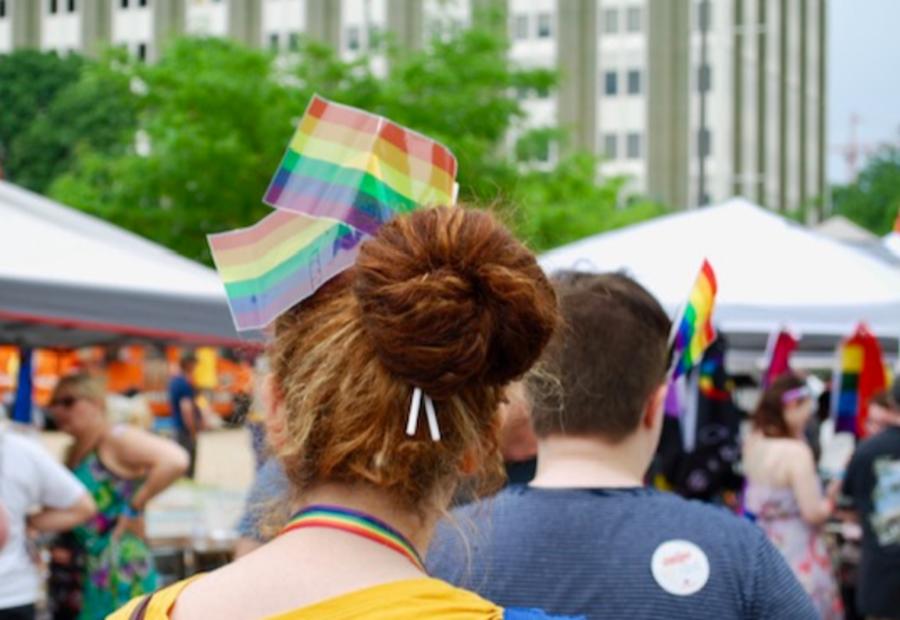 Visiting the organizations and businesses who attend Pride can be a great way to connect with resources that support the local LGBTQIA+ community. (The free swag is an added bonus.)
Photo by Eric Zuniga
Get Involved: Volunteer
If you have some spare time and would like to be more involved, the Pride Center still needs volunteers for this year's big event. A variety of roles are still available, including staffing the main entry to the
event, operating the beer garden, and more.
Volunteering at the Pride Festival is a great way to support this event and the mission of the Pride Center, whether you're a local or a visitor.
If you are interested in volunteering, feel free to contact the Pride Center or check out the online application form.
We hope you all will have a happy Pride and stop downtown to celebrate, too.