Grand Rapids is home to many locally owned and operated LGBTQIA+ businesses.
The city is now a destination to live and work for people of all ages and identities as more inclusive businesses open within walking distance of the urban core. You'll notice many bars, restaurants, and businesses around town showing support by flying a pride flag in their storefronts during the month of June and beyond. It's a welcome feeling of acceptance for the community here and for visitors too.
My partner, Eric, and I call Grand Rapids home and enjoy visiting the local bars, as well as some of the outstanding shops that are owned and operated by local members of the LGBTQIA+ community. And if you are like me and enjoy pairing your shopping and dining with art, I've added suggestions of some of the places I like to visit as a local.
You'll find welcoming, inclusive destinations across the city. Downtown is home to the Apartment Lounge, Michigan's oldest gay bar, and Rumors Night Club, a dance bar with DJs, karaoke, and drag
shows. You can also check out the Uptown neighborhood for trendy shopping, the up-and-coming West Side which continues to grow, Michigan Street for Maggie's Bar, or Southtown for diverse dining
options.
The following are just a few of the city's LGBTQIA+ owned and operated businesses that you should check out next time you're in town: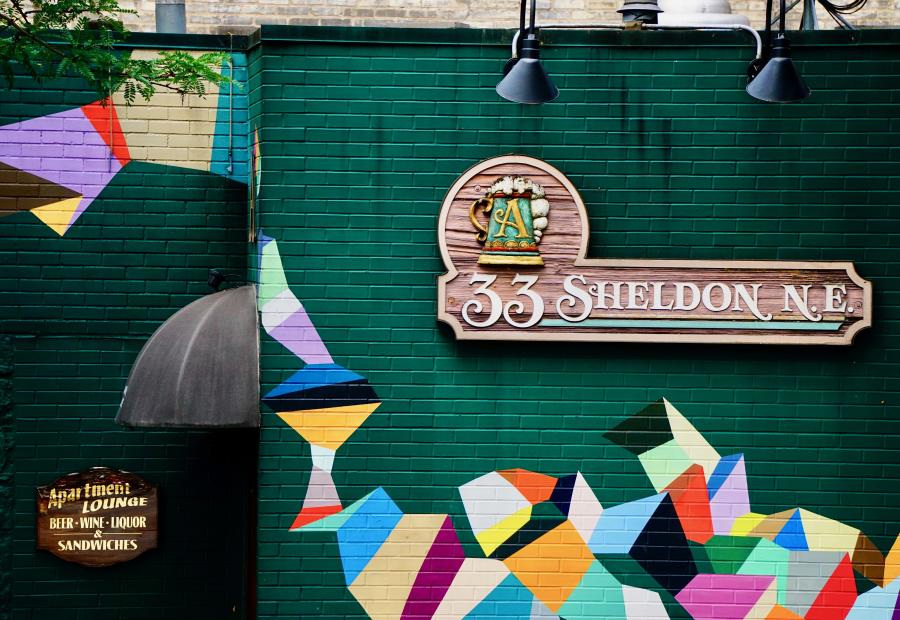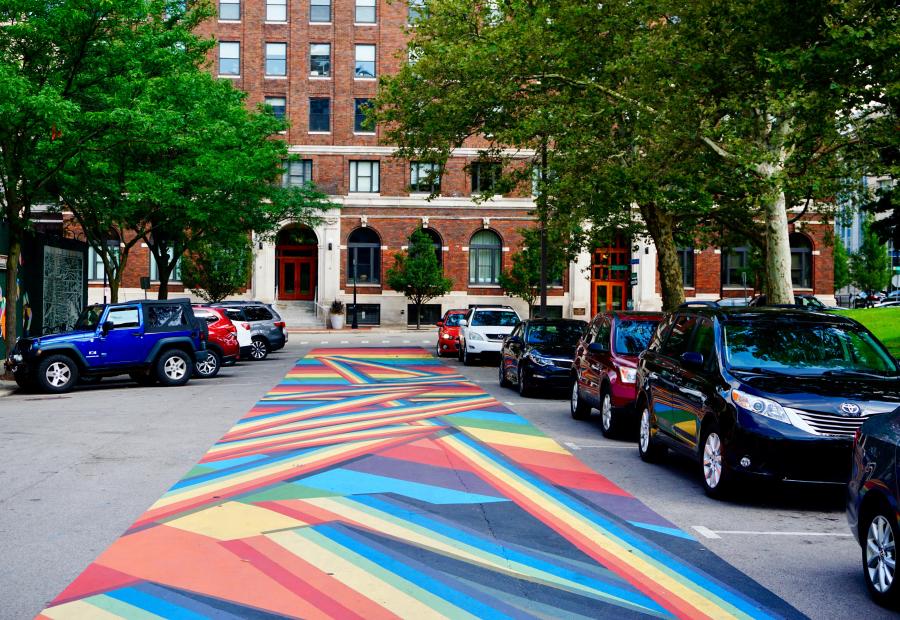 The Apartment Lounge is the oldest gay bar in Michigan. It's also right next to the mural Rainbow Road by Joey Salamon.
Photo by Brian Craig for Experience Grand Rapids
Drinks & Entertainment
The Apartment Lounge
As Michigan's oldest gay bar, The Apartment Lounge serves up a chill vibe with rotating specials throughout the week. You are always met with a smiling face and served hot, fresh popcorn to
accompany your beverage of choice. It's commonly referred to as the place where friends meet, and this bar will not disappoint if you're looking to mix and mingle.
The Apartment also has an outdoor covered patio overlooking Joey Salamon's Rainbow Road street mural and Veteran's Memorial Park. Food trucks often visit the bar, offering patrons an
opportunity to dine alfresco or take their food inside to accompany a drink. There is plenty of seating on the patio, and staff will meet you outside for table service. The Apartment also hosts weekly drink
specials like up to half off on Thursdays and has a variety of themed nights. Check out The Apartment Lounge on Facebook for the most up to date information on specials and events.
Basalt's Tex-Mex cuisine emphasizes locally sourced ingredients.
Photo by Experience Grand Rapids
Basalt
Basalt brings an interesting twist to Tex-Mex brunch vibes in West Michigan with a menu ranging from hand crafted tacos and quesadillas to queso mac and cheese or breakfast or lunch sandwiches that will leave you drooling for more. Basalt's food focuses on depth of flavor found in Tex-Mex cuisine while using locally sourced ingredients. Steven Martinez is a member of the LGBTQIA+ community and owns Basalt.
You can dine indoors, but they also have a quaint patio nestled quietly along Wealthy Street with plenty of sights to take in while enjoying brunch or lunch. You can also catch them at most Fulton Street Farmers Markets on Saturdays in the summertime.
My partner Eric and I know Steven and can say from experience that the food is on point. The mac n queso was outstanding, and Eric loves carnitas tacos. And who doesn't love the option of an add-on hashbrown patty with a crème sauce for dipping?
The General Wood Shop
The General Wood Shop specializes in cocktails, mocktails and classic mixed drinks served with thoughtfully prepared small plates. You can find The General Wood Shop along the Bridge Street Corridor, an area well-known among locals for its vibrant nightlife, only now with a little extra glam and glitter.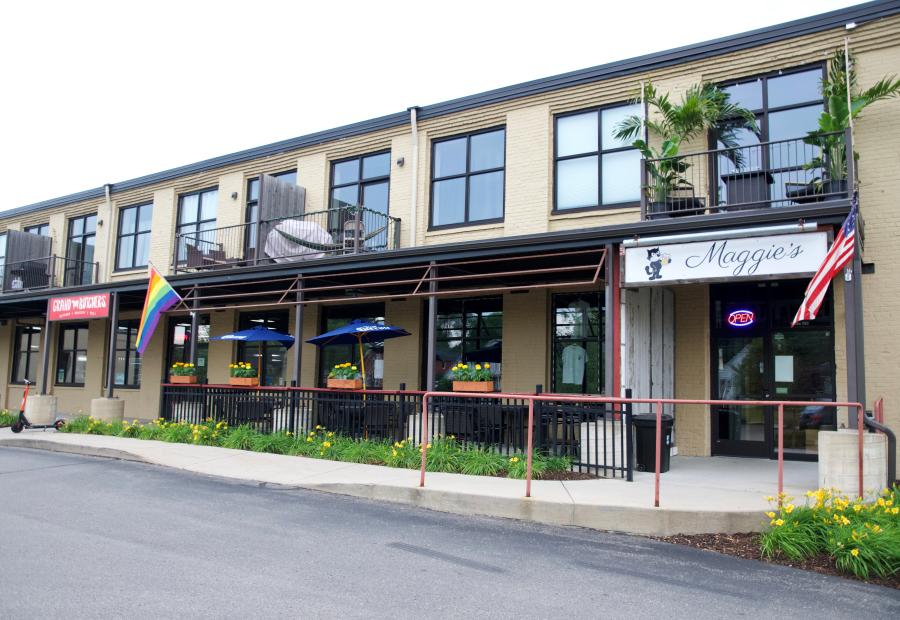 Maggie's is a full-service bar and a local fave in the LGBTQ+ community.
Photo by Eric Zuniga-Jensen for Experience Grand Rapids
Maggie's Bar
Maggie's Bar is another hotspot for the LGBTQIA+ community in Grand Rapids that is owned by a member of the LGBTQIQ+ community. Nestled along Michigan Street near the Medical Mile, Maggie's has more of a pub feel with a long bar top lined with comfy red leather barstools and plenty of table seating for groups. They have a full selection of spirits, beer, wine, seltzers, and more. The bar is packed with regulars during happy hour and gets quite busy on weekend nights.
Maggie's is the only gay bar in Grand Rapids to have a full food menu and serves up some impressive eats. The kitchen prides itself on using locally sourced goods and meat from Grand Butchers – a butcher shop next door. The menu offers a variety of options, including appetizers, sandwiches, burgers, nachos, and salads. Eric and I often frequent Maggie's and we can attest to the quality of the burger and the nachos! The nachos are served on a massive platter and are more than enough to feed a few people. And the burger is a handmade patty served with chips or hand-cut French fries.
The bar also has a full-service covered patio with heaters that can be enclosed in cooler months, and a dedicated parking lot. Maggie's hosts various events throughout the year, including viewing parties for Ru Paul's Drag Race, pop-up drag performances, and more. Check out Maggie's Bar on Facebook for the most up to date information on specials and events.
Rumors Night Club
As the only gay nightclub in Grand Rapids to offer dancing, Rumors Night Club is a great stop to consider later in the evening. The bar offers a variety of entertainment including drag shows, karaoke, cabaret, rotating DJs, and a dance floor that's always kicking.
With multiple levels, there is something for everyone at Rumors – space to chill and chat or dance the night away on the well-lit dance floor. Show up early for a more relaxed vibe, and if you're looking to dance, try later in the evening or weekends for a full-on club scene. Check out Rumors Night Club on Facebook for the most up to date information on specials and events.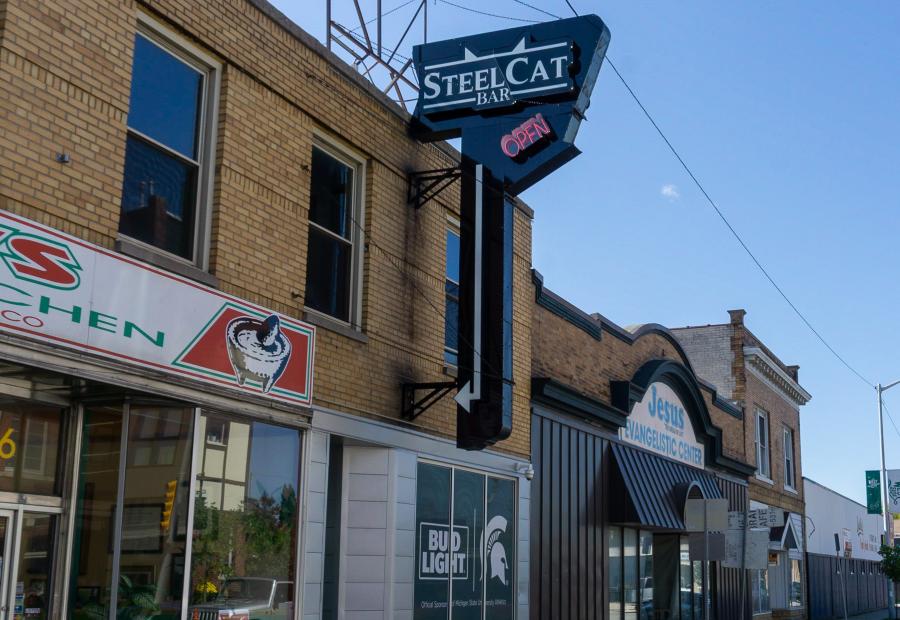 Steel Cat Bar is a comfortable safe space for the LGBTQ+ community and allies.
Photo by Brian Craig for Experience Grand Rapids
Steel Cat Bar
Steel Cat Bar sits along the Bridge Street corridor, conveniently located on the hustling and bustling West Side. Steel Cat has a unique ice-topped bar that keeps your drinks frosty cold. There are even toy dump trucks and front-end loaders on the ice rail if you feel the need to connect to your inner child.
Steel Cat is owned by a member of the LGBTQIA+ community, and while not officially categorized as a gay bar, it is a comfortable safe space for the community and allies.
I highly recommend their weekly bloody Mary bar, also dubbed Sunday Funday. Their bloody Mary bar is the best in town (if you ask me) and is stocked with all the fixings…and then some.
Coffee, Shopping & Salons
The 12th House
Step inside The 12th House, and you'll find a local gift shop full of fun and colorful T-shirts, magnets, enamel pins and other handmade gifts from local artists. The shop has an abundance of pride merch all year round, but really steps of their game in June. They also offer a variety of gift boxes packed full of locally sourced goodies, tarot card readings, reiki sessions, henna tattoos, and intuitive astrology readings.
The Cakabakery 
The Cakabakery offers creative and uniquely delicious baked goods for occasions ranging from weddings and large events to a single cupcake or cookie on the go. Owner and chef Jason T. Kakabaker prides himself on using only fresh and local ingredients and offers an impressive selection of cookies, tarts, cupcakes, cakes, and more with options for vegan and gluten-free connoisseurs as well.
Make sure you're not too hungry when you visit, or you'll head home with a bag full of goodies. I have done this on more than one occasion!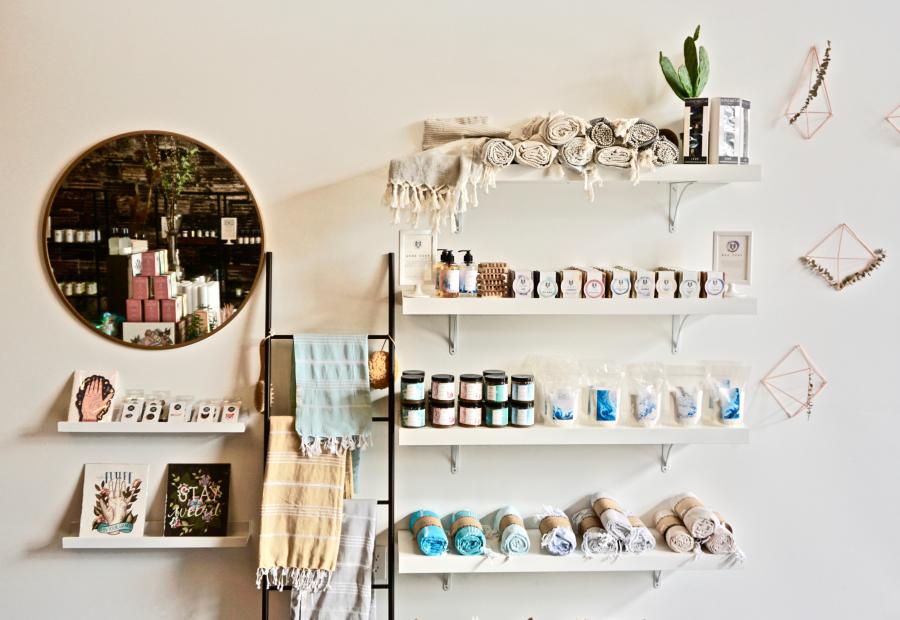 Fox Naturals aims to provide customers with healthy and affordable beauty products.
Photo by Experience Grand Rapids
Fox Naturals 
Just down the street from Outside Coffee Co., Fox Naturals offers high quality, natural body care solutions available in Grand Rapids. The products not only smell wonderful but also let the natural
properties of simple ingredients shine through. This locally owned shop works to assist customers in transitioning out of big-box retailer products (full of harsh irritants, synthetic ingredients, and chemicals) and into a healthier, holistic alternative.
Fox Naturals is owned, operated, and created by Patrick Stoffel. He and his staff make most of the products themselves from a variety of natural products. I have tried beard oil and colognes from Fox
Naturals and love the woodsy, outdoor varieties they produce. Insider tip: share your scent preferences with the staff and they will lead you to a product you'll be sure to love.
Happy Cat Café 
The Happy Cat Café is a one of-a-kind establishment. Whether you are looking for coffee or cuddle time with a kitty – they've got you covered. Just envision a café, but with cats too. Reservations are recommended, so planning your visit is key (unless you're just after a coffee or latte). Walk-ins are welcome to visit the kitties if the rooms are not at capacity. 
 
I have visited Happy Cat Café in the past with a friend and her kids. Everyone had a blast spending time with the cats while sipping our specialty coffees. And it's not just coffee and tea they serve either – you'll have your choice of several Red Bull mocktails or sparkling citrus beverages with glitter. The shop also has a cute selection of cat toys, treats, stickers, t-shirts and more. 
Happy Cat Café offers specials throughout the week including family night and college night, so check their website for details before stopping by.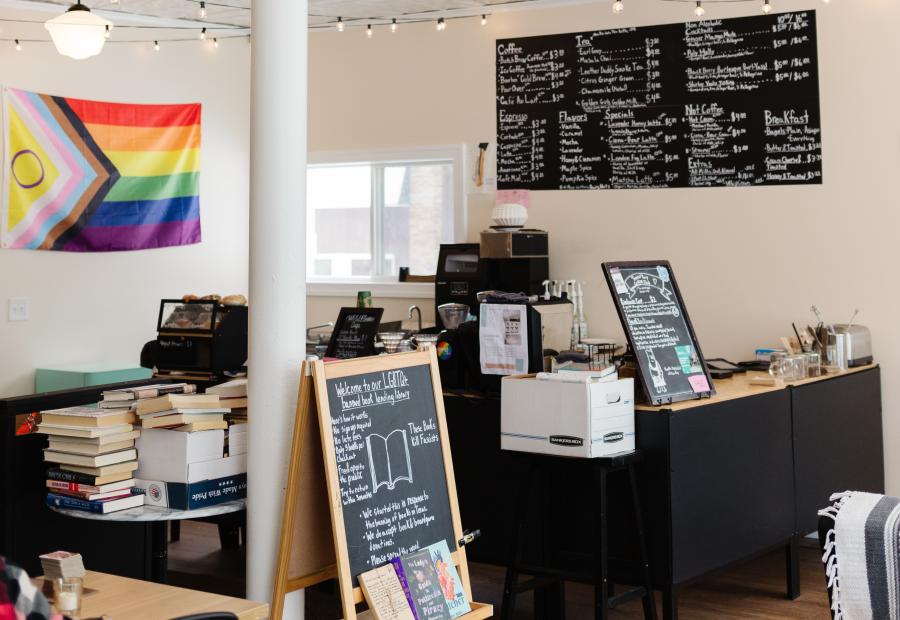 The Lotus Brew Coffee and Dry Bar creates an inclusive environment filled with coffee, board games, and an LGBTQIA+ library.
Photo by Aly Zuiderveen
Lotus Brew Coffee/Dry Bar
Lotus Brew Coffee/Dry Bar is a locally owned LGBTQIA+ library and café. They offer a variety of local organic coffee, teas, & mocktails with the addition of the gay dry/nonalcoholic bar. They also have a huge library of LGBTQIA+/banned books available to read that are free and open to the public.
The café also has an impressive selection of board games to enjoy with friends as folks can take in the sunshine from the lovely floor to ceiling windows at the front of the shop. Lotus Brew Coffee/Dry Bar is located near Highland Park and focuses on locally sourced, organic, and fairtrade products while also focusing on being accessible and affordable.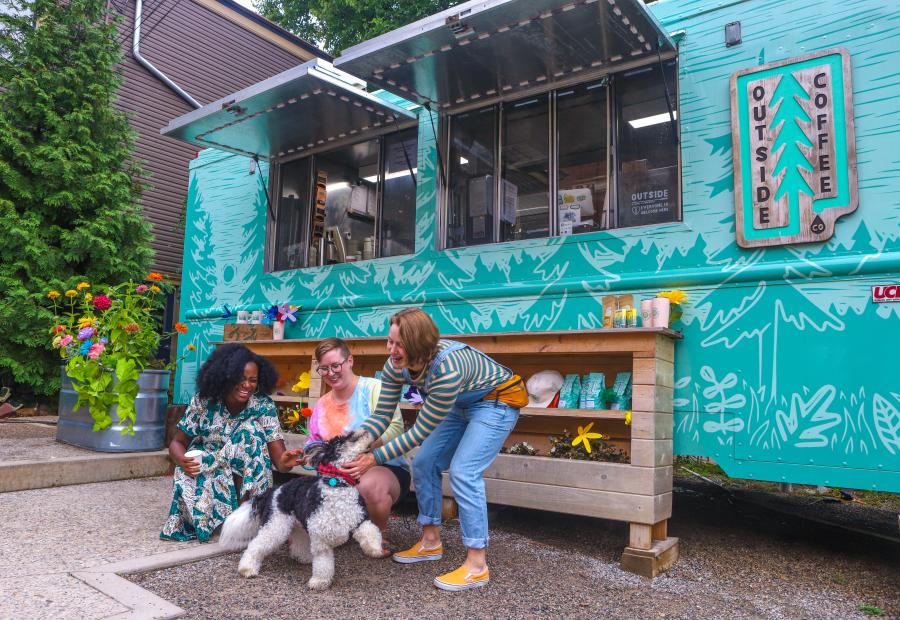 Outside Coffee Co.'s unique outdoor atmosphere accommodates for all seasons.
Photo by Experience Grand Rapids
Outside Coffee Company 
This year-round outdoor coffee experience is one of a kind, offering a variety of specialty coffees day and night with unique seating options. Outside Coffee Company remains open in the winter with geo domes and heaters for guests to gather around.
Guests order beverages from a camper that is permanently on-site and can choose from many items on the menu that are vegan and gluten-free. The dog-friendly cafe is essentially an outside extension of Woosah. Kelly McPhee Lang owns Outside Coffee Company, and her partner Rae Lang owns Woosah.  Eric and I sometimes bring our doodle, Walter, here where he always makes new friends – both K9 and human.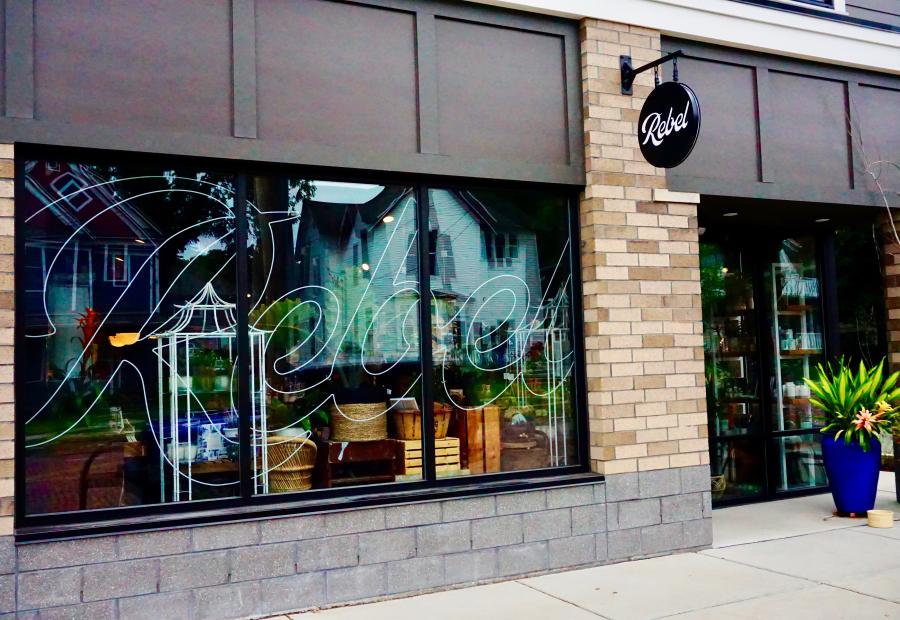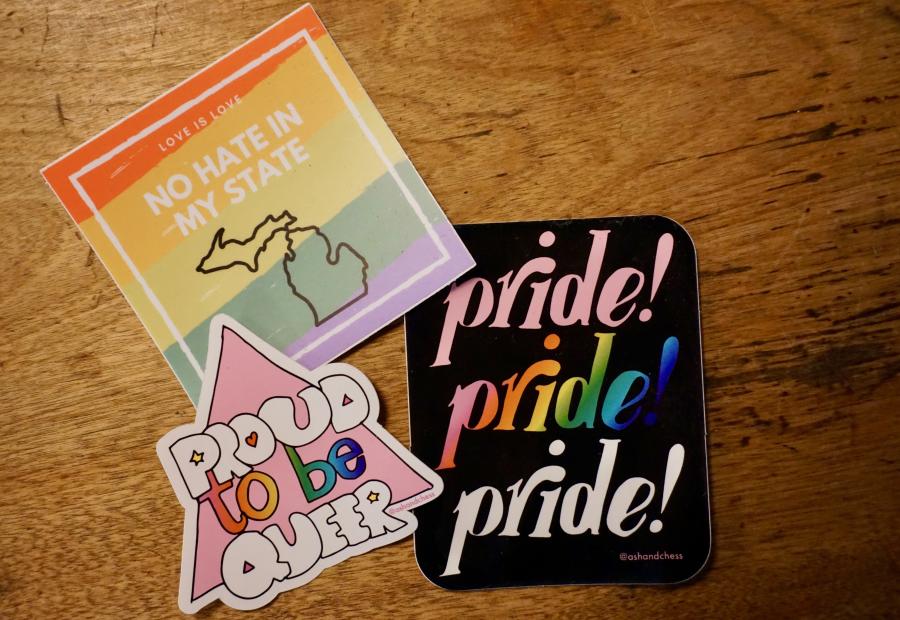 Rebel is a great shop for unique, locally made gifts, greeting cards, jewelry, and much more.
Photo by Brian Craig for Experience Grand Rapids
Rebel
Rebel offers a variety of unique gifts, paper goods, plants, and home accessories that you will not likely find elsewhere. The collection of sassy gifts and cards, as well as other one-of-a-kind wares, are hand- selected by the owners and are exactly the gift you need for any occasion. Prepare to be blown away by the variety and attention to detail this shop offers.
Rebel is owned and operated by Dan Boyles and Chip Minor. You'll see them staffing the store on most days, so be sure to say hi when you stop in. The couple also owns a second shop called Commune GR, so stop by if you're looking for a unique treasure. Or visit their candy shop Sticky Fingers to satisfy your sweet tooth!
Eric and I often have to limit the amount of time or money we can spend in this store, because there are just so many amazing things to buy for friends and loved ones. Rebel is the best place in Grand Rapids to grab a quick gift or card for a birthday if your friend has a unique or playful sense of humor.
Windsor Cottage
Windsor Cottage prides itself on its home furnishings, interior design, and, above all else, customer service. The store has been in business for more than 32 years and provides a variety of services at both its Cherry Street and Thornapple locations. Windsor Cottage is owned and operated by Rick Santamaria, a member of the LGBTQIA+ community.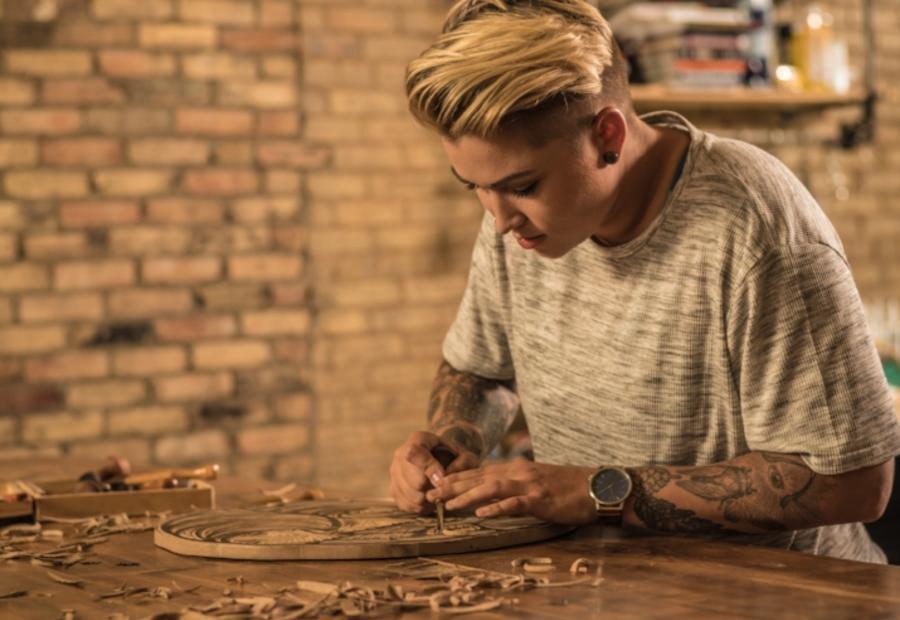 The name of the store, "Woosah," is meant to bring a sense of inner peace, calmness, and stillness when said aloud. Owner and artisan Rae finds Woosah in making her art and being immersed in nature.
Photo by Experience Grand Rapids
Woosah 
A naturally inspired art and apparel brand, featuring the artwork of founder and owner, Rae Lang, Woosah is not to be missed. The designs and drive behind Woosah revolve around woodcuts and the outdoors. Each design and product is handcrafted in Grand Rapids with limited edition runs. All apparel at Woosah is unisex and is intended for anyone of any gender to wear and enjoy it. Eric brings me home T-shirts and sweaters from Woosah on the regular (it's one of his favorite shops in town), and we also love to use their unique incense and candles that bring memories of the outdoors inside.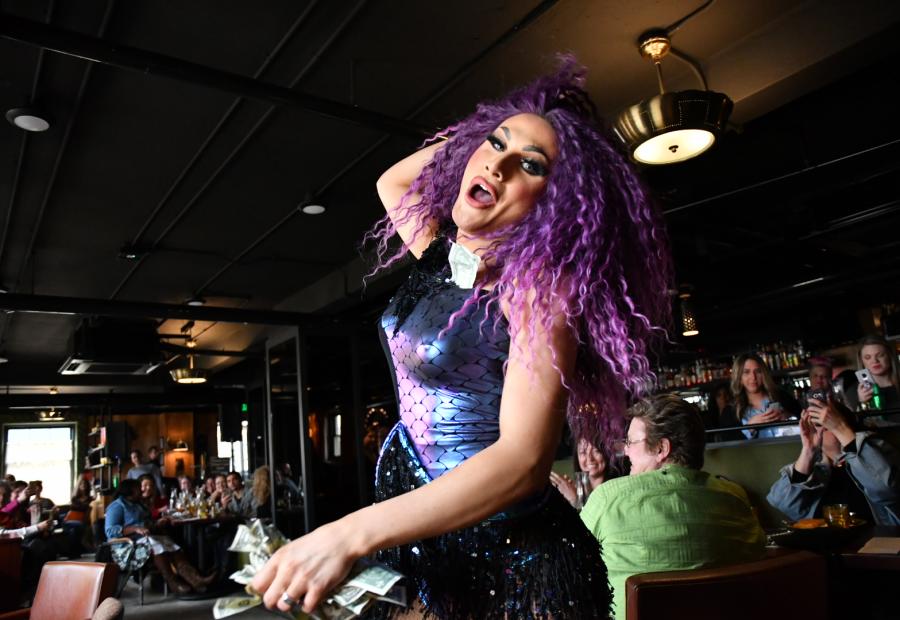 Catch a Michigan Drag Brunch in Grand Rapids (advance ticket purchase strongly recommended).
Photo by Eric Zuniga for Experience Grand Rapids
Other Local Businesses
Beauty Beyond Drag Productions 
Beauty Beyond Drag is a drag entertainment production company serving West Michigan and surrounding areas. Their team of queens spread the art of drag to all communities while raising awareness for local organizations. You'll find these queens performing at various shows and events around Grand Rapids all year long. They will also be performing at Grand Rapids Pride Festival on June 17 and at several other pride events throughout the month of June.  Follow them on social media for more information on upcoming performances.
Michigan Drag Brunch 
Michigan's original reoccurring drag brunch show touring at rotating venues statewide, is known as Michigan Drag Brunch. Grab your brunch squad and  "Sunday-Funday" like a queen. Tickets are sold in advance as venues vary, and they do sell out quickly, so make a plan with friends ahead of time. 
The show usually includes a brunch special, a beverage, and about an hour and a half of live entertainment that is guaranteed to knock your socks off. Eric and I have been to several of these performances and can attest to the fun factor. They're absolutely hilarious and some of the best entertainment around town. Oh, and don't forget dollar bills to tip the queens – they will even come dance on your table if you like. Check out their website for upcoming performances.  
Transfigure Printing Company 
Transfigure Print Collective is a Michigan-based LGBTQIA+ inclusive screen-printing company that has been trans and queer owned since 2017. Their mission is to provide inclusive garments and raise money for the LGBTQIA+ community – more than $70,000 in total to date. A true, one-of-a-kind shop, many of their garments are designed in-house, but they also pride themselves on printing the work of many different artists. The majority of their products are screen printed by hand by Owner Bailey Sell and their team.
Check out some of their designs and prints at the Transfigure online store at transfigureprintco.com, where you'll find T-shirts, prints, patches and more. Also, consider them for your next print project if you're looking to keep funds local and within the LGBTQIA+ community.
A Quick Trip
Grand Rapids is the perfect spot to stay if you're also interested in exploring Lake Michigan – including Saugatuck/Douglas -- home to one of America's top LGBTQIA+ resorts: The Dunes. This Midwest destination for the LGBTQIA+ community boasts a poolside bar, on-site accommodations for overnight stays, live music and DJs, drag shows, and more. Aside from the resort, my partner and I love taking a day trip to Saugatuck to check out the many shops and restaurants after a day on Oval Beach, as it's just under an hour drive from downtown Grand Rapids.
This isn't an exhaustive list, but rather a guide to a few of Grand Rapids' prominent LGBTQIA+ owned and operated businesses and cultural destinations.
Let me know what your favorite LGBTQIA+ travel destinations are in the Grand Rapids area by leaving a comment.