With COVID-19 putting a halt to many pride celebrations around the world, Grand Rapids included, you may be looking for creative ways to celebrate June as Pride Month. Grand Rapids is home to many locally owned and operated LGBTQ+ businesses, and many of them have had their doors closed for months due to the global pandemic. There is no greater time to support a local business than now, including the many LGBTQ+ options around town.  
Grand Rapids is becoming a destination to live and work for people of all ages and identities as more inclusive businesses open within walking distance of the urban core. You'll notice many bars, restaurants, and businesses around town showing support by flying a pride flag in their storefronts during the month of June. It's a welcome feeling of acceptance for the community here and visitors too. 
My partner and I call Grand Rapids home and enjoy visiting the local gay bars, as well as some of the outstanding shops in Uptown, and beyond, that are owned and operated by some of the LGBTQ+ community. And if you are like me and enjoy pairing your shopping and dining with art, I've added suggestions of some of the places I like to visit as a local.
You'll find welcoming, inclusive destinations all across the city. Downtown is home to the Apartment Lounge, Michigan's oldest gay bar, and Rumors Night Club, a dance bar with DJs, karaoke, and drag shows. You can also check out the Uptown neighborhood for trendy shopping, the up-and-coming West Side which continues to grow, or Southtown for diverse dining options.

The following are just a few of the city's LGBTQ+ owned and operated businesses that you should check out next time you're in town: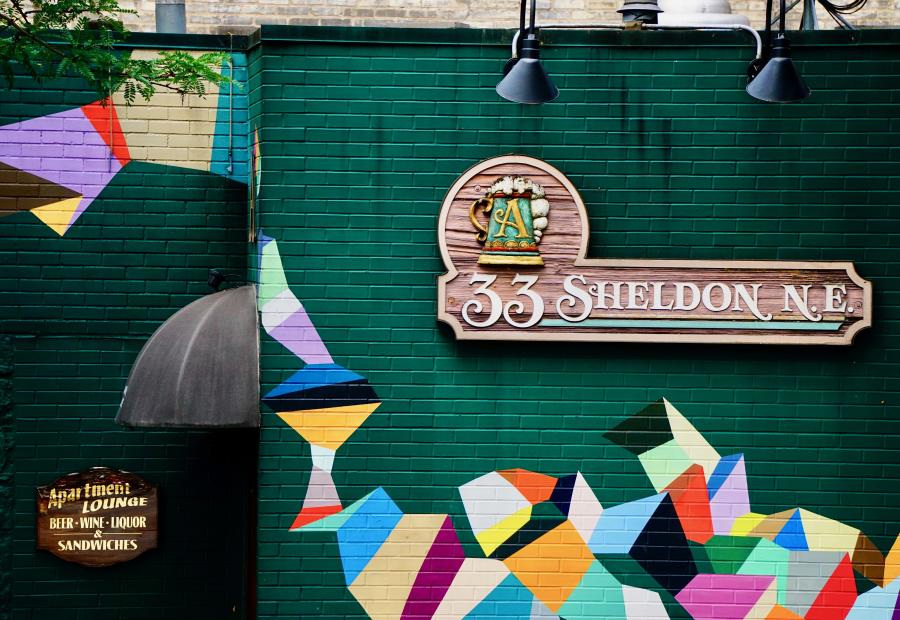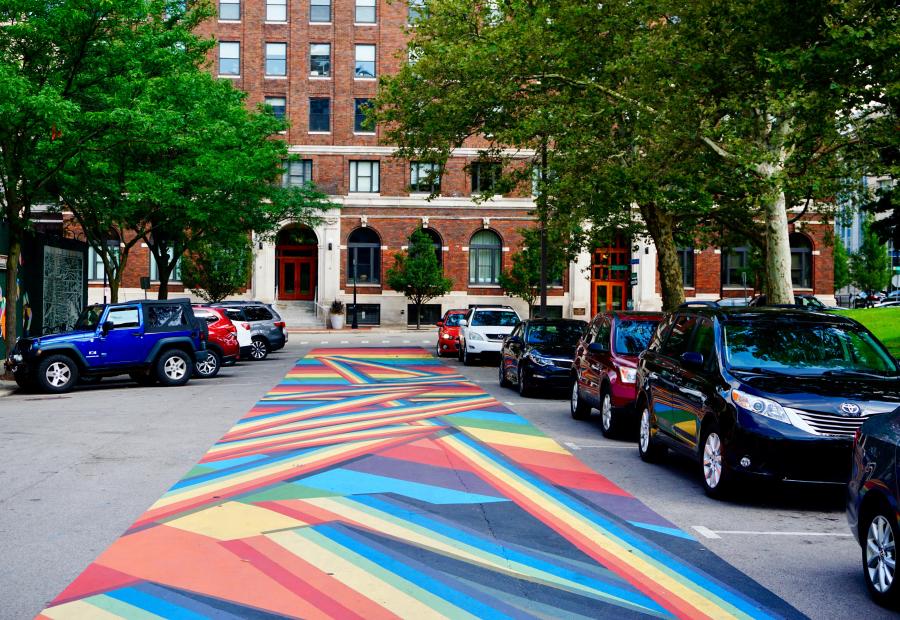 The Apartment Lounge is the oldest gay bar in Michigan. It's also right next to the mural Rainbow Road by Joey Salamon.
Photo by Brian Craig for Experience Grand Rapids
Drinks & Entertainment
The Apartment Lounge
As Michigan's oldest gay bar, The Apartment Lounge serves up a chill vibe with rotating specials throughout the week. You are always met with a smiling face and served hot, fresh popcorn to accompany your beverage of choice. It's commonly referred to as the place where friends meet, and this bar will not disappoint if you're looking to mix and mingle (keeping social distancing in mind, of course).
Bob Johnson, owner of the Apartment Lounge, is a well-known LGBTQ+ business owner and hosts fundraisers and events for various organizations throughout the year at the bar and his catering business, West Michigan Caterer.
Rumors Night Club
As the only gay nightclub in Grand Rapids to offer dancing, Rumors is a great stop to consider later in the evening. The bar offers a variety of entertainment including drag shows, karaoke, rotating DJs, and a dance floor that's always kicking. Stay tuned on Rumors' social media for updates about when they'll be back open. 
The Dunes Resort
The Dunes is a Midwest destination for the LGBTQ+ community and boasts a poolside bar, on-site accommodations for overnight stays, live music and DJs, drag shows, and more. It's about a 40-minute drive from Grand Rapids and a short distance from downtown Saugatuck and Douglas. Both are extremely LGBTQ+ friendly towns with a variety of dining options, shops, and more.
The Dunes Resort originally opened under the ownership of Danny Esterline and Greg Tryzbinski who started visiting what was then called The Douglas Dunes. They met their now-business partner, Mike Jones, at the Dunes and quickly became friends. Danny, Greg, and Mike all operate the Dunes Resort in partnership now as one of the largest LGBTQ resorts and entertainment complexes in the Midwest.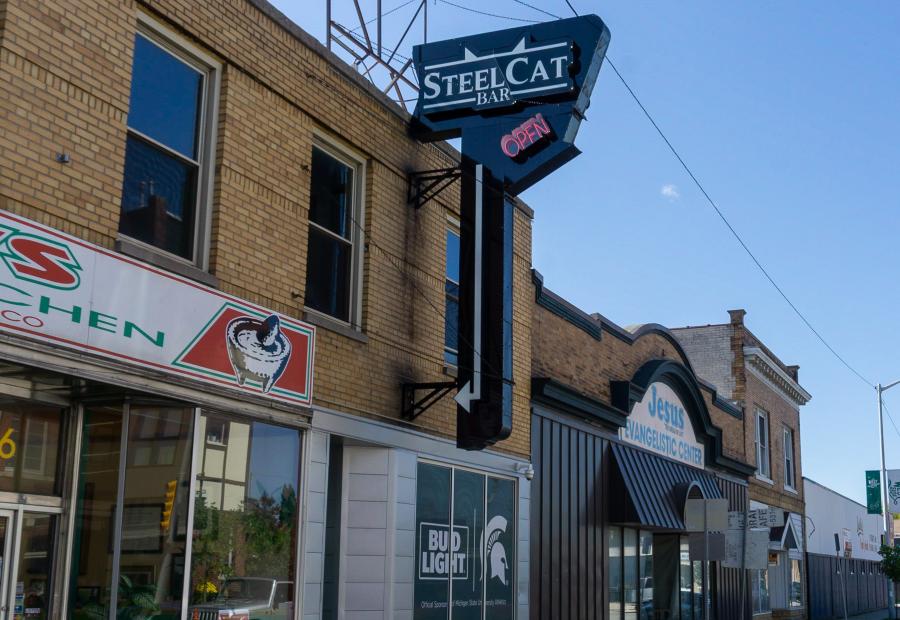 Steel Cat Bar is a comfortable safe space for the LGBTQ+ community and allies.
Photo by Brian Craig for Experience Grand Rapids
Steel Cat Bar
Steel Cat Bar is a newer addition to the Bridge Street corridor, conveniently located on the hustling and bustling West Side. Steel Cat has a unique ice-topped bar that keeps your drinks frosty cold. There are even toy dump trucks and front-end loaders on the ice rail if you feel the need to connect to your inner child. 
Steel Cat is owned by a member of the LGBTQ+ community, and while not officially categorized as a gay bar, it is a comfortable safe space for the community and allies.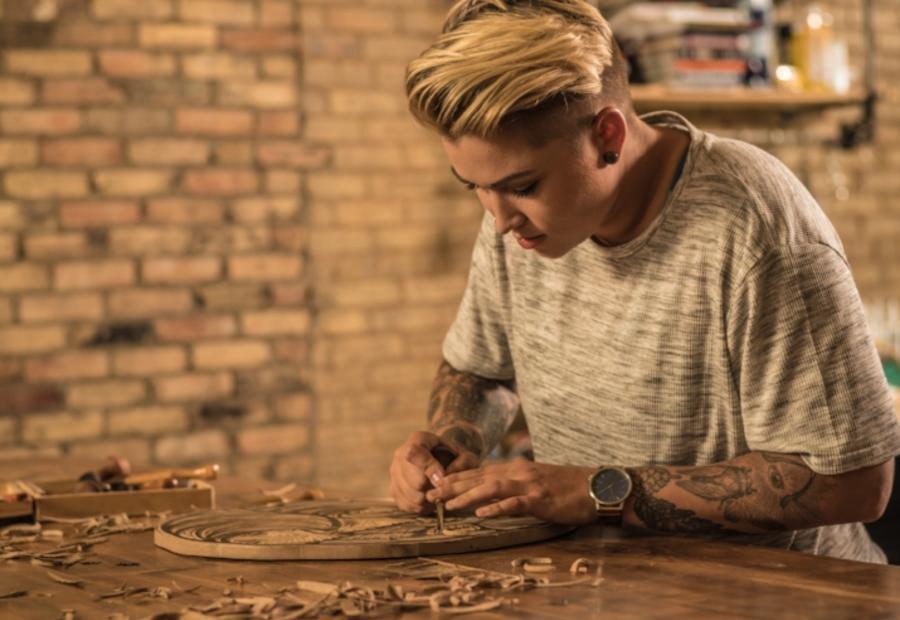 The name of the store, "Woosah," is meant to bring a sense of inner peace, calmness, and stillness when said aloud. Owner and artisan Erica Lang finds Woosah in making her art and being immersed in nature.
Photo by Experience Grand Rapids
Coffee, Shopping & Salons
Woosah 
A naturally inspired art and apparel brand, featuring the artwork of founder and owner, Erica Lang, Woosah is not to be missed. The designs and drive behind Woosah revolve largely around woodcuts and the outdoors. Each design and product is handcrafted in Grand Rapids with limited edition runs. All apparel at Woosah is unisex and is intended for anyone of any gender to wear and enjoy it.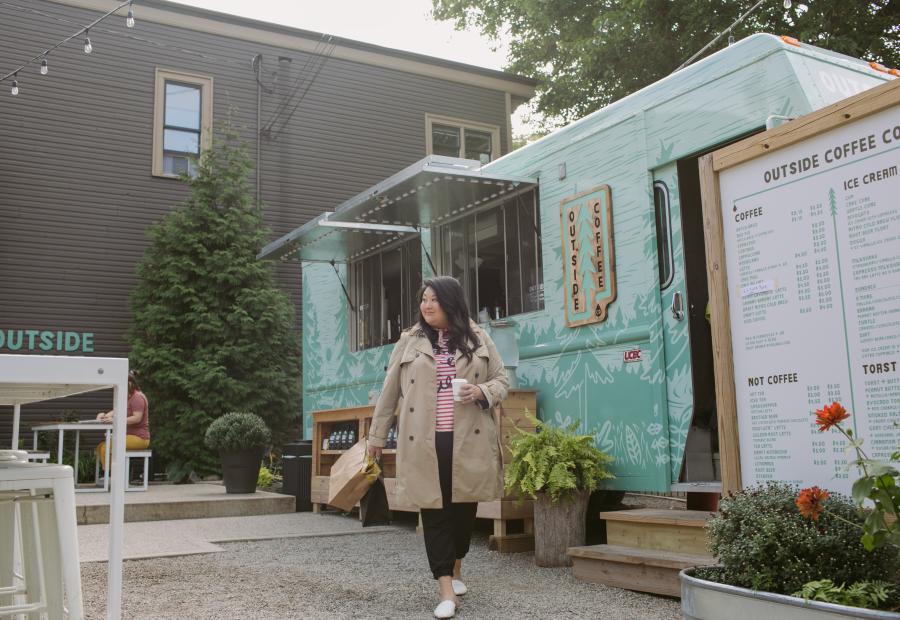 Outside Coffee Co.'s unique outdoor atmosphere accommodates for all seasons.
Photo by Experience Grand Rapids
Outside Coffee Company 
This year-round outdoor coffee experience is one of a kind, offering a variety of specialty coffees day and night with unique seating options. Outside Coffee Company remains open in the winter with "igloos" called geo domes and heaters for guests to gather around.
Guests order beverages from a camper that is permanently on-site and can choose from many items on the menu that are vegan and gluten-free. The dog-friendly cafe is an extension of Woosah and is owned by Kelly McPhee. 
As we continue to look for things to do while keeping social distancing in mind, Outside Coffee Company is a great option with fresh open air and room to spread out.
The Cakabakery 
The Cakabakery offers creative and uniquely delicious baked goods for occasions ranging from weddings and large events to a single cupcake or cookie on the go.  Owner and chef Jason T. Kakabaker prides himself on using only fresh and local ingredients and offers an impressive selection of cookies, tarts, cupcakes, cakes, and more with options for vegan and gluten-free connoisseurs as well.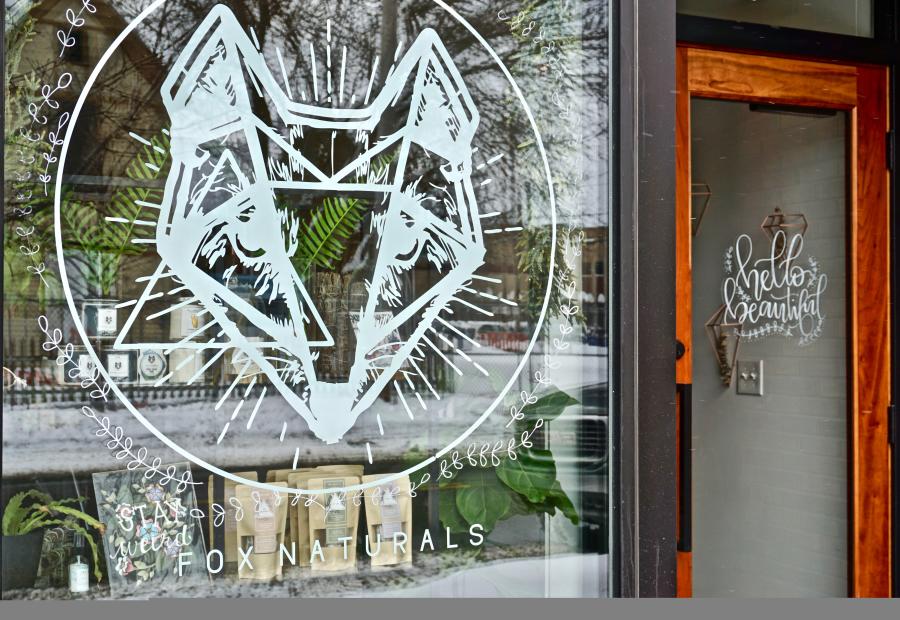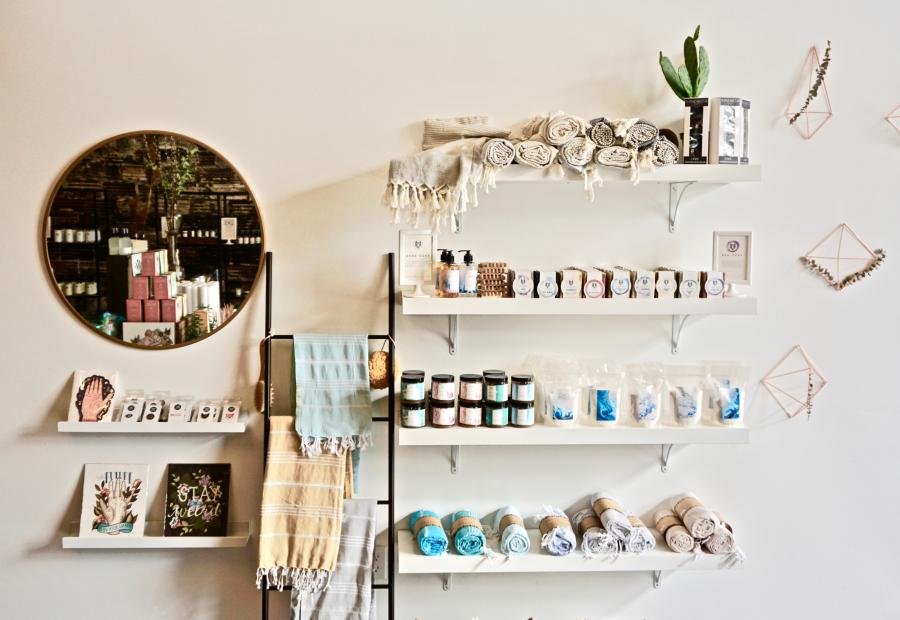 Fox Naturals aims to provide customers with healthy and affordable beauty products.
Photo by Experience Grand Rapids
Fox Naturals 
Right across the street from Outside Coffee Co., Fox Naturals offers high quality, natural body care solutions available in Grand Rapids. The products not only smell wonderful but also let the natural properties of simple ingredients shine through. This locally-owned shop works to assist in transitioning out of big-box retailer products (full of harsh irritants, synthetic ingredients, and chemicals) and into a healthier, holistic alternative.
Fox Naturals is owned, operated, and created by Patrick Stoffel. He and his staff make the majority of the products themselves from a variety of natural products.
Coy Salon 
Located in the Uptown neighborhood, Coy Salon embodies the exclusive feel of a big city salon without having to leave Grand Rapids. Coy offers cutting, coloring, styling, and more. Owned and operated by master stylist Cody Wyland, this salon is known for its amazing service and outstanding results.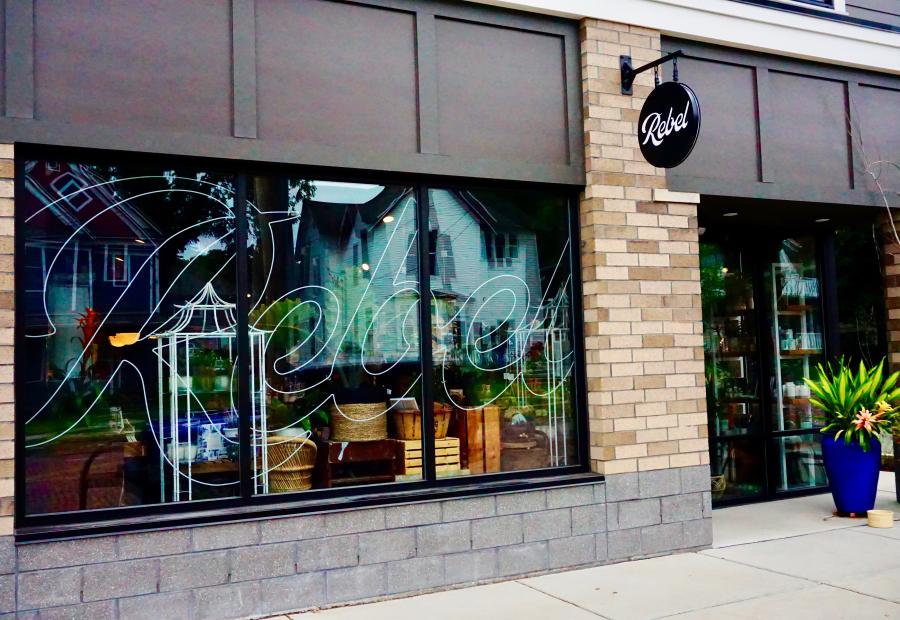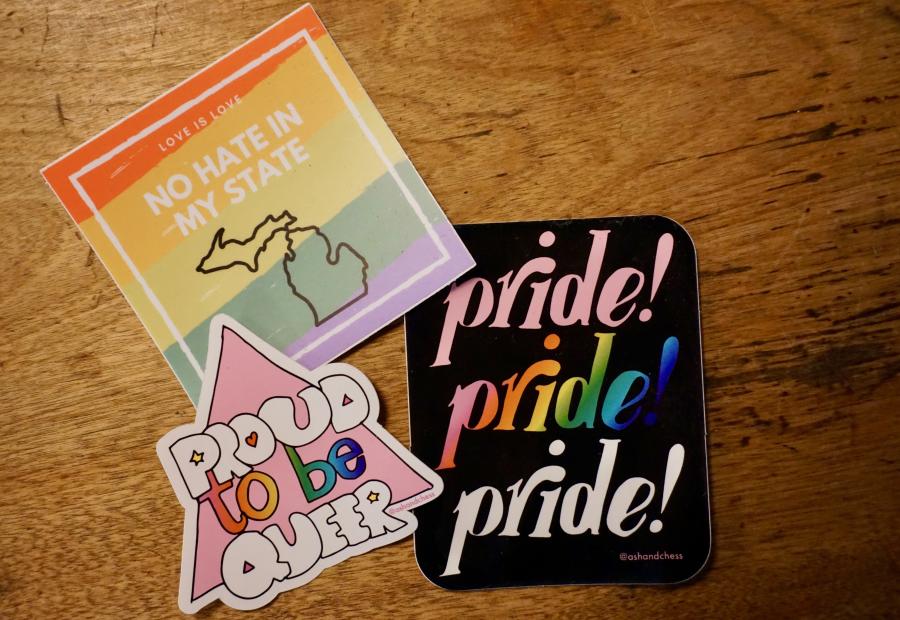 Rebel is a great shop for unique, locally made gifts, greeting cards, jewelry, and much more.
Photo by Brian Craig for Experience Grand Rapids
Rebel
Rebel offers a variety of unique gifts, paper goods, plants, and home accessories that you will not likely find elsewhere. The collection of sassy gifts and cards, as well as other one-of-a-kind wares, are hand-selected by the owners and are exactly the gift you need for any occasion. Prepare to be blown away by the variety and attention to detail this shop offers.
Rebel is owned and operated by Dan Boyles and Chip Minor. You'll see them staffing the store on most days, so be sure to say hi when you stop in. The couple also recently opened an additional location called Commune GR, so stop by if you're looking for a unique treasure.
Windsor Cottage 
Windsor Cottage prides itself on its home furnishings, interior design, and, above all else, customer service. The store has been in business for more than 32 years and provides a variety of services at both its Cherry Street and Thornapple locations. Windsor Cottage is owned and operated by Rick Santamaria, a member of the LGBTQ+ community. 
A Quick Trip
Grand Rapids is the perfect spot to stay if you're also interested in exploring Lake Michigan – including Saugatuck/Douglas, home to one of America's top LGBTQ+ resorts. My partner and I love taking a day trip to Saugatuck to check out the many shops and restaurants after a day on Oval Beach. It's just under an hour drive from downtown Grand Rapids. 
This isn't an exhaustive list, but rather a guide to a few of Grand Rapids' prominent LGBTQ+ owned and operated businesses and cultural destinations. 
Did we miss something?
Let us know what your favorite LGBTQ+ travel destinations are in the region by leaving a comment.