I love nothing more than taking my dog out on a date. My partner, Eric, and I love to grab dinner or a drink on a patio that welcomes our best man, Walter. He's the best boy and deserves a night out too. 
We have checked out many dog-friendly places around town, but most recently went in search of a few bars and restaurants in downtown Grand Rapids that have patios and might welcome pups too.   
Lucky for us Grand Rapids has an outdoor refreshment area that spans the Downtown area and extends into other outlying hip neighborhoods, like the West Side and Monroe North. These spaces offer up outdoor seating where you can wander from one establishment to another with drink in hand. Many of these spots also have dog-friendly outdoor spaces.
Check out this downloadable map of the Downtown Refreshment Area.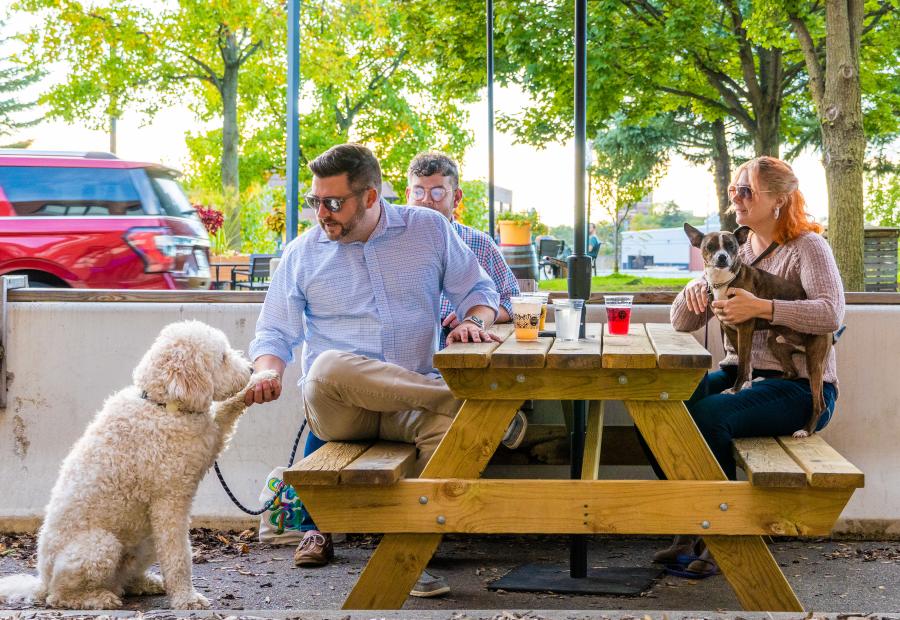 Everyone, but especially the pups, enjoyed the outdoor space along the Riverwalk in the Monroe North neighborhood.
Photo by Experience Grand Rapids
We know that the North Monroe neighborhood is home to City Built Brewing and heard that their outdoor space is welcoming to our K9 friends, so we stopped by to check it out.  We quickly learned that City Built is most definitely a hopping doggy destination (also very close to Fido & Stitch  – a well-known groomer and shop for toys, treats and more). At one point we were outnumbered on the dog to human ratio while meandering along the sidewalk outside (hey, that's pretty fun to be honest!). 
We were immediately greeted by friendly staff through a service window where beverages can be purchased in compostable to-go cups. And they offered Walter a treat before even getting to our orders, which was really nice. 
We hung out on their picnic tables for a while and watched the sun start to set over the Grand River and historic Sixth Street Bridge across the street. We also met a few new friends while we were there who were also looking for dog-friendly destinations. 
Our friend Erica had her pup Dexter along for the adventure too. So we all decided to take our drinks across the street to the Sixth Street Bridge Park and give the boys a quick walk along the river before heading to our next destination for dinner.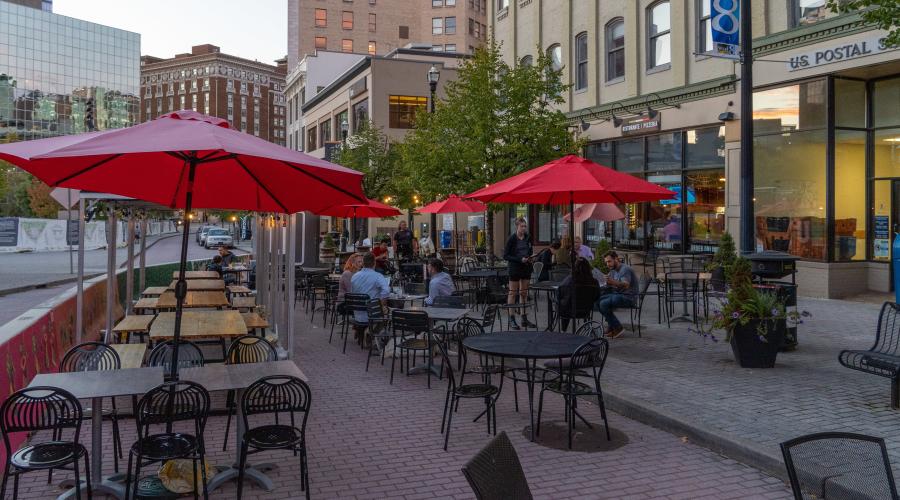 Uccello's made for an easy and delicious Downtown dinner stop for everyone in the fam.
Photo by Experience Grand Rapids
We finished up our drinks and packed up the pups for a quick ride to Monroe Center area. We had heard that Uccello's Ristorante's patio is dog friendly, and as a bonus their patio extends along the long brick road that is pleasantly positioned directly across from Rosa Parks Circle and the Grand Rapids Art Museum. 
The staff at Uccello's ensured us their patio is dog friendly and greeted us with a fresh bowl of water for Walter and Dexter. Eric and I decided on cocktails and went straight for a couple of our favorite appetizers – pizza puffs and the spinach and artichoke dip. 
If you're looking for authentic Italian food that is high quality and yet affordable, we always recommend Uccello's.
We also split a specialty pizza with pepperoni, sausage, green peppers, and onions – something Uccello's is well-known for. They have gluten-free and cauliflower crust options as well. Believe me, you'd never even know you are eating cauliflower. 
Another nearby spot that has a nice dog friendly patio is the Apartment Lounge. It is just a quick 2-3 block walk from Uccellos, and the patio is quite large and even covered if it should rain.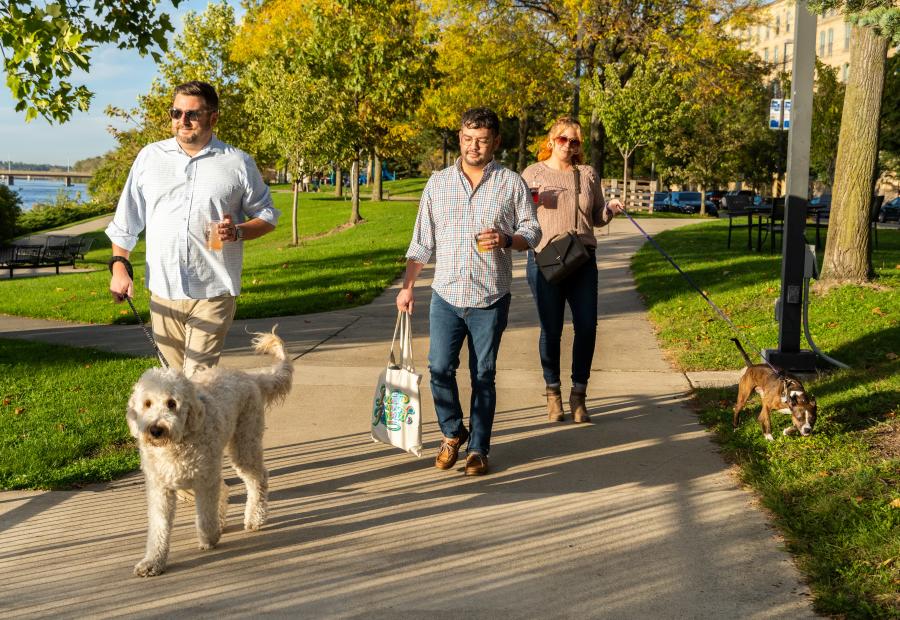 Enjoying a craft beverage while strolling along with your pups is a pretty great way to spend an evening.
Photo by Experience Grand Rapids
Walter was getting a little tired after all the attention he was getting from passerby's and restaurantgoers, so we had to call it a night.
If you're willing to check out a few different neighborhoods outside the downtown core, you'll find dog friendly patios abound at multiple different bars and restaurants including Maggie's Bar, Logan's Alley, Brewery Vivant, or Outside Coffee Company.  
One word of advice: If you're looking for a night out with your pup, I highly recommend calling ahead as every restaurant has a slightly different policy on dogs in outdoor spaces.  But there are many different options if you are willing to check out different neighborhoods. And we also learned that some outdoor patios are not always open during business hours depending on weather, staffing, etc.  So when in doubt, make a quick call first.  
Enjoy food and drink – including approved open containers of alcohol – in outdoor zones across the city.