Tap into your sense of smell and flex your creativity by making a hand-poured, scented candle at Wax Poetic Candle Bar in Grand Rapids. My wife, Laura, and I recently visited this adorable shop nestled in Grand Rapids' Uptown neighborhood, and we loved creating our one-of-a-kind candles. 
The whole candle-pouring experience takes about 45 minutes to an hour and depends on how quickly you're able to choose your combination of scents. The environmentally and health-friendly candles are made with soy wax, cotton wicks, and clean burning fragrance oils.
If you're with a group of four or less, you can drop in to make your own candle during Wax Poetic's business hours: Monday: 11 AM-5 PM; Tuesday to Saturday: 11 AM-8 PM; Sunday: 11 AM-3 PM. For details on larger groups, read on.
As soon as you arrive, you're given a clipboard with instructions that lays out the fun process, which includes four main steps.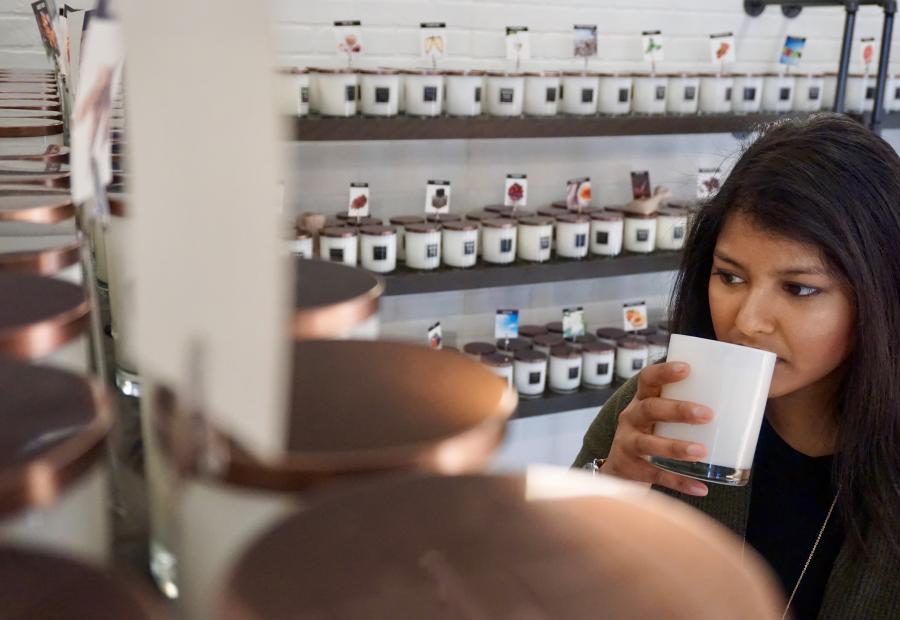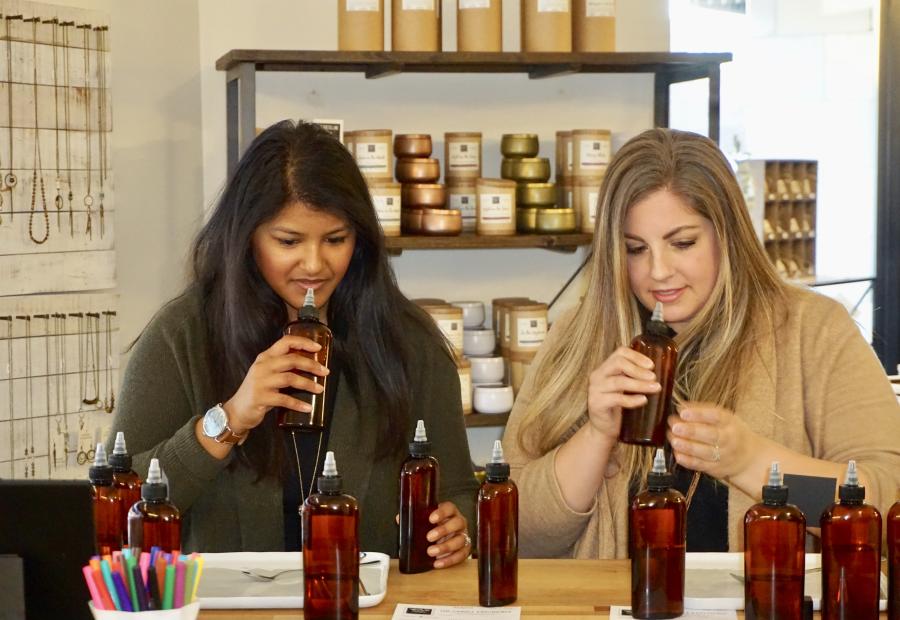 Wax Poetic has a large selection of scents to choose from.
Photo by Experience Grand Rapids
Step One: Choose your fragrance
First up is the Fragrance Bar. 
Here you'll sniff your way through a variety of single-scented candles to decide which scents to include in your creation. You can smell as many as you'd like, from bergamot to old books, pistachio to vanilla, and much more. 
There are more than 100 different scents to choose from, so you're bound to find a few you like. Perhaps a couple of fragrances will bring back memories or even evoke emotion.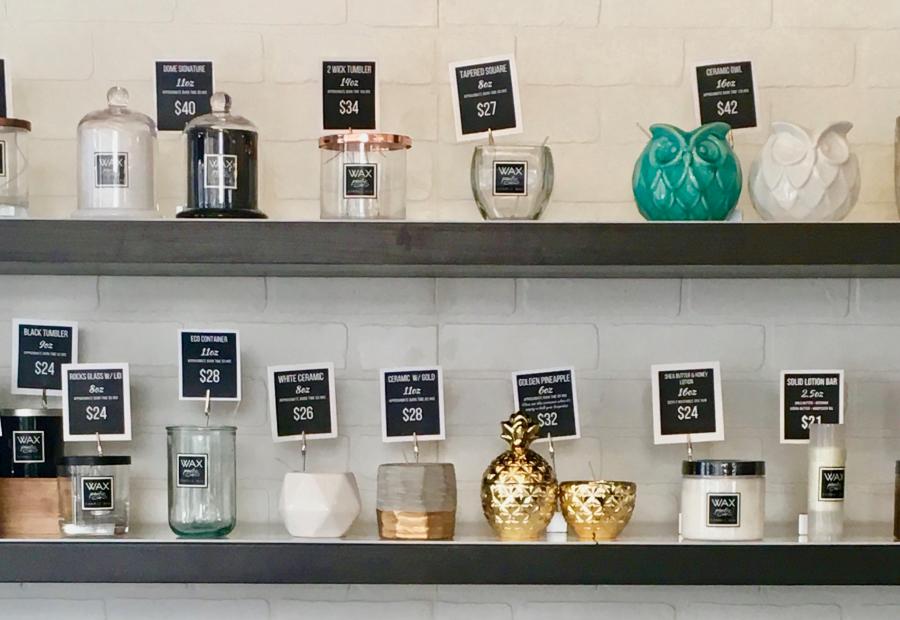 shelves of candles at Wax Poetic in Grand Rapids
Photo by Experience Grand Rapids
Step Two: Choose a container
Once you jot down the scents you love, you get to pick a container for your candle. 
There are several types of holders that come in a few different shapes. I chose one with a glass cloche, or dome-shaped lid, while Laura selected one in black with a copper lid. The price of making a candle depends on the price of the container you select, which range from $18 to $46.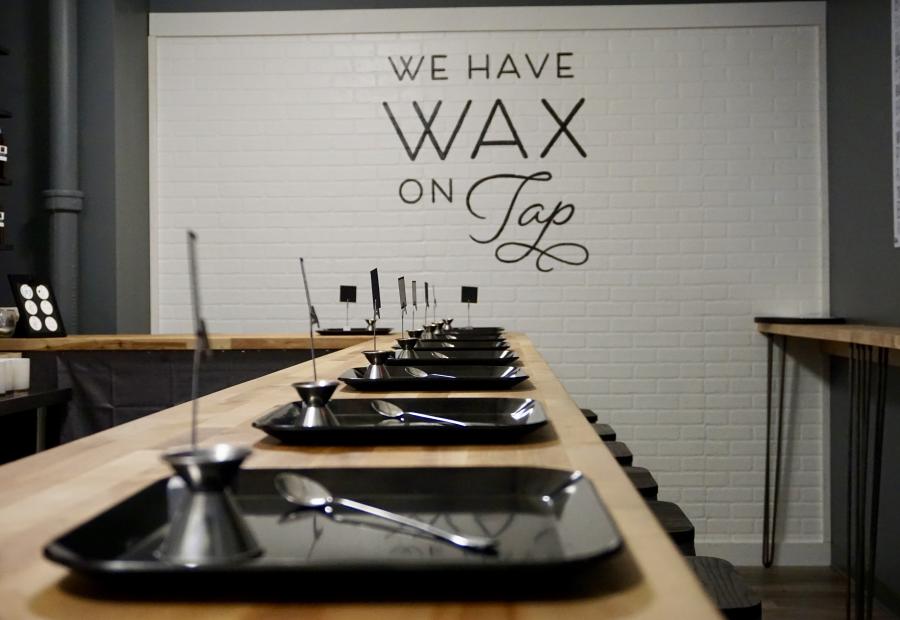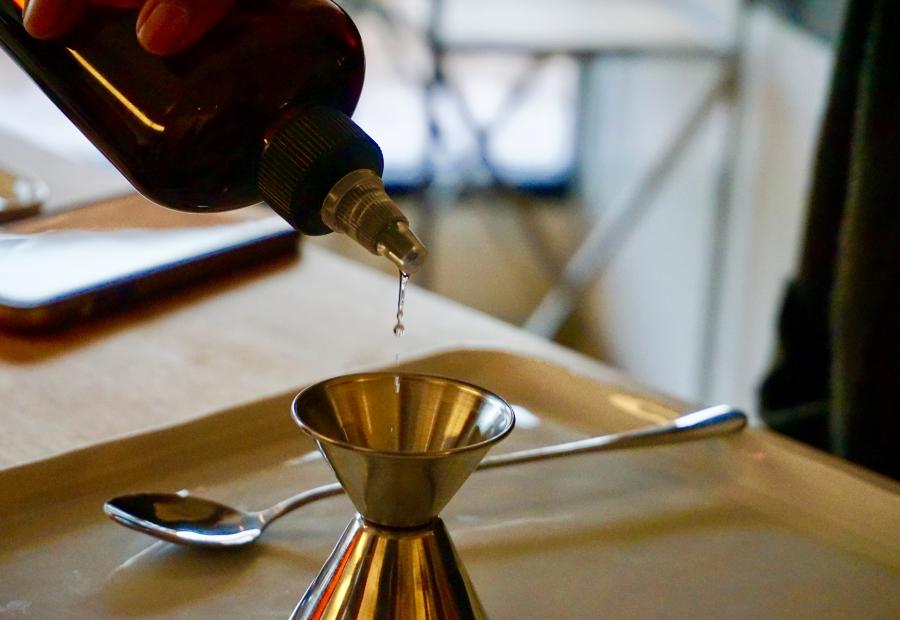 Combine your scents at Wax Poetic candle bar in Grand Rapids
Photo by Experience Grand Rapids
Step Three: Combine it all at the Candle Bar
After you select your container, you'll head to the Candle Bar. 
You will start by getting a few bottles of your favorite scented oils to group together, squeeze, and take in a blend of fragrances. A staff member will help guide you in choosing the right blend. You can mix up to three of your favorite scents in a candle. 
I prefer sweet-smelling candles so I chose champagne, pomegranate, and coconut. Laura enjoys a musky scent, so she chose hops, pistachio, and amber noir. Once you've decided on the right combination, you'll mix your scented oils, then carefully pour and stir it into your candle container.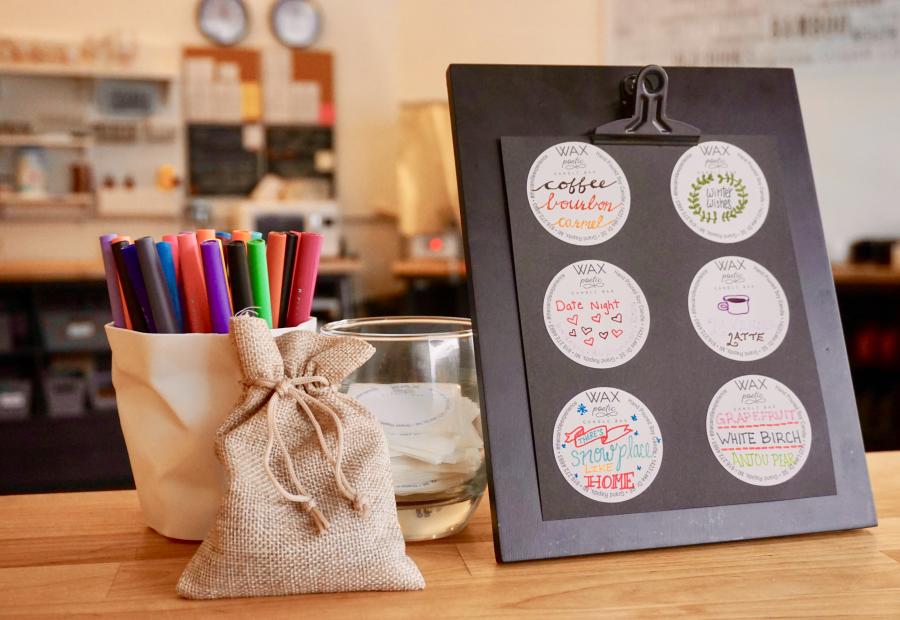 Create a label for your custom candles at Wax Poetic in Grand Rapids
Photo by Experience Grand Rapids
Step Four: Create your own unique label
While your hand-poured candle sets, you can make your own custom label! Wax Poetic provides blank stickers and colored markers for you to design a label as unique as your candle. You could list your fragrances, draw a picture, give your candle a name, or do all three. 
After you've put your finishing touches on your label, all you have to do is wait for your candle to set, which takes about 90 minutes. While you wait, you can grab a bite to eat at a nearby restaurant or shop around. We enjoyed dinner and drinks at Terra GR next door. 
The guided candle-pouring experience at Wax Poetic is enjoyable for all ages and walks of life, though younger kids may need help from parents. Wax Poetic is the perfect spot for dates, group outings, birthday parties, wedding festivities, or simply to shop for pre-made candles.
Reservations aren't required for groups of four or less, but if you have five or more in your party, you'll want to make a reservation ahead of time. Speaking of which, the candle bar has a couple of fun options for groups and private parties!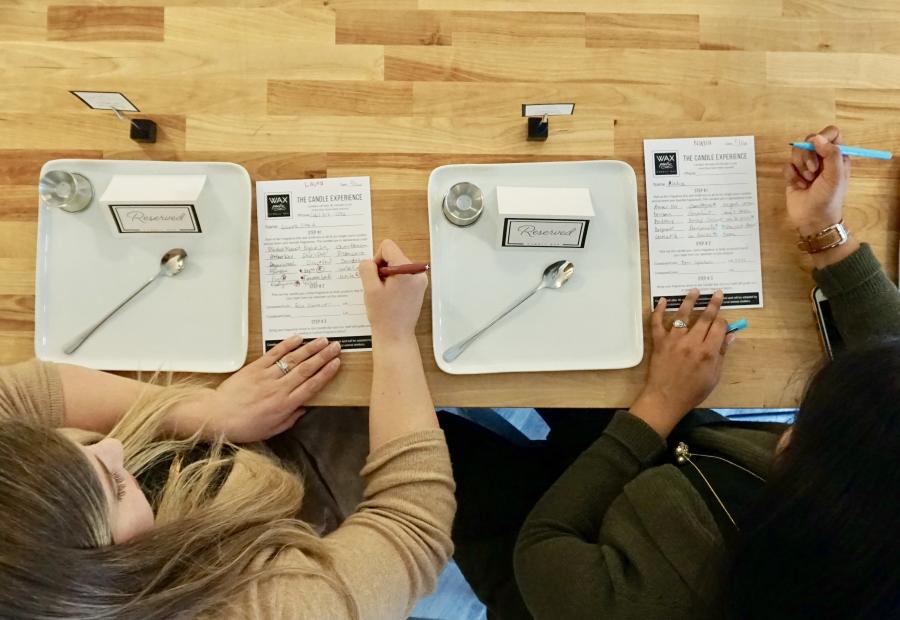 candle-making at Wax Poetic in Grand Rapids
Photo by Experience Grand Rapids
Bonus Round: Insider Tips to the Wax Poetic Experience
Mimosa Hour
Your group can make a reservation before the candle bar is open. During this time, you may bring in your beverage of choice! Mimosa Hour ends at 11 AM and requires a $125 minimum purchase.
Private Parties
Thinking of throwing a bachelorette or birthday party with your closest friends? Wax Poetic offers private party reservations Sundays at 3:30 or 6 PM, and Mondays after 5 PM. The entire space is yours for 2 1/2 hours. Want more time? You can add on additional time for $50 per half hour. There is a $400 minimum for groups up to 20 people. This can be paid by a host or paid individually. Larger groups will incur a higher minimum. If you choose to book a private event, you can bring your own food and beverages.
Mini Bar
The Mini Bar option is the newest addition to Wax Poetic! The Mini Bar is a remodeled upstairs space complete with its own private bar. This space is available for private parties or reservations. The Mini Bar accommodates up to 10 people comfortably. There is a 2 1/2 hour time limit, and a minimum purchase of $400. This option allows you to bring in your choice of food and beverages.
You can also make a standard reservation for 4-10 people to enjoy the Mini Bar. You may bring in a bottle of wine or beverage of your choice to share while you make candles. This option has a minimum purchase for a reservation is $48 per person for up to 75 minutes. During your reservation, there may be other groups sharing the Mini Bar with you. Note: The Mini Bar is stair accessible only.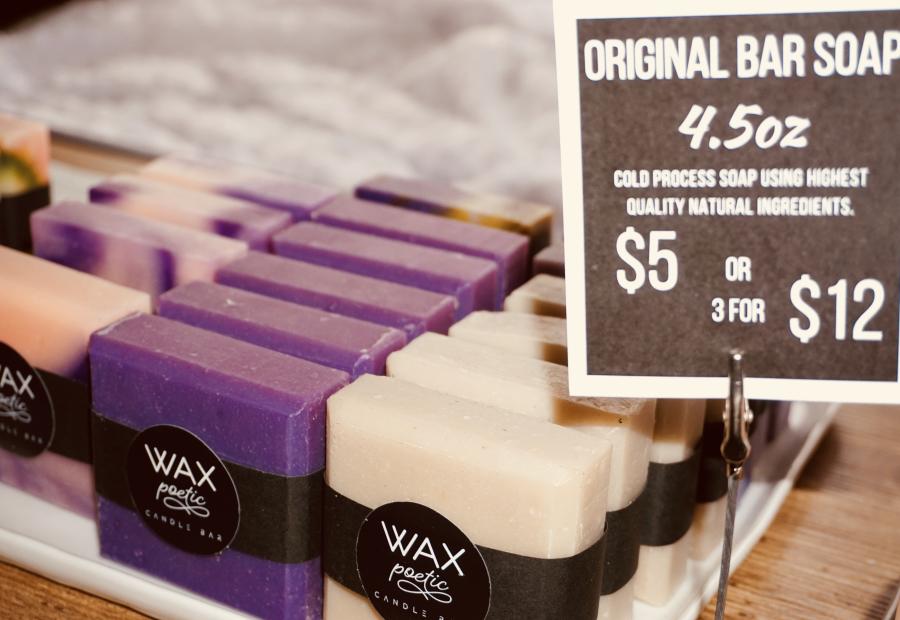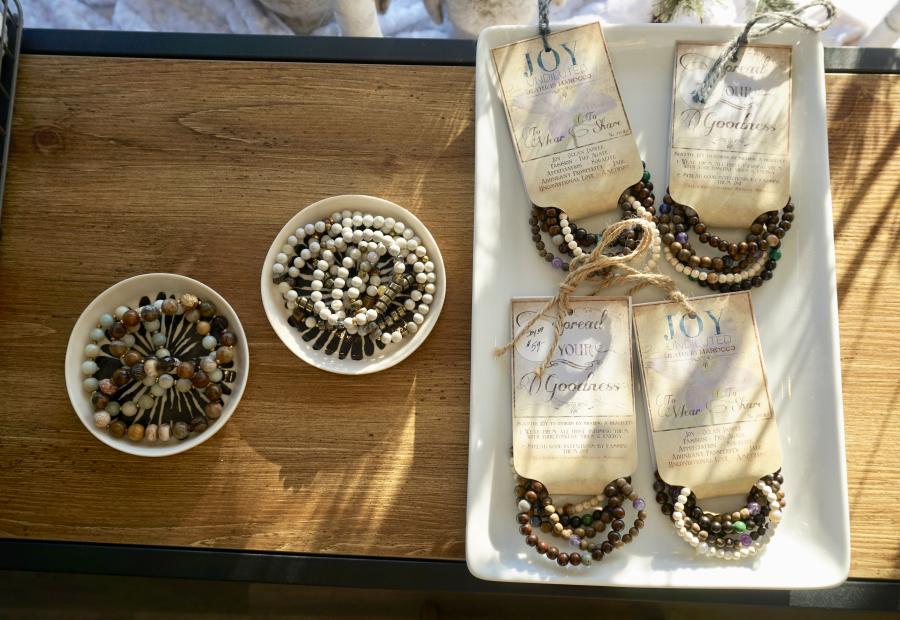 bar soap for sale at Wax Poetic in Grand Rapids
Photo by Experience Grand Rapids
Quick Visits
Looking to pop in for a gift? Wax Poetic sells soy candles in a variety of sizes along with diffusers, massage soap bars, room sprays, fragrance oils, and more! If you're looking to give custom-made candles as a wedding or shower favor, Wax Poetic can help. Email them for more information: info@waxpoeticcandlebar.com
Parking is available right outside Wax Poetic, located along Lake Street, or in the nearby public parking ramp right next door.
Wax Poetic provides the perfect opportunity to express yourself by creating something that is completely unique to you. What would your ideal candle smell like? Let us know in the comments below!