The World of Winter (WOW) Festival has returned to downtown Grand Rapids, bringing art, color, and—frankly—fun in the height of winter. Downtown Grand Rapids, Inc. is the organization behind the festival, and I've noticed DGRI's focus on highlighting local artists, especially women and BIPOC artists. Local artist Chris Dudley's (or "Dud" as he prefers to be called) WOW artwork is Frozen Fun! His work tells a powerful story about people of color claiming outside space, especially in winter, and doing so with joy. 
"Frozen Fun!" is on display in front of DeVos Place Convention Center now through March 5.
Our conversation has been edited and condensed for clarity.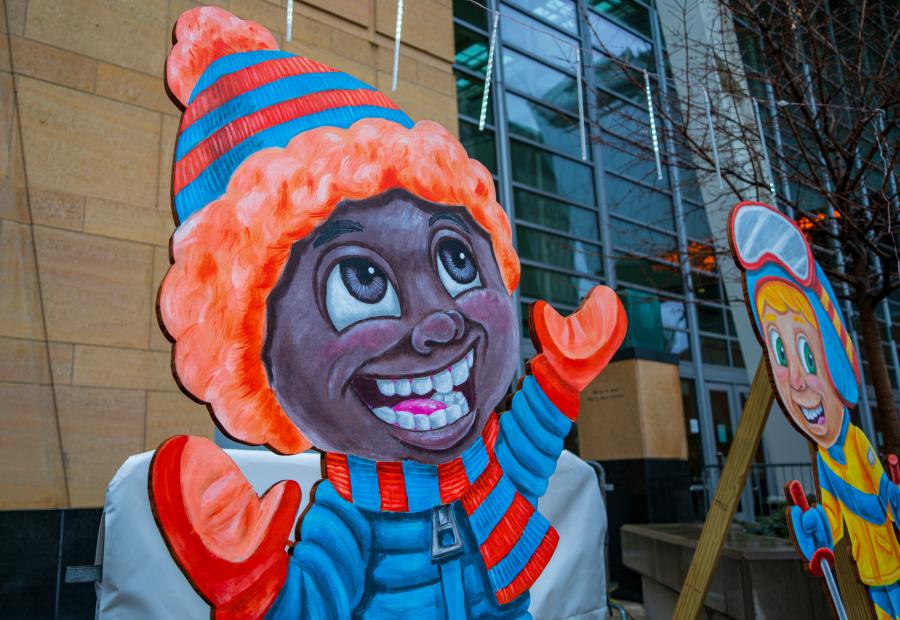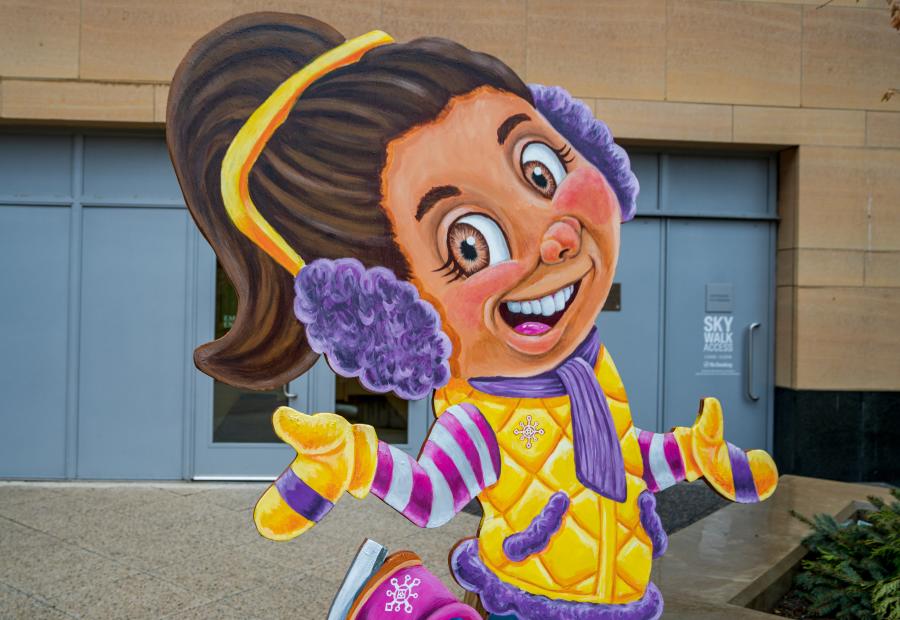 One theme of "Frozen Fun!" is you don't need a lot of gear to enjoy winter outside.
Photo by Nick Irwin for Expereince GR Artwork: Frozen Fun! by Chris Dudley
The Inspiration for "Frozen Fun!"
What was your inspiration behind this piece?
Growing up in Michigan, being from Michigan, you enjoy the snow as a kid. The name "Frozen Fun!" came from how as a kid you would play outside and forget that it was cold, and your hands may be cold or you're cold, but you're having fun, so you ignore it. And I wanted people to see themselves in the children, so the children in the piece are diverse. 
And what do you want the viewers to take away from the diversity of children?
Well again, I want viewers to be able to see themselves and more than anything, to put a warm smile on their faces in the middle of winter. And I think anyone who drives past or walks past, will have a hard time not smiling when you see kids in "Frozen Fun!" enjoying themselves.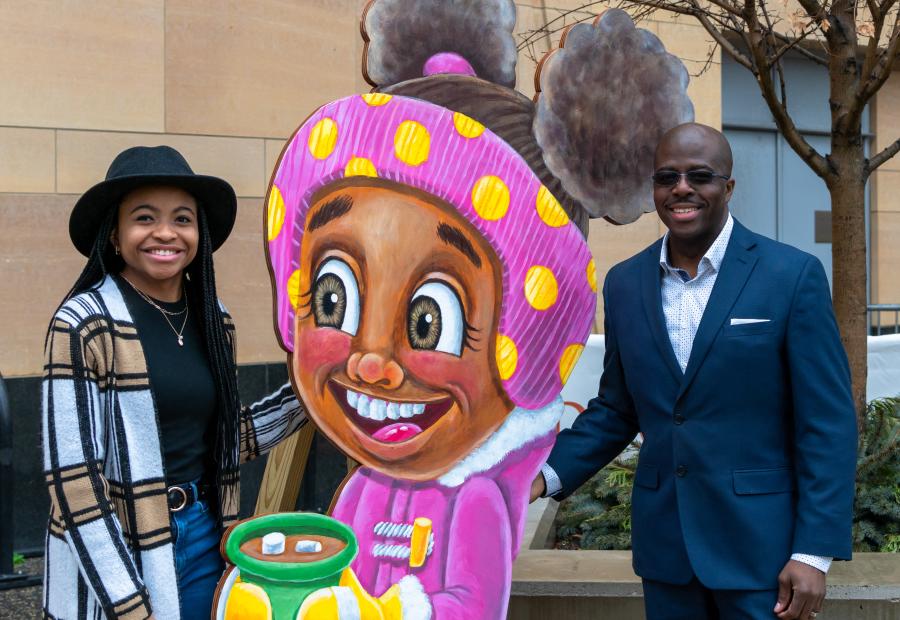 Making sure people of color are represented experiencing everyday joy in both illustration and art.
Photo by Nick Irwin for Experience GR ArtWork: Frozen Fun by Chris Dudley
The Joys of Winter, Warmth, and Memory
I found your art to be storytelling, of reclaiming narratives of people of color outside and during winter specifically. And I thought that was such a powerful statement. If that was intentional, could you speak on claiming outside space or being outside in winter? 
When people think of outdoor winter activities, they might think of activities that involve resources, whether you're going skiing or snowmobiling or whatever. But you don't need a lot of equipment to enjoy the snow. I brought my own experience of just enjoying the winter, throwing snowballs or sledding, and those types of activities. So, I kept it simple, as far as the activities the kids "Frozen Fun!" are doing, as a reminder that everybody enjoys the winter, regardless of their background.
Growing up there were underrepresented children in books and literature, and when you see that, it influences how you draw. Honestly, even when I was teaching my daughters how to draw, many little characters didn't look like them. So, I made sure I taught them how to draw characters that look like them. And that influenced my work as I grew. 
Being able to make sure that people of color are represented in illustration and in art… and being able to produce children's books that have little kids who look like me when I was younger is such a privilege. It's such a privilege. And I love projects that show the everyday joy of people of color. I like to do projects where it's just a family enjoying themselves or a boy with a dog, and they just happen to be of color.
Thank you for that. I found joy in seeing that theme in your work. And I can see and feel your energy around just smiling and having fun. How would you describe your overall artistry?
I've done a lot of serious artwork. My background is in realism. I've spent 30 years trying to, not necessarily "perfect" my art, but learn it. I bring that into what I do now. I would say that the work I'm doing now with children's books is fun and inviting. I enjoy finding ways to truly draw people into the work.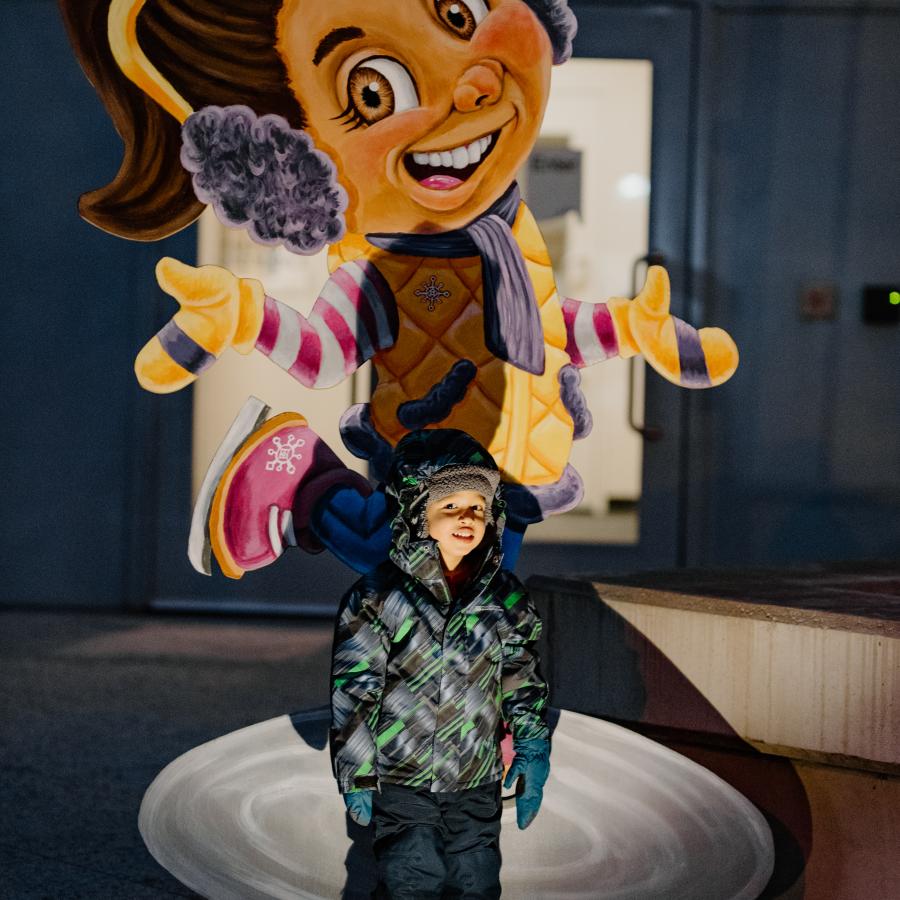 Kid Standing In Front Of Chris Dudley's Frozen Fun!
Photo by Rashelle Whiteharris for Experience GR. Artwork: Frozen Fun! by Chris Dudley
The Connections That Move Us 
I love that. And draw them in, through your art you want them to feel whatever you are trying to display? Or do you want the viewers to come up with their own?
I try to think about what can be conveyed in my absence as the artist because most art will be viewed in the artist's absence. So, if you are the viewer, it's your life experiences, how you feel in that moment, and your interaction with the piece that determines what you get from it. The artist isn't always there to give an explanation, so they have to put that in the work.
And for "Frozen Fun!" that's what I thought about: Can I move a stranger? People who have no idea who Dud is, when they pass that piece -- can it put a smile on their face? 
What I find interesting is the multi-generational aspect of your project, which is kids seeing images that look like them or what the images are projecting, that allows them to say, "Oh, I do snowballs too." But for adults, it has a nostalgic, "I remember when..." And it's a connection between generations.
As I mentioned, I try to have my illustrations fun and inviting where it's going to draw you in. And so, you think about your character design, the color palette, the expressions on their faces, where they're looking. Those are all elements in the illustration that tell a story. And if you do it right, it pulls people in. 
With my artwork, I often ask myself: At what distance does the illusion start? I mentioned my background is realism, and so when I draw, I don't want you to see the pencil. So during the process, I would often step back two feet, six feet, eight feet to see where that distance was. 
And then I considered at what distance do I want them to be visible? I wanted them larger than life, but I also didn't want them so big that they made you look tiny if you were standing next to them. I wanted them to be large enough that if you took a picture with them, they're part of you. They're part of your family. They are bringing back those memories. 
This speaks to the warmth of your work, people can embrace that and have nostalgia, but it's the warmth that is embedded within us that's powerful. Thank you for explaining that. Where can we find more information about you and your work?
Well, online, ChrisDudleyart.com. That's my website. And I'm also fairly active on social media, Instagram and Facebook. And you can join me on the journey of projects and get some of the behind-the-scenes of some of the sketches that go into the books I illustrate. 
 
When You Visit
When you see "Frozen Fun!" I hope you'll take a moment to notice the smile that spreads across your face and on the faces of others as you enjoy Dud's artwork. I hope you'll allow yourself to be drawn in and take a picture of yourself with one of the kids in the piece. 
To hear more of Dud's approach to his artwork and "Frozen Fun!" specifically, check out this video below.