You know the drill. There's a meeting, there's a budget, and you need to find the most effective venue to deliver the message. One of your first decisions is whether to hold the meeting offsite. There are lots of advantages to doing so, says Holly Froumis, Director of Business Development at Grand Connection, an event planning company in Grand Rapids, MI.
5 Reasons to Consider Using an Offsite Venue
1. Productivity and focus. 
"When people attend offsite meetings, they're not distracted and they're more fully engaged," says Froumis. She's worked at Grand Connection for 13 years and been in the hospitality industry for more than 20. During that time, Froumis has observed hundreds of offsite meetings. "So much gets done through interactive engagement," she says.
2. Face-to-face networking time. 
Today's technology makes it easy for us to communicate regularly, quickly, and inexpensively through email and videoconferencing. But there's no substitute for meeting in person when understanding each other is critical. Sitting in the same room together, using current safety guidelines, you're able to pick up on non-verbal cues that can be easily missed over the phone or via video chat. Don't underestimate the hand gestures, facial expressions - especially by the members of the group who don't have the floor - and other nuances that allow members to better relate to one another.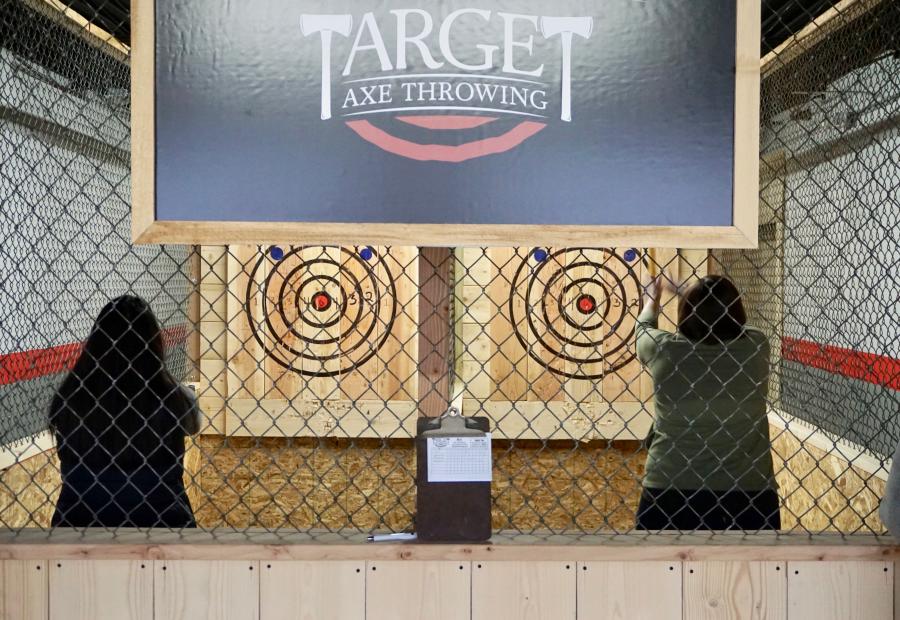 Team building exercises are an important component of many offsite meetings.
Photo by Brian Craig for Experience Grand Rapids
3.Camaraderie.
Team building exercises are an important component of many offsite meetings, and for good reason. Froumis says there's incredible value in working together in a different realm. For example, if your team building exercises include a physical challenge, like getting people over a wall, the team has to capitalize on people's logistical minds and physical strength. Such exercises allow team members to see each other in a different light and abilities emerge that may not be apparent in day-to-day budget meetings. "You're working with different skills," says Froumis. "When you're really utilizing peoples' God-given talents," she says, "you find out different strengths and weakness than you do sitting at a desk. Plus," she laughs, "you're having a whole lot of fun doing it."
4. Tech boost.
While many of your conference rooms may be outfitted with technology we use regularly, using a different facility could provide you with access to different or newer technology. Oftentimes, this access allows you to be more creative both with what you present and how you present it. When presentations are more engaging, people tend to get more out of them, making meeting time more effective. It's a win-win.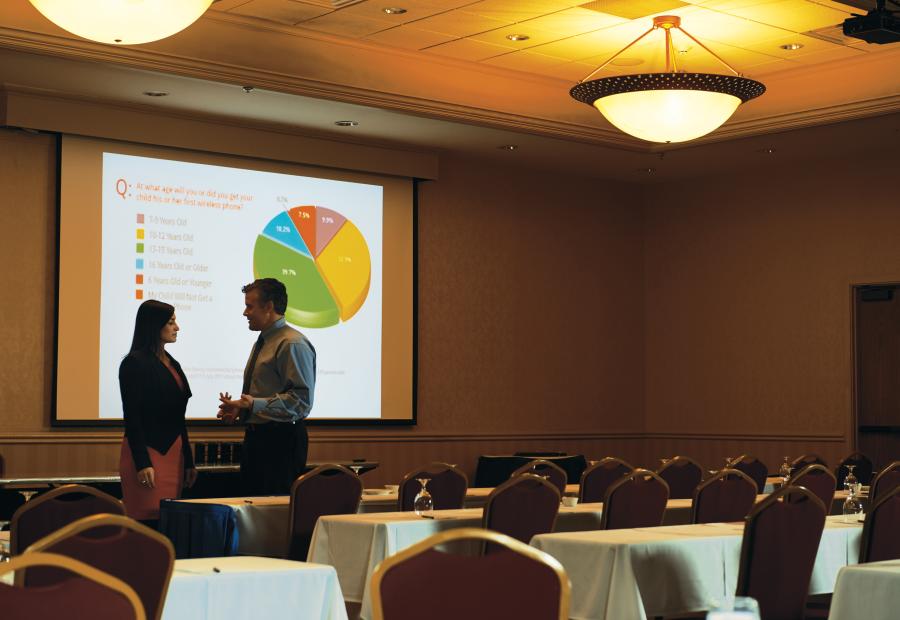 Offsite meetings can increase employee creativity.
Photo by Experience Grand Rapids
5. Encourage creativity.
Taking meetings offsite is especially important to consider when you're making strategic decisions, providing employees with career-enhancing training, or want to promote brainstorming. We've all been in conference rooms where we've met time and time again. When this happens, people tend to take the same seat and stare out the same window. Similar to familial roles, co-workers can also cling to their place in the group. By moving your meeting to an offsite location, you lift some of these barriers that stifle creativity. Offsite venues also enable employees to break out of their office personality and relate to one another in different ways, which can generate meaningful, creative ideas.
Sold? Ready to run out an book an offsite venue for your next meeting?
5 Tips for Successfully Hosting an Offsite Event
1. Identify the objectives.
Whether you're planning a meeting for your own company or for a client, it's imperative to understand the objectives of the event. "First and foremost," says Froumis, "you have to listen." She says it's vital to understand the underlying message and whether the events focus is appreciation, motivating employees, all business or part business-part fun. "The event has to fit their needs," she explains. "Anyone can bring in fun entertainment and make a pretty table. Listening is the key that allows the event you plan to support the company's goals."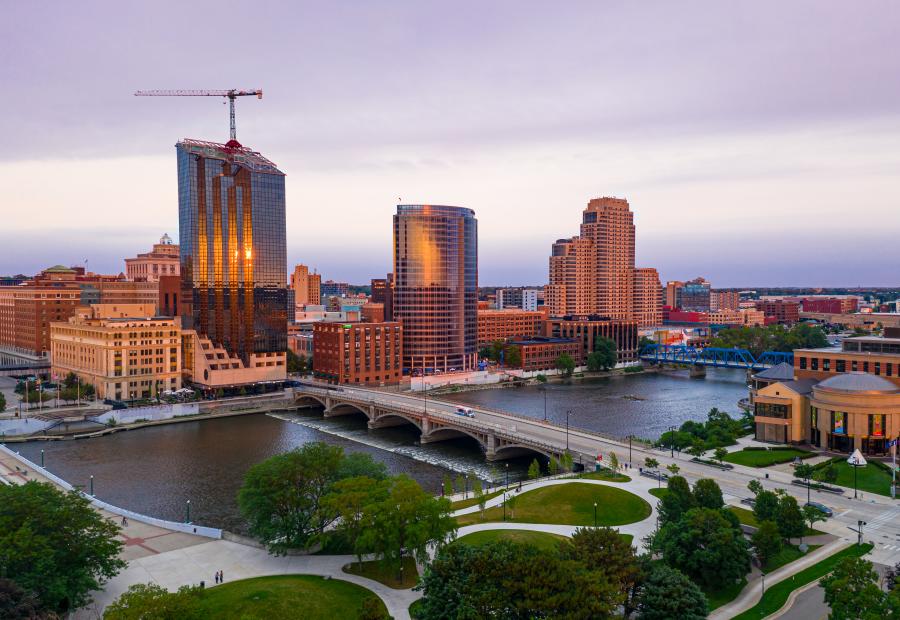 Downtown Skyline- RIver View Drone Photography
Photo by Experience Grand Rapids
2. Do a site visit.
"A site visit is absolutely necessary," says Froumis. "You need to check the equipment capabilities, know the parameters of the venue, ascertain details about loading docks, hours, who's available/permitted to help move things, hang things, etc., as well as to understand the flow of the venue," she says. "All of those details help you understand what attendees will be walking into, and help you, as planners, to look outside the standard 4 walls. After a site visit, we typically talk to clients and brainstorm and conceptualize with them," she says. "Then we go back and brainstorm internally, we talk to our event stylist and think about how we can utilize the entire space."
Froumis says they might bring things off the ceiling, arrange seats in unique groupings, and/or use creative lighting. "We really try to think outside the box," she says. You might not need a hotel ballroom, for example. What about an outdoor tent or an event in a warehouse with cement floors but gorgeous city views? When they used the latter for an event celebrating the city, she says, they brought in soft seating and created cozy conversation areas. Their clients loved it.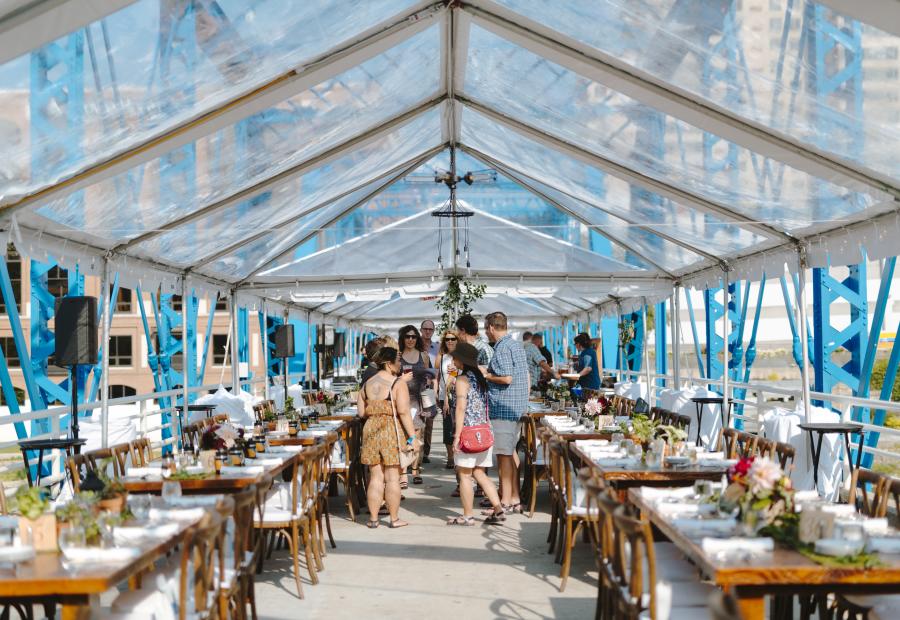 Choose a venue that can support the event's objectives and accommodate the event's theme.
Photo by Experience Grand Rapids
3. Location matters.
"Venue is huge," says Froumis. Be sure that the venue you choose can a) support the event's objectives (see tip #1) and b) accommodate the event's theme. You want to choose a venue that allows you to use decor elements that really tie to the theme. 'For example," says Froumis, "if the event's theme is cruising onto success, you could choose a venue that allow you to create a cruise ship feel." For one client, her company wanted to use a fire pit created out of ice - so they chose a venue that would allow them to use that piece, as well as to employ other decor that enhanced the chosen theme.
The location matters in terms of the city you choose, as well. Froumis says that one of the reasons Grand Rapids is an excellent choice is because Experience Grand Rapids offers so many services. "They will provide the right suppliers and vendors all the way through. They'll help with transportation, hotels, anything you need. They know the right people and will put you in touch with them."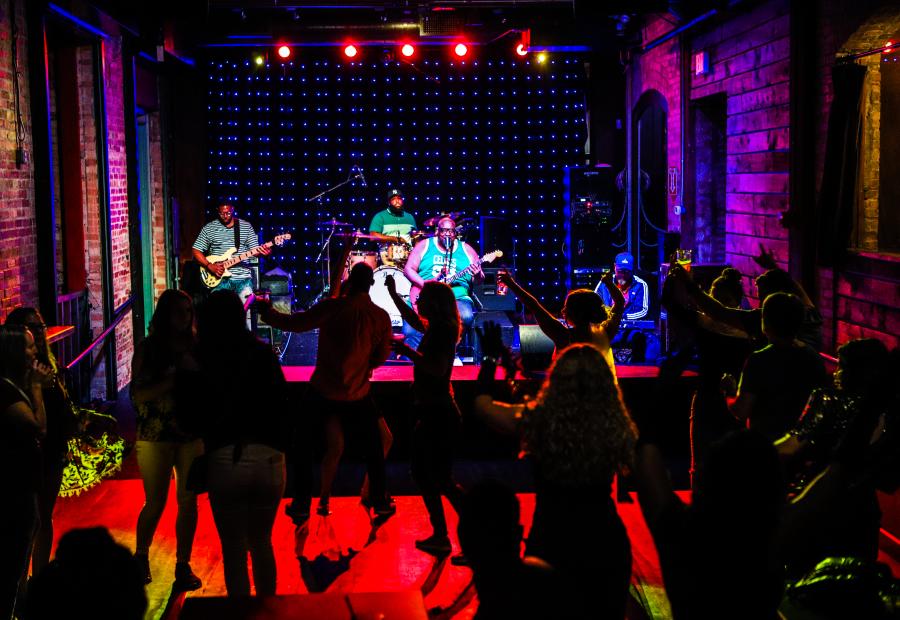 Fun is an essential part of any meeting--whether off-site or not.
Photo by Experience Grand Rapids
4. Don't forget the fun.
Few offsite meetings are 100% work, 0% play. Attendance might drop significantly if they were! "I think fun is absolutely necessary," says Froumis. Again, she says, keep the event's objectives in mind. Fun elements can help build teamwork and camaraderie. For one corporate client, Grand Connection created a fake magazine with photos from the night before, put the C.E.O.'s photo on the cover, and slid it under each attendee's door for them to discover in the morning. "We've done so many fun elements," she says. "Anything themed is often very well received. And anything that has a little element of competition is fantastic." For another client, they created a photo scavenger hunt - one of those fun, slightly competitive events that also promotes camaraderie. Attendees where given a pre-photographed booklet of small items around town, like part of an item at the Downtown Market, then had to hunt the items down and photograph them (like a grown-up I Spy).
5. Maximize (don't bust) your budget.
Froumis is big on not just sticking to a budget, but maximizing it. At Grand Connection, clients can use some of the many rental items they have in-house to maximize and stretch their budgets. But even if you don't have access to that kind of equipment, Froumis says you can maximize your dollars by being creative and watching out for hidden expenses, like additional labor costs at your chosen venue. "Be diligent in asking questions about whats included and what isn't. You can even turn obstacles into opportunities," she says. For example, let's say you choose Grand Rapids as the location for your event because its an affordable mid-sized city with big-city amenities including an international airport. But if you fly attendees into Detroit or Chicago because the airfare can be less expensive, you can hire a motorcoach to bring the attendees to Grand Rapids. "It can be a super fun, engaging experience," says Froumis. "The motorcoach ride can be entertaining, include drinks and food, and show videos that bring home the company message. Or, if you're coming from Chicago, you could stop in Michigan City and do some premier outlet shopping. Regardless of the budget," she says, "when you keep both the client's desires and the costs in mind, you can creatively overcome obstacles for less money. We're here to work within your means and make your event fabulous on any budget," she says.
invalid widget [plugins_common_blog_subscription] []