As a meeting planner, it's a wonderful thing when your convention center has everything you need for your event – true one-stop shopping.
But sometimes it's nice to take a meeting off-campus and enjoy the host city. The new environment might spark new ideas.
"Every time I host an event or meeting away from our hub, the energy of the group skyrockets," said Kim Rangel, director of operations for Destination Consultants. "A change of scenery gets attendees out of autopilot mode."
The meeting can also be paired with a subsequent event, like dinner or entertainment. But make sure attendees are fully aware of logistics, Rangel said.
"If you switch gears, your attendees might want to go back to their hotel room to freshen up," she said. "Make sure you are clear in communicating the agenda so they can dress and plan accordingly."
In Grand Rapids, several restaurants and breweries are within a short walk of the downtown convention campus and are equipped to handle a private gathering. We list just a few of them here. This list is by no means exhaustive, but it provides a good place to start.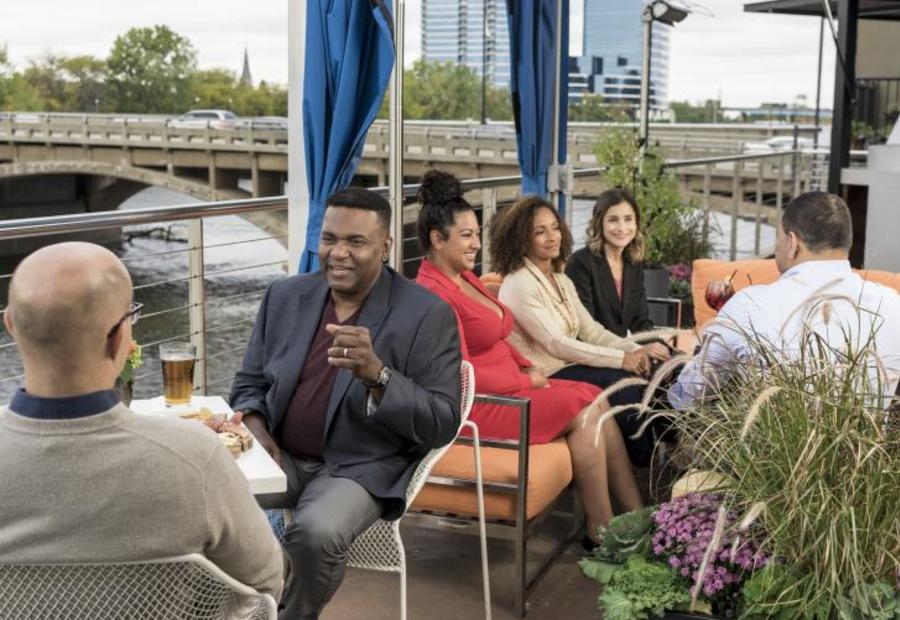 The jdek at the JW Marriott in downtown Grand Rapids.
Photo by Brian Kelly Photography
jdek 
Situated off the JW Marriott Grand Rapids' main lobby, the jdek is an outdoor space that can accommodate up to 200 people for a cocktail hour or other networking event. The jdek offers several large cabanas and room for cocktail tables and food stations, as well as a full bar. Smaller groups in need of indoor space can also book the semi-private space at the hotel's' restaurant, six.one.six.
Bistro Bella Vita
This French and Italian restaurant features a private dining room toward the rear of the restaurant with seating for up to 80. In addition, they offer their VIP Cellar Table in a private corner of the restaurant accommodating up to 14 people.
The Kitchen by Wolfgang Puck
Located in the Amway Grand Plaza, A Curio Collection by Hilton and named after the world-renowned chef, The Kitchen by Wolfgang Puck has private meeting space for 10 to 42 guests located in four glass-enclosed rooms below the restaurant. Each room features a 60-inch flat-screen TV and they are connected by a private foyer.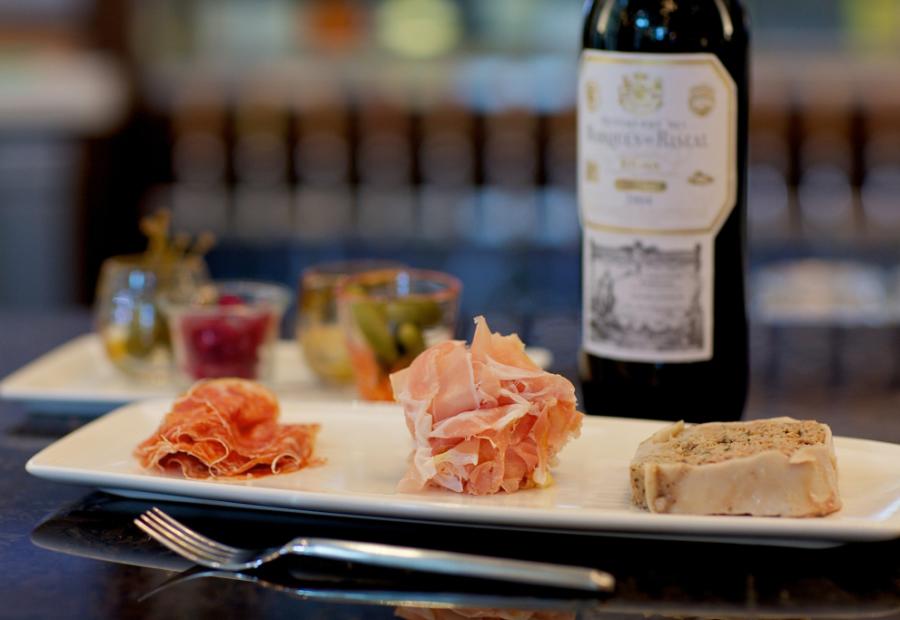 Charcuterie and wine at Reserve Food & Wine in Grand Rapids
Photo by Experience Grand Rapids
Reserve Wine & Food
Reserve, known for its wine and charcuterie, features unique meeting spaces for small or large gatherings. The Vault—a private room that is also the restaurant's wine cellar—seats up to 12 guests, the semi-private Champagne Room and Lounge seats up to 18, and the semi-private Loft seats up to 30. If your group requires more space, the entire upstairs mezzanine can be rented to accommodate up to 100 guests.
San Chez Bistro
The private meeting space for this tapas restaurant is adjacent to the main dining room, offering the same view of downtown through its spacious windows. It accommodates up to 85. Open the doors up to the atrium and capacity rises to 125.
The Chop House
This elegant restaurant across the street from the convention center features a variety of private and semi-private options with seating for up to 40 guests. Two of the rooms include large flat screen TVs and the ability to adjust temperature, lighting and music.
Divani
Divani is an elegant cocktail bar and restaurant with dark wood furnishings that offers a variety of meeting spaces, including the bar itself during daytime hours. In addition, they offer Gallery Divani with seating up to 100. Divani also offers the more intimate Photography Room (up to 30 seated) and the Elevated room (up to 24 seated).
invalid widget [plugins_common_blog_subscription] []