No matter the time of year, it's always nice to get some fresh air, change up the scenery, and explore new venues. Experience Grand Rapids continues its focus on accessibility with an installment dedicated to fun, accessible attractions in Grand Rapids.
People with disabilities comprise 10 percent of Kent County's population, according to the US Census Bureau. While most venues offer reasonable accommodations for those with disabilities, there are a handful of attractions that go the extra mile, according to Steve Draft-Peppin, volunteer for the Disability Advocates of Kent County.
Draft-Peppin was born with spina bifida, but he doesn't let the birth defect stop him from hitting the town. He gets around by using a wheelchair, and sometimes with the help of walking braces. The local West Michigan family man is a father to two stepsons.
Draft-Peppin is also a wheelchair sports athlete, which is a good thing to keep in mind when evaluating any of the recommended accessible attractions. "I am physically active and hills don't bother me, but others may need a push or some extra assistance from loved ones," he says.
Take a look at the local attractions Draft-Peppin recommends for people with disabilities: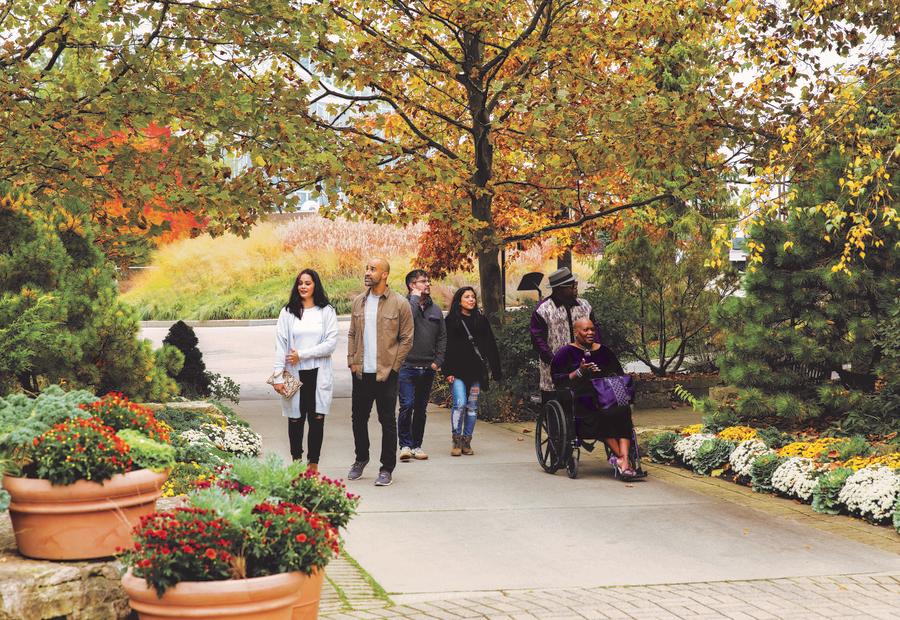 Wide indoor halls and paved paths, Frederik Meijer Gardens & Sculpture Park is easy to get around on foot or wheelchair.
Photo by Experience Grand Rapids
Frederik Meijer Gardens & Sculpture Park
Frederik Meijer Gardens & Sculpture Park is a combination of botanical garden and art museum, and it has plenty to explore both indoors and outdoors. The venue is filled with gorgeous tropical plants and sculptures by famous artists.
Draft-Peppin says he and his family pay a visit almost every year to enjoy the greenery, check out the koi fish pond, and see the interesting works of art. "It's paved very well, and although a large place, it's easy to get around on foot or wheelchair," he says.
The main entrance is located near accessible parking spaces and visitors may use power doors at the main and side entrances.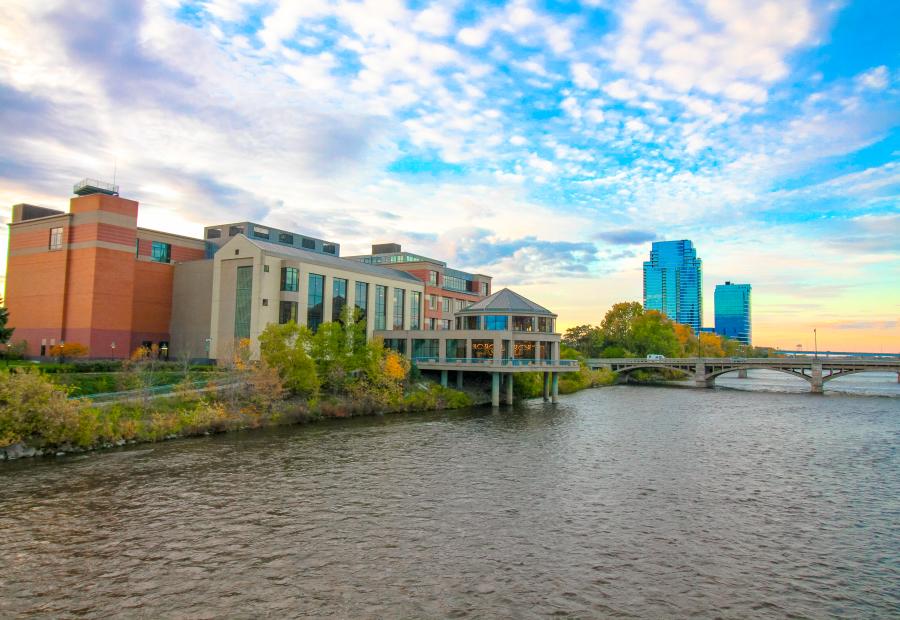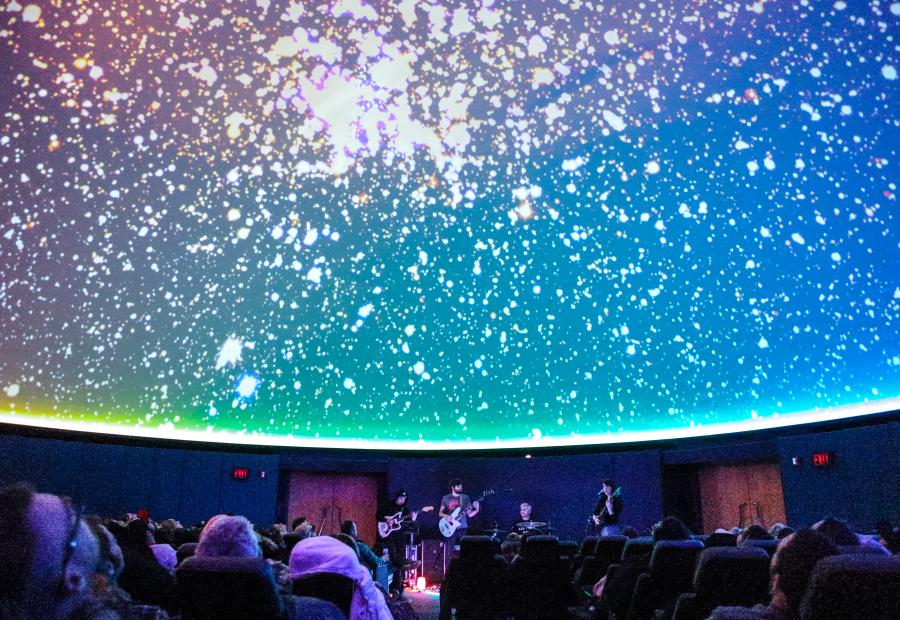 Getting around the Grand Rapids Public Museum is easy with flat surfaces, easy access to elevators, wide corners and accessible seating in its planetarium (pictured right).
Photo by Experience Grand Rapids, featuring Fiona Dickinson and her band (right)
Grand Rapids Public Museum
The Grand Rapids Public Museum is always filled with interesting exhibits that are interactive and educational for families of all ages. From historic building replicas of Grand Rapids in the 1890s, to learning about the story of the Anishinabek Native Americans, this attraction is a family favorite.
Getting around inside is easy with flat surfaces, easy access to elevators, and wide corners. For people with sensory sensitivities, the museum offers sensory kits and quiet spaces.
"We're science nerds and absolutely love spending time inside the planetarium!" Draft-Peppin exclaims.
The Roger B. Chaffee Planetarium within the museum lets visitors take a trip to the milky way through life-sized projectors and immersive sound. Visitors can sit and recline in big comfy seats while enjoying one of several planetarium shows. The planetarium also offers spaces for wheelchairs to conveniently roll up near the seating area.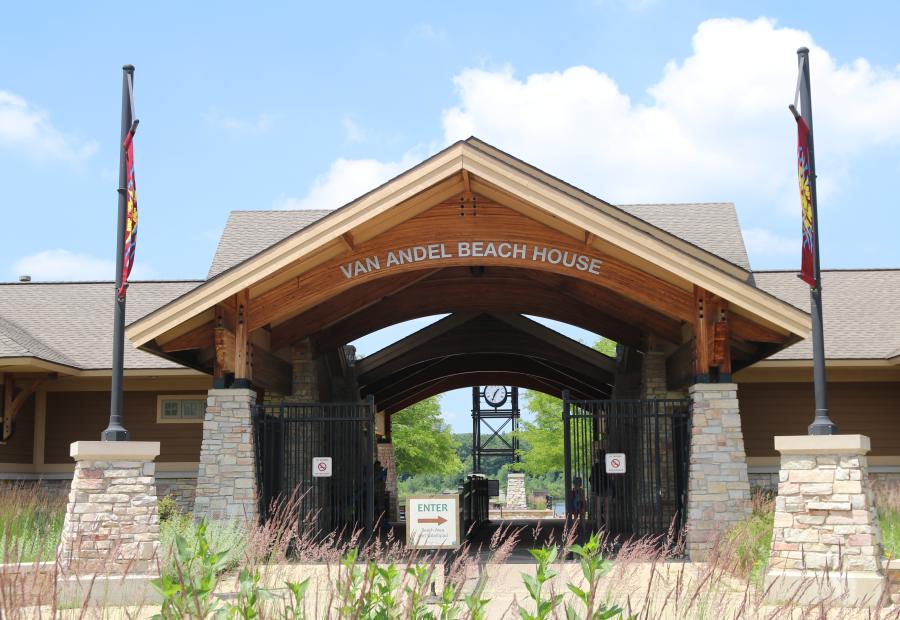 Enjoy Millennium Park and Johnson Park's picnic areas, paved walkways and trails, and waterfronts.
Photo by Experience Grand Rapids
Johnson Park and Millennium Park
Nestled by the Grand River on the West Side of Grand Rapids, Johnson Park and Millennium Park are both large parks with picnic areas, ball diamonds, playgrounds, a disc golf course, and miles of scenic paved trails. "I love spending time in nature on the trails because it feels like I'm hiking in the woods," Draft-Peppin says.
The parking lot is level with the park's walking path, making it accessible for people who use motor or manual wheelchairs, canes, or walking braces. "It's a refreshing outdoor experience and an easy way to spend time by the water without having to drive all the way to the lakeshore!"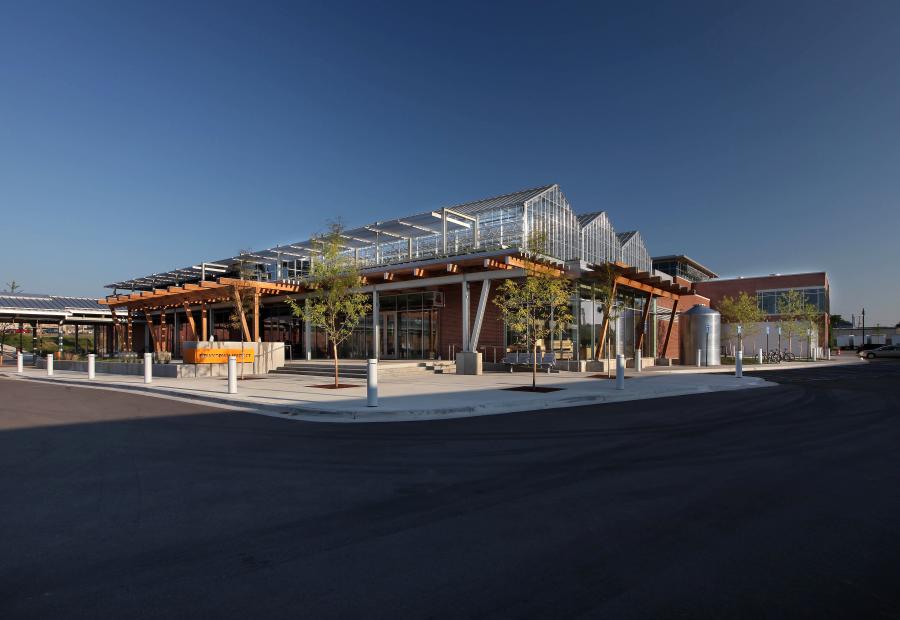 Take an elevator to the Downtown Market's second floor to enjoy its greenhouse and rain gardens.
Photo by Grand Rapids Downtown Market
Downtown Market Grand Rapids
The Downtown Market is a large hall that features more than 20 vendors. This family-friendly accessible venue includes restaurants, wine, cheese, a fishmonger, a butchery, and more.
Draft-Peppin recommends taking the elevator up to the second floor to enjoy the rain gardens and take in the view of the city from above. There are power doors to the Market along with a ramp that provides access to the patio from the parking lot.
Van Andel Arena
Draft-Peppin and his family love going to Grand Rapids Griffins games and other events at the Van Andel Arena, in the heart of downtown Grand Rapids.
"From an accessibility standpoint, it's very welcoming and easy to navigate, but I would recommend visitors, especially those with disabilities, give themselves plenty of time to park," Draft-Peppin advises.
The arena offers accessible seating, accessible parking and entries, assistance for people with visual and hearing impairments, and wheelchair storage, among other accessible efforts.
Whether you're catching a sporting event or going to a concert, all city-owned parking lots and ramps also offer accessible parking.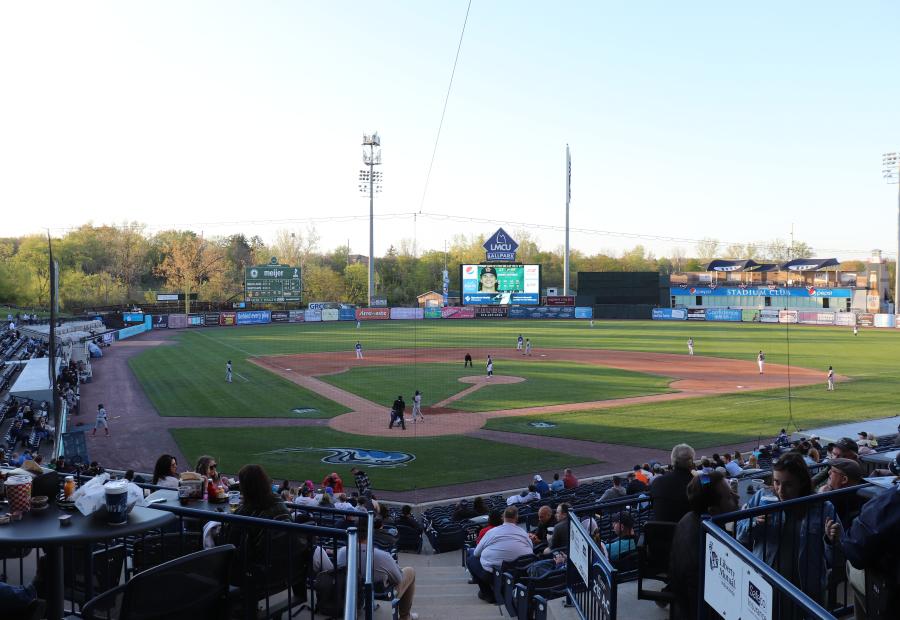 LMCU Ballpark offers barrier-free seating in most sections, accessible parking, and accessible entry.
Photo by West Michigan Whitecaps.
LMCU Ballpark - Home of the West Michigan Whitecaps
"One of the best spring and summertime activities for our family is going to a Whitecaps game," says Draft-Peppin.
West Michigan Whitecaps games offer family-friendly promotions all year round, making it a perfect family-friendly outing. Getting into LMCU Ballpark is fairly accessible, according to Draft-Peppin; however, it does take time to park, get to the accessible entryway, roll up the paved path, and finally, settle in.
"From the parking lot, you'll go on a gradual slope that turns into a big walkway to accessible seating." The venue offers barrier-free seating in most sections, which can be located on the seating and pricing map.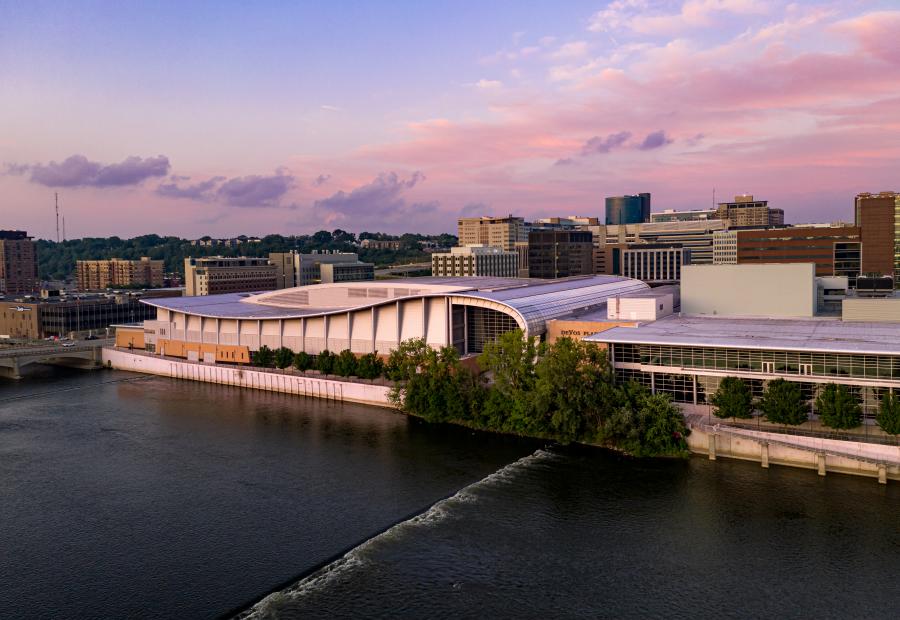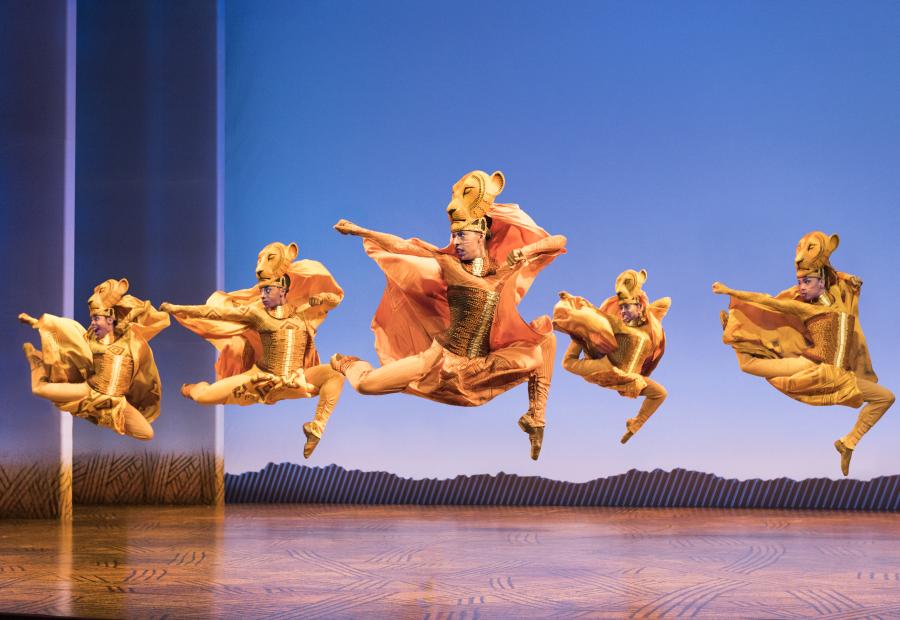 Aerial view of the DeVos Place Convention Center and Performance Hall in Grand Rapids, MI.
Photo by Experience Grand Rapids
DeVos Place
Also in downtown Grand Rapids, DeVos Place brings in conventions like ComiCon, trade shows, artists, and speakers. Located inside the convention center is the DeVos Performance Hall, which is home to a plethora of performances, such as  Broadway Grand Rapids and Grand Rapids Symphony.
"Parking is very easy because you can park underneath the building and take the elevators to access the main hall," Draft-Peppin says. All entrances have powered doors, and there are escalators and elevators throughout the second and third floors of the venue.
John Ball Park
For those who love to spend time outdoors, Draft-Peppin recommends checking out John Ball Park. Nestled on the historic West Side, this park offers picnic areas, playgrounds, and is an access point to Kent Trails. John Ball Park is also home to cultural events like Oktoberfest. The park is adjacent to John Ball Zoo. Learn about John Ball Zoo's accessibility amenities.
"My wife and I like going out on the town to enjoy the food and cultural events that Grand Rapids offers. Outdoor events aren't the most convenient, especially if they're on the grass, but with a good attitude and some extra help from loved ones, you can make a good time out of it."
Grand Rapids offers many accessible amenities for people with disabilities. For more information, take a look at the Experience Grand Rapids Accessibility Guide. You can also read the previous blogs about accessible restaurants, accessible parks and trails, and accessible hotels.
Know of other fun, accessible places around Grand Rapids? Let us know your favorites in the comments.