Byron Center, about 20 minutes southwest of downtown Grand Rapids, joined the local craft beer scene when the city's first and only brewery, Alebird Taphouse and Brewery, opened its doors in May 2019.
Amy Harris, co-owner alongside her business partner Marion, says the location chose them.
"When you look at the brewery map, there is a noticeable gap in Byron Center," says Harris, who also serves as general manager. "There are so many great breweries in Grand Rapids and the surrounding towns, but we wanted Alebird to be the brewery for the local community. If they don't want to travel, they can walk down the [Kent Trails] to their local brewery."
Marion says what started as a dream while he and Harris were homebrewing years ago has blossomed into a passion project.
"We like to look at Alebird as a destination," says Marion. "We strive to make our place warm and inviting to everyone in the community."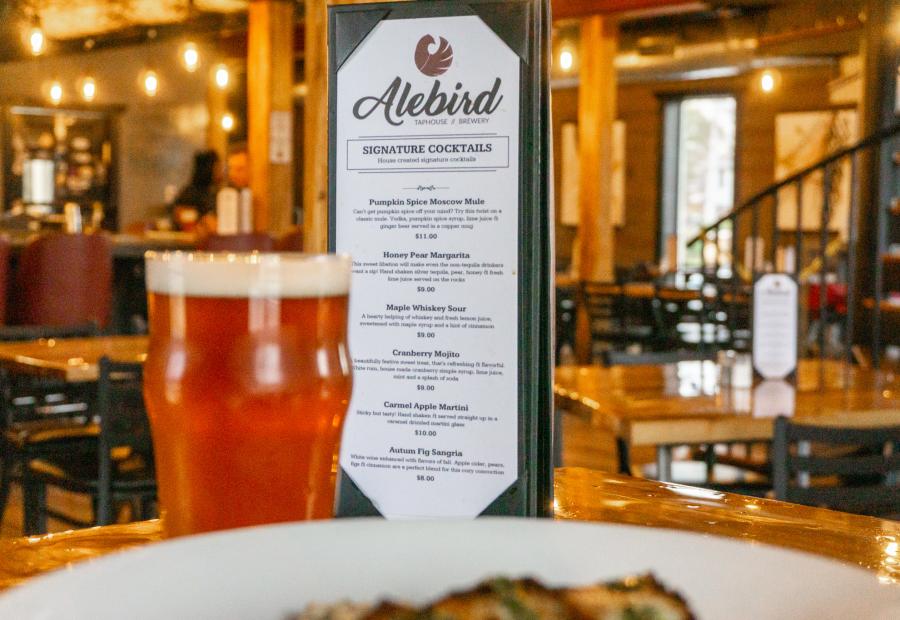 Alebird pays homage to the chicken statue once attached to the building with its logo and name.
Photo by Brian Craig for Experience Grand Rapids
"The Chicken"
Alebird is now the sole resident of a historic building in Byron Center that once existed as a hotel to support the local railway station. 
Over the years, many restaurants and businesses have called the building a home, but what made its reputation infamous among locals was a certain statue: a giant chicken attached - for decades - to the exterior of a former restaurant that was famous for chicken dinners. 
While the local celebrity is no longer watching over this building, Alebird pays homage to it in many ways, including in the design of the brewery's logo.
"When we were purchasing the building, the plan was that it would remain here, so when we were coming up with the name and logo, the chicken statue was a big part of that," says Harris. "Unfortunately, the chicken was sold prior to us taking ownership, but as the building was often referred to as 'The Chicken,' we wanted to honor the history while at the same time being new and different."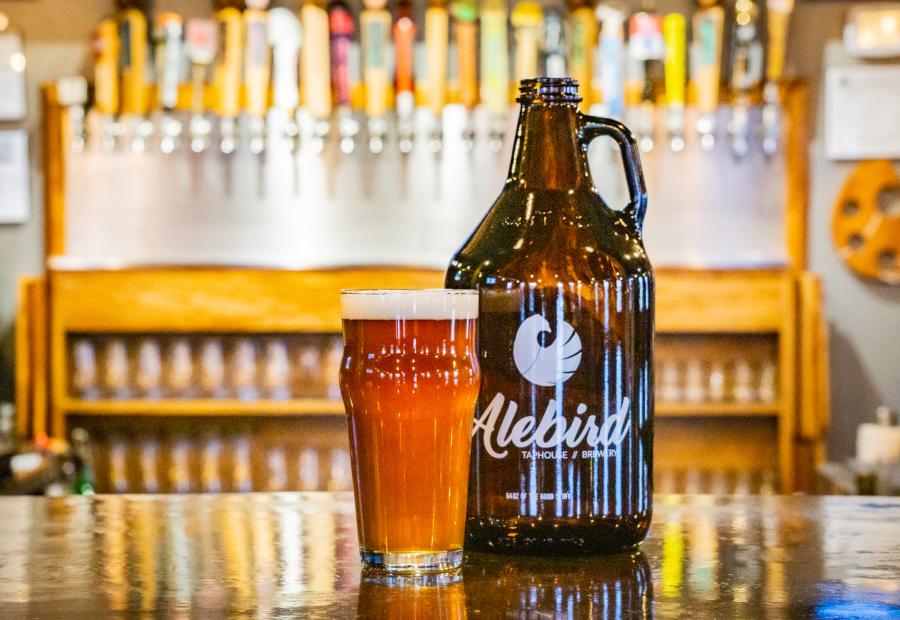 Alebird has 24 beers on top, including its flagship Railbird Pale Ale.
Photo by Brian Craig for Experience Grand Rapids
24 Beers on Tap
At Alebird, creating a community around craft beer isn't just about creating its own brews. It's also about supporting the greater craft beer community.
That's why Alebird always has 24 beers on tap — a combination of the taphouse's homebrews and beer crafted by other breweries. 
"Deciding to be a taphouse meant we couldn't distribute our own beer, but for us, it felt worth it," says Harris. "We love supporting other breweries by having their beer on tap and sending people to them." While you can't find Alebird's beer anywhere else, they still serve their own brews on site every day. 
Alebird's head brewer, Tshecomah Fisher, says he approaches brewing with the goal of creating great mainstay styles with a "good old fashioned twist."
"I like to think way outside the box to try things that, hopefully, haven't been tried before," says Fisher. "There really is no limit to how creative you can be. We try to have at least two unique beers on tap at all times."
Alebird's flagship beer is the Railbird Pale Ale, an American Pale Ale with a malt flavor that finishes with a light citrus fruitiness. Fisher says his favorite beers are the Firebox Amber and the I Am Brōōt IPA.
"The I Am Brōōt IPA has been consistent since we opened, and it's probably one of my favorite beers we have as a mainstay," says Fisher. "The hops are what set it apart, in my opinion."
Fisher also plans to add seasonal beers and creations to the rotation. During Alebird's first summer after opening, Fisher concocted the popular Sorry I'm Bad At Pick Up Limes Keylime Milkshake IPA, which will always return in the warm season. 
Other summer features include Flight Floats — a flight of your choice of beers with a dollop of ice cream in each. You can also count on rotating stout flavors during the summer that include coffee, peanut butter, and s'mores.
If you don't prefer beer, Alebird has a variety of options for spirits, wine, and even coffee by Uncommon Coffee Roasters in Saugatuck.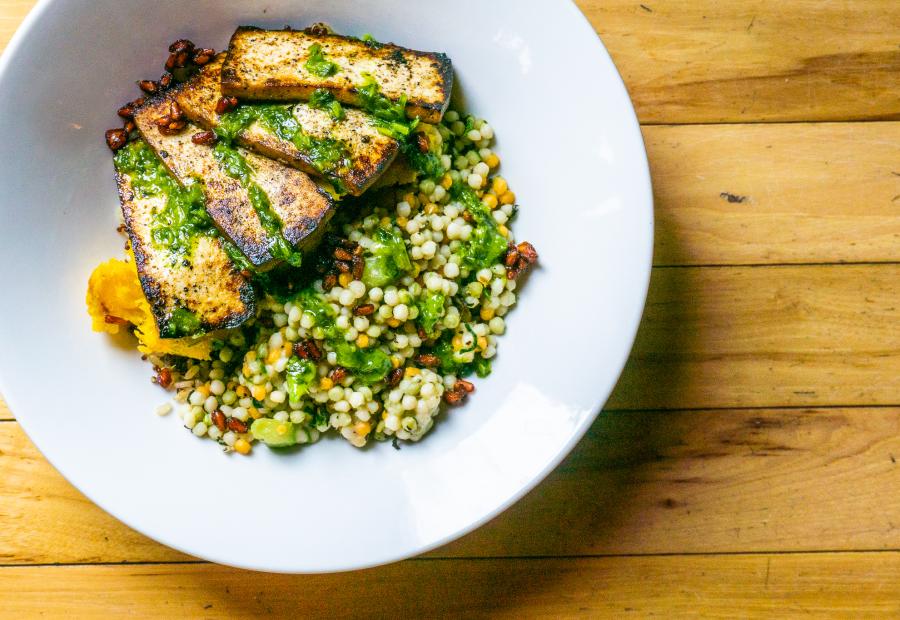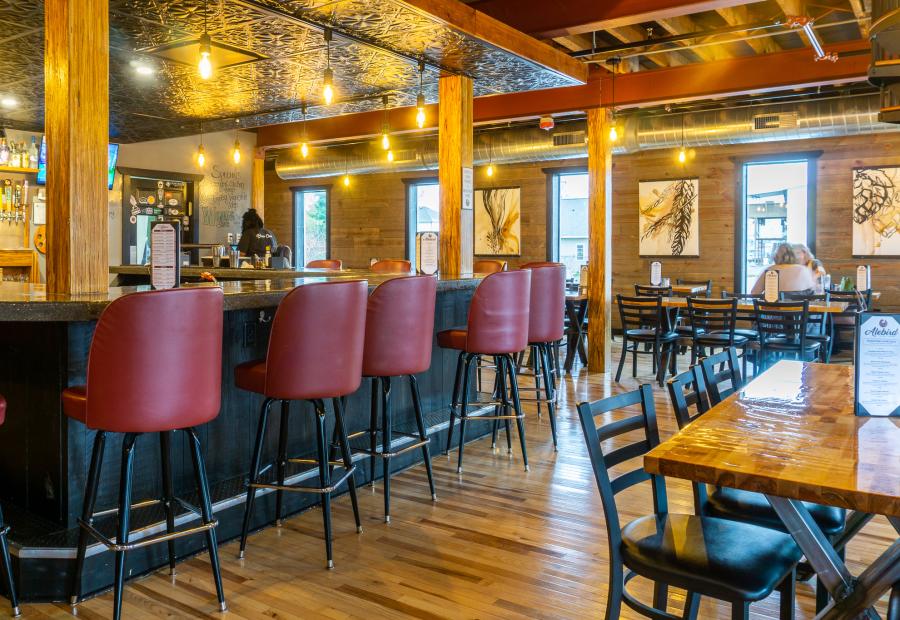 "Fresh, seasonal, and ever-changing" are the concepts behind Alebird's food menu.
Photo by Brian Craig for Experience Grand Rapids
Live to Eat
Head Chef Reagan Freeman describes her culinary approach to Alebird's menu with three concepts: fresh, seasonal, and ever-changing. 
"Using ingredients that are in season, local, and sustainable is very important to my approach," says Freeman. "We are surrounded by so many farms and small family businesses that provide us with beef and bison, bread, handcrafted items, and produce that's grown within a few miles from our door. It doesn't get any better than that."
When designing the Alebird menu, Freeman's goal was to put guests in their happy places.
"I was aiming for comfort food with a dash of upscale and a heavy pinch of gastro pub influence," Freeman explains. "I wanted to keep things familiar but still push the boundaries of what people expect from brewery food."
On Alebird's menu, you'll find crowd-favorites like the Wisconsin Cheese Curds and Fire Bird sandwich, as well as sides, wraps, and burgers like the MI Craft Beef Burger.
"I don't like to brag, but [the cheese curds] are pretty awesome because they're hand-battered to order with a coating that's light and crispy and made with our Railbird Pale Ale," says Freeman. "Our Fire Bird chicken sammie is another item that's been carried over since the beginning and some people even dare to compare it to a particular fast-food chain's famous sandwich."
And that's just the lunch menu. During dinner hours, the menu expands to include additional appetizers like the Goat Cheese & Fig platter (Freeman's personal favorite) and entrees like the Drunken Swine pork ribeye. Other house specialty menu items worth trying are the Smoked Salmon Board (maple-orange smoked salmon) and the Tagliatelle (housemade pasta with butternut squash sauce). Plus, you'll want to leave room for desserts like the S'mores Cookie Sammie and Coconut Panna Cotta.
"The lunch menu is abbreviated to allow us to get folks a great lunch fast and let them get back on their way. We also have a bigger variety of sammies and wraps to make lunch a bit more portable if you're really in a hurry," says Freeman. "The dinner menu is designed so that people can slow down and enjoy a meal with some great brews and friends."
Alebird is also joining the many other local eateries striving to offer delicious meals and desserts for all dietary restrictions and preferences. The brewery's menu offers many vegan, vegetarian, and gluten-free options.
"We use real ingredients, sticking to scratch-made whenever possible, and taking an outside-of-the-box approach to how the dish is adjusted to a vegan lifestyle," says Freeman. "Most of the time, you can't even tell that it's anything other than the classic."
No matter what you order, Freeman says you'll be satisfied because everything from the Alebird kitchen is made from scratch.
"Does it take a little longer to get your meal? Sure, but the extra 10 minutes will bring food to your table that you want to linger over and savor," says Freeman. "It's my greatest hope that people will experience our menu and remember why we should live to eat, not the other way around."
It's my greatest hope that people will experience our menu and remember why we should live to eat, not the other way around.
 Reagan Freeman, Head Chef at Alebird Taphouse and Brewery
Poses & Pints
During the summer months, Poses & Pints offers you the chance to get your flow on while enjoying craft beer on Alebird's outdoor patio. For $10, you get to join an hour-long yoga session paired with a refreshing pint of your choice.
The staff at Alebird are still developing a regular schedule of events that they hope will one day include trivia nights, wine and canvas events, stein nights, and more. Be sure to follow Alebird on Facebook, Instagram, and Twitter for updates.
Brewsader check-in
AleBird is a participating brewery in the Beer City Brewsader® app. Check in on your way to becoming a Brewsader, or further your quest to becoming an Ultimate Brewsader.
You only have to check in to eight breweries enrolled in the Brewsader program to earn a collectible t-shirt, and visiting 40 or more breweries will earn you the title of Ultimate Brewsader. 
Being an Ultimate Brewsader earns you Ultimate Brewsader status that grants you bragging rights, and deals and discounts around town.
Note: This story was originally written by Matthew Makowski and has been updated to be current.