"Where should I eat and drink?" "What's fun to do around town?" "Where do I park?"
These questions don't need to weigh you down when you're adventuring around Grand Rapids. Each question can be quickly and easily answered through numerous apps and other mobile technologies that aim to make your time in Grand Rapids as enjoyable as possible by alleviating the stresses of the unknown.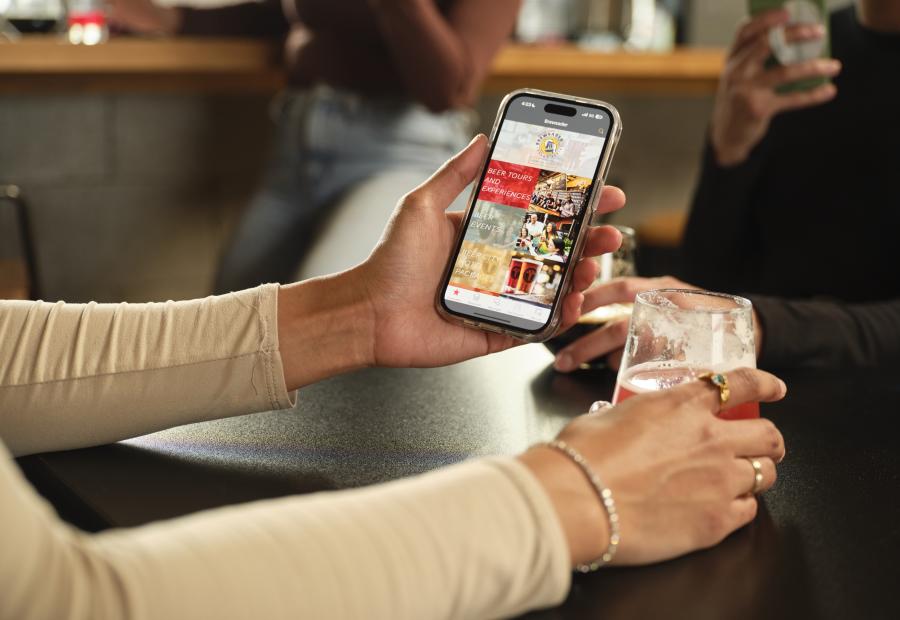 The Beer City Brewsader app lets you log your Brewsade across local Grand Rapids breweries.
Photo by Brian Kelly for Experience GR
Food & Drink Apps
Voted Beer City USA in national polls and named Best Beer City and Best Beer Scene and Best Beer Town by USA TODAY readers (along with numerous other brew accolades), Grand Rapids is the perfect place for your next beercation.
Beer City Brewsader
If you're already visiting and exploring Beer City USA, why not become an official Beer City Brewsader® in the process?
Becoming a Beer City Brewsader is simple: Download the Beer City Brewsader app, visit one of the 40+ participating local breweries, try one of the many thirst-quenching craft beers, and get your Beer City Brewsader Passport (digitally) stamped via the mobile app.
Collect eight stamps at eight different Beer City Brewsader breweries and you'll receive an exclusive t-shirt confirming your status as an official Brewsader. Collect at least 40 stamps and you'll earn the perks of an Ultimate Brewsader, including exclusive deals and discounts.
The app even makes it easy to find transportation, whether that's a beer tour guide or a designated driver.
The free Flights of Flavor digital pass grants you access to unique food and drink pairings at some of Grand Rapids' best restaurants and breweries.
Photo by Courtesy of Conadao Tacos
Flights of Flavor
Grand Rapids doesn't just do beer exceedingly well. It's also recognized as America's Craft Beverage Capital and Michigan's Best Food City. Flights of Flavor is a great way to sample some of our best beers, ciders, wines, spirits, cocktails, coffees, teas and food creations in one sitting, via unique drink flights, food flights and food & drink flights.
Get the Flights of Flavor digital pass – it's not an app, you don't have to download it – to locate participating restaurants, menus and prices. Use the pass to check in when you order a Flight and you'll earn points that can be redeemed for merchandise or directed to charity. The more Flights you try (and points you earn), the bigger the prizes.
Untappd
The Untappd app is another great way to find local bars, breweries and beers, aided by recommendations from other Untappd users. You can use the app to check in and rate beers, creating a running list for yourself and earning brag-worthy badges.
Review & Reservation Apps
You can check our Restaurants page for the most comprehensive list of Grand Rapids/Kent County restaurants, breweries, bars and other foodservice establishments. But if you want to know what other diners think of local restaurants, consult the Yelp app. The Yelp Waitlist function lets you view the live wait time of participating restaurants and get in line remotely.
Other local restaurants use such apps as OpenTable, Resy and Tock to accept reservations.
Delivery Apps
Alternatively, a cozy night indoors with food delivered to your doorstep or hotel lobby is a great option as well. Download UberEats, GrubHub, Postmates or DoorDash if you'd like to sample some of the finest cuisine in Grand Rapids from the comfort of your couch or hotel room.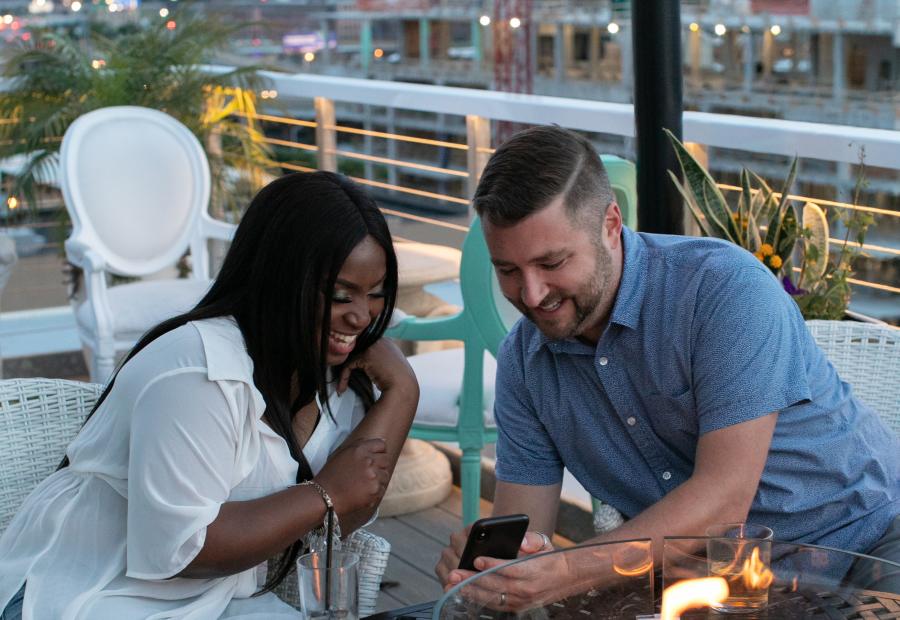 Mobile apps are a convenient way to navigate all that Grand Rapids has to offer!
Photo by Experience Grand Rapids
Experiential Apps
Looking to experience all that Grand Rapids has to offer? Access these mobile technologies to get the city's full experience:
Culture Pass GR
Like Flights of Flavor, Culture Pass GR is a pass, not an app – and like Flights of Flavor, it's an easy and convenient way to sample some of GR's best. In this case, it's some of the city's largest cultural attractions, which you can visit at a greatly reduced price when you purchase Culture Pass GR.
With the pass, you'll receive free admission to some of the region's most sought-after attractions like the Grand Rapids Art Museum, Grand Rapids Public Museum, Gerald R. Ford Presidential Museum and Grand Rapids African American Museum & Archives. Plus, you'll enjoy exclusive discounts to other cultural events and activities around the city. 
You'll have three days to redeem all the Culture Pass GR perks you want to once you start using it. Just show the pass on your smartphone to an attendant or staff member at each attraction you visit.
Miscellaneous Apps
There are also various seasonal or limited-run experiences throughout the year in Grand Rapids that have apps that are beneficial to download to take your visit to the next level. With apps for Van Andel Arena, DeVos Performance Hall, DeVos Place, the Grand Rapids Griffins, Broadway Grand Rapids, Celebration! Cinema, Gun Lake Casino and Michigan's Adventure Amusement Park and Waterpark, you can easily view upcoming events and activities, and purchase your tickets in the palm of your hand. You can find these apps on both Google Play and the Apple App Store.
The Kulture City app is an excellent resource for families with sensory challenges. Download it to discover the best way to take advantage of sensory-friendly features at Blandford Nature Center, the Grand Rapids Public Museum and John Ball Zoo. The Public Museum encourages visitors who are blind or have low vision to download the Aira app, a verbal description service that connects visitors to remote agents who will guide them through the Museum.
Get the GR Walks app to access walking tours of Grand Rapids organized around specific themes and neighborhoods. You'll get maps, photos, GPS and audio to accompany your journeys. The Grand Rapids SmartGuide app offers a 60-minute audio tour of downtown GR that highlights 30 points of interest.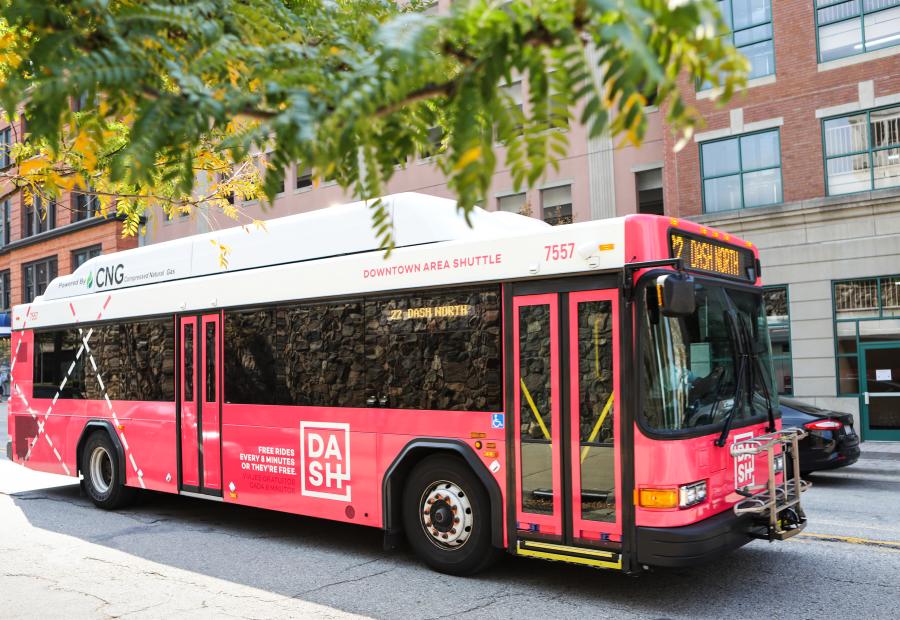 The Transit and myStop Mobile apps help make navigating the city on the DASH even easier.
Photo by Experience Grand Rapids
Parking & Transportation Apps
There are useful transportation apps that are perfect for those who prefer alternative methods of transportation to cruise around Grand Rapids. If you are driving, there are apps to help cover your parking, so you won't get a ticket.
Air Transportation
The Gerald R. Ford International Airport – recognized as North America's easiest airport to travel through – makes your journey even more stress-free with an app that gives you real-time flight departure and arrival information, updates on parking availability, and even security wait times. Available for iOS and Android, the app can also connect with ground transportation options at the airport.
Bus Transportation
Travel on Grand Rapids' award-winning Rapid bus system is made even more convenient by downloading the myStop® Mobile, Transit or Moovit app. Download them from the Apple App Store or Google Play, and you'll be able to plan your trip and track buses in real time.
Scooter & Bike Transportation
Download the Lime app to rent standing e-scooters and seated e-assist bikes throughout a 12- square mile area of Grand Rapids, including downtown. These environmentally friendly options are a fun and affordable way to see more of the city.
Rideshare
Of course, both Uber and Lyft have a presence in Grand Rapids if you'd like to have someone else handle navigating the city to get you from point A to point B.
Parking
Motu is the official parking app for the City of Grand Rapids. Motu is a free app that's available for Android and Apple devices through the respective app stores by searching "Motu Grand Rapids."
It can be used at all city parking meters and with the app, drivers can pay for on street and offstreet parking where Motu signage is present. Users can also extend time left on their meter, receive notifications when their meter is nearing expiration, view payment history, and receive email receipts.
For private, off-street parking at select downtown facilities and venues, drivers can use the ParkMobile app.
Use any or all of these apps to app-reciate your Grand Rapids adventure even more!