Heading to the bowling center (or alley, as it's often called) is a great activity to enjoy with family and friends both young and old. Throw in some good food, drinks, friendly competition and of course, the shoes, and it's easy to see why it's a fan favorite.
Check out this list of local spots to play 10-pin and have a few laughs.
AMF Eastbrook Lanes
Bowling is just one of the reasons to visit this alley across the street from Woodland Mall. You can also hit the arcade, play a few rounds of billiards, watch the big game in the sports bar and chow down on a high-quality meal.
AMF Eastbrook Lanes offers 60 lanes situated across three playing areas, plush laneside seating, black lights and huge HD video walls that play everything from live spots and music videos to classic family films.
Roll in, have fun and save a ton on $2.99 Tuesdays – $2.99 games of bowling, $2.99 tacos and $2.99 drink specials from 6 p.m.-10 p.m.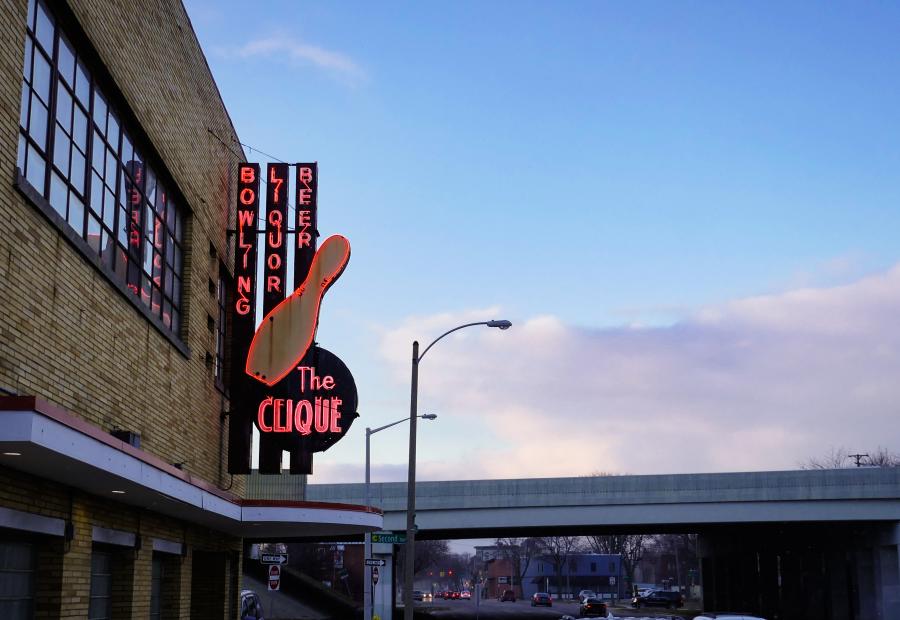 The Clique, commonly referred to as Clique Lanes, has stood proudly on the west side in Grand Rapids for over 65 years.
Photo by Experience Grand Rapids
The Clique
Named one of the top 10 bowling centers in Michigan, Clique Lanes combines a retro 1950's feel with updated technology. The upper level of the 16-lane facility is available for rentals and the lower level hosts bowling leagues and open bowl in the evenings.
Clique proprietor Dennis Johnson says the center has "a bowling focus, plus you can get a drink and food."
Clique Lanes prides itself on excellent customer service: "We have some of the best staff around," asserts Johnson. "Our employees know regular customers' names and they take the extra time to help first-time bowlers get the right shoes and find the best bowling ball for them."
Visit Clique Lanes on the city's West Side Monday through Thursday nights to bowl three games with shoe rental for only $8.
Fairlanes Family Entertainment Center
Fairlanes features 44 lanes, a large bar, billiards, an arcade, a full-service pro shop and even volleyball courts (in spring and summer) – no wonder it's a long-time favorite for residents of Grandville and other southwest suburbs.
Lights and Strikes Glow Bowling every Friday and Saturday offers three hours of unlimited bowling for only $16 per person – and that includes shoe rental. Crazy 8 Sundays entitle you to two hours of unlimited bowling and shoes for just $8 (and you can add a one-topping pizza and pitcher of domestic beer for $8 each).
Fairlanes has open lanes every day of the week, so drop in whenever the mood strikes you.
The Fowling Warehouse
Like football? Like bowling? Now you can play both at the same time! Fowling is a combination of the two sports, requiring players to throw footballs at bowling pins that are placed on a board. Teams face each other over a distance and players need to knock down all ten of their opponent's pins before their opponents do it first.
Located in Cascade, 15 minutes southeast of downtown Grand Rapids, The Fowling Warehouse is the only place in West Michigan to play this fast-rising sport. The facility features 30 Fowling lanes, two 45-foot bars, beer garden seating and two Mystery Beer Machine™ vending systems.
The Warehouse is open Tuesday-Saturday and offers unlimited open play for $12 per person. You can also reserve a lane in advance for up to ten people for two hours.
Northfield Lanes
Grand Rapids' North Quarter is the setting for this historic bowling center, which offers 16 lanes, billiards tables and a sports bar with big-screen TVs and patio seating.
For many years, Northfield Lanes was co-owned by Marion Ladewig, a Grand Rapids native who was named Female Bowler of the Year by the Bowling Writers Association of America a record nine times between 1940 and 1963. That may be why they take bowling so seriously – it's a great place to learn and/or hone your skills.
Northfield is open every day of the week and offers very affordable pricing, including some great weekly specials after 9 p.m. Monday-Thursday.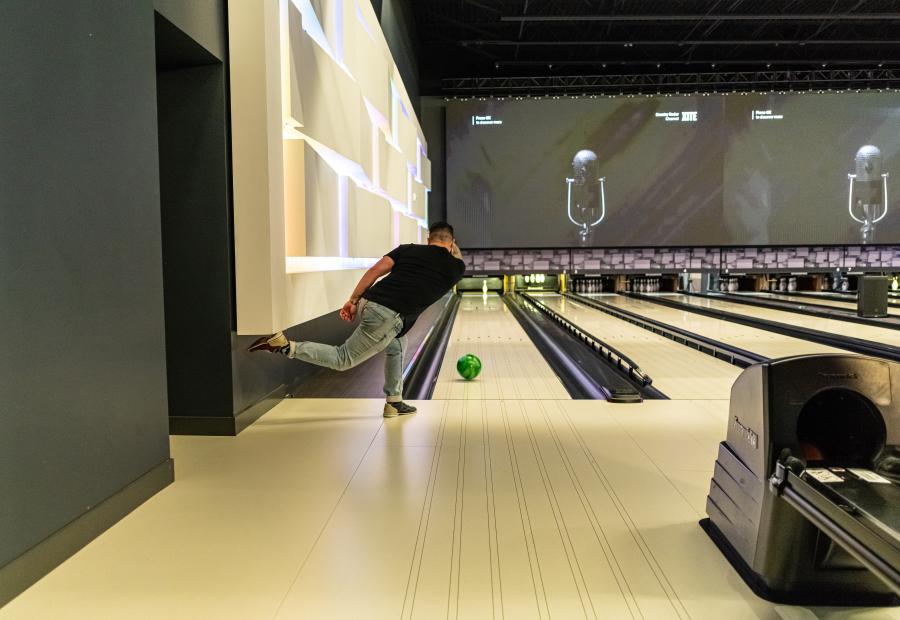 Going in for a strike at Spectrum Lanes.
Photo by Experience Grand Rapids
Spectrum Entertainment Complex
Spectrum goes beyond bowling with a full bar and restaurant, live entertainment, 280-person banquet facility, arcade and even golf. But boy, is the bowling good – with 40 lanes featuring the newest automatic scoring system, automatic bumpers and 12 state-of-the art lanes of boutique bowling with private bar.
Spectrum Entertainment Complex is located in Wyoming and is open seven days a week. Whether you're there to bowl, play games or just enjoy a good meal, Spectrum won't disappoint.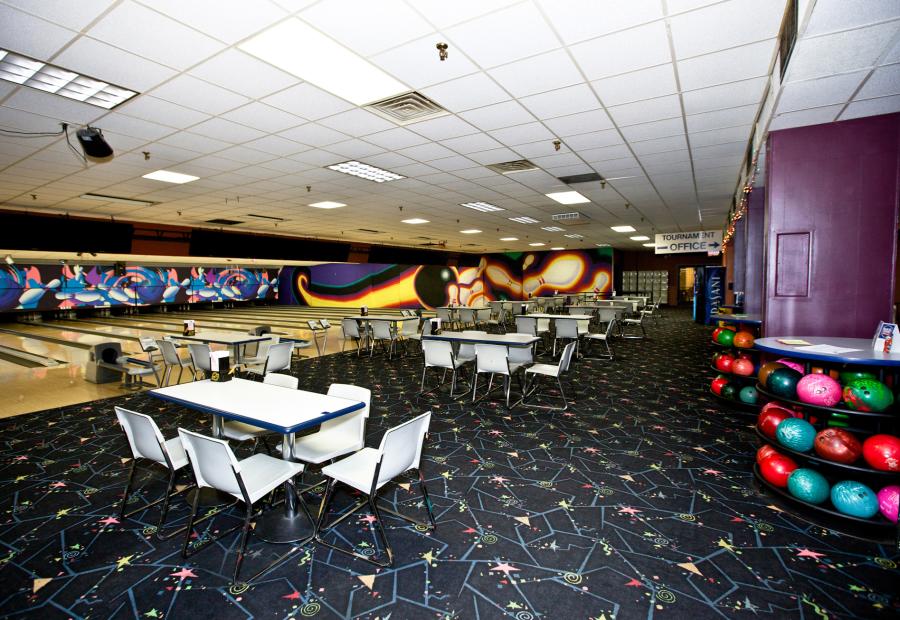 Westgate Bowling Center offers more than just bowling.
Photo by Experience Grand Rapids
Westgate Bowling Center
Westgate Bowling Center in Comstock Park is more than just a bowling facility. In addition to 60 bowling lanes, Westgate offers two full bars, a snack bar, billiards tables, banquet space, a pro shop and an arcade room with games for all ages.
"Bowling is a fabulous sport, where anyone is able to participate," says Jena Kehoe, general manager for Westgate Bowling Center. "Here at Westgate, we have 'dragon' ramps for smaller children as well as higher ramps for people with disabilities." The center supplies bowling balls ranging from six-to-16 pounds for players of all skill levels.
Westgate hosts Cosmic Bowling every Friday and Saturday from 9:30 p.m.-2 a.m., where you can bowl under black lights to the sound of great rock and roll music.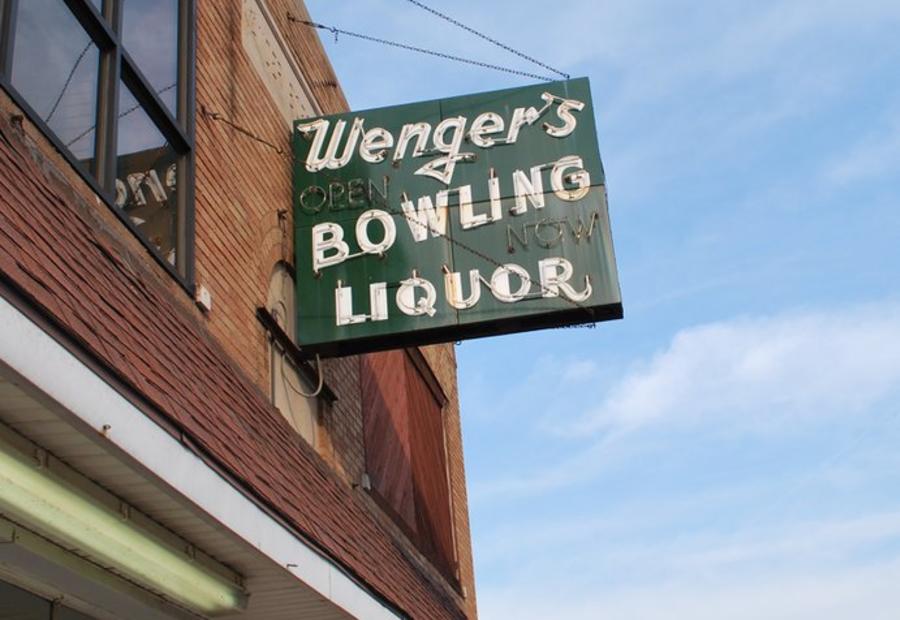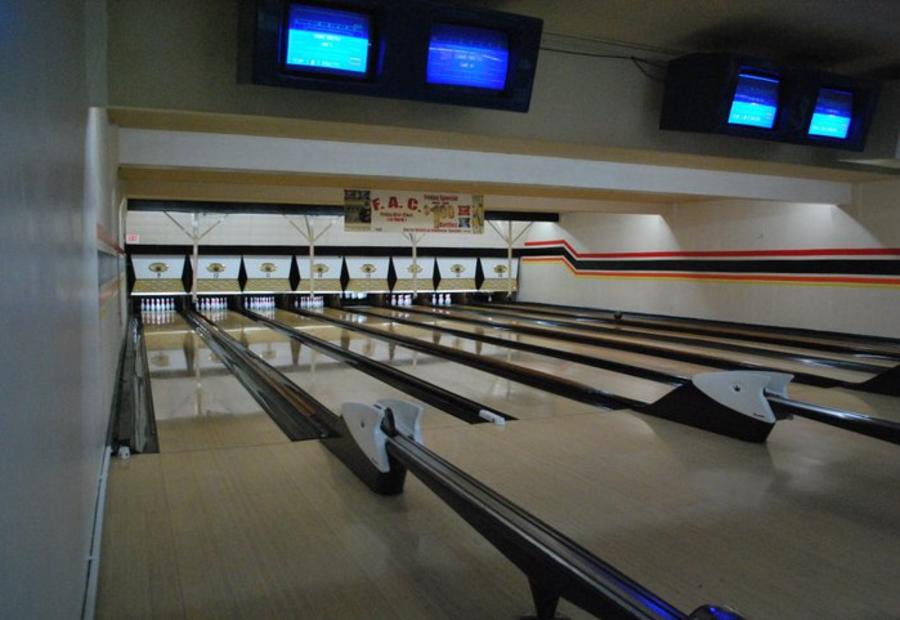 The second floor of Wenger's Bowling features 8-lanes and is perfect for private parties.
Wenger's Bowling
A Grand Rapids tradition since 1932, Wenger's Bowling on Leonard Avenue gives off a fantastic retro feel from the moment you walk in the door. Wenger's offers 16 lanes of bowling split between two floors and is the only local center with "old school" above-ground bowling ball returns.
"My dad, Ed Ladwig, grew up down the street and spent a lot of his time working and learning the game of bowling, and he eventually bought Wenger's Bowling," says owner Tyler Ladwig, who continues to operate the center as a place for the West Side community to come together and have fun.
Weekly bowling specials at Wenger's include Thirsty Thursday (5 p.m.-11 p.m.) and Sunday Funday (2 p.m.-9 p.m.).
Other Local Bowling Spots
If you're still looking for more bowling centers to try, the list goes on. Park Center Lanes in Wyoming offers a kid-friendly bowling experience complete with an ice cream shop. Paragon Bowling Center and Sports Bar, also in Wyoming, is more adult-oriented and includes a dance floor. The live comedy shows at Rockford Lanes & Gutter's Sports Lounge will have you rolling in the alleys. Hudsonville Lanes offers a free $10 open bowling certificate on its website. Sparta Lanes has as many fans for its Garden Patch restaurant as for its bowling.
Grab friends and family, head to one of these local bowling centers and start making memories!