The Downtown Area Shuttle, or DASH, is a system of bright pink buses connecting key downtown Grand Rapids locations and parking lots. DASH provides visitors and residents a convenient way to travel to and from downtown attractions, restaurants, shops, entertainment venues and community spaces. And get this – it's totally FREE to ride!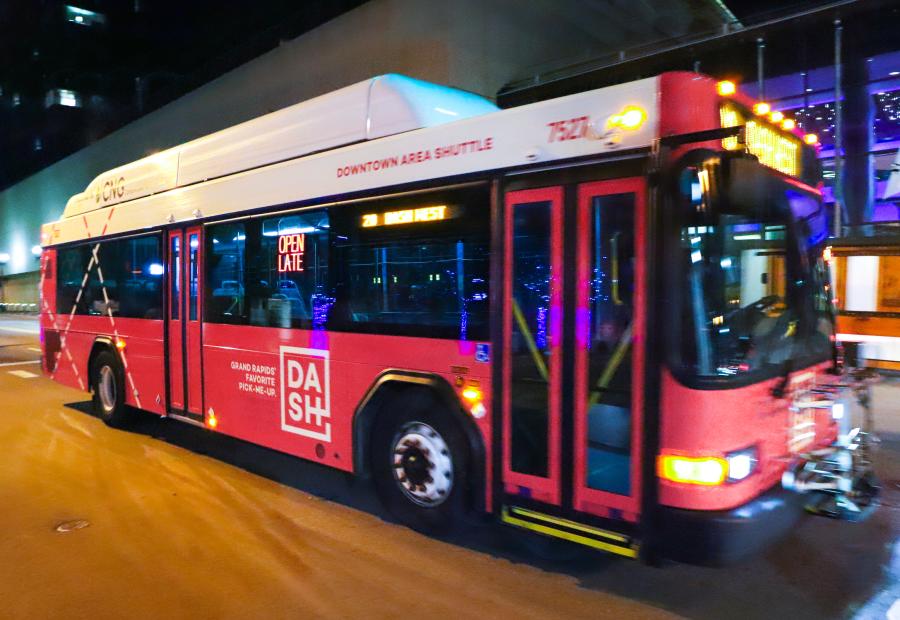 DASH buses are easily identifiable thanks to their bright pink design.
Photo by Experience Grand Rapids
Hours of operation with live updates
All stops along the DASH route are visited every 15 minutes, so you don't have to wait long for a ride. No tickets or passes are needed, making boarding quick and easy. Buses travel both clockwise and counterclockwise around downtown, so make sure you're on the correct side of the street for your destination. 
Current operational hours for the DASH route are:
• Wednesday through Friday, 7:00 AM to Midnight
• Saturday, 11:00 AM to 1:00 AM
• Sunday, 11:00 AM to 5:00 PM
You can get real-time DASH departure times on the Transit and MyStop mobile apps available for Android and iOS.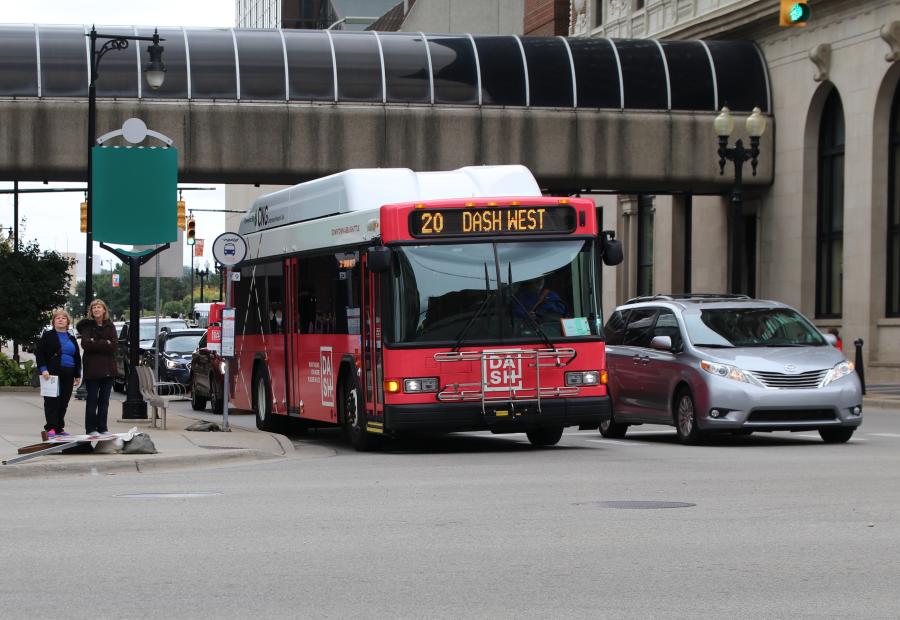 Fact: All stops along the DASH route are visited every 15 minutes.
Photo by Experience Grand Rapids
Offering convenience throughout downtown
The DASH route services all the key areas of downtown, including the convention neighborhood, Heartside, North Monroe and the near West Side. There are tons of destinations within a five-minute walk of each stop, making it an easy way to get around.
You can ride your bike to any of the DASH stops and use the DASH bike rack to transport it to your destination. If you're driving, you can park your car at a nearby DASH parking lot. There's a bus stop at each lot, so just hop on the DASH there and go where you want to go. 
In addition to being convenient, the DASH is an incredibly accessible mode of transportation: all DASH buses are wheelchair accessible and air-conditioned. Strollers and guide dogs/companion animals are allowed as well.
You can find more details, from how-to-ride instructions to parking locations and prices, at the DASH website.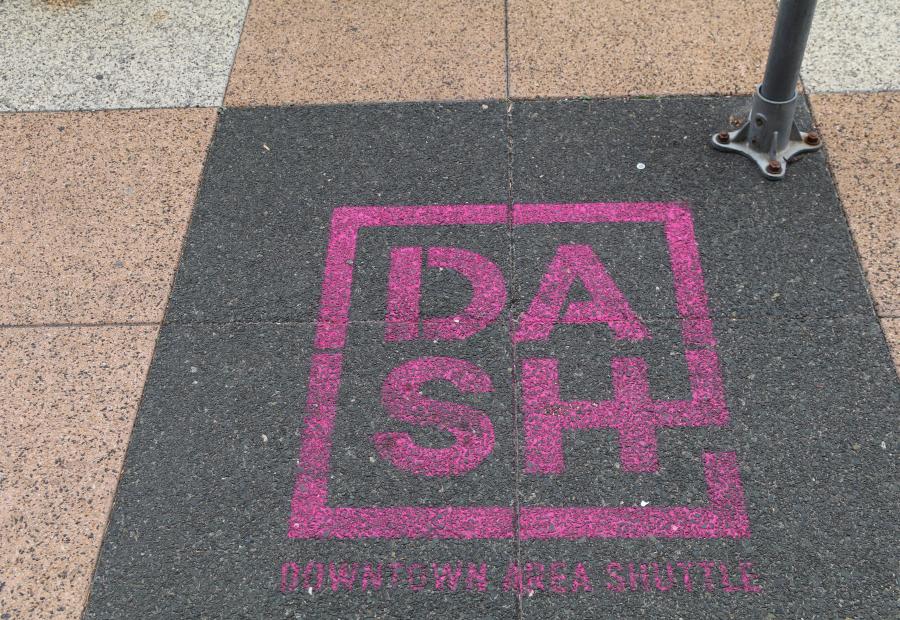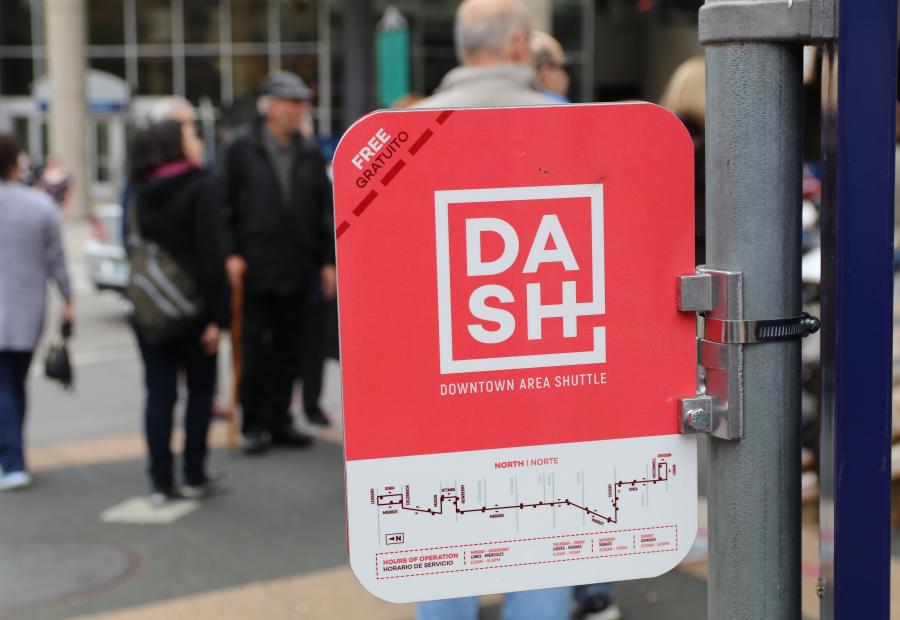 DASH markers on the sidewalk along with signs help riders find designated stops.
Photo by Experience Grand Rapids
Here are a few ideas to get you started:
The DASH bus driver will need to be signaled that you'd like to make a stop. To do that, just pull the cord above your seat when you're about a block away from your stop to let the driver know your stop is coming up. If you're not sure where your stop is, talk to your bus driver when you board and they will assist you.
Museums
DASH brings you within steps of the many museums downtown. It's a quick walk from the Museum District stop (just east of US 131) to visit the Grand Rapids Public Museum and the Gerald R. Ford Presidential Museum.
The Ottawa stop brings you steps away from the Grand Rapids Art Museum and the Grand Rapids African American Museum & Archives. If you want to visit the Grand Rapids Children's Museum, get off at the Main Library stop just around the corner.
Theatres and Concert Venues
Take the DASH to your next event at one of Grand Rapids' many downtown venues. The Ottawa stop is steps away from GLC Live at 20 Monroe, the Arena stop at Weston/Ionia is around the corner from the entrance to Van Andel Arena and a block or so from The Pyramid Scheme, and the Government Center stop is right across the street from DeVos Performance Hall and DeVos Place Convention Center. Government Center is also convenient to Calder Plaza and, of course, City Hall. 
To get to the Grand Rapids Civic Theater, take the Main Library stop, which also puts you within a quick walk of Actors' Theater Grand Rapids. If you're in the mood for laughs, get off at the Ottawa stop to visit Dr. Grin's Comedy Club in the B.O.B. or the Leonard Street stop to see shows at The Comedy Project.
Family Fun
Riding the DASH bus is an exciting adventure for kids. Make your family outing even more fun by riding the DASH to your destination. In addition to museums and venues, riders can access the Grand Rapids Public Library by hopping off the DASH bus at the Main Library stop.
Or, to visit Rosa Parks Circle with the family, you'll want to exit the bus at the conveniently named Rosa Parks Circle stop. Other parks on the DASH line include Canal Street Park (at the Canal Park stop), the Downtown Skate Park (Skate Park stop), Sixth Street Bridge Park  (Riverwalk stop) and Ah-Nab-Awen Park (Museum District stop).
Hotels
The DASH also runs along several popular Grand Rapids hotels, allowing visitors to get around the city without having to drive. If you're headed to the Amway Grand Plaza, the JW Marriott or the Courtyard by Marriott hop off the DASH bus at the Rosa Parks Circle stop. Exit the DASH bus at the Museum District stop to access the Holiday Inn. If you're heading to CityFlatsHotel, get off at the Ottawa stop.
The AC Hotel and Residence Inn by Marriott are easily accessible from the Ottawa stop, while Homewood Suites by Hilton and Hyatt Place are a block or two from the Rosa Parks Circle stop. The Riverwalk stop brings you right to Embassy Suites (in the North Monroe District).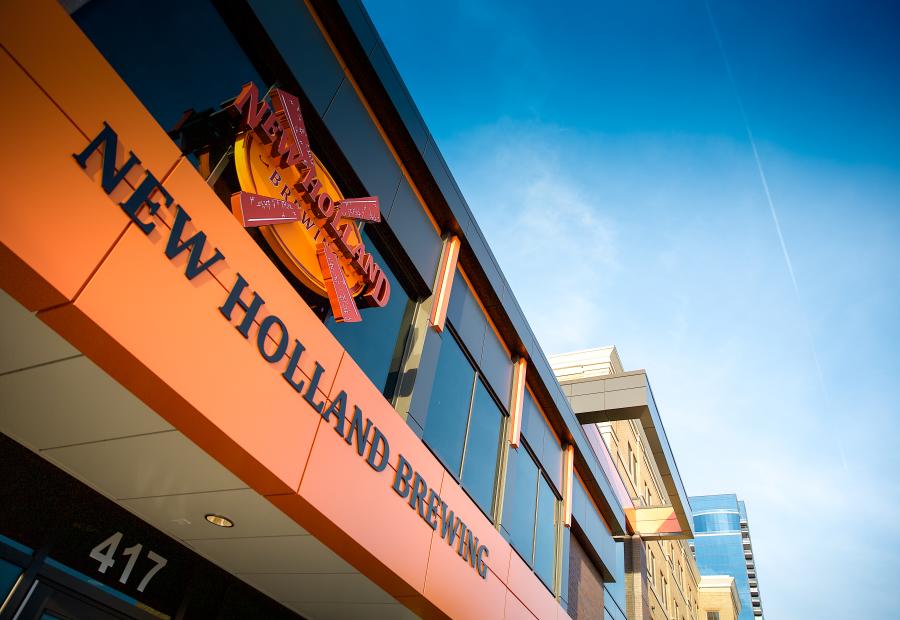 The DASH brings riders within reach of dozens of restaurants all over Grand Rapids.
Photo by Terry Johnston
Food & Dining
There are more than 150 restaurants, breweries, bars, coffeehouses and sweets shops downtown, virtually all of them within a quick walk of one or more DASH stops.
The Bridge Street stop is just around the corner from the Bridge Street Entertainment District, which includes four breweries (Broad Leaf Brewery + Spirits - Westside, Jolly Pumpkin Pizzeria and Brewery, Küsterer Brauhaus and New Holland Brewing - The Knickerbocker), two Mexican restaurants (Condado Tacos and El Sombrero), two Italian restaurants (Fratelli's Pizza and Fratelli's Kitchen and Bar), two American restaurants (Butcher's Union and One Bourbon), a burger joint (Nonla Burger), a sushi place (Maru Sushi), a breakfast/brunch destination (Morning Belle West Side), a cocktail room (Drip Drop) and more, all within the space of a few blocks.
The Rosa Parks Circle stop brings you to a hub of exceptional cuisine. You're just steps away from The Kitchen by Wolfgang Puck  and MDRD, both of which are located in the Amway Grand Plaza. Margaux, a French bistro inside the JW Marriott; Reserve Wine & Food, specializing in farm-to-fork fare; The Chop House, a classic steakhouse; and Roam by San Chez, a global street food concept, are also nearby. You're also close to the restaurants of Monroe Center, including sweet-tooth favorites like Kilwin's Chocolates & Ice Cream, Le Macaron French Pastries and Sweet Yo's.
The Arena and Arena South stops have a lot to offer as well, from the cozy ambiance of Lantern Coffee Bar and Lounge  to the tropical theme of Max's South Seas Hideaway. Other must-try restaurants located nearby include Luna (hip, modern Mexican fare) Peppino's (pizza and Italian foods) and Stella's Lounge (amazing stuffed burgers).
The McConnell-Ionia stop brings you to the doorstep of the Grand Rapids Downtown Market, home to 20+ restaurants and gourmet stores. Hop off at Rapid Central Station to visit Founders Brewing Co., the area's largest and most awarded brewery. The Weston stop is your connection to great finds like Stan's Tacos  and Bistro Bella Vita . Or stop by Social House Kitchen and Bar  for a mouth-watering menu and an unmatched list of beer, cocktails, wine and more.
The 7th Street stop is steps from two great coffee shops, Ferris Coffee & Nut Co. and Roots Brew Shop. If you're thirsty, the Leonard Street stop provides quick access to The People's Cider Co., Long Road Distillers and The Mitten Brewing Company.
Get off at the Canal Park stop to try another great brewery, City Built Brewing Company, as well the Grand Rapids Garage Bar & Grill, Linear Restaurant and Brickyard Tavern. Take either of the next two stops south, Riverwalk or Skate Park, to explore Big E's (a sports grill), Noodlepig (specializing in ramen dishes) and the Prohibition-inspired SpeakEZ Lounge.
To find even more restaurants along the DASH route, you can use the Restaurant Search menu, and customize your search by adding the "downtown" filter.
No matter what's on your itinerary for your day in downtown Grand Rapids, the DASH can get you there!