Grand Rapids was recently named one of America's Top 20 Foodie Cities – and one of the best places to get a taste of our deliciously diverse food scene is the Grand Rapids Downtown Market. 
Shop for specialty products. Dine on artisan cuisine. Take a cooking class. Attend a community event. Get married in a lush greenhouse, host a corporate meeting in a light-filled banquet room, even jump-start your business in an incubator kitchen. The Grand Rapids Downtown Market offers all sorts of ways to come together for food, fellowship and fun!
Shop the Market Hall
Walk-in the front door of the Market and you're greeted with the sights, sounds and aromas of a busy culinary collective – including butchers, bakers, fishmongers, chocolatiers, coffee roasters and other artisan vendors. Pick up the ingredients for tonight's meal, from cooking oils and spices to fine cuts of meat and fish to carefully curated wines and craft sodas. Or save yourself some time and pick up a meal to go. Don't forget dessert – you'll be tempted by fresh-made ice cream, chocolates, gourmet popcorn and French pastries.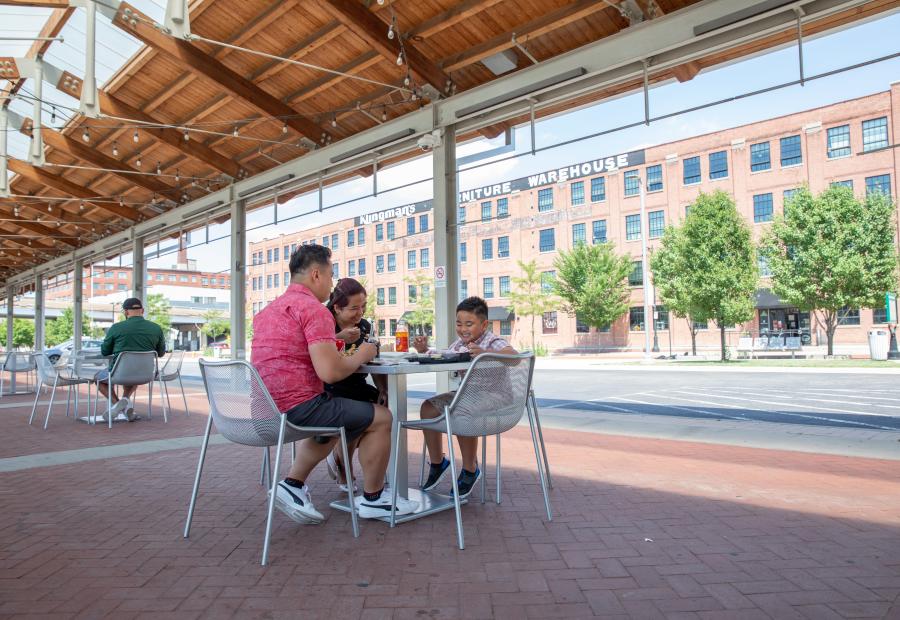 Enjoy dining inside or outside at the Grand Rapids Downtown Market.
Photo by Experience Grand Rapids
Dine-In or Carry Out
The Market is also a popular dining destination, thanks to on-site restaurants serving American, Asian, Hispanic and Mediterranean cuisines. Barbecued ribs and buttermilk fried chicken. Pho noodle soup and kimchi fried rice. Gyros and falafels, tacos and tortas, cheese and charcuterie, pizza and poke. Every member of your family or group can find something to love – and you can all gather together to enjoy your choices in the Market's public dining spaces, indoors and out. (Individual eateries also have their own dining spaces.) Restaurants are happy to package your meals to go ­­­– and many offer delivery, too.
Learn, Share & Celebrate
Culinary classes and workshops are conducted in the Market's second-floor teaching kitchen. Classes are currently held virtually due to the pandemic but other pre-pandemic staples – including events like a vintage and handmade marketplace and a cars & coffee show – are starting to pop up on the schedule again. Check the Market Calendar for upcoming classes and events.
Host a Wedding or Event
Looking for a unique and memorable venue for a special occasion? The Market more than fits the bill. Hold your wedding ceremony in a lush, plant-filled greenhouse or garden room, then have your reception in a banquet room with floor-to-ceiling windows, hardwood floors and outdoor terraces. These spaces, along with the Market's state-of-the-art meeting rooms, are also great for corporate conferences, networking events, holiday parties and more. Get all the details and start planning here.
photo by Michael Murphy IV Photography

Must
Read

7 min
Choosing a wedding venue can be one of the toughest parts of wedding planning. Luckily, Grand Rapids is home to a wealth of distinctive wedding venues all offering something a little different. From…
Accessible and Eco-Friendly
The Grand Rapids Downtown Market is accessible to wheelchair users and seeing- and hearing-impaired visitors. It's a 15-minute stroll from DeVos Place Convention Center , and it's a stop on downtown's free DASH and Silver Line buses. It's open seven days a week. And it's the first LEED-certified market in the country – so you can feel good about the food and the facility.