Tired of kids having all the fun? We have solutions for you! There are a growing number of attractions around Grand Rapids where you can have some good, old-fashioned fun. 
Some of these attractions are family-friendly places where you don't need a kid's birthday party as an excuse to have fun, but most are intended for adults (those ages 18 and older). Here are some of our favorites.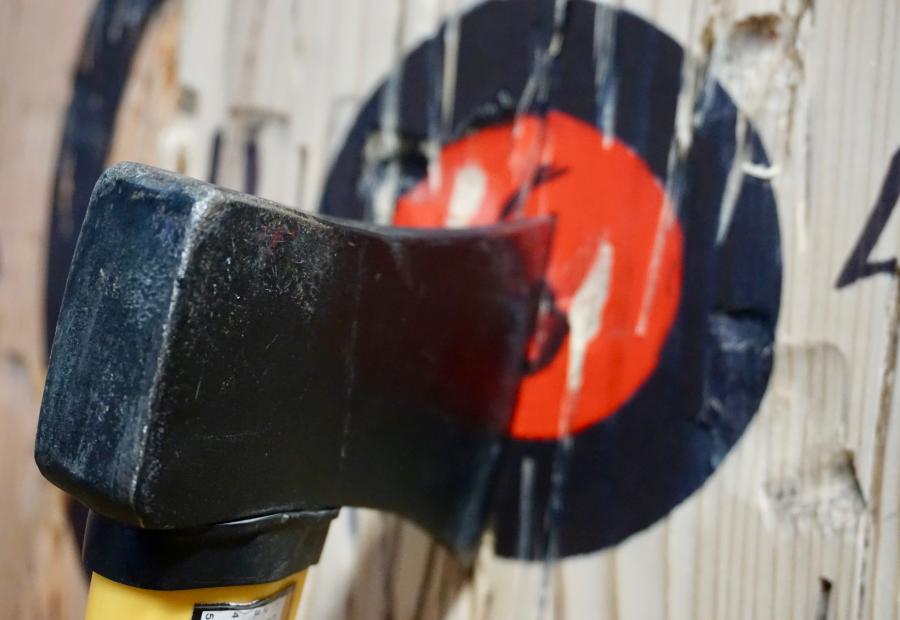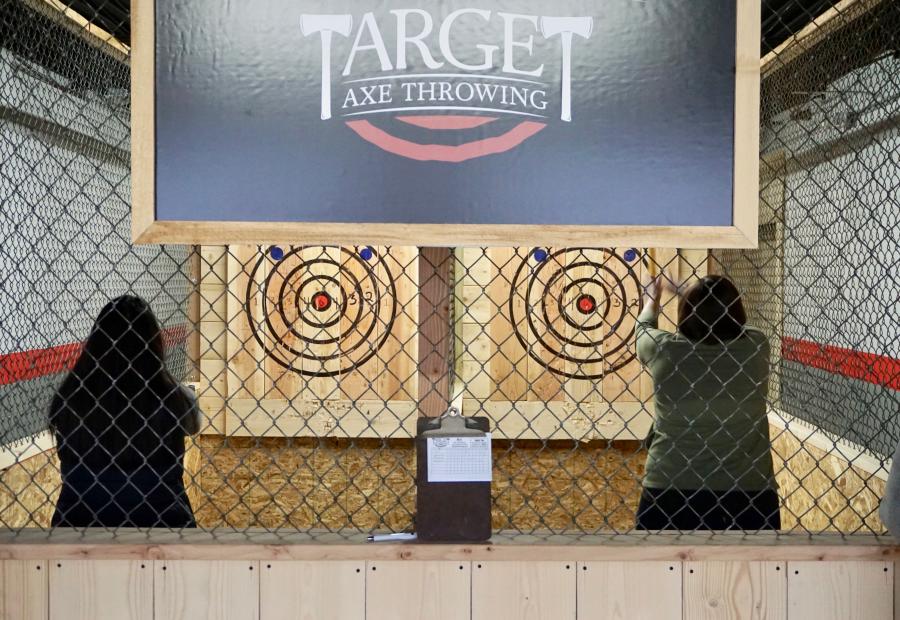 Target Axe provides everything you need, including helpful tips, to make your first axe-throwing experience great.
Photo by Brian Craig for Experience Grand Rapids
Axe Throwing
Yes, you read that right. Target Axe Throwing is an axe-throwing range in Grand Rapids. If you aren't a lumberjack or have never thrown an axe, the well-trained staff is available to give you tips and tricks to make your first experience a successful one. 
To keep everyone safe, the range is open to those 18+ and 14+ accompanied by an adult. All players must wear closed-toed, flat shoes. There is also a zero-tolerance alcohol policy because, you know, axes. Walk-in throwers are welcome, but making a reservation is the best way to ensure you and your friends are able to play. 
Target Axe Throwing provides everything you'll need to participate, but feel free to bring your own throwing axe.
Interested? Also check out FlannelJax's Grand Rapids location. These two places have different rules and requirements, so be sure to read their FAQs closely. 
Break Room Therapy
Do you ever find yourself just wanting to break something? Break Room Therapy provides a safe environment that allows you to release your emotions physically without any repercussions. Forget screaming into a pillow; scream at the top of your lungs! Swing a bat to a set of dishes, and you'll feel your anger melt away. 
Reservations are recommended. Once you arrive, you can pick out your smashing object of choice, such as a baseball bat or hammer, put on your safety gear, and get smashing. 
Participants must either be over the age of 18 or aged 13+ with a parent/guardian who will be staying on the premises during the session. As you can imagine, closed-toe shoes are required, and anyone suspected of being intoxicated will have to sit out.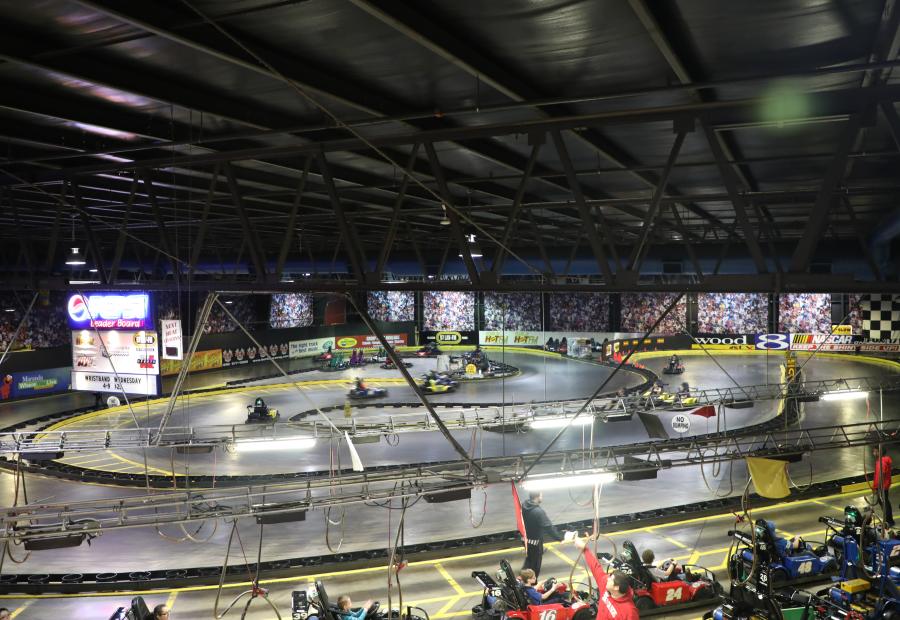 With go karts, an arcade, and laser tag, Craig's Cruisers has many options to enjoy.
Photo by Photo courtesy of Craig's Cruisers. Photography by Chad Ronald.
Craig's Cruisers
If you're looking for something fun to do any time of year, look no further than Craig's Cruisers. This Michigan-based business is the largest family fun center in Michigan and provides entertainment for all ages. 
Adults can step back into their youth with a full arcade, laser tag (more on that later), go-karts, and, of course, bumper cars. Make time to enjoy the ropes course and trampoline park. When you're finished, plan to eat at the buffet, which features pizza, pasta, salad, and desserts.
Fowling Warehouse
Fowling Warehouse is the only place in West Michigan to get in on the fun of playing the original pin game that combines football and bowling. Described as a competitive yet friendly sport, the goal is to knock down all 10 of your opponent's pins with a football before they knock down yours. Play on one of the 30 football bowling lanes by yourself, in teams of two, or grab a group and set up some tournament play. 
The Fowling Warehouse offers more than 150 types of beer along with liquor, wine, and non-alcoholic beverages. Bring your own food or order in from nearby restaurants while you're playing. After 6 PM is for those 21 and older, while from noon – 6 PM, those 10 and older are allowed to play. Open play is $10 per person, or you can call to schedule your group.
Trampoline Parks
As adults, it can be easy to forget how fun it is to move like a kid. You'll remember quickly when you visit Rebounderz Trampoline Park. 
Get some serious air when you slam-dunk on the face-to-face 4 Lane Basketball Slam, where you can challenge your friends to a dunk contest on the adjustable height rims. Or play In-The-Air-Dodgeball as you "Dodge, Duck, Dip, and Dive" off the walls and beds of the trampolines. It's the game you always wished it was when you were younger! 
Remember to save time for the bounce pillow, Jumpxtreme tower, Ninja Warrior Course, and the human foosball court. And if you work up an appetite, there's also a cafe where you can find snacks and refreshments. Be sure to check out the website for additional safety information and guidelines. 
Other trampoline parks to add to your list include Sky Zone and Altitude. Check them out and go have fun!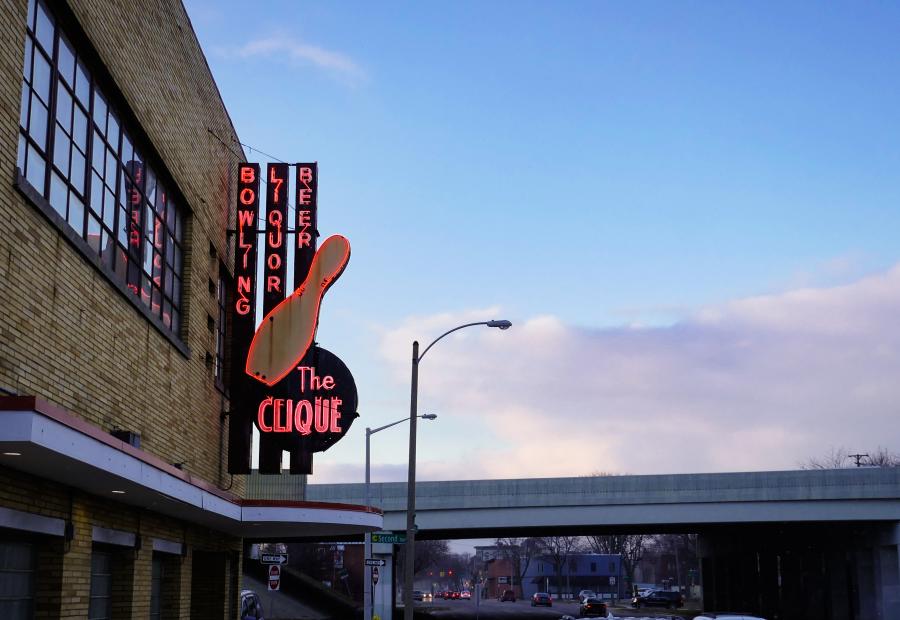 Clique Lanes, commonly referred to as The Clique, has been a Grand Rapids staple for more than 65 years.
Photo by Experience Grand Rapids
Bowling 
Named one of the top 10 bowling alleys in Michigan by MLive, Clique Lanes offers a unique two-floor layout and retro 1950's feel with updated technology. Featuring 16 bowling lanes, a full menu, and adult beverages, Clique Lanes is a great place to go and unwind. 
Rent out the upper floor with a large group or enjoy open bowling in the evenings. Open until 1 AM Thursday – Saturday and 12 AM every other night, it's a great place to start – or finish – a night out.  
Be sure to also check out Westgate Bowling Center, Wengers Bowling Center, or one of Grand Rapids' other fun bowling options.
Laser Tag
A good game of laser tag gets your heart pumping and your face smiling. And when you play with other adults, you don't have to worry about being "that person" tagging all the kids. When you're ready to rumble, call up BattleGR. Battle GR also offers mobile laser and archery tag at your location of choice. All you have to do is grab some competitors and show up. They do all the rest!
Be sure to check out laser tag at Craig's Cruisers and Rebounderz as well. 
Acting like a kid is good for the mind and the body. And with the variety of options available, there is definitely something for everyone to get out and enjoy!