For more than 125 years, John Ball Zoo has given Grand Rapids locals and visitors of all ages the experience to learn more about animals from around the world. The zoo is home to over 2,400 animals representing representing 220+ species. It hosts a variety of unique events and one-of-a-kind visitor opportunities throughout the year, and offers sensory-friendly programs to make sure everyone can enjoy the zoo experience. 
As an accredited organization with the Association of Zoos and Aquariums (AZA), John Ball Zoo also participates in a species survival plan and contributes to field conservation efforts, both here at home and across the globe.
Red pandas, also known as lesser pandas, are listed as endangered species by the International Union for Conservation of Nature. The IUCN estimates that there are fewer than 2,500 adult red pandas in the wild.
John Ball Zoo acquired Wyatt, a male red panda, from the Bronx Zoo in 2017, as part of its effort to help save animal species from extinction. A female named Wasabi joined Wyatt in 2019, and the pair became first-time parents – of triplets! – in 2020. The three girl cubs were eventually relocated to a zoo in Tennessee as part of the AZA's Species Survival Plan.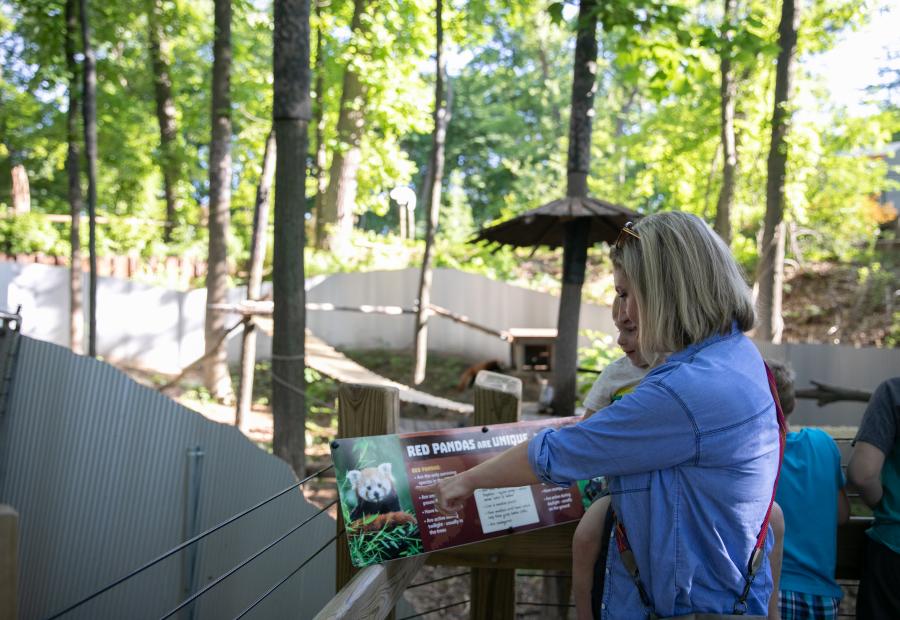 Visit the red pandas on International Red Panda day and any time you visit the zoo.
Photo by Experience Grand Rapids
International Red Panda Day
International Red Panda Day is observed on the third Saturday of September every year, and it's a perfect opportunity to stop by the zoo and say hi to Wyatt and Wasabi. Their habitat is constructed so you can see the animals whether they are inside or outside. Don't worry if we experience an early fall chill, red pandas are native to the Himalayas and enjoy cold weather.
You can wish the couple a special congratulations this year because they've just become parents for the second time. Wasabi gave birth to a male and female cub on July 11, 2023. Follow the zoo on social media to find out when the young ones will be ready for public viewing – likely in October – and get video updates of their progress.
The new birth puts a halt to the Zoo's Red Panda Encounter, which lets you step inside their habitat and feed them out of your hand. Stay tuned to see if/when it will return next season. In the meantime, you can a take a Guided Red Panda and Meerkat Tour when the Zoo is closed for the season (Nov. 20, 2023 - March 2024). A Zoo educator will guide you along the 45-minute tour and answer all your questions.
There are also off-season tours focused on the Zoo's North America and Aquarium exhibits, and National Treasures and Chimpanzees. Registration for all three tours opens November 1, 2023. Check the Zoo website for prices and policies.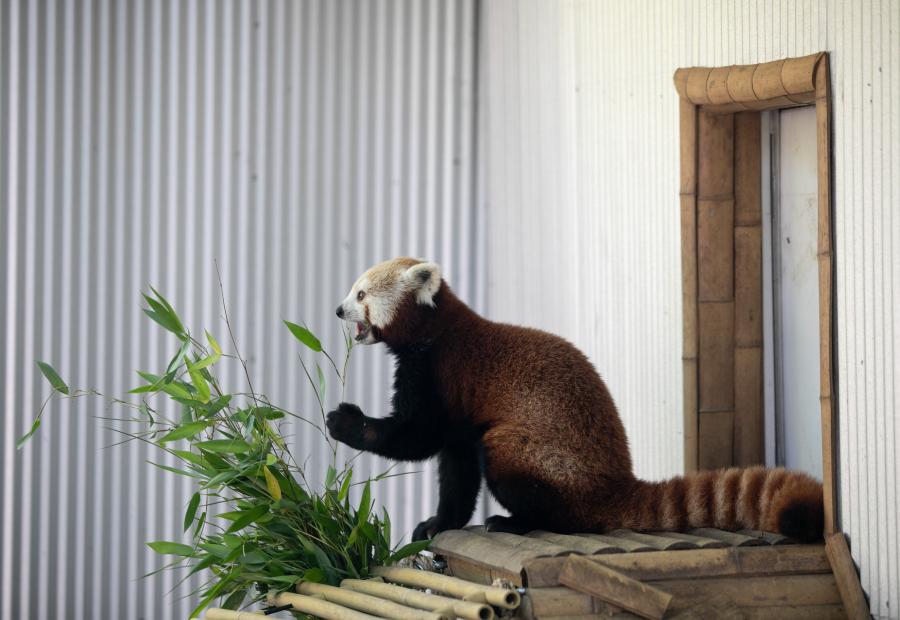 Fun fact: red pandas have an extended bone like a "thumb" to help them grip and strip bamboo stalks.
Photo by Experience Grand Rapids
More fun facts about red pandas:
Genetically speaking, red pandas are more like the skunks and raccoons we might find in Michigan, than the giant pandas they live within the wild. 
Red pandas are usually quiet, but when they do make a noise, it sounds like squeals, twitters, and huff-quacks. 
Their mostly white faces have reddish "tear tracks" that extend from their eyes to the corner of their mouths and might help keep the sun out of their eyes. They look like natural sunglasses!
Red pandas are excellent climbers and spend most of their lives in trees. They use these to escape predators and to sunbathe in the winter.
They have an extended bone that is like a "thumb" to help them grip and strip bamboo stalks. Since bamboo can be up to 95% of their diet, it's quite helpful.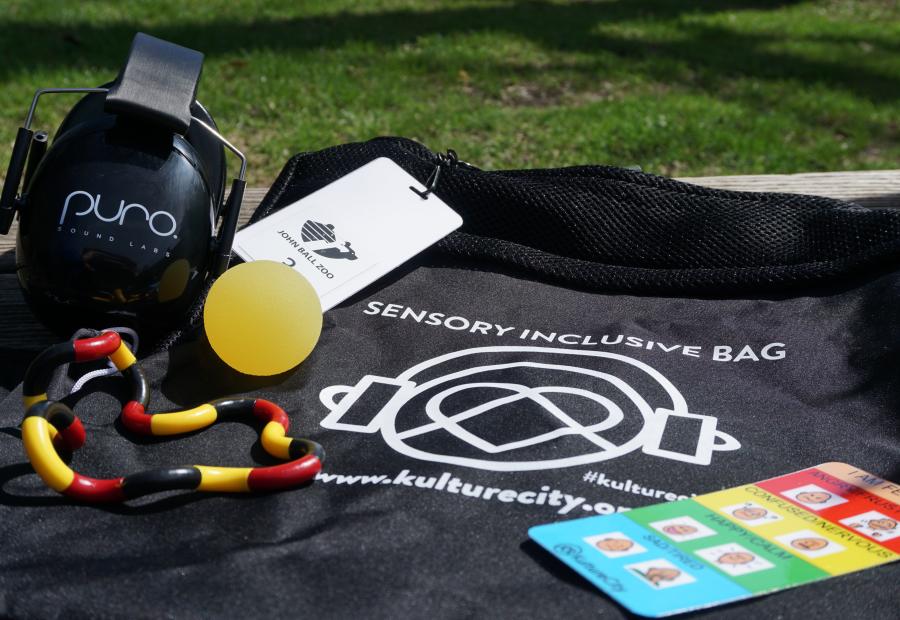 Sensory bags come with helpful items like noise-canceling headphones, feelings cards, and fidget toys.
Photo by Brian Craig for Experience Grand Rapids
Sensory-Friendly Experiences
To help ensure all can enjoy their experience, John Ball Zoo offers sensory bags through its Sensory Inclusion Program. The sensory bags include noise-canceling headphones, lap pads, fidget toys, and a feelings card. 
The zoo has also marked "Headphone Zones" in the budgie aviary, aquarium, Natural Treasures building, and the chimpanzee indoor viewing area where the crowds and noise could be triggers. Quiet Areas are marked as well and located at the Waterfall Trail, Forest Realm trail, chimpanzee viewing tunnel, and between the North American porcupine and Canada lynx habitats.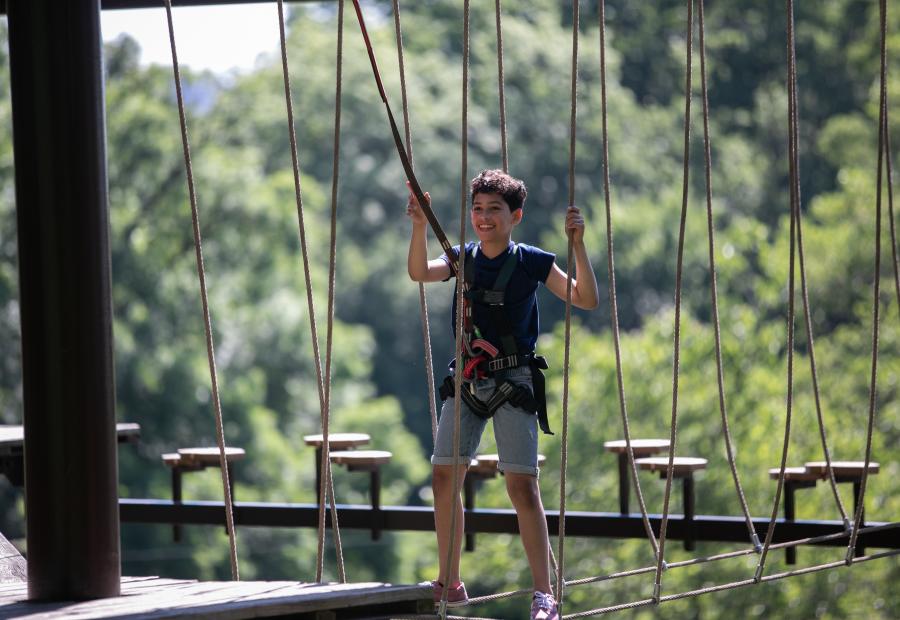 In addition to visiting the animals, the zoo offers many other experiences, like the Sky Trail Ropes Course.
Photo by Experience Grand Rapids
Events and Experiences
While the Red Panda Encounter isn't available the rest of this year, there are still limited openings for Penguin Feedings, Penguin Encounters and Brown Bear Encounters before the Zoo closes for the season. Guided "Under the Sea" and "African Savannah" tours, which give you a sneak peek at behind-the-scenes habitats, are more plentiful. See the Zoo's Behind the Scenes page for pricing and registration.
Upcoming special events include Meerkat Mania (Sep. 2-4), with animal programs, live entertainment and storytimes, and Monarch Day (Sep. 9), featuring butterfly releases and live-action Disney characters. STEAM Day (Sep. 23) offers fun, educational experiences to get guests of all ages excited about science, technology, engineering, art and math. And Zoo Goes Boo! (Oct. 20-29) is the Zoo's annual Halloween bash, complete with trick-or-treat stations, amazing animals, twisted decorations, magicians, jugglers and more.
You don't have to wait for a special event to have a great time at the Zoo, of course. Take a ride up the funicular before heading to Tree Top Play Zone, or hit the zipline on your way to the Sky Trail Ropes Course. Pan for gems, ride a camel, feed birds from your hand in the Budgie aviary, explore a universally designed playground and/or enjoy a picnic in the park just outside the Zoo.
Just make sure you visit by November 19, because that's when John Ball Zoo closes for the 2023 season. Zoo staff will spend the next few months planning an exciting 2024 slate – including kid's summer camps, adult nights, special events and more. We'll update this page with details as soon as we know them!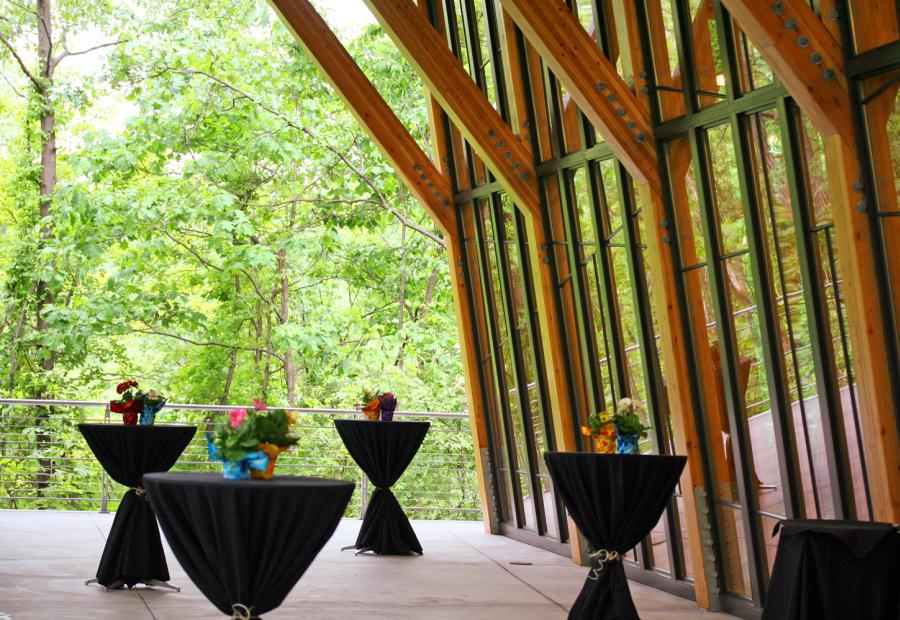 Bissell Tree House at John Ball Zoo can be rented out for business events, weddings, and more.
Photo by Experience Grand Rapids
John Ball Zoo is also a great space for corporate events and other special occasions including retirements, family reunions, and weddings.
Purchase a Culture Pass GR for discounts on admission rates to the zoo and other area cultural attractions.
This article was written by Amy Busse and has been updated by Experience Grand Rapids.
Get a 3-day savings pass to area attractions for $20! Purchase your Culture Pass now!