For more than 125 years, John Ball Zoo has given Grand Rapids locals and visitors of all ages the experience to learn more about animals from around the world. The zoo is home to over 2,000 animals representing more than 230 species. As an accredited organization with the Association of Zoos and Aquariums (AZA), John Ball Zoo also participates in a species survival plan and contributes to field conservation efforts.
With sensory-friendly programs, unique events, and one-of-a-kind visitor opportunities, John Ball Zoo truly offers something for everyone.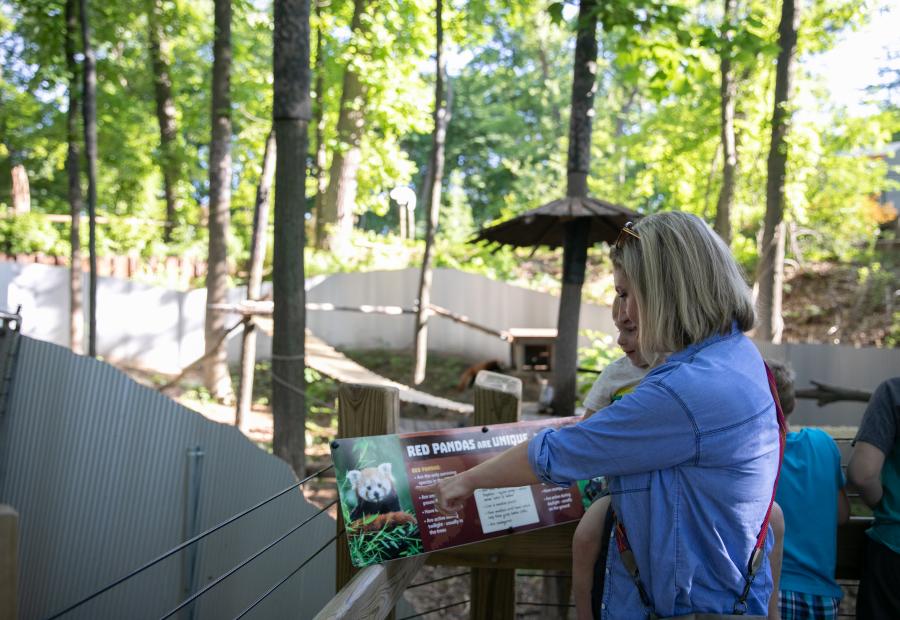 Visit the red pandas on International Red Panda day and any time you visit the zoo.
Photo by Experience Grand Rapids
Annual International Red Panda Day
While International Red Panda Day is on the third Saturday of September, this year the zoo will be celebrating its pair of red pandas, Wyatt and Wasabi, Saturday, September 25, with some special treats. Wasabi was born in 2016 and Wyatt was born in 2012.
Marketing Manager for John Ball Zoo, Darci David, says while red pandas are primarily solitary creatures, their habitat at the zoo is designed to allow visitors to see them whether they are inside or outside. "There are viewing areas for visitors to observe Wyatt and Wasabi outside on nice days as well as windows into the inside if they move indoors due to weather or other conditions." 
When asked Darci's favorite trait about these animals, she said it's their paws. "Unlike most animals whose paws are mostly just thick skin, red panda paws are covered in fur since they originate from the Himalayas and are cold tolerant."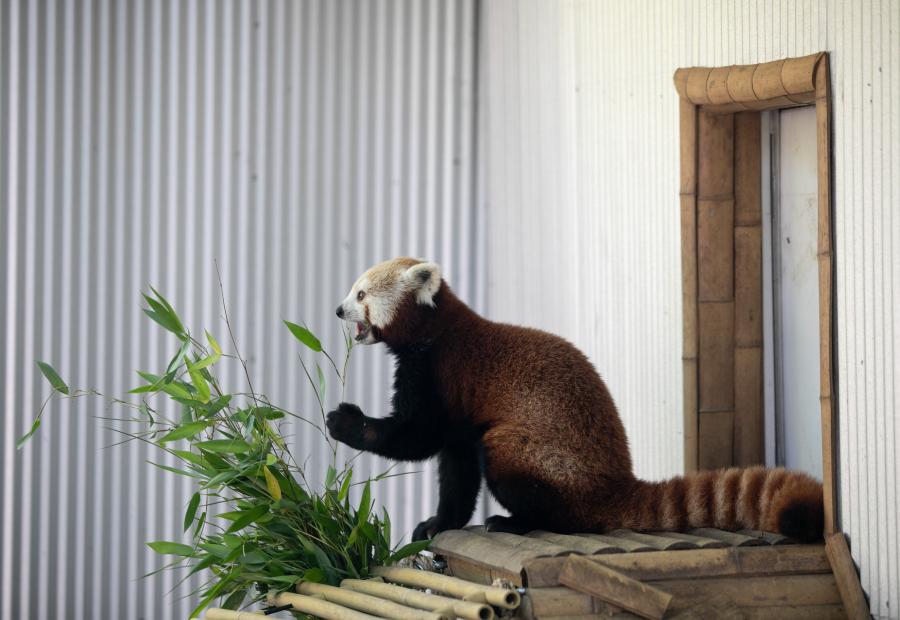 Fun fact: red pandas have an extended bone like a "thumb" to help them grip and strip bamboo stalks.
Photo by Experience Grand Rapids
Some other fun facts about red pandas include:
Genetically speaking, red pandas are more like the skunks and raccoons we might find in Michigan, than the giant pandas they live within the wild. 
Red pandas are usually quiet, but when they do make a noise, it sounds like squeals, twitters, and huff-quacks. 
Their mostly white faces have reddish "tear tracks" that extend from their eyes to the corner of their mouths and might help keep the sun out of their eyes. They look like natural sunglasses!
Red pandas are excellent climbers and spend most of their lives in trees. They use these to escape predators and to sunbathe in the winter.
They have an extended bone that is like a "thumb" to help them grip and strip bamboo stalks. Since bamboo can be up to 95% of their diet, it's quite helpful.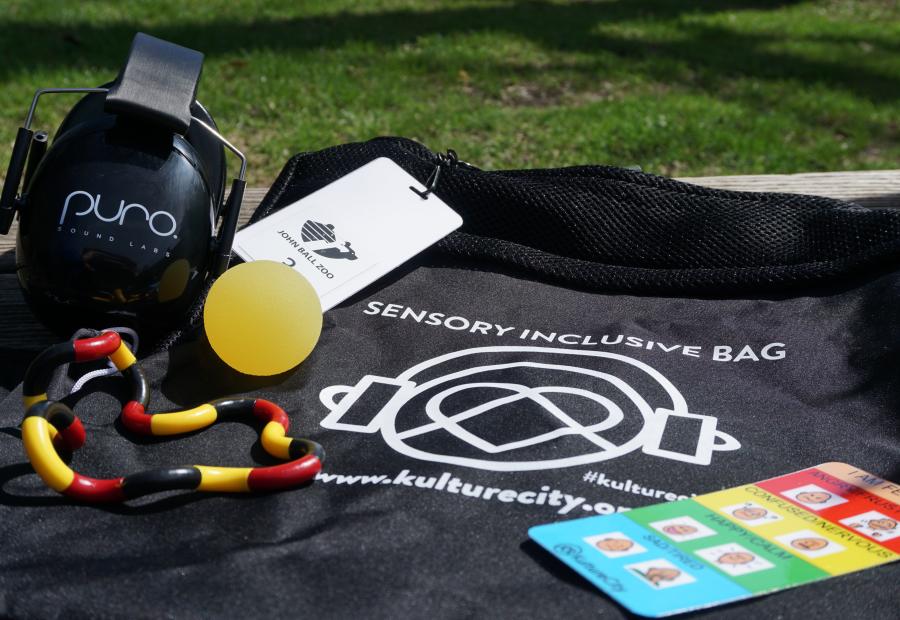 Sensory bags come with helpful items like noise-canceling headphones, feelings cards, and fidget toys.
Photo by Brian Craig for Experience Grand Rapids
Sensory-Friendly Experiences
To help ensure all can enjoy their experience, John Ball Zoo offers sensory bags through its Sensory Inclusion Program. The sensory bags include noise-canceling headphones, lap pads, fidget toys, and a feelings card. 
The zoo has also marked "Headphone Zones" in the budgie aviary, aquarium, Natural Treasures building, and the chimpanzee indoor viewing area where the crowds and noise could be triggers. Quiet Areas are marked as well and located at the Waterfall Trail, Forest Realm trail, chimpanzee viewing tunnel, and between the North American porcupine and Canada lynx habitats.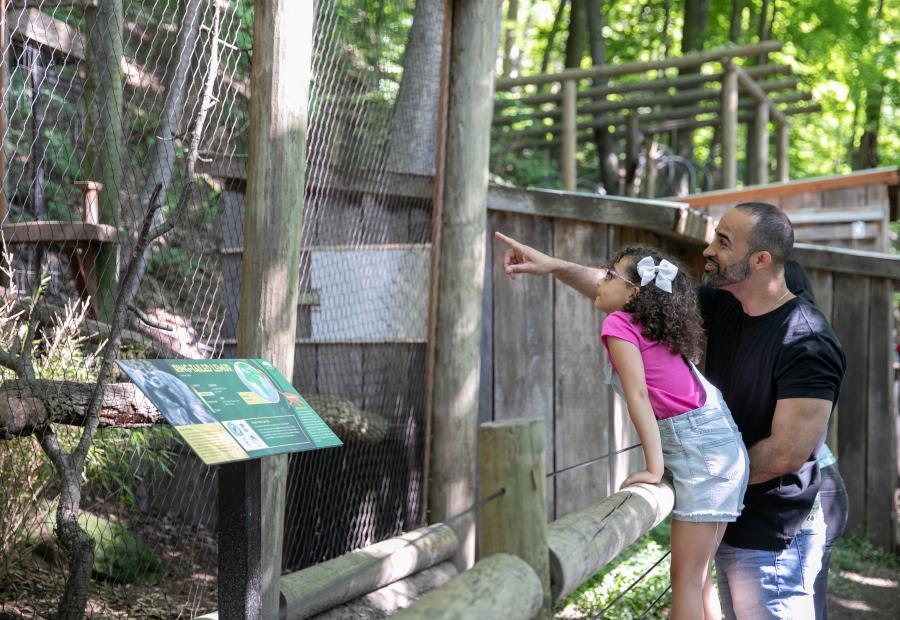 The zoo is home to more than 230 species of animals.
Photo by Experience Grand Rapids
New Animals at the Zoo
A pair of snowy owls, Zenon and Khione, recently landed at John Ball Zoo. They are located in the Forest Realm of the Zoo near the Amur tigers.
Lively and just plain cute, a wallaby joey joined was born this summer. Since mom and joey are doing well, zoo staff will continue to have them bond without interruption. Staff will find out whether the joey is a boy or girl during a planned upcoming examination.
Mylo, a male snow leopard, also joined the zoo family. He arrived from Toronto Zoo and was born in May 2017. Snow leopards are native to the steep, rocky mountains of Central Asia. To keep them warm, snow leopards have incredibly thick fur and extra-long tails. They have large, snowshoe-like feet and light-colored coats to navigate the snow undetected and with ease.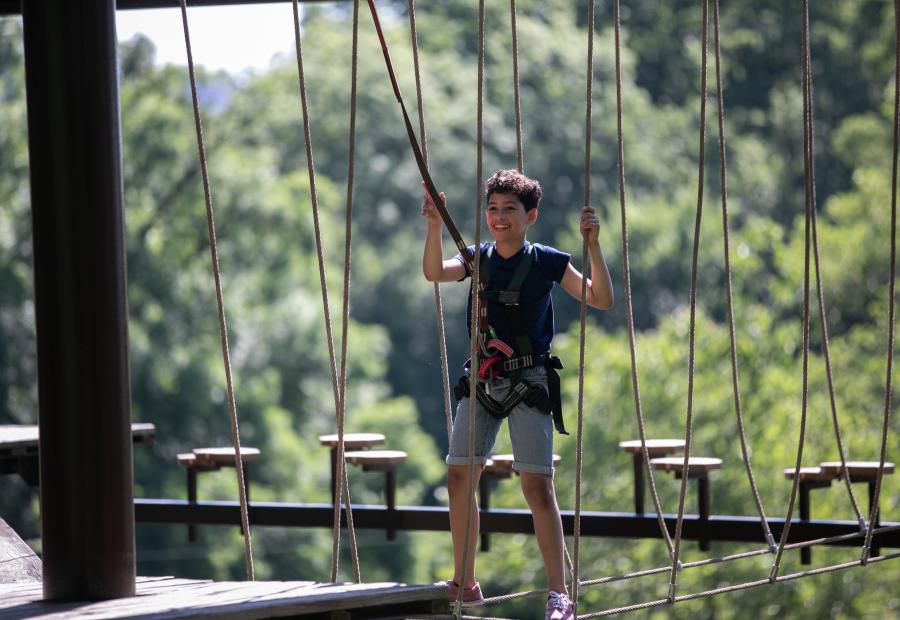 In addition to visiting the animals, the zoo offers many other experiences, like the Sky Trail Ropes Course.
Photo by Experience Grand Rapids
Events and Experiences
Get up close and personal with one of the incredible behind-the-scene encounters offered by the zoo. Feed brown bears or learn firsthand how zookeepers take care of the penguins. You can also work with one of the zookeepers to see where the animals live, and guests may even get the chance to hold some of them. Be sure to contact John Ball Zoo to book your reservation beforehand.
For additional adventures, consider taking a ride up the zoo's funicular before heading to Tree Top Play Zone, or hit the zipline on your way to Sky Trail Ropes Course.
Head to John Ball Zoo for a fun night out by attending Adult Night Out. Adults ages 21-years and older can enjoy the zoo without kids for an evening of fun and exploration. There are adult beverages and savory food for purchase, along with animal encounters to enjoy.
John Ball Zoo also offers family-friendly evenings like Summer Camps, Twilight Tours, Overnight Adventures, and more. 
Last but certainly not least, don't forget to mark your calendars, from October 15-18 and 22-24, to trick-or-treat at the zoo during Zoo Goes Boo and check out BRICKLIVE Supersized! before it closes September 26 and IllumiZoo Wild Hues, going on now through November 14.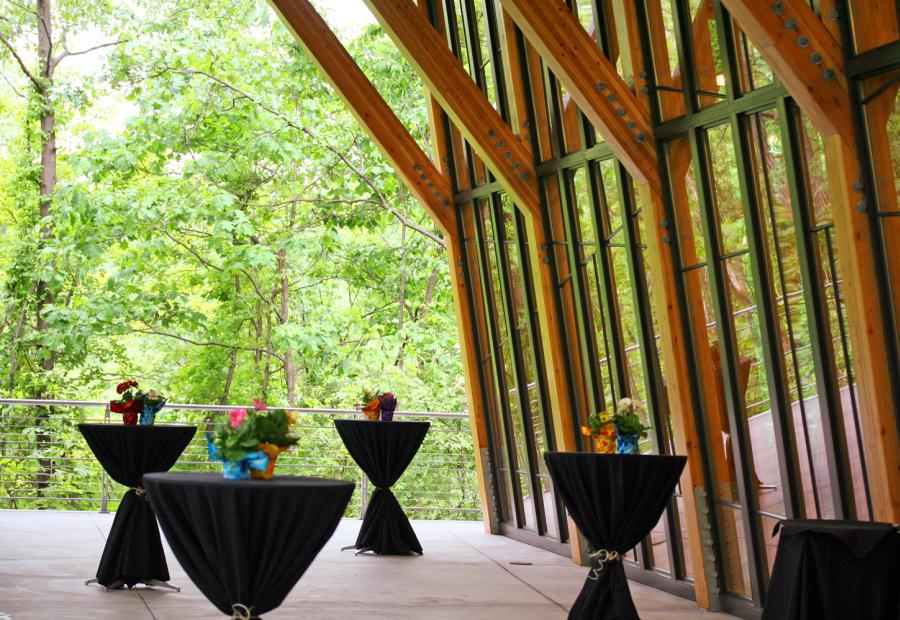 Bissell Tree House at John Ball Zoo can be rented out for business events, weddings, and more.
Photo by Experience Grand Rapids
John Ball Zoo is also a great space for corporate events and other special occasions including retirements, family reunions, and weddings.
Become a John Ball Zoo member to enjoy discounts on admission rates, camps, birthday parties, access to exclusive members-only events, early event registration, as well as free or reduced admission to over 150 participating zoos and aquariums.
This article was written by Amy Busse and has been updated by Experience Grand Rapids.