Farmers market season in West Michigan – a time of year when residents and guests alike can enjoy the wide variety of produce, meat, and dairy from local farmers. With food and agriculture being Michigan's third largest industry, there is no shortage of farmers markets across the region. Here is just a small sampling of what you can find in the area.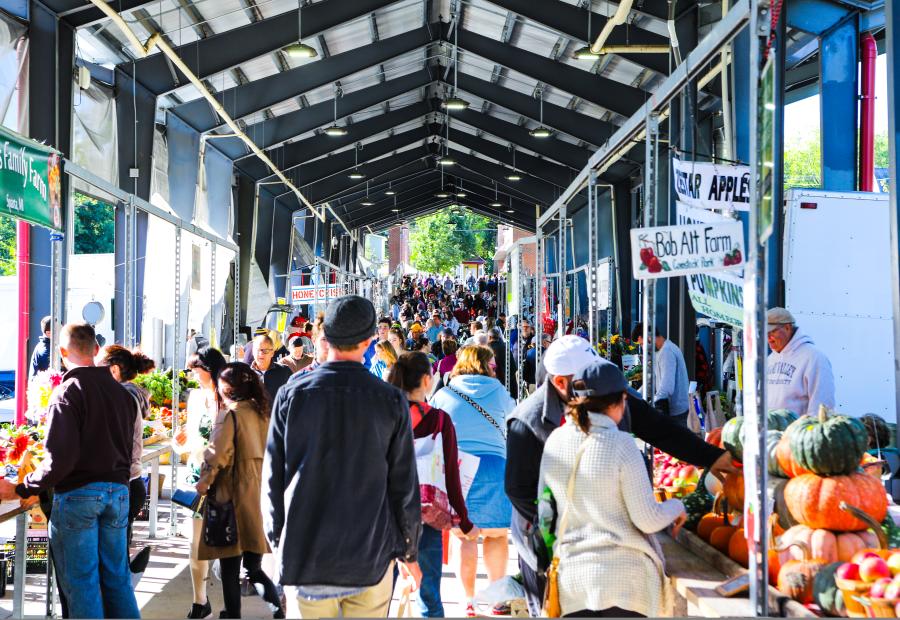 Fulton Street Farmers Market
Photo by Experience Grand Rapids
Fulton Street Farmers Market
Started in 1922, the Fulton Street Farmers Market is the oldest and largest market in Grand Rapids. In 2011 and 2012, the market went through a major renovation, adding a covered vendor area, outdoor pavilion, and some office space. The Fulton Street Farmers Market has dozens of vendors attending every week. You can find everything from fresh bread, honey, meat, and baked goods to whatever local produce is in-season. Occasionally local food trucks will stop by, providing an extra special treat for patrons.
Location
1147 E. Fulton Street | Grand Rapids | MI | 49503
Main Season
Begins first Saturday of May through the last Saturday of October
Wednesdays, Fridays, and Saturdays from 8 AM to 2 PM
Second Season
Begins first Saturday in November through the last Saturday of April
Saturdays from 10 AM to 1 PM
Website
Eighth Street Farmers Market (Holland)
From May to December, the Eight Street Farmers Market is a delightful extension to bustling 8th Street. This particular street is one of downtown Holland's main thoroughfare and is home to shops, street performers, and events throughout the year. At the Holland Farmers Market, there's a wide variety of local produce, meat, and baked goods. There are also homemade goods like jewelry, soap, and holiday decor. Additionally, the market has a chef series and children's activities, providing fun for the whole family.
Location
150 W. 8th Street | Holland | MI | 49423
Summer Season
Begins mid-May and lasts through mid-December
Wednesdays and Saturdays from 8 AM to 2 PM
Winter Season
Begins January and lasts through April
Every other Saturday from 9AM to noon
Website
Rockford Farm Market
The Rockford Farm Market is located near some of Rockford's most iconic hot spots: Downtown shopping, the White Pine Trail, the Rogue River, and the Rockford Dam. In 2011, the market won the title of "America's Favorite Farmers Market," sponsored by the American Farmland Trust. Every Saturday, the Rockford Farm Market has freshly harvested seasonal produce, meat, dairy, and delicious baked goods. A lot of the vendors at the market also offer a wide range of organic-only products.
Location
54 S. Main Street | Rockford | MI | 49341
The Farmers Market is located in the newest city lot behind the Post Office with an entrance off Main St across the street from Rocky's.
Summer Season
Begins the first Saturday of May through the last Saturday of October
Saturdays from 8 AM to 1 AM
Website
https://www.rockford.mi.us/Community/ABOUTROCKFORD/FarmMarket/tabid/10713
Muskegon Farmers Market
In 2014, the Muskegon Farmers Market found a new home in the downtown Muskegon area. The new location has 124 outdoor vending stalls, an all-season vending area, public restroom facilities, performance areas, and a demonstration kitchen. The kitchen is available to food entrepreneurs to create and sell hot meals to shoppers. In addition to fresh meat, produce, and dairy items, shoppers can find homemade tea, dog treats, floral arrangements, cake, and kettle corn.
Location
242 W. Western Avenue | Muskegon | MI | 49440
Summer Season
Begins the first Saturday of May through the last Saturday of November
Tuesdays, Thursdays, and Saturdays from 8 AM to 2 PM
Flea Market
May - October
Wednesdays from 8 AM - 2 PM
Winter Season
December - April
Saturdays from 9 AM to 1:30 PM
Website
Farmers Market season has just kicked off, so it's the perfect time to stock up on local, seasonal goodies at your go-to market or at a new favorite. Almost every town has its own beloved market such as the Grandville Farmers Market, the Lowell Area Farmers Market, and the  Downtown Sparta Farmers Market. Check out this full list of farmers markets in West Michigan for plenty of market trip ideas this summer.