Grand Rapids is a Sports Town
Like much of the city itself, the Grand Rapids sports scene was born of an entrepreneurial spirit and a commitment to building a vibrant community. In the early to mid-'90s, the founders of the West Michigan Whitecaps and the Grand Rapids Griffins saw what could be a booming sports town and contributed much to making that vision a reality.
The founder of the Grand Rapids Gold (formerly the Grand Rapids Drive) followed suit in 2014, capitalizing on the enthusiasm that its predecessors helped foster.
Their collective vision and determination – along with private investment, patience, and a loyal and passionate fan base – are what led Sports Business Journal to rank Grand Rapids-Comstock Park as the nation's #1 minor league sports market in 2019.
Concurrent with the growth of our professional sports teams came a concerted effort to promote the region as a sports tourism destination. The West Michigan Sports Commission was founded in 2007 to bring more sporting events to the area. Experience Grand Rapids is the primary financial contributor to WMSC, and the two organizations work closely together to boost the number of visitors coming to the region to participate in or observe sporting activities.
"Grand Rapids residents are passionate players, spectators and supporters of all kinds of sports," says Doug Small, president & CEO Experience Grand Rapids, himself an avid golfer and ardent fan of local sports teams. "We know how fortunate we are to enjoy an abundance of outdoor recreation opportunities, world-class facilities and extensive experience organizing and hosting sporting events – and we're eager to share it all with visitors."
In addition to the scores of local residents who flock to area golf courses, bike trails, pickleball courts, lakes, rivers, ski resorts and sports arenas every year, Small cites a recent study which found that 9 out of 10 respondents support the city hosting races, runs and other outdoor sporting events, as well as college and professional sporting events. More than 80% of respondents agreed that hosting youth and amateur sporting events benefits the local economy, improves quality of life, and boosts the health and wellness of the community.
Here's a brief look at the depth and diversity of our sports scene.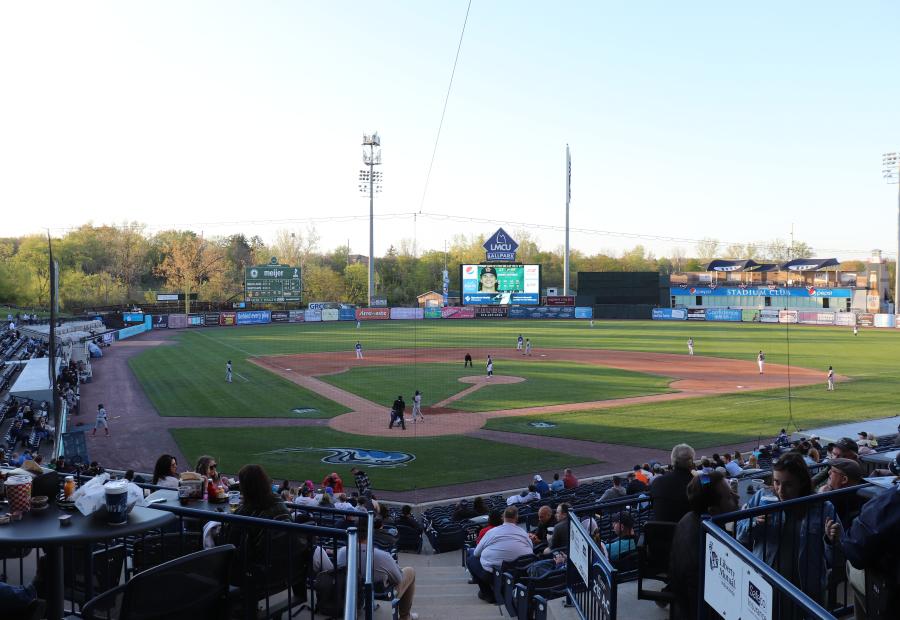 The West Michigan Whitecaps are a Class A Minor League Baseball team, affiliated with the Detroit Tigers, that plays in the Midwest League.
Photo by West Michigan Whitecaps.
Pro Sports
The West Michigan Whitecaps, the High-A affiliate of the Detroit Tigers, have been playing baseball in what is now Lake Michigan Credit Union Ballpark (LMCU Ballpark) – a 10-minute drive from downtown Grand Rapids – since 1994. The Whitecaps became Grand Rapids' first professional sports team to win a championship in 1996, a feat they've repeated five times since. The team has broken several Midwest League attendance records over the years.
The Grand Rapids Griffins are the American Hockey League (AHL) affiliate of the Detroit Red Wings. The Griffins have played in downtown GR's Van Andel Arena since they first formed in 1996, winning two league championships along the way. An average of 7,600 fans attended each home game in the 2022-2023 season.
The Grand Rapids Gold are the NBA G League affiliate of the Denver Nuggets. Formerly known as the Grand Rapids Drive, the team came to GR in 2014 as an affiliate of the Detroit Pistons. The name was changed in 2021 when the team switched affiliations and in 2022, the Gold relocated from its original home arena to downtown's Van Andel Arena.
The United West Football Club is a semipro soccer team that competes in the United Premier Soccer League, the largest national league under the United States Soccer Federation. The team began play in 2022 and uses Hudsonville High School, a 20-minute drive from downtown GR, as its home base.
In January 2024, the Grand Rapids Rise women's volleyball team will begin its first season of play at Van Andel Arena. Grand Rapids' first major-league women's sports team, the Rise is a member of the fledgling Pro Volleyball Federation, which aims to be one of the top women's professional sports leagues in America.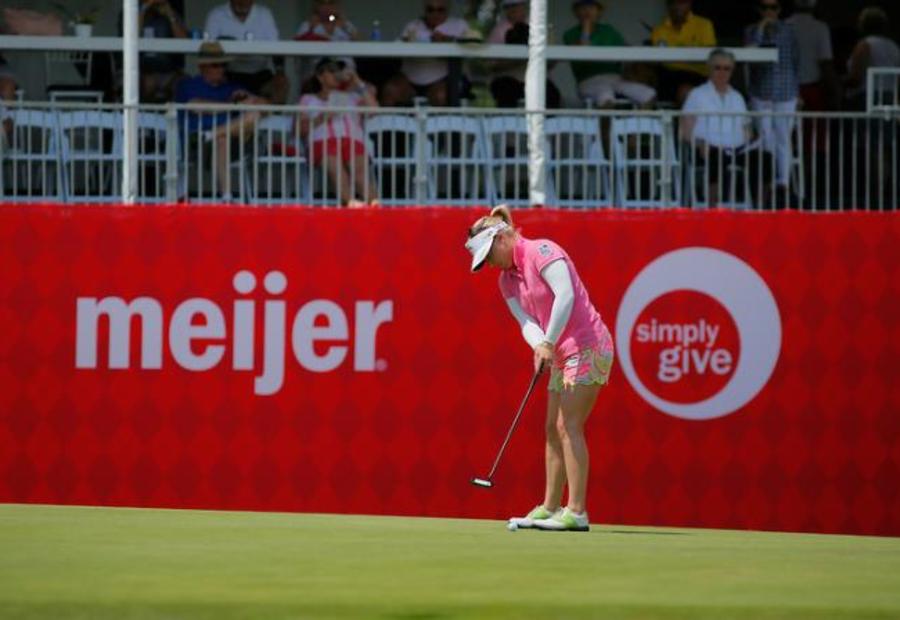 The Meijer LPGA Classic is one of Grand Rapids' biggest sporting events in the month of June, as thousands flock to Belmont, a suburb of Grand Rapids, to be in attendance.
Photo by Experience Grand Rapids
Meijer LPGA Classic for Simply Give
This tournament has been a stop on the Ladies Professional Golf Association since 2014. Each June, more than 130 of the world's top female golfers come to Blythefield Country Club, a 20- minute drive from downtown GR, to compete in four-day, 72-hole stroke play competition. With a purse of $2.5 million in 2023 and a national audience via the Golf Channel, the Meijer LPGA Classic is one of GR's signature sporting events. The event is sponsored by Grand Rapids based retailer Meijer, which donates a portion of the proceeds to help stock 260+ food pantries throughout the Midwest. Through 2022, the LPGA Classic generated $8.65 million for these charities.
Beer City Open Pickleball Championships
The first Beer City Open, held in 2018, involved 400 participants and a $12,500 purse. By 2023, those numbers had grown exponentially – more than 900 athletes from 36 states and six countries are set to compete for $100,000 in prize money. This year also marks the first time that the Open is hosting Professional Pickleball Association Pro Tour Players. The event is held each July in downtown GR's Belknap Park, home of the Grand Rapids Pickleball Club. GRPC organizes the tournament and has been the driving force in establishing Grand Rapids as a Midwest pickleball hub.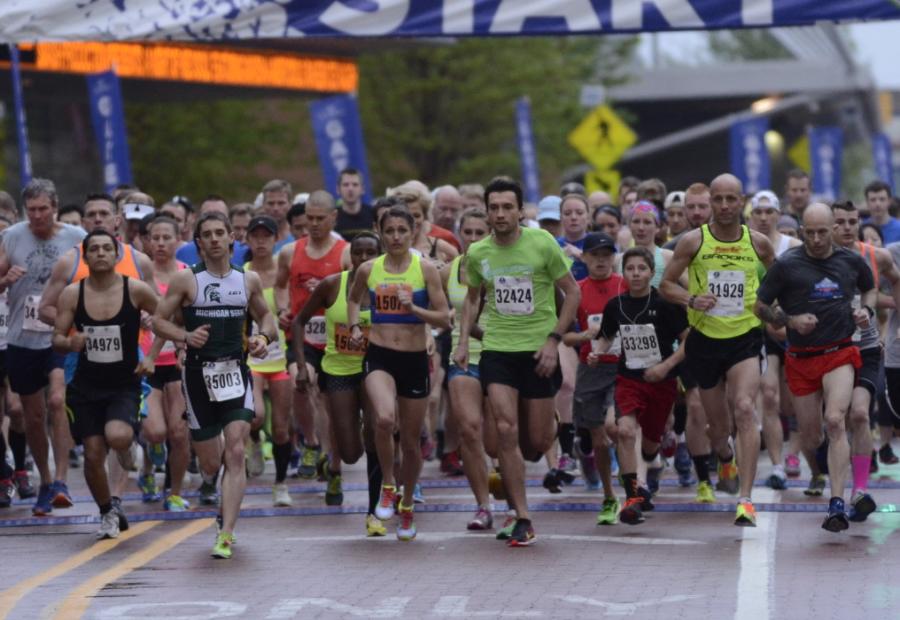 A decades long tradition, the Amway River Bank Run brings thousands of runners to downtown Grand Rapids. Registration for the 2024 River Bank Run will open in late 2023.
Photo by Photo courtesy of Fifth Third Bank
Amway River Bank Run
America's largest 25K road race takes place in Grand Rapids every May, as it has since 1978. Consistently ranked as one of the premier road racing events in the U.S., the Amway River Bank Run also includes the only 25K Wheelchair racing division in the world, a 25K Handcycle division, 10K and 5K races, and more. Participants start and end the race in downtown GR.
Grand Rapids hosts a wide variety of additional race events each year, including four Boston Marathon qualifiers: Groundhog Day Marathon (February), Millennium Meadows Marathon (August), Last Chance BQ.2 Marathon GR (September) and Grand Rapids Marathon (October).
Meijer State Games of Michigan
Launched by the West Michigan Sports Commission in 2010, the Meijer State Games of Michigan is a multi-sport, Olympic-style competition that welcomes athletes regardless of age or ability. Summer Games include 35+ different sports held in and around Grand Rapids. Winter Games feature 20+ sports split between Grand Rapids/Michigan's Lower Peninsula and Marquette/Michigan's Upper Peninsula.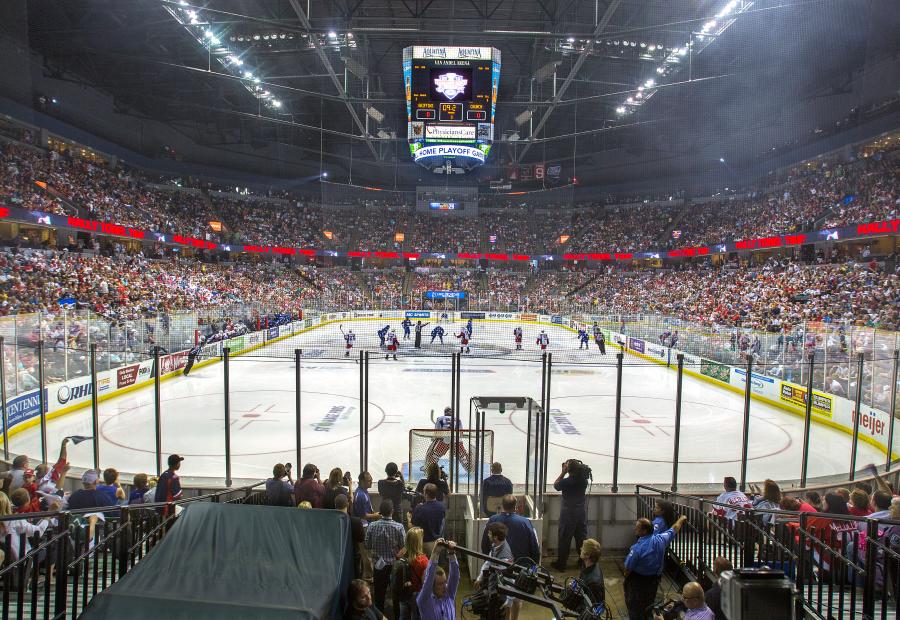 The Grand Rapids Griffins are a professional hockey team in the American Hockey League. They are the AHL affiliate to the Detroit Red Wings of the National Hockey League, and are the 2013 and 2017 Calder Cup Champions.
Photo by Grand Rapids Griffins
Meijer Sports Complex
Built by the West Michigan Sports Commission in 2014, the Meijer Sports Complex hosts a variety of Meijer State Games competitions as well as youth and adult amateur baseball and softball tournaments. Located in Rockford, a 20-minute drive from downtown GR, the Complex has been so successful that the WSMC plans is conducting a fundraising campaign to add more fields and amenities in 2024.
Back to that Sports Business Journal accolade: "The SBJ ranking that placed Grand Rapids and our minor league teams at #1 legitimized us as a destination to the rest of the sports world," says Mike Guswiler, president of the West Michigan Sports Commission. "Organizers want to bring their events to a thriving and active sports community where residents embrace the sports scene."
The proof of that statement is in the numbers: in 2022, the WMSC hosted 113 events that brought 249,030 participants and visitors to town – a record-breaking performance. Like every athlete and sports fan, we're aiming even higher for the future.