Don't let the weather rain on your parade–- or your entire day! From trampoline parks to escape rooms, brewery tours to roller rinks, there are a lot of fun, indoor experiences in Grand Rapids. Embrace the rainy day and check out these eight activities that are fun for all ages and all forecasts.
Cinematic Adventures
Going on a cinematic adventure is the perfect way to escape a gloomy day. Sunday Radio Discount Movie Night gives moviegoers the chance to see a movie for $5 or less every Sunday evening at Celebration! Cinemas North (includes an IMAX theater), South, and RiverTown. Movies at Celebration! Cinema Woodland are $5 all day, every day. The AMC Grand Rapids 18 theater not only lets you enjoy movies in the comfort of cozy recliner chairs, but also early risers can catch any movie before noon for around $5. Head to Wealthy Theatre in East Grand Rapids for the Meanwhile Movie Series on select Tuesday nights. During the series, Wealthy Theatre and The Meanwhile Bar team up to present a film and Michigan craft beer pairing to add a little extra enjoyment to the movie-going experience.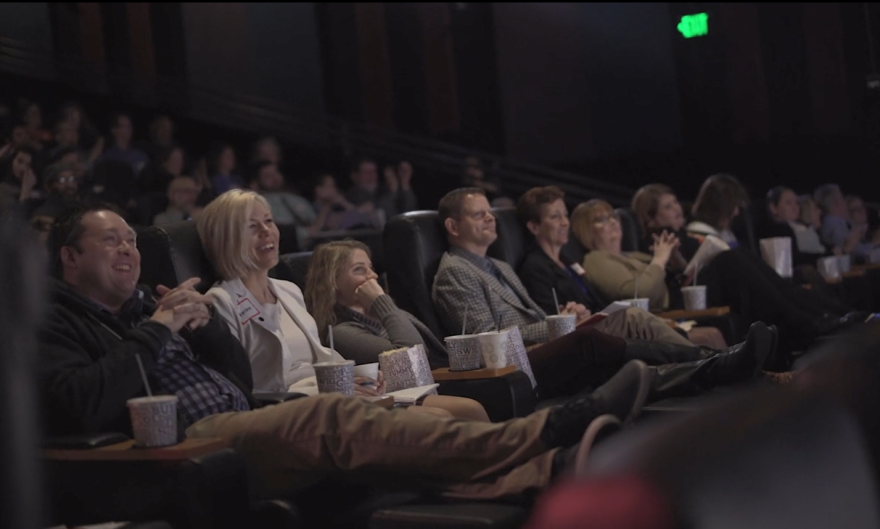 Celebration! Cinemas movie
Photo Credit: Celebration! Cinemas
---
Skating Central
Lace up your skates and glide away at one of Grand Rapids' ice or roller rinks. Cool down on the ice at Griff's IceHouse, the official practice facility of the Grand Rapids Griffins. The venue offers open skating hours as well as skating classes and drop-in hockey opportunities. Kentwood Ice Arena, Patterson Ice Center, and Walker Ice and Fitness Center also have open skating hours and drop-in activities. Since 1949, The Fun Spot has been the perfect spot for families, teens, and toddlers alike to roller skate.
Bowling Alleys
Spare some time on a rainy day for fun at one of the multiple bowling alleys in Grand Rapids, many of which offer specials throughout the week. Wengers Bowling Center invites bowlers to pay only $1 per game and $1 for shoes during "Wild Wednesdays" (9:30PM – 1:30AM) and "Fridays After Class or Work" (12PM – 5PM). On weekdays, Clique Lanes offers three games and shoes for $6 from 9PM until close while Westgate Bowl offers $2 per game bowling on Mondays. No matter which local bowling alleys around Grand Rapids you visit, you'll be sure to strike up some fun with friends and family.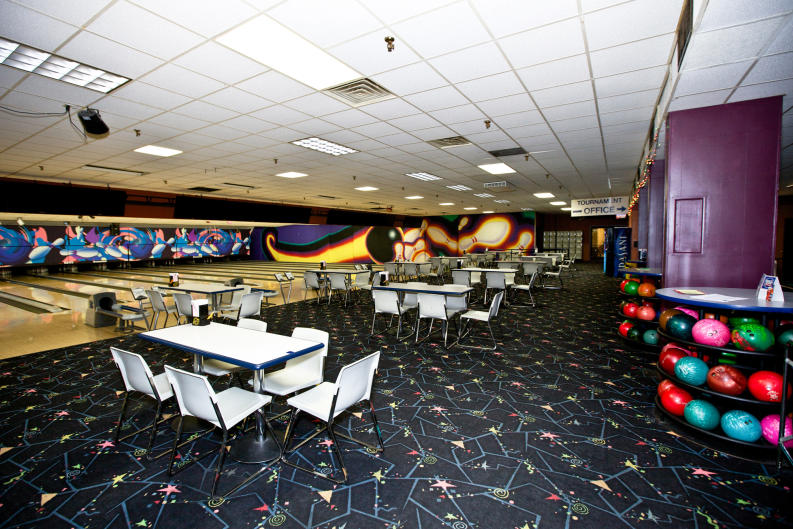 Westgate Bowling Center offers more than just bowling.
Photo Credit: Experience Grand Rapids
---
Escape Rooms
One team. One hour. Countless puzzles.
This is the challenge that awaits at Escape Michigan and The Great Escape Room. Escape rooms give teams one hour to discover hidden clues and solve puzzles in order to win their freedom.  Escape Michigan challenges you to find the antidote to the zombie apocalypse in the Viral Outbreak Laboratory or channel your inner 007 to stop a renegade spy in the Secret Agent Apartment. Think you can outsmart the greatest detective in literary history? Dust off your deerstalker hat and try to break free from Sherlock Holmes' library or Professor Moriarty's Gameroom at The Great Escape Room.  
Museums and more
Why be bored on a rainy day when you can dig for fossils, visit dinosaur habitats, examine creatures of light, journey into space, or explore artwork by local and national artists? Grand Rapids has no shortage of museums and galleries to keep people of all ages engaged, curious, and entertained year-round, rain or shine. Here is a list of current and upcoming exhibits: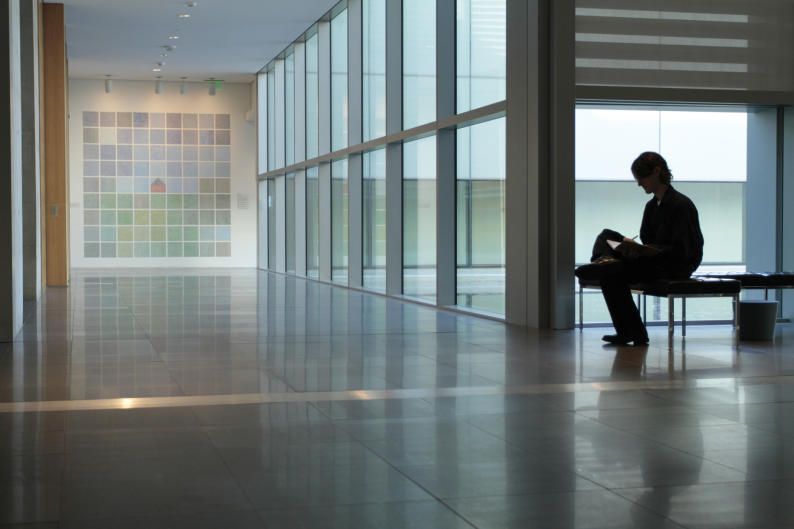 Grand Rapids Art Museum
Photo Credit: Experience Grand Rapids
---
Bounce off the walls
A rainy day is the perfect chance to race through inflatable obstacle courses, jump into giant foam pits, or play dodgeball on trampolines. Rebounderz, AirTime, and Sky Zone all offer exciting activities for all ages. Jester's Court, West Michigan's largest indoor child entertainment center, offers inflatable slides, obstacle courses, interactive games, and much more for your little ones.
Chill at a coffee shop
Another perfect rainy-day activity? Duck into one of Grand Rapids' local coffee shops and sip your favorite cup of joe as you wait for the storm to pass. Places like Madcap Coffee, the Lantern, the Bitter End Coffeehouse, or Mayan Buzz Cafe boast cozy chairs and large windows for watching raindrops fall or when you need to warm up on a brisk spring day.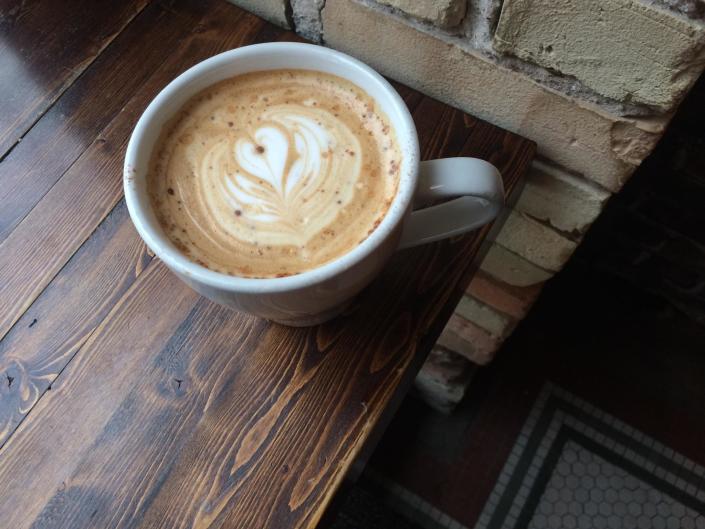 Visit one of the many coffee shops located in Grand Rapids for a beautiful work of art and caffeine boost!
Photo Credit: Lantern Coffee Bar and Lounge
---
Brewery Tours
Find out why Grand Rapids earned the title of Beer City, USA by visiting some of the city's award-winning breweries on a guided tour. Grand Rapids Beer Tours provides various public and private tours, each including rides to the breweries, samples of craft beer, a food break at one of the breweries, and meet-and-greets with local brewers. Grand Rapids Beer Tours boasts six different tour experiences that visit varying combinations of 18 breweries, including Founders Brewing Co., Brewery Vivant, Rockford Brewing Company, Grand Rapids Brewing Company, and Perrin Brewing Company.
Before your tour begins, swing by the Welcome Center at the Grand Rapids Art Museum to pick up your free Beer City Brewsaders® passport. Collect eight stamps at any of the 32 participating breweries and you'll receive an exclusive Brewsader® t-shirt to commemorate your escapades. Visit all 32 breweries to become an ultimate Brewsader®, which earns you exclusive deals and discounts.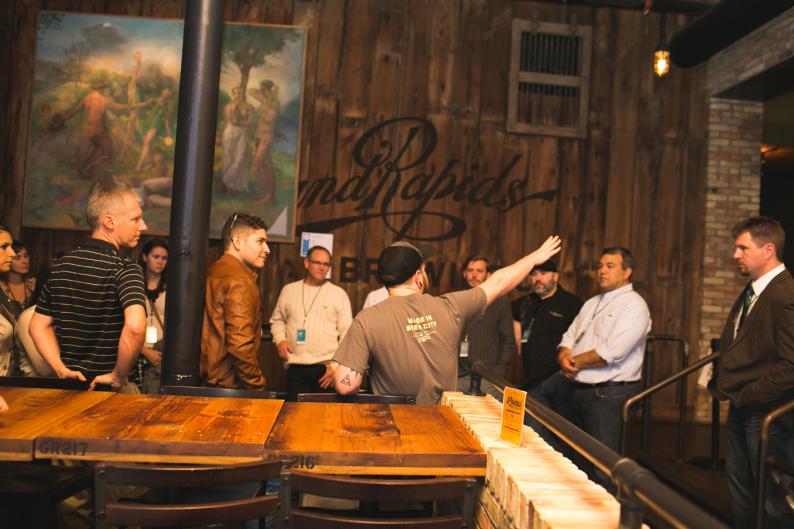 Beer tour at Grand Rapids Brewing Co
Photo Credit: Experience GR
---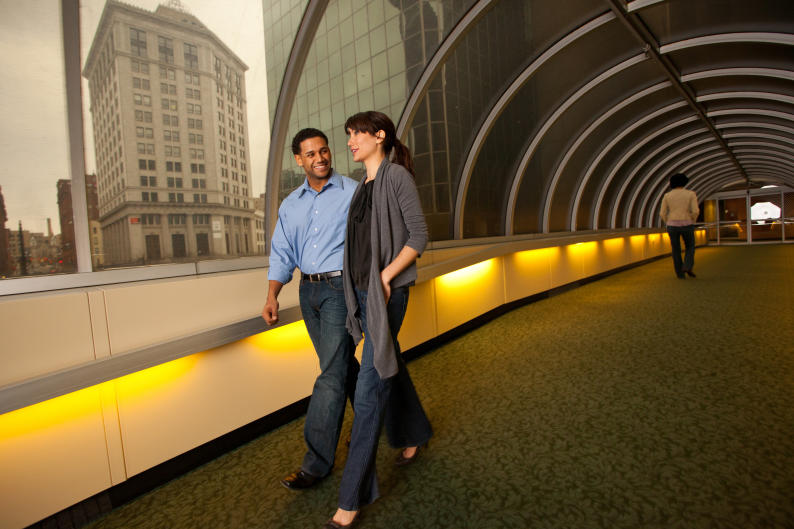 Couple on skywalk in downtown Grand Rapids
Photo Credit: Experience Grand Rapids
---
Never miss a post!
Subscribe to the Insider Experience blog.