Widely recognized for its exceptional food, Grand Rapids is a true foodie destination. Restaurants across the city offer unique, specialty weekend brunch menus paired with adult beverages. Weekend brunch menus are offered early morning until mid-afternoon at a variety of locations across Grand Rapids.
To find out which Grand Rapids bars and restaurants have great weekend brunches, we asked the locals on the Experience Grand Rapids social media pages to weigh in, and the results will leave your mouth watering.
Drinks at The Winchester bar in Grand Rapids
Photo Credit: Brian Craig for Experience Grand Rapids
---
Rockwell Republic
Address: 45 Division Ave S, Grand Rapids, MI 49503
Brunch Menu
Rockwell Republic offers an eclectic brunch menu that caters to all taste buds. If you aren't in the mood for classic breakfast foods, you can order everything from sushi to a New York strip to start your day.
Some popular menu items to look out for are the Corned Beef and Egg Sandwich, Chorizo and Potato Breakfast Tacos, and Chicken and Waffles (either traditional or spicy).
If you're in the mood for a liquid brunch, Rockwell Republic delivers with it's Mimosa Tray for $32 that includes a full bottle of champagne, three different juice mixers, fresh fruit, french toast sticks, tempura fried waffles, and bourbon maple syrup. 
Bloody Marys are also taken up a notch at Rockwell Republic. The restaurant's brunch menu includes three 32-ounce "Massive Bloody Marys," with delectable food skewered into each drink. The Americana, for example, comes loaded with a bacon cheddar burger, a pretzel roll filled with beer cheese dip, beer battered onion petals, and vegetable garnish.
Rockwell Republic also offers a Food Happy Hour menu during weekend brunch that includes a menu of $7 items, including an order of nine sushi rolls and nine other plates perfect for sharing.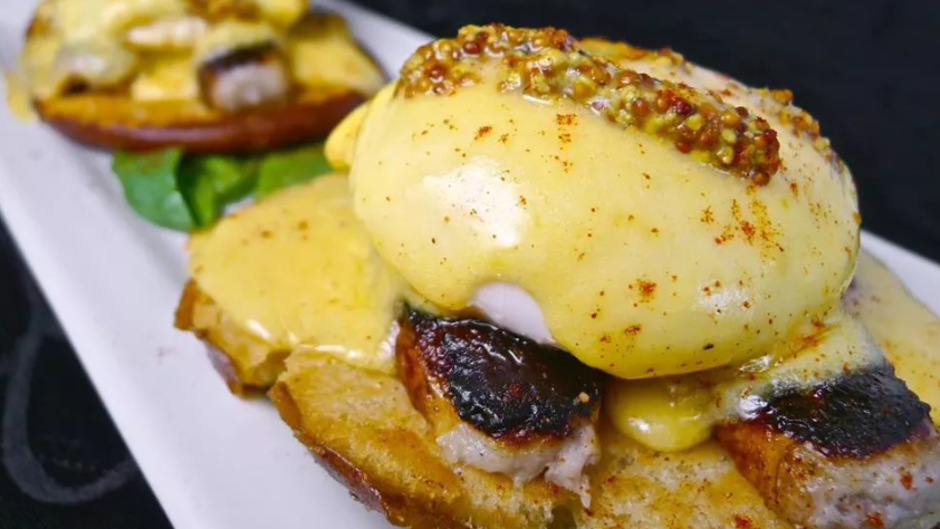 Try SpeakEZ Lounge's unique take on the classic eggs benedict
Photo Credit: Experience Grand Rapids
---
SpeakEZ Lounge
Address: 600 Monroe Avenue NW, Grand Rapids, MI 49503
Brunch Menu
Luckily, you don't need a secret password to get into SpeakEZ Lounge to enjoy a flavor-filled liquid brunch experience.
Have you ever asked yourself, "What can I drink in the morning if I'm not a Bloody Mary fan?" If so, SpeakEZ's Suffering Bastard is the answer. This brunch beverage includes Citadelle Gin, orange juice, lime, vanilla, mint, cucumber, Angostura bitters, and egg white blended with soda. 
If you are a Bloody Mary fan, however, SpeakEZ's signature house Bloody Mary combines a smoked dry spice blend with a dose of Sriracha for a savory kick of three-alarm spiciness. Or you can get your food and drink down in one shot, literally. SpeakEZ's Part of This Complete Breakfast brunch shot is a combo of Jameson and butterscotch with a sidecar of orange juice and a juicy slice of bacon.
On the food side of the brunch menu, The B.E.A.S.T. reigns supreme. This massive sandwich lives up to its name with Bacon, Egg, Avocado, Spinach, and Tomato with mayo and sriracha piled high on a full loaf of grilled Italian herb paesano bread.
For something a little sweeter, order the Casino Royale — two sausage patties and Muenster cheese between two slices of SpeakEZ's Crème Brûlée French Toast and topped with Thai chili-infused syrup and a fried egg.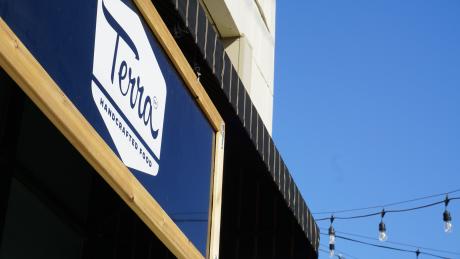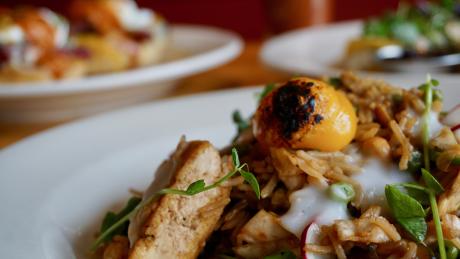 While Terra GR's menu changes seasonally, the food is locally-sourced and farm-to-table fresh year round.
Photo Credit: Brian Craig for Experience Grand Rapids
---
Terra GR
Address: 1429 Lake Dr SE, Grand Rapids, MI 49506
Brunch Menu
All of the cuisine at Terra GR is locally sourced, seasonal, and farm-to-table fresh. This restaurant's various menus change seasonally, leading to sweet and savory rotating options year-round.
Speaking of savory, Terra GR's Hair of The Dog Bowl is a popular brunch item that has been on the menu for years. It includes house-made cheddar biscuits, kale, caramelized onions, scrambled eggs, and sausage gravy. 
Another top choice among patrons is the Breakfast Pizza (bacon, potatoes, scrambled egg, kale, mozzarella, brown butter hollandaise, tomato sauce).
And you'd be remiss if you visited Terra GR and didn't feed your sweet tooth by sampling the Tiramisu French Toast (milk bread, chocolate-vanilla ricotta, chocolate crumbles, and coffee syrup) and Birthday Cake Pancakes (lemon-funfetti cake batter, whipped cream, and honey butter). 
Terra's brunch also includes Bloody Marys with unique substitute spirits like jalapeño tequila or Long Road Distillers' Aquavit, as well as mimosas, a Biermosa, and specialty cocktails, like the Brown Butter Toddy (brown butter bourbon, lemon juice, Michigan maple syrup).
San Chez Bistro
Address: 38 Fulton St W, Grand Rapids, MI 49503
Brunch Menu
San Chez Bistro, a unique dining venue in Grand Rapids, offers a mix of authentic European, Mediterranean, and Latin American cuisine. These flavors can certainly be found on the restaurant's brunch menu, which includes both American style breakfast and Spanish/Cuban dishes.
Come to San Chez hungry to try some top-sellers like the savory Cinnamon Pecan Roll (served warm with a cream cheese glaze), Chicken and Waffle Benedict, Shrimp and Grits, Bloody Mary Hash, Monte Cristo French Toast, or Breakfast Empanadas.
Customers typically come to San Chez's brunch for the food but stay for the Bloody Mary bar, which uses house-infused vodka, a weekend-only mimosa bar, coffee cocktails, and always-on-tap sangria.
San Chez's brunch also accommodates all palettes by offering special allergy and dietary restricted menus, including gluten-free, tree-nut, vegan, vegetarian, and soy options. 
And while there are a few unique menu items offered only on the weekends, San Chez does serve brunch from 8 AM-2 PM every day of the week.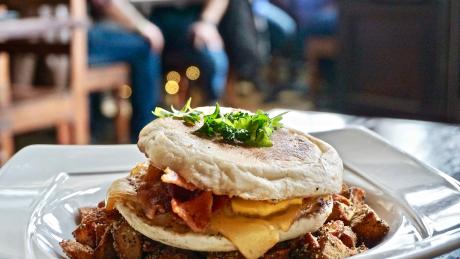 Graydon's Crossing provides a diverse menu of brunch cocktails and brunch dishes with a twist.
Photo Credit: Brian Craig for Experience Grand Rapids
---
Graydon's Crossing
Address: 1223 Plainfield Ave NE, Grand Rapids, MI 49505
Brunch Menu
Focused on offering global foods with locally-sourced ingredients, the culinary crew at Graydon's Crossing enjoys crafting classic brunch dishes with their own twist.
Some must-try brunch items include the Proper Brekkie (two eggs, house-made beer bacon, bangers, Graydon's Spuds), The Copyright (applewood bacon, smoked gouda, over medium fried egg on an English muffin), and the crowd-pleasing Fish and Chips.
There are also plenty of gluten free, dairy free, vegetarian, and vegan options, like the Thai Tofu Skillet, which has seasoned tofu scramble, cherry tomato, shaved brussels sprouts, snap pea, fried potato, Thai vinaigrette, and scallion.
Graydon's provides a diverse menu of brunch cocktails that includes $4 Absolut Peppar Bloody Marys, $4 Starcut Mosa Cider, $5 Blueberry Pancake Shot, and a $5 Beer Mosa made with Saugatuck Brewing Company's Oval Beach Blonde.
Graydon's Crossing recently extended its brunch hours on Sundays to run all day so that patrons can enjoy brunch even later, and so those working in retail or service industries don't miss the good eats because of a shift.
Creston Brewery
Address: 1504 Plainfield Ave NE, Grand Rapids, MI 49505
Brunch Menu
Creston Brewery's variety makes its brunch menu stand out from the crowd, especially because it includes several vegetarian and vegan options, as well as a kids menu.
Loosen your belt and get ready to start your brunch experience at Creston with an appetizer of either the Southwest Egg Rolls or Mini Chimis (or both).  
For the main course, you can enjoy one of Creston's most popular dishes, the Fried Chicken Benedict, Chocolate Chunk Pancake, Potato Latke, and Brew City Burrito. And don't forget a side of the fan-favorite house cured thick cut bacon.
Creston also provides beer cocktails that are only available during brunch hours, like the Michelada (a beer and Bloody Mary combo), the Creston Beermosa (featuring Creston's Blueberry Sweet Street midwestern wheat brew), and the Sweet Street Mule.
Creston Brewery is also one of the more than 40 participating Beer City Brewsader® breweries, so don't forget to download the official Beer City Brewsader app or bring along your Brewsader Passport.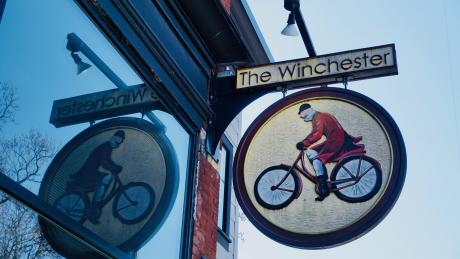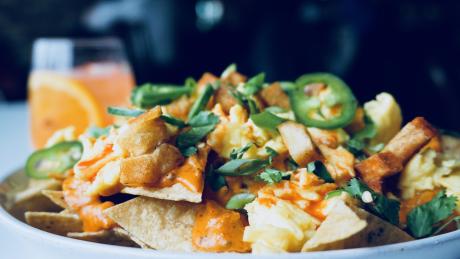 Winchester serves up their own take on "comfort food" brunch options.
Photo Credit: Brian Craig for Experience Grand Rapids
---
The Winchester
Address: 648 Wealthy St SE, Grand Rapids, MI 49503 
Brunch Menu
The quaint and cozy pub that is The Winchester offers a special brunch menu that has "comfort food" written all over it.
A best brunch seller is the Waffles and Chicken, which includes a cornbread waffle, fried egg, and buttermilk battered chicken drenched in sausage gravy and maple syrup.
Need more? The Breakfast Nachos are perfect to share with your table, with ground seasoned pork, corn tortillas, scrambled eggs, potatoes, salsa de queso, scallions, cilantro, and jalapeño peppers, all topped with hot sauce.
There's no need to get fancy with your brunch selection at The Winchester, however, because you can simply order the #basicbreakfast — a classic combination of bacon, fries, toast, and sunny farm eggs.
You can also explore The Winchester's regular menu during brunch hours, and wash it all down with a build-your-own Bloody Mary and mimosa bars. You can even add a little extra kick by mixing your Bloody Mary with house-infused jalapeño vodka.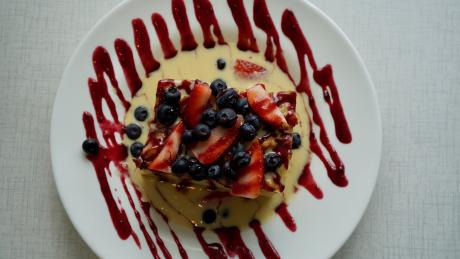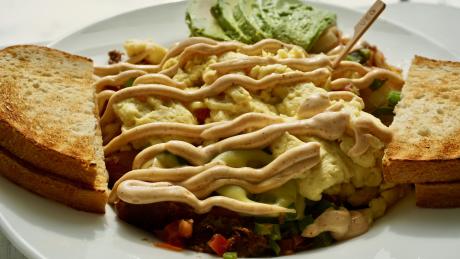 Other brunch spots in Grand Rapids serve up sweet and savory plates to satisfy any mid-day craving.
Photo Credit: Brian Craig for Experience Grand Rapids
---
Additional Options
While our list focuses on restaurants that offer both food and alcoholic liquid brunch options, our followers mentioned plenty of other eateries around Grand Rapids that have delicious dishes, but without a focus on adult beverages.
Here is a list of a few more must-visit brunch locations where the eating is always good:
For more local brunch suggestions, check out our Brunch page. To find more good eats around Grand Rapids any day of the week, check out the Experience Grand Rapids Restaurants page.
Where is your favorite weekend brunch spot in Grand Rapids? Let us know in the comments below!
Don't ever miss a post!
Sign-up for the Insider Experience Blog