Several bars and distilleries in Grand Rapids have elevated the standard gin and tonic (G&T) by using local or house-made spirits and adding a variety of botanicals and other spices to create a unique flavor profile. While some remain juniper-forward (very piney), others are crafted to be significantly more subtle, which means there are G&Ts around town to satisfy a variety of taste preferences.
Here are a few Grand Rapids establishments that have raised the bar on the G&T: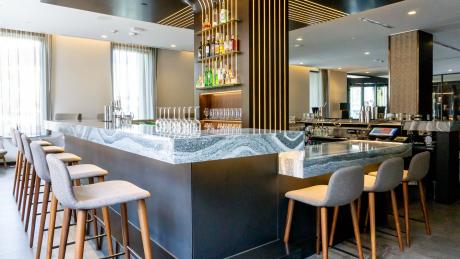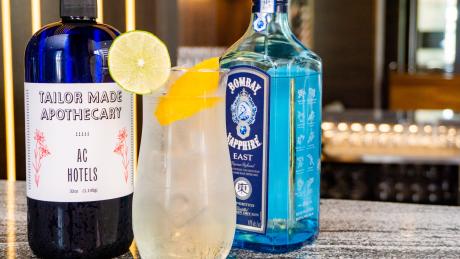 AC Marriott's ACGT features two elements unique to the hotel: the tonic mixer and the tulip-shaped glasses in which it's served.
Photo Credit: Brian Craig for Experience Grand Rapids
---
AC Marriott Grand Rapids Downtown
The lounge at Grand Rapids' AC Hotel, a Marriott International brand, claims to be redefining the gin & tonic with its "ACGT," made with Bombay Sapphire East Gin. 
"It has the same core as regular Bombay Sapphire, plus two more botanicals, Thai Lemongrass and Vietnamese Black Peppercorn," explains Evan MacLeod, Beverage Manager. "The [Bombay Sapphire East] sipped neat tastes like black pepper is the primary ingredient. When you add it to a cocktail, you can create a whole different balance of flavor between herbal and peppery."
AC Hotel uses a tonic that comes in syrup form and is made exclusively for the hotel by Tailor Made Apothecary. 
"The syrup has multiple botanicals, but what pairs it so well with the Bombay Sapphire East gin is the lemongrass and distinct coriander ingredients, which make the ACGT stand out as a delicious, herbal, peppery, and refreshing gin and tonic," says MacLeod.
Instead of the highball glass traditionally used for G&Ts, AC Hotel serves the drink in a tulip-shaped glass, created exclusively for the AC Hotel by Nigel Barker, who is best known for being a judge and photographer on America's Next Top Model.
"The beautiful glass features three lines determined to be the perfect ratio for the best gin tonic," explains MacLeod. The lines correspond to the amounts of gin and tonic syrup, soda water, and ice. "We use perfect 1-inch by 1-inch cubed ice," he says. "Orange twist and a lime wheel add citrus expression to create a perfect balance of herbal, spicy pepper, and citrus."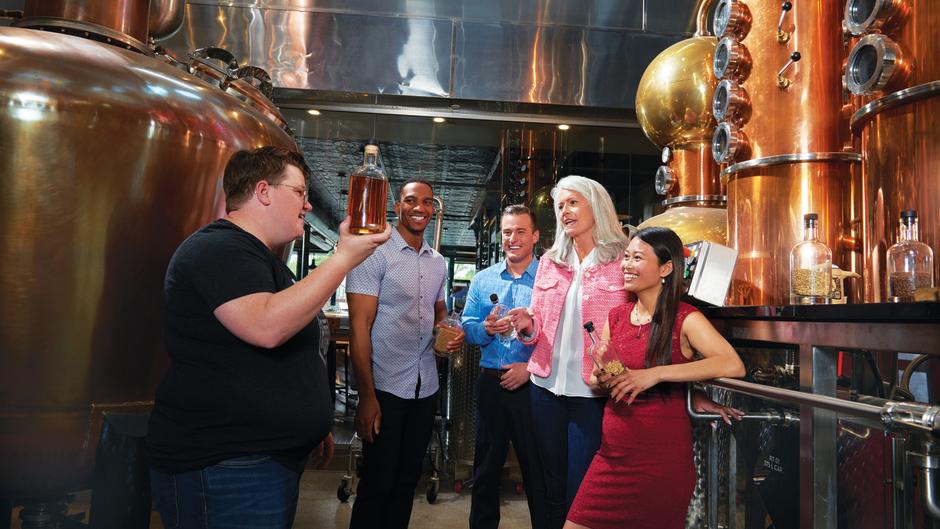 For Long Road, its motto, Take No Shortcuts, means focusing on both the ingredients and the craft of distilling.
Photo Credit: Experience Grand Rapids
---
Long Road Distillers
At Long Road Distillers, all of the spirits and mixers are made in-house. "We make everything from scratch," explains co-owner Kyle VanStrien. "We source ingredients from local farmers or purveyors any time we can. We're very proud that our cocktails have a sense of place."
The Long Road G&T is made with the distiller's American Dry Gin, which is 90-proof in contrast to most gins, which are 80-proof. The gin recipe uses six botanicals: juniper, cardamom, coriander, grains of paradise, pink peppercorn (which is a little floral, a little sweet, and a little spicy), and fresh lemon peel.
"One of the things that's unique about our gin is that it's not bitter," explains VanStrien. "It's more of a citrus-forward juniper with a nice balance of other botanicals that are really robust but not overpoweringly bitter or piney. It's more of a sweet berry juniper than a heavy pine flavor."
Long Road uses a house-made tonic and carbonates it in a keg with the gin, so the G&T is served on draft. "You know what you're going to get every time," said VanStrien. Long Road offers a handful of other rotating cocktails on draft, as well.
When you go, be sure to also sample Long Road's Michigin. Although it's not the gin featured in the G&T, it's the first gin made with 100 percent Michigan-sourced ingredients. Long Road employees make the trek to Beaver Island every September to harvest enough juniper berries for the next batch. "We pick a couple hundred pounds," VanStrien explains. "Depending on how much juniper we pick, that's how much Michigin we can produce for the year."
Not only is the state connection pretty cool, but in 2017, Michigin was named the Best Gin in the World at the "50 Best Competition" in New York City.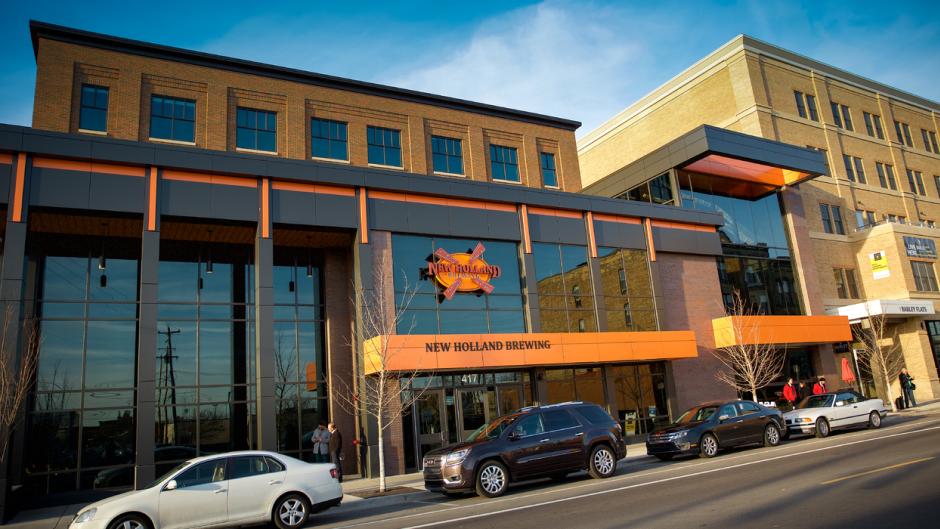 New Holland distills its own gin in its Grand Rapids location, the Knickerbocker.
Photo Credit: Experience Grand Rapids
---
New Holland Spirits
New Holland Spirits' G&T features New Holland's traditional Knickerbocker Gin. "The flavor is very citrus-forward and is infused with flavors from more than a dozen herbs and spices," says Layne Hayes, Spirits Marketing Project Coordinator.
To make the G&T, customers have their choice of several different tonics.  "We like our customers and consumers to find the one they like best, although Fever Tree tonic has always been a favorite of ours!" says Hayes. "A G&T made with Knickerbocker gin is very balanced."
New Holland Spirits makes three other Knickerbocker gin varieties, all of which can work well in a G&T. They're produced in New Holland's Grand Rapids distillery at the Knickerbocker and are available throughout the state of Michigan as well as at its three retail locations (Holland, Grand Rapids, and Saugatuck).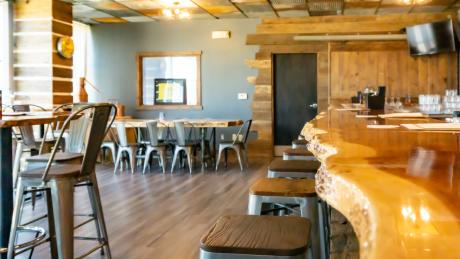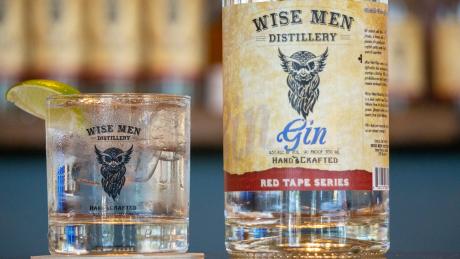 Wise Men Distillery hand-crafts its own spirits, and the gin is made in small, 10-gallon batches.
Photo Credit: Brian Craig for Experience Grand Rapids
---
Wise Men Distillery
Wise Men Distillery, which opened in Kentwood, handcrafts spirits in-house, including its 90-proof Red Tape Series gin. "We make our gin in small, 10-gallon batches," says Jason Post, head distiller and co-owner.
Wise Men uses juniper and coriander in its gin, giving it a slightly piney taste with soft floral notes. It has a citrus-forward flavor that comes from using four different citrus fruits — lemon, lime, orange, and grapefruit. "The citrus also cuts down on the pine from the juniper," says Post. Orris root and Angelica root round out the flavor profile, giving it a nice, earthy finish.
When you order a G&T at Wise Men, the Red Tape Series gin is mixed with a craft tonic from Detroit City Soda. "It's rich and strong without being too sweet," says Post.
While you're in the tasting room enjoying Wise Men's G&T, you might also want to sample its other handcrafted spirits, which include Wise Men's Apple Pie Moonshine, an award-winning Rum and Vodka, and a limited-edition Maple Syrup Moonshine.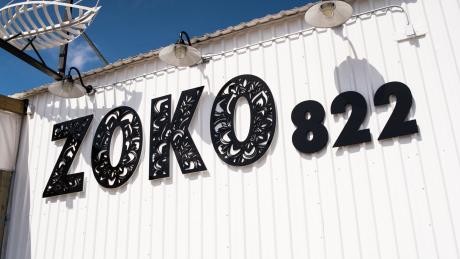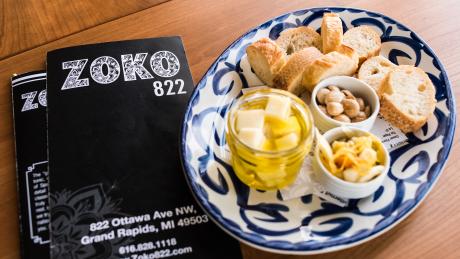 Try the Zoko G&T or build your own with one of 85 gins and six tonics at Zoko 822.
Photo Credit: Experience Grand Rapids
---
Zoko 822
Zoko 822 is a local restaurant that specializes in gin and in Basque cuisine. When you order the Zoko G&T, made with Mahón gin, your taste buds are transported to Spain, where they make Mahón on the island of Menorca. 
Also called Xoriguer by Spaniards (the "x" is pronounced "ch"), this unique spirit is distilled from grapes and made in a copper pot over a wood fire. 
"It's kind of unusual that it's a grape-based gin," says Corrin Goyette, Beverage Manager at Zoko 822. "We have 85 gins and none of the others are grape-based."
The Spanish-made gin nicely complements the tapas featured at Zoko 822. "The gin has a herbaceousness to it and is very juniper-forward," says Goyette. Zoko 822's G&T is served in a goblet with dried juniper berries, lemon peel, and rosemary.
"Right off the bat, you taste the fresh rosemary and lemon. The juniper berries add color. It's super crispy and refreshing," Goyette says. 
Zoko 822 mixes the Mahón with Boylan's tonic and a few drops of a secret house-made tincture (a high proof alcohol infused with botanicals) to create a G&T that has a muted sweetness with citrus notes and a dry finish. 
Zoko 822 can make a G&T with any of its 85 gins and six tonics but to get this particular mixture, order the Zoko G&T.
We hope you have fun trying these and other unique G&Ts in Grand Rapids. And, if cocktails are your thing, put Cocktail Week GR on your calendars, which occurs every year in early November. Be safe and be sure to let us know in the comments where to find your favorites!
Never miss a post!
Subscribe to the Insider Experience Blog