Hard seltzer continues to attract new fans across the nation and is one of the hottest new trends in boozy drinks. Hard seltzer, or spiked seltzer, is an alcoholic beverage containing carbonated water, alcohol, and usually a fruit flavoring. 
These beverages have really made a comeback over the past few years and are becoming increasingly popular among younger alcohol aficionados looking for options that are gluten-free, have less sugar, fewer calories, and fewer carbs. 
Seltzer sales across the US grew by 200 percent during 2019 according to Nielsen data, largely dominated by popular national brands like White Claw or Truly. With such high demand nationally, and even product shortages impacting distribution, a handful of local breweries jumped on board to try their hand at local versions of seltzers right here in Grand Rapids. 
I have been into the seltzer scene since before White Claw was cool or even a recognizable brand. I remember the first time I saw a friend with a can when it was first distributed to bars in Grand Rapids. Immediately curious, and looking for a new low-calorie drink option per my doctor's recommendation to drop a few pounds, I had to get my hands on every flavor available. 
Since first trying White Claw, Truly, Smirnoff, High Noon and the like, I have become a bit of a seltzer snob and make a point of trying every new brand and flavor as it's released. I have even become a fan of Natural Light's "Natty Seltzer" (who would have ever thought they'd have a seltzer line?!) and have talked a few of my favorite bars into carrying the product. 
If you're looking to try out a local variety that you won't find anywhere else, Grand Rapids has got you covered. 
Check out the following hot spots in Grand Rapids that are now serving their own line of seltzers.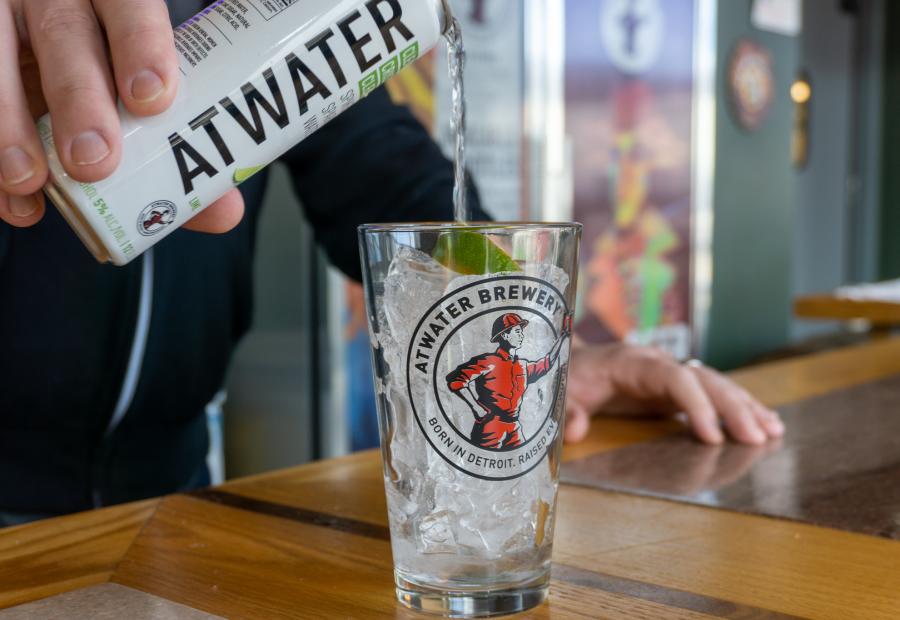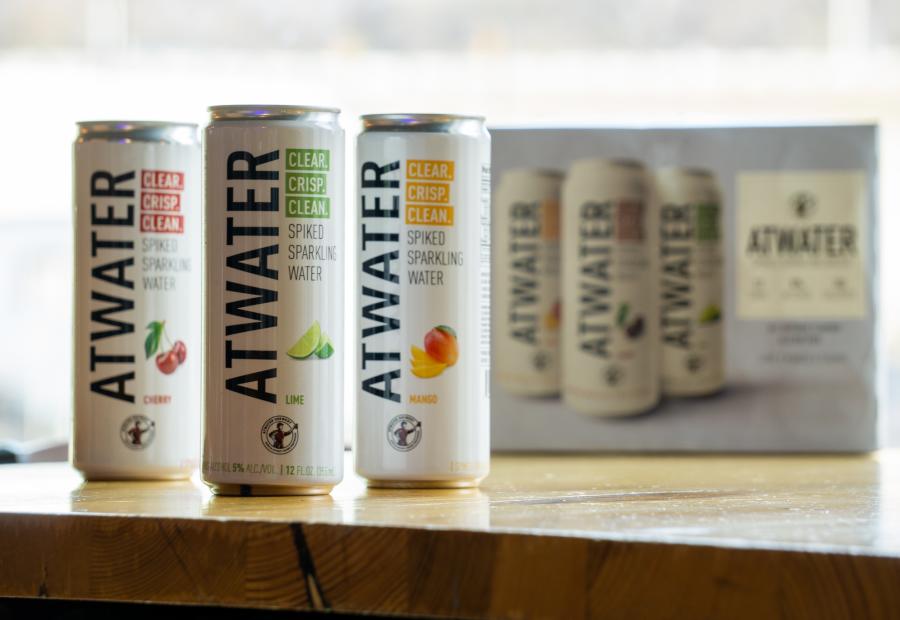 Atwater Spiked Sparkling Water comes in mango, cherry, and lime flavors.
Photo by Brian Craig for Experience Grand Rapids
Atwater Brewery
Detroit-based Atwater Brewery entered the hard seltzer business early in 2019 with the debut of Atwater Spiked Sparkling Water. The seltzers come in mango, cherry, and lime flavors and are available at their taproom in downtown Grand Rapids and at various local retailers. They are 5% ABV, 100 calories, and contain 5G carbohydrates. 
It can be a struggle to find a drink in breweries if you're not into IPAs (I'll admit I'm not much of a beer drinker for living in Beer City USA), so when I noticed this on a recent visit to Atwater I had to try it. The flavors mirror those of the national brands, especially the aforementioned Natty Seltzer) but have a fresher taste overall. My personal recommendation is to try the lime; it's clean, crisp, and refreshing, unlike any other lime seltzer I have tasted. If lime isn't your thing, I would also highly recommend the mango.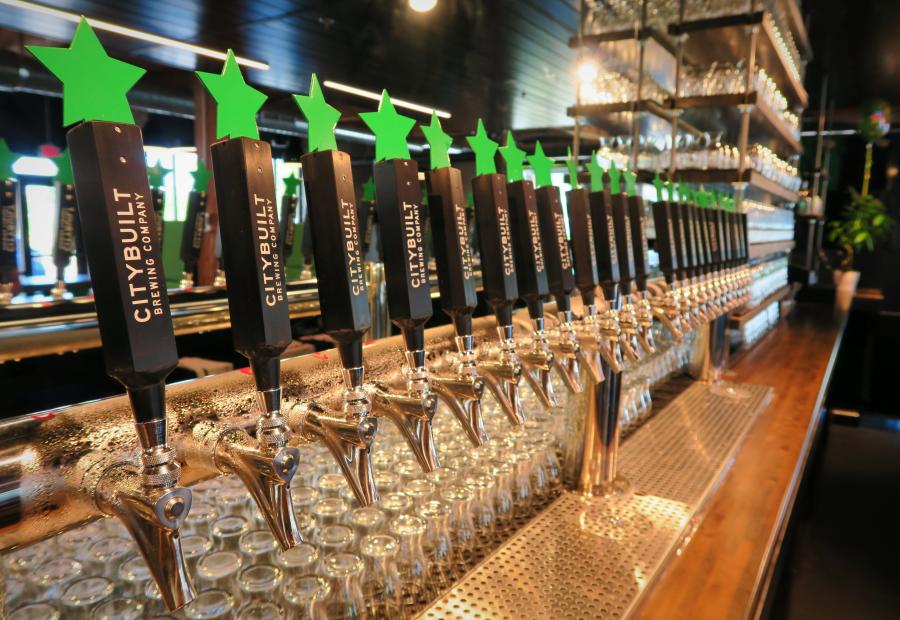 Each flavor of City Built Brewing's Sixth Street Seltzer is customizable with different flavored syrups.
Photo by Jason Ley
City Built Brewing Co.
Sixth Street Seltzer by City Built Brewing Co. is another tasty new seltzer to hit Grand Rapids. City Built uses local ingredients, such as Michigan beet sugar, that give these beverages a really refreshing burst of flavor and unique taste overall.
Flavors vary from the straightforward, like their original flavor, to the unexpected, including lavender lemonade. These seltzers boast 5.8% ABV, 0G sugar and 0G carbs to start before flavors are added in. Each flavor is customizable with different flavored syrups that can be added and taken to-go in crowlers. The lavender lemonade is a unique flavor with hints of fresh herbs and citrus that work well together – it came highly recommended to me, and I have found it to be a one-of-a-kind in the seltzer scene.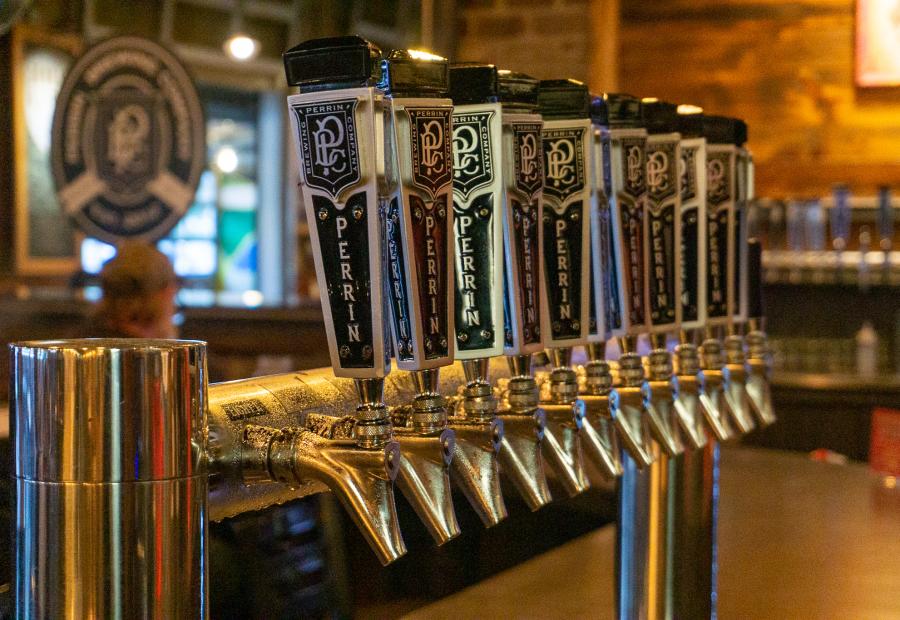 You can find Clear Coast hard seltzer at Perrin, as well as many retailers in West Michigan.
Photo by Brian Craig for Experience Grand Rapids
Perrin Brewing Company 
Inspired by the world's longest freshwater coastline – Lake Michigan – Perrin Brewing created Clear Coast. It's a crisp, clean hard seltzer in flavors of mango guava, mixed berry, and watermelon lime. Clear Coast seltzer is available widely in the Grand Rapids area and is another one of my personal favorites. The mango guava is extremely refreshing and has a unique taste. Frederik Meijer Gardens & Sculpture Park carries it during the Summer Concert Series and I have fond memories of sipping this seltzer while walking around the amphitheater. 
These seltzers are available in variety packs and have 5% ABV, 1G sugar, 3 carbs, and just 100 calories each. You can pick them up at Perrin Brewing Company or at most local retailers in Grand Rapids. Martha's Vineyard in the Midtown Neighborhood has an impressive selection of seltzers (and beer, wine, spirits, snacks, pizza, deli...the list goes on) and usually has Clear Coast in stock.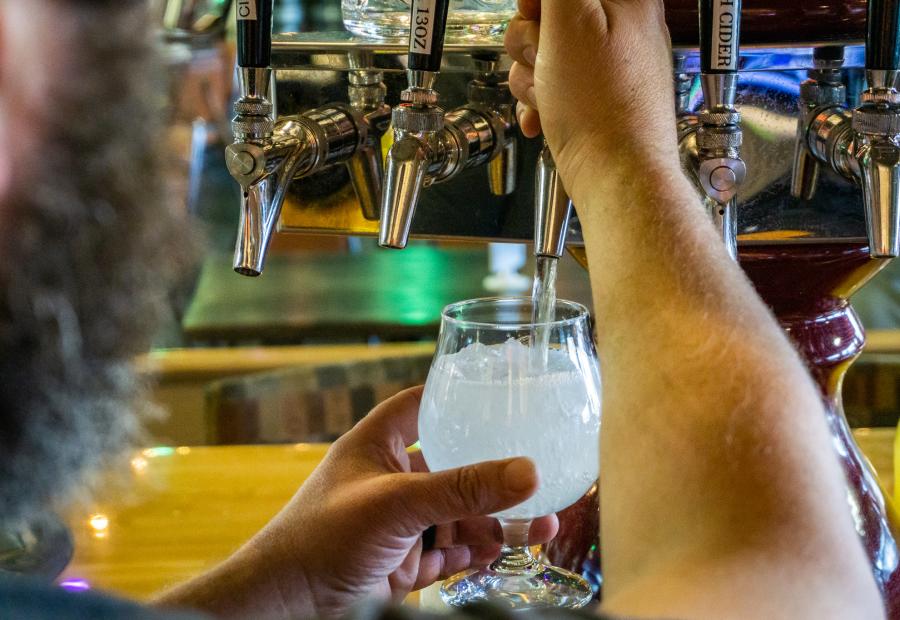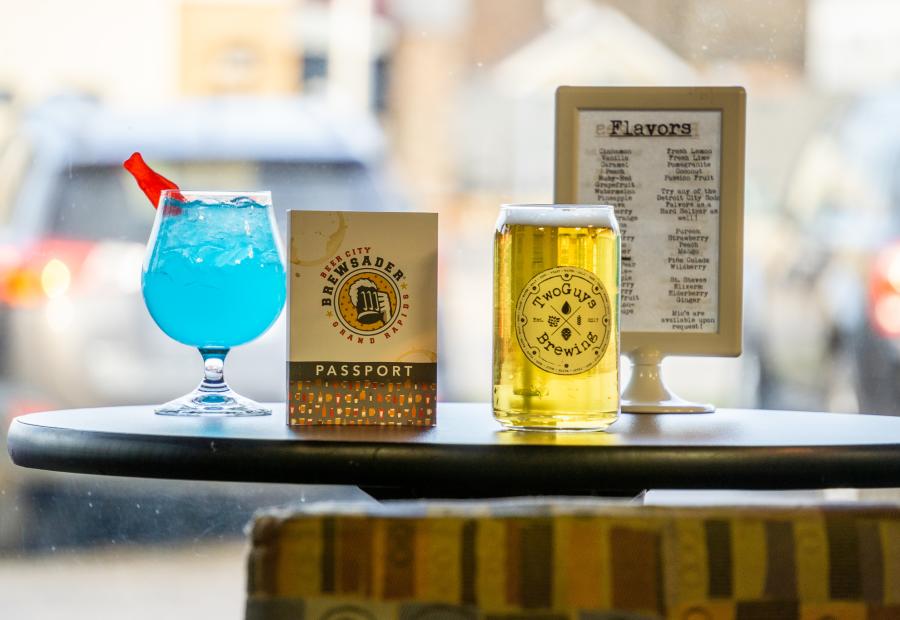 Choose from nearly 30 house-made flavored syrups to combine with TwoGuys' hard seltzer for a unique seltzer cocktail.
Photo by Brian Craig for Experience Grand Rapids.
TwoGuys Brewing
TwoGuys Brewing in Wyoming is known for its craft brews, food, and hard seltzer cocktails. They're referred to as "sugar-based carbonated wine" with only 70 calories, 0G of sugar, 0 carbs, but pack a powerful 7% ABV. 
To start, the seltzer comes in the original flavor known as the "Brian Seltzer" and has no sugar. You can add a variety of nearly 30 house-made flavored syrups to create your own medleys which add different amounts of sugar and added calories as you go. 
A few flavors on tap include cream soda, raspberry, strawberry, mango puree, piña colada, and more. Rock 'n' Rye is one of the most popular flavors, so stop in if you're looking for a personalized seltzer experience that you can take with you in 16 oz. cans. 
If you haven't been to TwoGuys, you should check it out. They have one of the most impressive line ups of seltzer flavors that I have found around Grand Rapids. They are located in an old 7-11 building just south of downtown and are known for an impressive food menu to accompany your seltzer sipping. 
Incidentally, every one of these breweries is part of the Beer City Brewsader(R) Passport program, and even if you're drinking seltzer, you can still get a stamp in your paper passport or a check-in via the app. 
Feel free to leave a comment if you're aware of another locally crafted seltzer that visitors should check out when they're in town.