There's no denying Grand Rapids' brunch scene is growing, and with it, there are more options than ever to find the perfect Bloody Mary.
From full-service Bloody Mary bars, to secret recipes and unique twists on the classic morning cocktail, here's a look at 11 must-try spots for the ultimate Bloody Mary fan, as suggested by our Facebook and Instagram fans.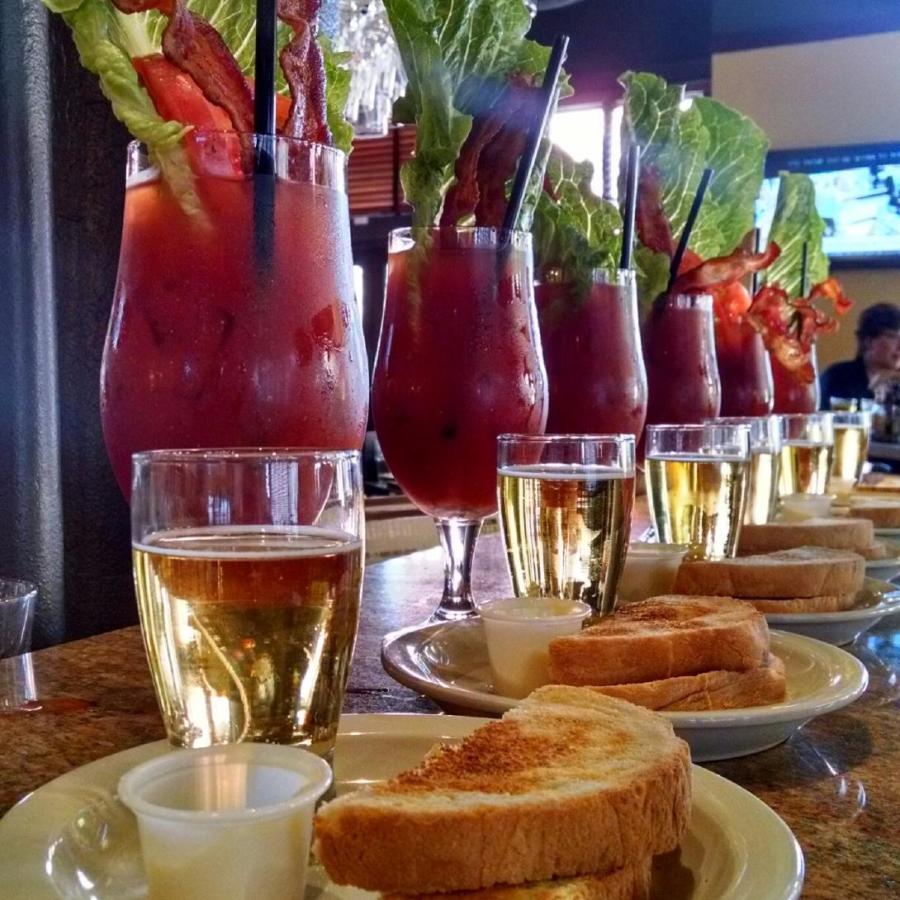 That bacon, lettuce and tomato are just begging to be turned into a BLT.
Photo by Sundance Grill and Bar
Sundance Grill and Bar
Sundance Grill and Bar blends their own Bloody Mary mix using a secret recipe that sets it apart from the ordinary. If you upgrade to the BLT version, the drink comes with bacon, lettuce, and tomato in it, as well as a side of Texas toast and mayonnaise that you can use to create the perfect snack to nosh on while you savor your drink. If you're the sidecar type, Sundance has you covered there, as well.
Rockwell Republic
Rockwell Republic offers a build-your-own Bloody Mary bar on Saturday and Sunday that locals love. The secret is in the spirits. "We have many house-infused vodka flavors available for Bloody Marys," says Becca Ranville, event coordinator and assistant manager at Rockwell Republic. A sampling of those enticing flavors includes dill, garlic, habanero, and ghost pepper!
What guests say: "The cilantro-infused vodka is the absolute best." @jazminebarajas via Instagram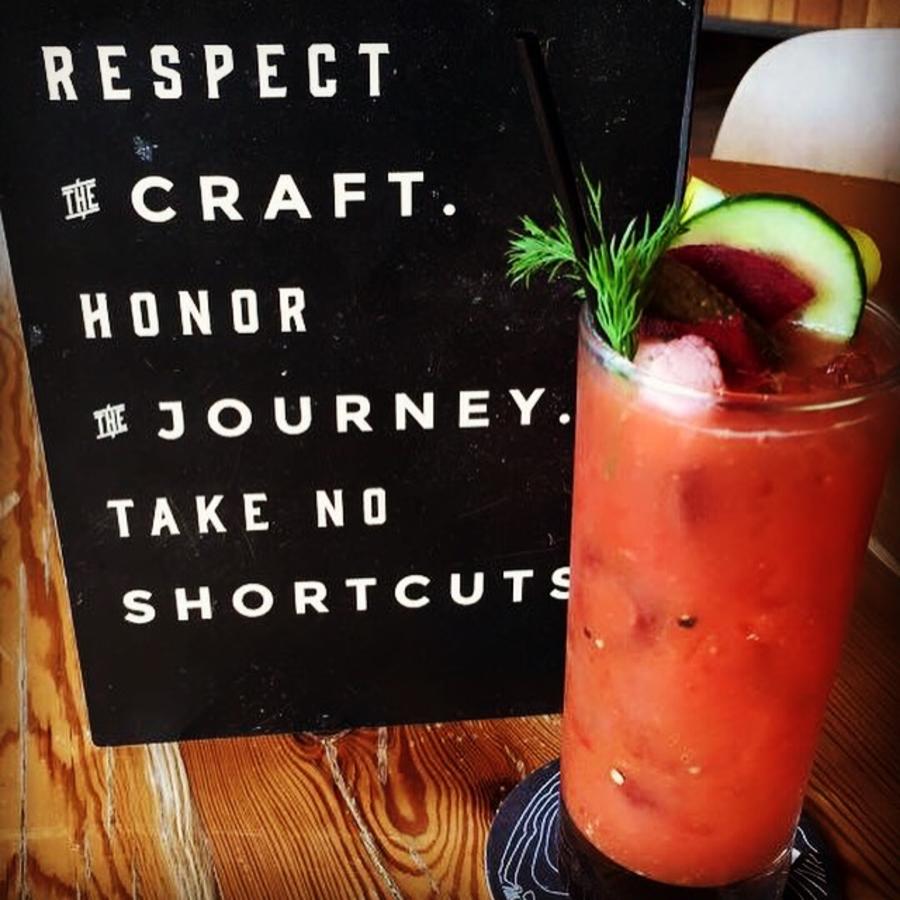 "It's simple, unpretentious, and delicious. They use their award winning Aquavit in it, which take the flavor profile up a notch vs. an ordinary BM anywhere else. It's a must if you've never had one there." Mark via Facebook
Photo by Long Road Distillers
Long Road Distillers
Ready for something a little different? Long Road Distillers crafts their own Bloody Marys, beginning with Aquavit, a Scandinavian spirit, rather than vodka. They also blend their own mix, using high-quality juiced tomatoes, Worcestershire sauce, horseradish, and garlic as well as freshly juiced celery and a house-made pickle brine. "This allows the other flavors to pop," says Daniel Lovig with Long Road Distillers. Now wait for the kick: it comes from habanero peppers, morita and meco chipotles, and black pepper. The special Bloody Mary is finished with freshly ground celery and dill seed.
Stella's Lounge
You know they have great burgers, but did you know they also have a stellar build-your-own Bloody Mary bar? All the usuals, plus that great Stella's atmosphere.
What locals say: "Stellas for sure! Can't beat their 5$ Sunday Bloody Mary bar." @farsideh8 via Instagram
O'Toole's Public House
O'Toole's build-your-own Bloody Mary bar includes a variety of mixes and several types of infused vodka (think jalapeños and peppers). Add all kinds of spices, limes, pickles, and a great price, and you've got one popular Bloody Mary bar.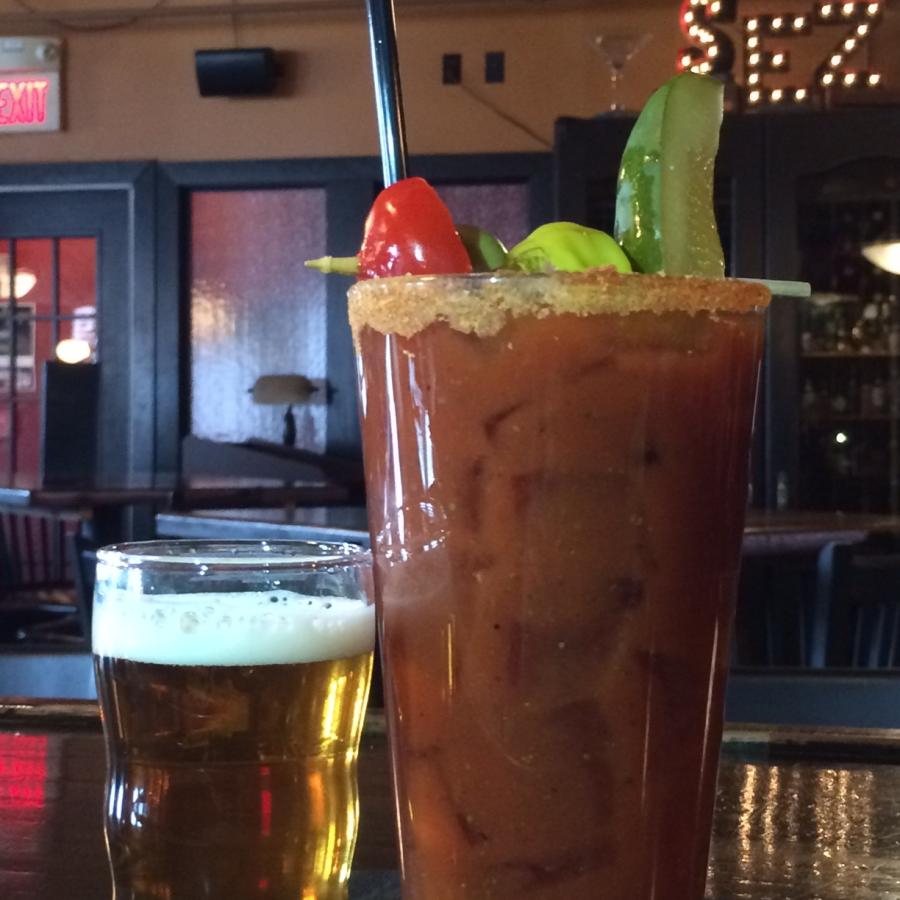 Enjoy SpeakEZ's unique Bloody Mary blend.
Photo by SpeakEZ Lounge
SpeakEZ Lounge
Every weekend SpeakEZ mixes a fresh batch of their special signature recipe, refined over many years, to serve thirsty customers. You're in for a treat when you taste the secret blend with earthy and smoky spices. "It includes a variety of Mediterranean and Middle-Eastern flavors along with a healthy dose of Sriracha for a deep and complex spice profile," says Calin Skidmore, general manager at SpeakEZ Lounge.
Steel Cat Bar
The super cool (and cold) frost rail at Steel Cat Bar is something to behold. Go on a weekend and you can experience the extensive Bloody Mary bar. You won't feel deprived with your choices of fresh vegetables, herbs and spices, shrimp, oysters, sardines, meats, and pastries. Choose from several different Bloody Mary mixes – some spicy, some basic, one is gluten-free! – and add your choice of hot sauces and garnishes.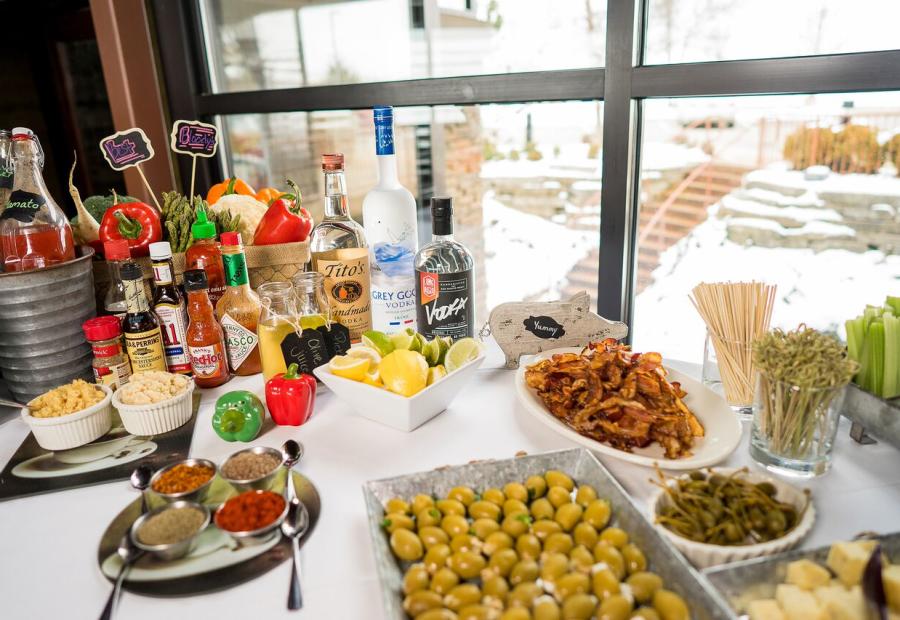 Enjoy a stellar brunch spread with your Bloody Mary at Blue Water Grill.
Photo by Fox Blot Labs
Blue Water Grill
At the Gilmore Collection's Blue Water Grill you can enjoy a beautiful view while you sip your favorite Bloody Mary. The build-your-own Bloody Mary bar offers several different mixes as well as a vast array of garnishes. There are fresh and pickled vegetables (including my favorite, pickled green beans), as well as a variety of stuffed olives, cheeses, and meats. You'll also find several kinds of salts and seasonings to sprinkle on top, a variety of hot sauces, and bacon!
The Winchester
The Winchester encourages you to jazz up your Bloody Mary however you like it best. You can play mixologist with three different mixes as well as a variety of hot sauces and juices. Be sure to create a skewer masterpiece from their selection of meats and cheeses.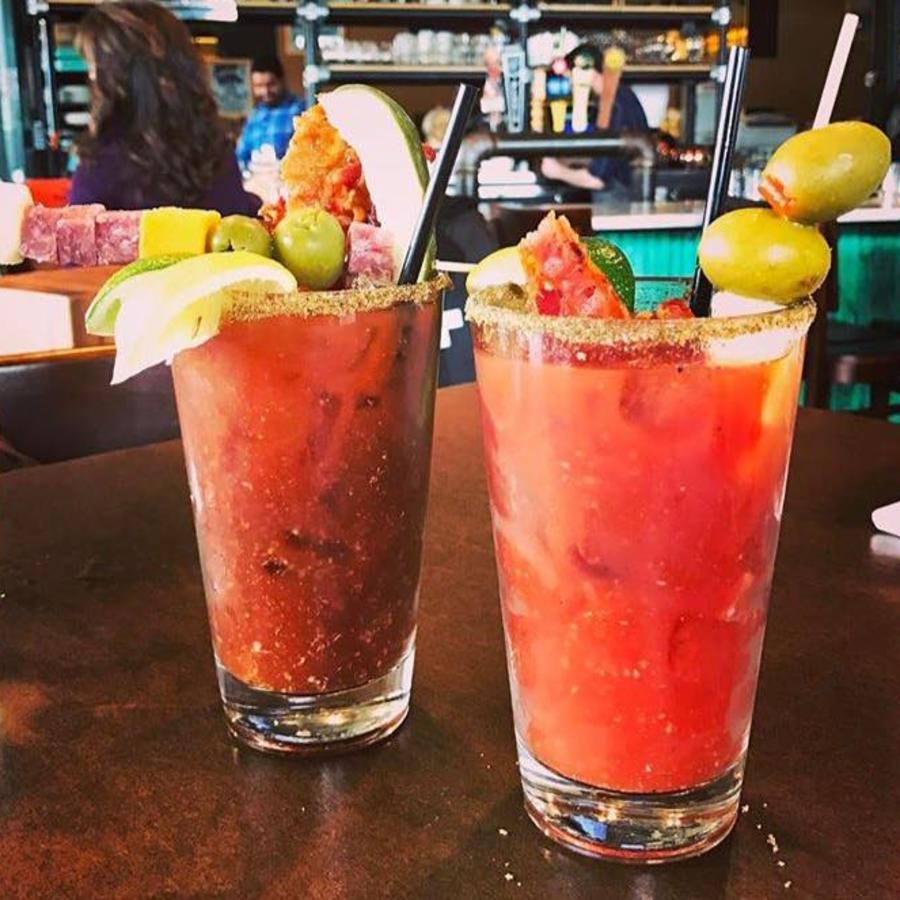 Explore Downtown Market after your Bloody Mary at Social Kitchen.
Photo by Social Kitchen and Bar
Social Kitchen & Bar
This amazing spread takes up an entire corner of the restaurant every weekend. Social Kitchen & Bar inside the Downtown Market makes their own Bloody Mary mix and offers dozens of different garnishes, including more than 20 types of hot sauce, pretzel rods, Worcestershire sauce, dill, horseradish, and an assortment of meats, cheese, vegetables, and peppers. If you're lucky, they'll have their meat straws available.
Birch Lodge
With five different mixes and tons of garnishes such as horseradish, jalapeños, olives, and bacon, Birch Lodge offers an ample build-your-own Bloody Mary bar. What really makes it unique is the free taco bar that accompanies it on Sundays from 11AM to 3PM. (If you order any beverage, whether it's a Bloody Mary or a soda, the taco bar is free!)
What locals say: "Birch Lodge Sunday Bloody Mary bar is pretty solid, and there's a free taco bar running at the same time, so... " @meatfreebeats via Instagram
If Bloody Marys are calling your name, give these places a try. For even more options, check out this list of Grand Rapids restaurants with Bloody Mary bars.