When it comes to easy and efficient air travel, the Gerald R. Ford International Airport (GRR) in Grand Rapids, Michigan, is in a bit of a sweet spot.
It's big enough to be serviced by six airlines and offer 30+ daily nonstop flights to major cities, but small enough to be easy to navigate and get in and out of.
So easy, in fact, that GRR was recognized in the category of Easiest Airport Journey in North America in the 2022 Airport Service Quality Awards bestowed by Airports Council International (ACI).
ACI is an organization of airport authorities aimed at uniting industry practices for airport standards. In 2022, it also cited GRR in the categories of Airport with the Most Dedicated Staff in North America, Cleanest Airport in North America and Best Airport serving 2 to 5 Million Passengers Per Year in North America.
Here are five reasons why GRR earns such lofty praise – and makes traveling easy for anyone flying into or out of West Michigan.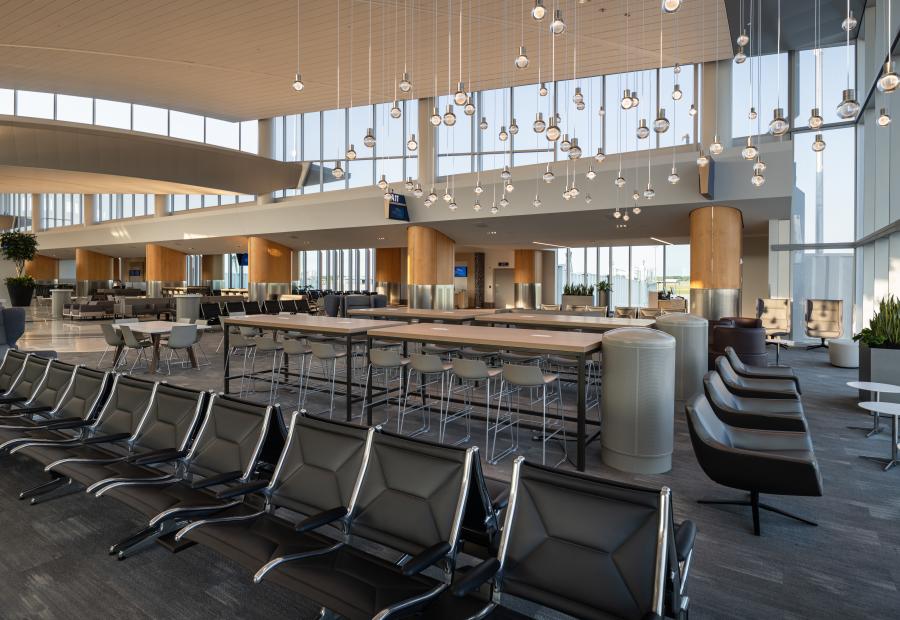 The freshly redone Concourse A features eight new gates, an increased variety of seating options, new concession concepts and more!
Photo by Courtesy of Gerald R. Ford International Airport
$500 Million in Improvements
GRR is in the midst of one of the largest capital expansions in the U.S. for a small-hub airport. Already completed is a Gateway Transformation project that enhanced ticketing, security processing, baggage screening and baggage claim, and added a new post-security marketplace, pre- and post-security nursing rooms, pre- and post-security business centers and more, all aimed at improving the passenger experience.
In summer 2023, GRR unveiled a newly expanded Concourse A with eight new gates, bringing the airport's total to 14. New concession and retail concepts, a greater variety of seating options and a new companion care restroom were also introduced.
Additional passenger amenities are slated for 2024, including a new executive lounge catering to the needs of business travelers. A consolidated rental car facility with an enclosed walkway from the terminal should be completed in 2025. On the way are a new Checked Baggage Inspection System (CBIS) to streamline TSA operations, a new Federal Inspection Station (FIS) to accommodate direct international passengers and cargo, and a relocated air traffic control tower to facilitate future growth and expansion.
Therapy Dogs
Anxious? Scared? Stressed? Frustrated? Maybe petting a friendly dog will help. In 2013, the Ford Airport introduced volunteers from West Michigan Therapy Dogs Inc. The dogs and their handlers roam the terminals throughout the week to relieve travel stress for passengers, calm kids who may be impatient while waiting and help ease the frustration of weather-delayed flights.
Passengers can also request therapy dogs to meet them by contacting the airport in advance of their travels. The dogs can't work around the clock, but the airport will do its best to honor requests. There is no charge for this service.
Little Free Library
Despite the prevalence of smartphones and tablets, many people still like to read an actual book on their flights. The Ford Airport is helping through its Little Free Libraries – one on each concourse.
Staff from the Kent District Library system visit regularly to ensure both kiosks are adequately stocked with books serving a variety of interests, ages and languages. Books are accessible 24/7 and can be "checked out" for free. When you've finished the book, just pass it on to someone else – perhaps through the ever-expanding network of Little Free Libraries across the globe.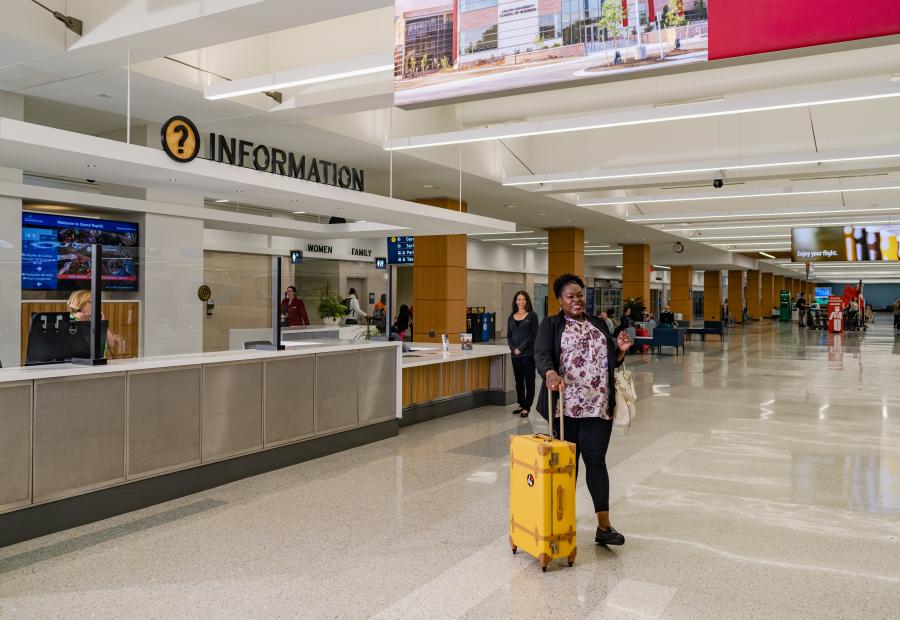 For any question you might have about your stay in Grand Rapids, the Experience Grand Rapids airport ambassador team is there to help!
Photo by Brian Kelly for Experience GR
Information on Demand
Trained Experience Grand Rapids ambassadors staff the GRR Visitor Information Desk seven days a week from 9am-midnight, armed with broad knowledge of the area and its services. The Desk is stocked with maps, brochures, event information and other helpful resources that are available 24/7.
The ambassadors – identifiable by their signature light blue coats – also spread throughout the terminal and concourses to answer any questions people might have, whether it's about airport services or the city and surrounding area.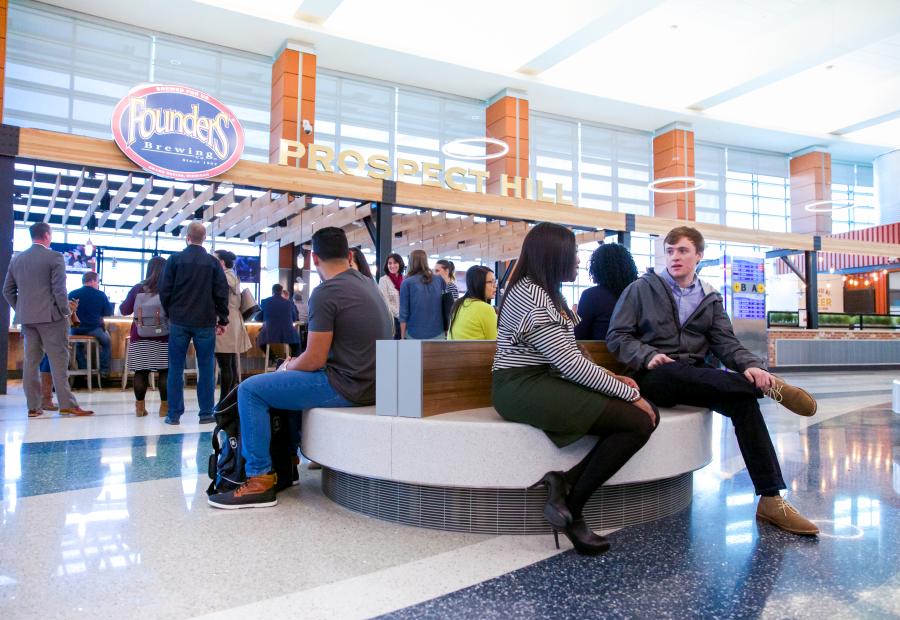 Check out Prospect Hill for some Founders' beer and a taste of Beer City, USA.
Photo by Experience Grand Rapids
Transportation Services
Taxis are always waiting at the airport, ride share services like Uber and Lyft are easily accessible, and The Rapid bus system provides an economical way to get from the airport to downtown Grand Rapids, which is only a 20-minute drive away.
Numerous local hotels offer shuttle service from the airport to their properties. Also, it's a 45-second walk from the baggage claim area to the five car rental companies serving the airport – a great choice if you'd like to explore the Lake Michigan coast (30-45 minutes from Grand Rapids) in addition to the city proper.
GRR also offers six restaurants, including Prospect Hill, where you can get a taste of Beer City, USA in the form of world-famous, made-in-Grand Rapids beers from Founders Brewing Company. Three complimentary Business Centers are outfitted by locally headquartered Steelcase, Inc., a global design and thought leader in the world of work. A Military Welcome Center is open to military members, veterans and their families 24 hours a day.
There's also a free mobile app for checking real-time flight info, security wait times and more; free WiFi in terminal and concourse areas; device charging stations in gate areas; electric vehicle charging stations in the short-term parking area; two aviation-themed playrooms for kids and much more.
Gerald R. Ford International Airport is the perfect gateway to Grand Rapids – a destination that is as easy, accommodating and enjoyable as its airport. Book a flight today!