When it comes to easy and efficient air travel, the Gerald R. Ford International Airport in Grand Rapids, Michigan, is in a bit of a sweet spot.
It's big enough to be serviced by five airlines and feature 24 nonstop flights to major cities, but small enough to be easy to navigate and get in and out of. And because Allegiant and Southwest are two of its airlines, fares have remained competitive.
"That's a good mix for us," said Tara Hernandez, marketing and communications director for the airport. "Allegiant and Southwest are two low-cost carriers. They have really driven the prices of airline tickets down because it's been good competition."
That is one of several reasons the Ford Airport can make your travel experience easy and enjoyable. Here are five more:
Therapy Dogs
Anxious? Scared? Stressed? Frustrated? Maybe petting a friendly dog will help. In 2013, the Ford Airport introduced volunteers from West Michigan Therapy Dogs Inc. The dogs and their handlers roam the terminals throughout the week to relieve stress for passengers or help greet military personnel returning home from service.
"We've had passengers travel with anxiety or a fear of flying, and the dogs would comfort them," Hernandez said. "We've had requests for the dogs to help with children with autism. They go through security with them and help them all the way until they get on the plane."
Airport Therapy Dog
Photo by Gerald R. Ford International Airport
Little Free Library
Despite the prevalence of smartphones and tablets, many people still like to read an actual book on their flights. The Ford Airport is helping through its Little Free Libraries – one on each concourse.
Staff from the Kent District Library system visit regularly to ensure both kiosks are adequately stocked with books serving a variety of interests, ages or languages. People can take them for free.
"It's sort of the 'take a book, leave a book' program," Hernandez said. "We've had people mail them back to us saying they appreciated it."
But mailing back is not necessary. People can simply pass them on to someone else, maybe through the ever-expanding network of Little Free Libraries.
If you have questions, you'll find answers
The airport recently upgraded its Visitor Information Center, which Experience Grand Rapids staffs with people trained in the Certified Tourism Ambassador Program, giving them broad knowledge of the area and its services.
The ambassadors – in their signature green coats – spread throughout the terminal and concourses to answer any questions people might have, whether it's about airport services or the city and surrounding area.
Hernandez said much of the airport staff also trained in the CTA Program, including police officers, parking staff and curbside security.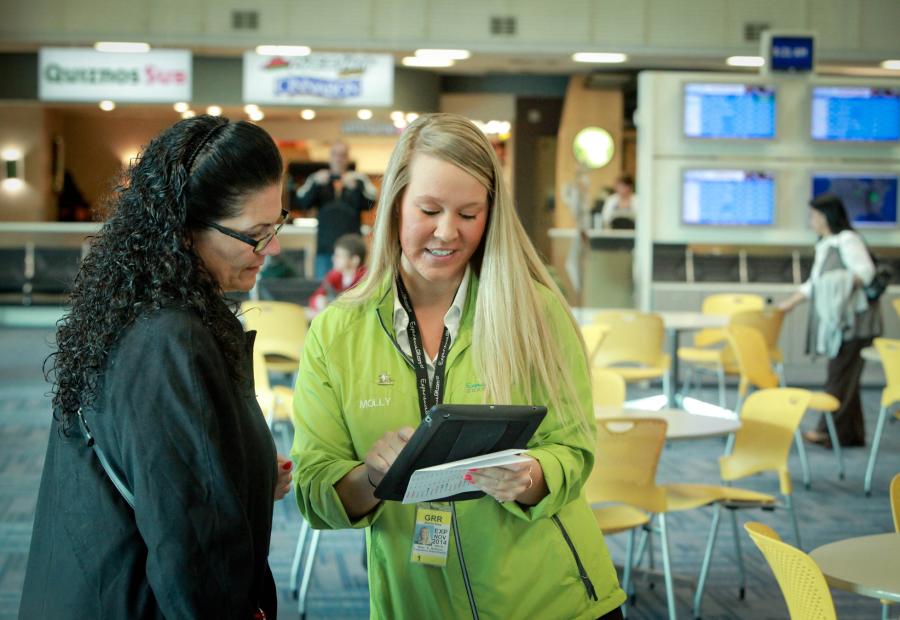 Airport Customer Service
Photo by Experience Grand Rapids
Getting in and out
Taxis are always waiting, ride share services like Uber, Lyft or SteadyFare are easily accessible, and The Rapid bus system provides an economical way to get from the airport to downtown.
Also, it's a 45-second walk from the baggage claim area to the five car rental companies serving the airport.
"We always encourage people to grab a car and drive, not only around Grand Rapids, but go out the lakeshore and see Holland, Grand Haven or Muskegon, Hernandez said. "And you pick up your car right there; you don't have to take a shuttle to a different location."
Forward thinking
The Ford Airport has seen record-breaking growth in passenger travel for last four years. More than 2.6 million travelers flew in and out of the airport in 2016, 4 percent more than the year before.
To serve that ever-growing number, the airport is in the middle of a $45 million Gateway Transformation project, which promises improvements to security screening, services for families and business travelers and aesthetic updates throughout.
It also features expanded amenities, including a new Starbucks and a brew house and restaurant featuring Founders beer – both accessible after the security check.
"We've listened to people over the last few years, and that is exactly what this project is based on," Hernandez said.