A lunch break is a great opportunity to explore the culinary scene in downtown Grand Rapids ¬– especially because so many lunch options are located within a casual stroll of our convention center.
We've compiled a list of eateries located a half mile or less from the intersection of Monroe Avenue and Lyon Street, at the south end of DeVos Place Convention Center – so you can easily walk to them, enjoy your meal and get back to the convention floor before afternoon sessions begin. Many of these are also located along FREE bus routes – look for the pink DASH Shuttle – and can be accessed via rideshare services.
Grand Rapids was named a Top 20 U.S. Foodie City in 2021 – and the #1 most affordable – so delicious is always on the menu, whether at an elegant fine dining establishment or a drop-in-anytime coffeehouse. Bon Appetit!
Restaurant hours and menus can change without notice, so it's always a good idea to confirm via phone or social media before you visit. 
Upscale Casual
Bistro Bella Vita
Frequent winner of local dining awards serves up modern French and Italian cuisine, made from scratch with as many sustainably sourced ingredients as possible. Mon-Fri.
Margaux
Contemporary French bistro in the JW Marriott Hotel brings the best of classic European cuisine to a modern American audience. The outdoor Jdek offers year-round riverside seating. Mon-Sun.
 
Real Seafood Company
Contemporary, polished eatery menus premium fresh fish and seafood from the waters of New England to the Great Lakes along with the authentic flavors of seasonal and local produce. Mon-Sun.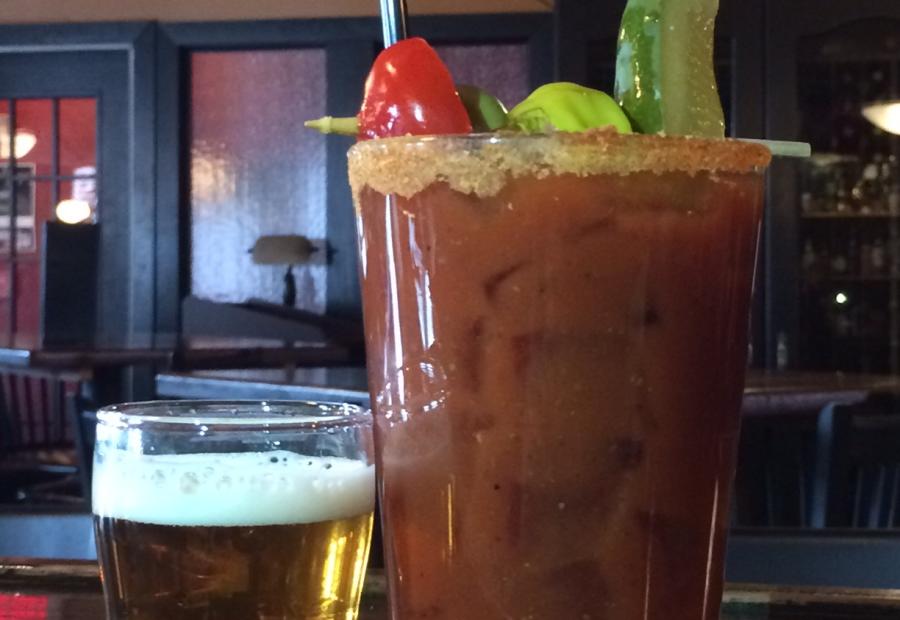 Enjoy lunch at the Kitchen Counter by Wolfgang Puck, conveniently located in the Amway Grand Plaza, or pair a bloody Mary with your meal at SpeakEZ Lounge.
Photo by Quinn PR
Casual
Angel's Thai Café
Features an extensive menu of authentic Thai fare including your-choice stir fry options. Tue-Sun.
Barrio Tacos
Midwest chain restaurant offers signature build-your-own tacos and tasty cocktails in a hip, casual space. Thur-Sat.
Beacon Corner Bar & Coastal Fare
Inspired by three coasts – East, West, and Michigan – Beacon offers fish and seafood dishes as well as "land fare" and handcrafted cocktails. Tue-Sat.
Big Boy
Iconic American family restaurant features a voluminous menu including all-day breakfast. Daily.
Big O Pizza & Booze
Family-friendly eatery with specialty pizzas, subs, and red-sauce fare in a chill space with a bar. Wed-Sat.
Brick & Porter
Local pub serves creative burgers plus a selection of entrees, sandwiches, salads, soups, craft beer, and specialty drinks. Daily.
Buffalo Wild Wings
National chain restaurant dishes up wings, tenders, and burgers along with an array of sauces and side dishes. Daily.
Cinco de Mayo
Fresh-made Mexican food – tacos, enchiladas, burritos, fajitas, and much more – grace the menu at this cheerful cantina restaurant. Daily.
The Cottage Bar
A Grand Rapids tradition since 1927, The Cottage Bar serves up burgers, sandwiches, salads, soups, and other pub favorites. Wed-Fri.
Dublin Hall
Traditional pub food, Irish and Mexican beers, and a wide variety of cocktails are in store for you at this casual Irish bar and restaurant. Sun. 
Flanagan's Irish Pub
Festive watering hole dishes out bar-food standards and traditional Irish cuisine in a casual environment. Full bar service. Daily.
Forty Pearl
"An extension of the Leelanau Peninsula in downtown Grand Rapids" serves a variety of fish and other entrees plus shareables, soups, salads, and sandwiches. Mon-Sat.
Grand Woods Lounge
Hunting lodge-themed restaurant offers great "drinks, grub and grooves" – including 84-oz. cocktail "buckets," upscale comfort food, and live entertainment. Daily.
 
Hong Kong Express
Downtown's destination for a wide variety of authentic, affordably priced Chinese food includes Cantonese and Szechuan specialties. Daily.
HopCat
Beer bar offers a curated local tap list, award-winning Cosmik Fries, and "food your Mom would make if she loved craft beer." Daily.
House of Wine
A great place to get expert wine advice, sample wines from around the world, and enjoy fresh-made charcuterie boards, small plates, salads, and paninis. Mon-Sat.
The Kitchen Counter by Wolfgang Puck
Celebrity chef eatery in the Amway Grand Plaza Hotel serves fresh baked goods and made-to-order breakfast and lunch items. Dine in or grab and go. Daily.
Leo's Coney Island on Tap
Diner offers an expansive menu of American comfort food and Greek specialties, plus breakfast all day, beer, wine, and craft cocktails. Daily.
The Littlebird
Café-style restaurant features elevated, made-from-scratch breakfast/brunch and dinner dishes. Full bar. Tue-Sun.
Luna
Hip, modern Mexican restaurant serves tacos, quesadillas, tortas, fajitas, and more. Margaritas, mojitos, tequila, mezcal and Mexican beer, too. Fri & Sat.
MeXo
Enjoy modern takes on traditional Mexican dishes along with creative tequila and mezcal drinks. Wed-Sun.
Monsoon Vietnamese Cuisine
Authentic Vietnamese cooking using such ingredients as roasted salmon, grilled tomahawk pork chops, beef tenderloin, braised pork belly, and more. Mon-Sat.
One Twenty Three Tavern
Hip, industrial-chic eatery dishes up elevated sandwiches, burgers, and entrees along with craft cocktails. Located at the Studio Park entertainment complex. Daily. 
Pind Indian Cuisine
Choose from an extensive menu of traditional Indian specialties, from Tandoori Chicken and Lamb Biryani to Vegetable Pakora and Amritsari Fish. Daily.
Roam by San Chez
"Global street eats" menu features casual dishes from around the globe, including handhelds, skewers, veggies, and sweets. Tue-Sat.
Rockwell Republic
Gastropub offers a diverse menu – from comfort food to sushi – and offers craft cocktails, three separate bars, and an outdoor dining deck. Daily.
San Chez A Tapas Bistro
A blend of European, Mediterranean, and Latin American cuisine (and drinks!) in a laid-back, artful atmosphere. Tue-Sun.
Social House Kitchen and Bar
Casual pub-style restaurant offers New-American pub fare, brunch, happy-hour specials, and a seasonal patio. Wed-Sun.
 
Social Misfits
Restaurant at the Residence Inn by Marriott serves sweet and savory waffles all day long, along with artisan coffees and cocktails. Daily.
Soho Sushi
Asian café offers classic Japanese sushi as well as Chinese and Thai dishes, all prepared to order. Tue-Sun.
SpeakEZ Lounge
Prohibition-inspired casual lounge offers an eclectic menu of New American eats plus craft beers and signature cocktails. Mon-Sat.
Stan's Tacos
Bright, airy eatery makes every day feel like a summer patio party, with delicious tacos and delectable margaritas, plus nachos, burritos, salads, and more. Daily.
Sundance Grill & Bar
Choose from a menu of American favorites with Southwest flavors – burgers, sandwiches, shared plates, all-day breakfast, and a full bar. Daily.
Tupelo Honey Southern Kitchen & Bar
Dig into scratch-made Southern favorites – shrimp & grits, fried chicken & buttermilk waffles, fried green tomato sandwiches, luscious libations, and more. Daily.
Uccello's Ristorante
Casual family restaurant offers a vast menu of Italian-American eats, including pizza, pasta, and risotto, plus an array of local and national beers. Daily.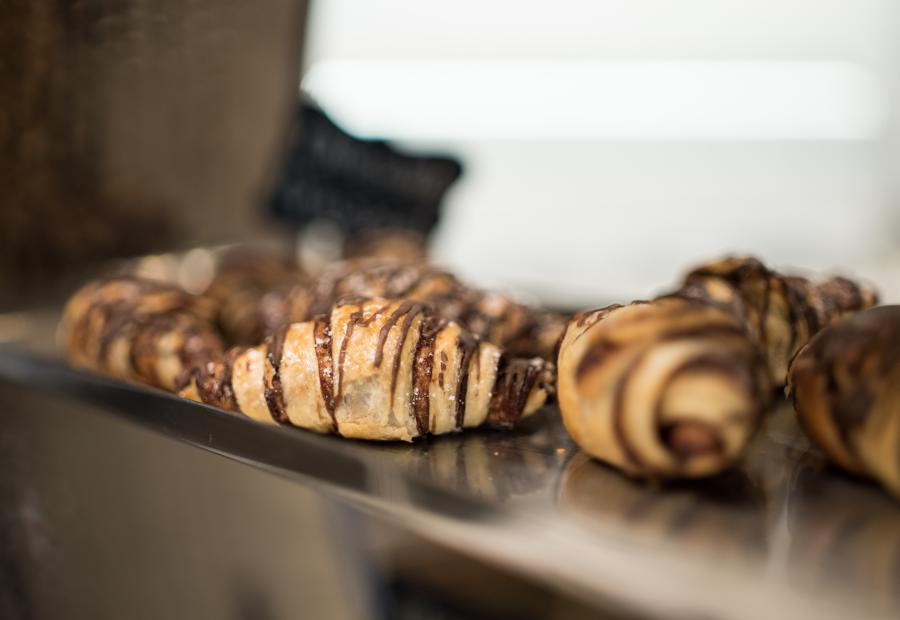 Stop in for a light, easy meal at Rendezvous.
Photo by Experience Grand Rapids
Quick Bites
ATO Sushi
Traditional Korean + Japanese restaurant offers fresh sushi, delicious bentos, and other authentic dishes. Mon-Sat.
Burger King 
The Home of the Whopper offers a bevy of burgers, chicken sandwiches, fries, onion rings, shakes, and ice cream. Daily.
CitySen Lounge    
Casual lounge at CityFlats Hotel offers a menu of shareables, sandwiches, burgers, soups, and salads plus full bar service. Daily.
Express Café
Counter-style restaurant offers a creative selection of sandwiches, wraps, salads, and more. Daily.
Freshii
Healthy bowls, burritos, salads, wraps, soups, smoothies, and juices made convenient and affordable. Mon-Sat.
Jimmy John's
Counter-service chain specializes in sub and club sandwiches plus signature potato chips. Daily. 
One Stop Coney Shop
Family-run venue turns out burgers, regional-style hot dogs & fresh-cut fries. Mon-Sat.
Panera Bread
The downtown location of this chain restaurant offers a varied menu of sandwiches, salads, soups, pizza, bowls, and more. Mon-Fri.
Parsley Mediterranean Grille
"Fast, healthy and affordable" is the mantra at Middle Eastern dishes include made-from scratch hummus, baba ghanouj, fattoush, shawarma, and more. Daily.
Poke Poke
Sushi Unrolled" is the concept at this chain restaurant – build your own bowl from an array of tropical ingredients or choose a flavor-balanced signature bowl. Daily.
Rendezvous
Modern lounge offers a limited menu of light eats plus a wide selection of craft cocktails, fine wine, and premium beer. Mon-Fri.
Ski's Sub Shop
Serving downtown since 1977, Ski's offers hand-crafted subs with your choice of toppings, prepared on locally baked bread. Mon-Fri.
Sunny Boba Tea
A small sandwich menu complements the array of boba smoothies and milk teas at this cheerful counter-service eatery. Daily.
Sushi Yama
Casual counter-service eatery in McKay Tower features an extensive menu of maki and nigiri sushi plus an assortment of lunch combos. Mon-Sat.
Terra Bagels
Handmade bagels boiled and baked fresh daily plus teas and specialty drinks that pair deliciously with bagels and bagel sandwiches. Daily.
Two Beards Deli
A sandwich lover's dream, which nearly 100 choices ranging from a classic Reuben to vegan paninis, as well as salads and soups. Daily.
Wahlburgers
The Wahlberg family restaurant offers a mouthwatering selection of burgers, salads, sides, kids' meals, beer, wine, craft cocktails, and "Boozy Shakes." Daily.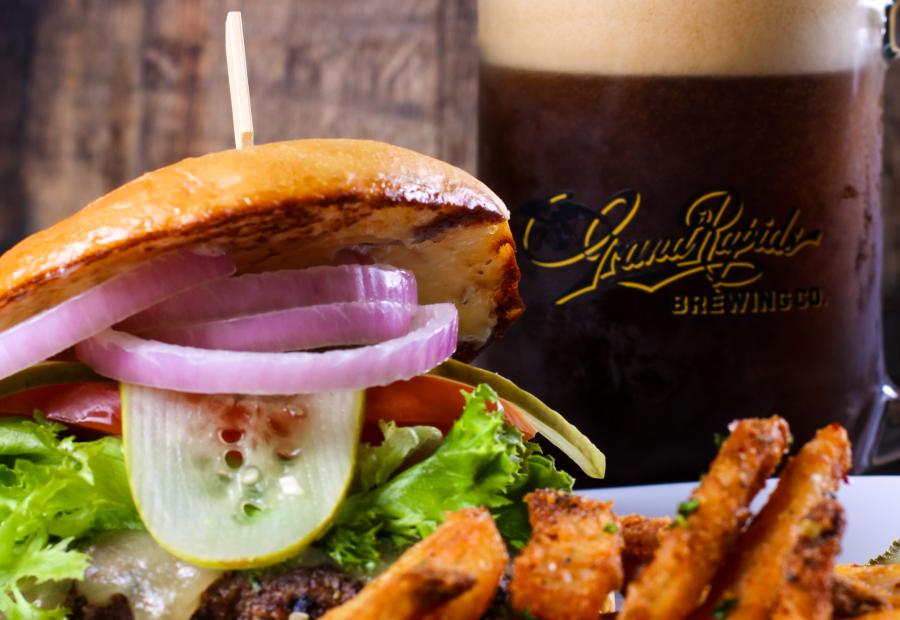 Don't miss out on the many breweries Beer City has to offer!
Photo by Grand Rapids Brewing Company
Breweries
Atwater Brewery
The GR location of a Detroit-based brewery serves a variety of shareables, salads, and handhelds to go along with its signature beers. Mon-Sat.
Grand Rapids Brewing Company
Shareables, soups, salads, steak melts, sandwiches, stone-oven pizzas, and more complement the extensive beer, wine, cider, and cocktail list at this brewery. Thur-Sun.
Coffee & Sweets
Biggby Coffee
Michigan-based coffeehouse chain offers "bragels," muffins, and grab-and-go items along with an extensive collection of coffee and tea drinks. Daily.
Kilwin's Chocolates & Ice Cream
Ice cream plus made-in-store chocolates, fudge, caramel corn, and other treats. Lunch and Dinner Daily. Daily.
Lantern Coffee Bar and Lounge
Traditional espressos, brewed coffees, tea, cocoa, and local baked goods. Daily.
Le Macaron French Pastries
Enjoy a taste of Paris in Grand Rapids – authentic French pastries, chocolates, coffee, tea, and gelato milkshakes in addition to signature macarons. Daily.
Local Mocha
Fair and direct trade organic coffees plus smoothies, frozen drinks, breakfast items, and lunch sandwiches. Daily.
Madcap Coffee
Award-winning coffee shop offers a range of specialty drinks as well as pastries from a variety of local vendors – perfect for a quick and light breakfast. Daily.
Mosby's Popcorn
Gourmet popcorn shop offers 60+ flavors and counting, all made in-house. Wed-Fri.
PaLatté Coffee & Art
Enjoy classic coffee beverages and pastries in a cozy space covered in a rotating selection of art from local creators. Daily.
The Pump House Frozen Yogurt Bar
Treat yourself to artisanal frozen yogurt, gelato, sorbet, and custard plus your choice of toppings. Located in the Studio Park entertainment complex. Wed-Sun.
Starbucks Café at JW Marriott
All the coffee drinks, hot and cold lunch items, and sweets you expect from the world's largest coffeehouse company, inside the JW Marriott Hotel. Daily.
Starbucks Café at Amway Grand Plaza
All the coffee drinks, hot and cold lunch items, and sweets you expect from the world's largest coffeehouse company, inside the Amway Grand Plaza Hotel. Daily.
Sweetwaters Coffee & Tea
The only Grand Rapids location of this Michigan-based chain restaurant offers coffee, tea, and shakes, plus pastries and light eats. Daily.
Sweet Yo's
Premium self-service frozen yogurt shop offers a huge selection of fresh toppings for a quick, easy and luscious after-dinner treat. Daily.
There are many more restaurants to choose from when you widen the circle to one mile from the convention center. Visit our Restaurants page to search eateries by location, cuisine, and other parameters.