Social media is here to stay and, used effectively, it can be a tremendous tool for meeting and event planners. "One of the biggest benefits of using social media for a conference is that it gives you a direct connection with your attendees," says Andrea Robyns, Interactive Web and Design Manager with Experience Grand Rapids. "You can monitor how they're engaging with the conference and get a good feel for things, like whether they like the speakers," she says.
Another advantage is that social media allows you to provide quick resolution for easy-to-solve issues. "A lot of customer service questions can be answered quickly and easily through social media," Robyns says. "If people are tweeting about a conference room being too cold," she explains, "that's easy to fix and a great way to meet your attendees' needs by paying attention to what they're saying on social media."
We spoke with Robyns and Jessica Louttit, Meeting Coordinator for the Michigan Society of Association Executives (MSAE), to get a few tips on how to effectively use social media for conferences.
Understand your audience.
Both Robyns and Louttit agreed that understanding your audience - and concentrating on the social media channels they use - is a key element of effectiveness. "We know our audience," says Louttit. For MSAE's OrgPro conference they focus their social media efforts on Facebook, Linked In and Twitter, because thats where their audience is. Robyns concurs. "You can do as much social media as you want," she says, "but if your audience isn't there, you're talking to no one."
Choose a succinct #hashtag.
Be smart about your hashtag, suggests Robyns. Since twitter limits you to 140 characters, choose a hashtag that doesn't use most of them, but make sure it's memorable. If your hashtag is too random, attendees won't quickly connect it with your conference. For conferences that have an easily recognizable acronym, it's popular to use the acronym followed by the year. By doing so, you've created a hashtag that's easy to update annually and easy for attendees to recognize.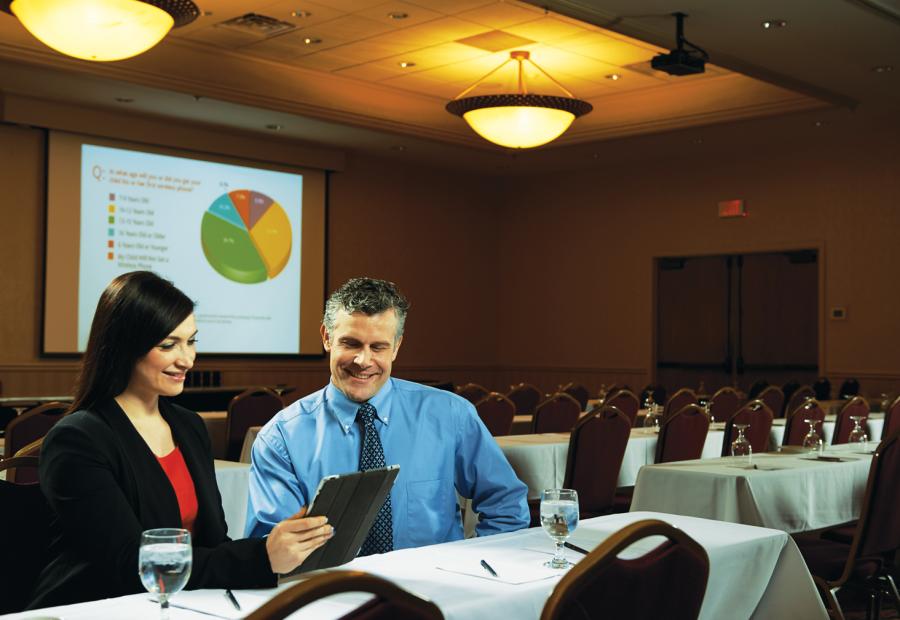 Man and Women Meeting in Grand Rapids
Photo by Experience Grand Rapids
Limit your channels.
 "Pick one or two platforms and focus your energy there," suggests Robyns. "You don't need to be on every single platform," she says. Just be sure to adhere to the first tip - choose the channels your audience uses. Limiting channels also allows you to stay on top of things. "You have to be able to keep up with social media in order for it to be successful," says Louttit. "If you try to participate in everything, it can be overwhelming and ineffective."
Cross-promote.
After you decide which channels to use, be sure to cross-promote your content. For example, when you post interesting content on your Facebook page, like a video or interview with speakers, be sure to let attendees on twitter know to check out the Facebook page. Be as specific as possible, letting them know what kind of valuable content they'll find, and be sure to use your events hashtag.
Employ Speaker Power.
Your speakers are a key part of your conference and they should be a key part of your social media strategy, too. Speakers can build interest in your conference by letting fans know they'll be speaking there, and by participating in your social media strategy. For MSAE's OrgPro conference, for example, MSAE works with each speaker to create Facebook status posts that are consistent with their message, which helps foster interest in and excitement about the conference.
Create a social media calendar.
Louttit finds that it's both important and effective to have a social media plan, or calendar, outlining how they'll be communicating with attendees through social media. They collaborate with speakers and sponsors to promote their conference through specific social media channels, and meet weekly to review the plans - including what resources they'll be sharing with attendees. By using such a targeted strategy, MSAE is able to ensure that information is shared in a timely, organized way. "We know who's doing it, what their posts are about, and when they're going to do it," she explains.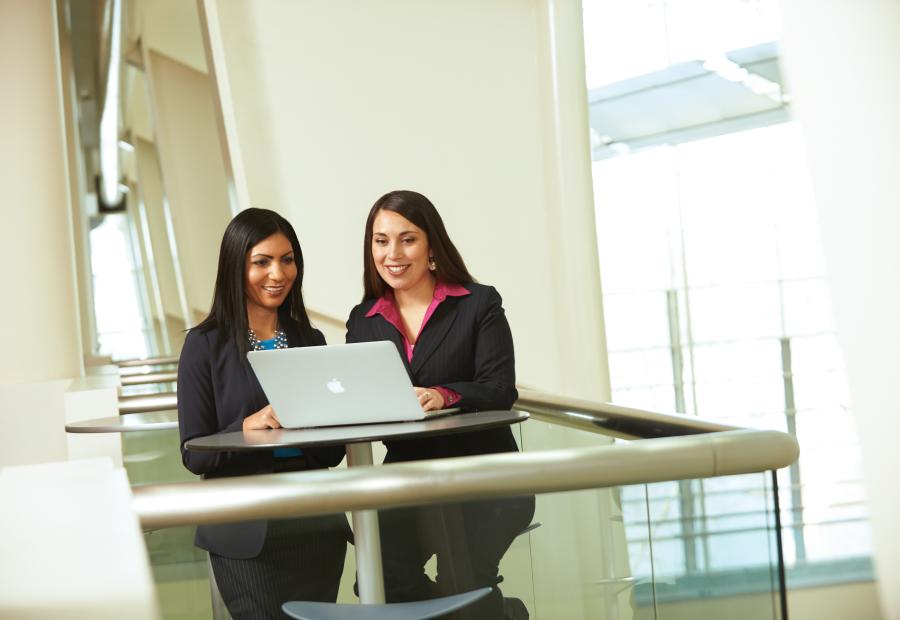 One of the benefits of social media is that it helps attendees engage with one another and your conference.
Photo by Experience Grand Rapids
Help attendees tag themselves.
One of the benefits of social media is that it helps attendees engage with one another and your conference, while allowing you to spread the word about your event. "Facebook is a great platform to share pictures," says Robyns. She suggests you have a photographer upload pictures during the conference, and invite attendees to tag themselves. When they do, the photos are shared with their own Facebook community. "If they have business associates that are Facebook friends," she says, "it could actually spur interest about the conference."
Focus on content.
No one wants to read tweets and Facebook posts that seem self-serving, even from a conference. Instead, says Louttit, be sure to give them a resource they can use. Robyns agrees that content is critical, because not only will people be more apt to read it, they'll be more likely to share it, generating interest in your event.
Be the first to share.
At the conference, it's important to stay on top of the social media channels you're using and share key material promptly. "It's really good to be the first person to have that information out," says Robyns. "If attendees are following the hashtag, they'll re-tweet the information, rather than having to type it out themselves." (This convenience, of course, also helps you control the message.) Robyns says if speakers have key points they'll be communicating, you can prepare tweets ahead of time. Then, after the speaker makes the point, you can get the tweet out immediately.
Help attendees connect online and off.
"Social media is a great way to get attendees to engage with one another inside and outside the meeting," says Robyns. By setting up your hashtag, providing attendees with information, and asking questions, you can encourage attendees to engage both with you and with one another.
Attendees can also use social media to plan outside activities during the conference, where they can connect in real life. Louttit gave an example of a conference where a few attendees tweeted that they were organizing a bike ride. Another attendee who'd felt disconnected decided to join them - which not only gave her something fun to do during downtime, but also help her to meet other attendees and make better connections for the future.
Making connections is a powerful component of an effective social media strategy. When attendees connect with your message, and one another, their enthusiasm is for your conference is contagious. That enthusiasm can help bring them - and people they know - back in the future.