Hybrid events—live, in-person gatherings that are streamed out to virtual audiences in some way—have been part of the meetings and events industry for years with varying degrees of success and comfort levels.
But since the masses have recently experienced the world of working remotely through virtual meetings, video conference calls, and online presentations, comfort levels have increased and the technological capabilities of virtual events have been given the spotlight.
Though live meetings and events have returned in force, the virtual portions have grown in popularity, continuing to be a robust and essential part of the meeting experience.
Benefits of hybrid meetings
"Historically speaking, maybe 10 percent or less of our events had a virtual component or a live stream, and most of those were corporate," said Scott Schoeneberger, managing partner of Bluewater Technologies, the AV provider for the convention center in Grand Rapids. 
"Now we're expecting that's going to be 50 percent or more because people are comfortable with it. Why wouldn't they turn it on if it only costs a little extra and they can get all these added benefits?"
These benefits include reaching large numbers of people outside the live event costs like travel and lodging, helping content live beyond the meeting for people to return to and share, and increasing interaction through technology. 
Ramping up virtual capabilities
Schoeneberger said Bluewater was prepared for that shift, having researched the best new technologies out there and arming its teams with new equipment and capabilities.
Bluewater has perfected the role of running online events. It could be a simple meeting that needs an "operator" or producer for admitting attendees, muting speakers, cueing up presentations, and managing breakout sessions.
Or it may be a slick production of merging presenters and content from different locations with branding, text, and graphics and sharing them in a format that resembles a live TV news program with a chat room and other interactive capabilities.
Bluewater has also installed large screens, 30 feet wide and 10 feet tall, at their locations in Grand Rapids and the east side of Michigan, to serve as a fully digital backdrop for virtual productions.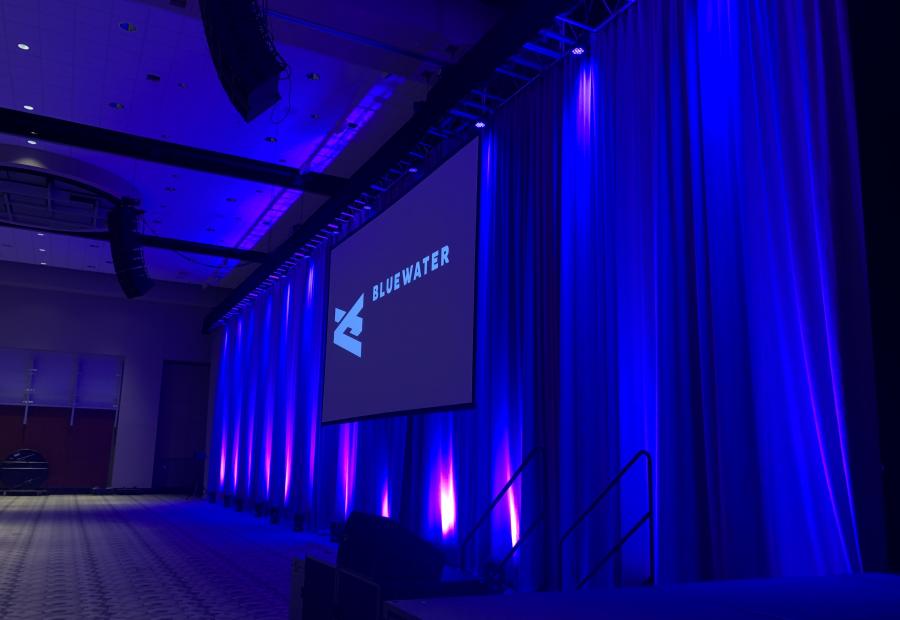 In-person events are back in full force, though many continue to utilize virtual capabilities.
Photo by BLUEWATER
Adding capacity
AHC Hospitality, which services five hotels with convention and meeting space in downtown Grand Rapids, also prepared for the return to live events, AV Sales Manager Michael Cassell said.
They have always had the capability to create hybrid events in various forms—from simple to complex, Cassell said, but they have also ensured that they had enough equipment to handle the expected increase in demand and keeping tabs on new technologies being developed.
Often, presentations may need to cater to both onsite and offsite guests.
Protocols remain in place for sanitizing high-touch surfaces and electronic equipment before and after each event.
"All the technology was already with us, we're just using it more often and at a higher rate than we were before," he said.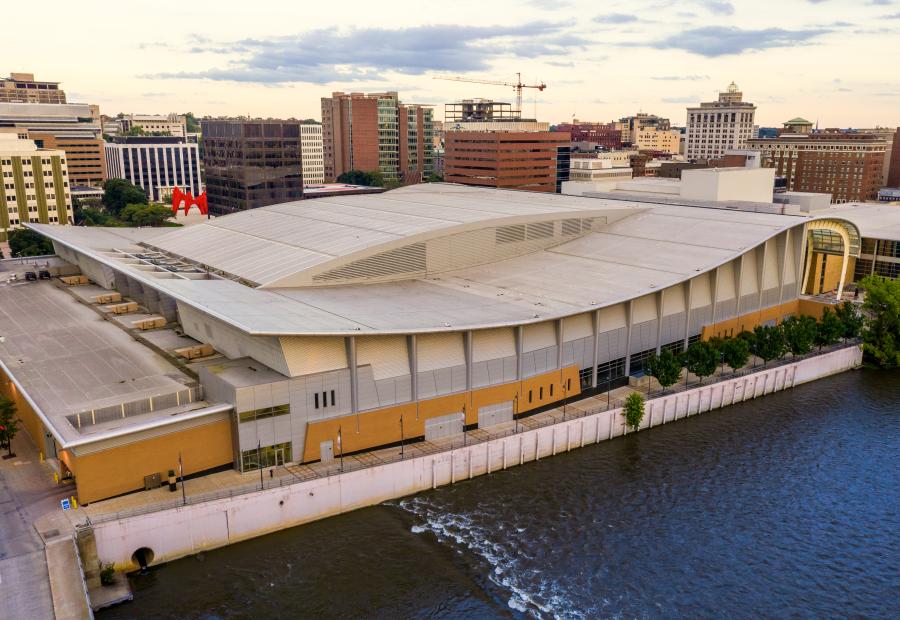 The Grand Rapids downtown convention campus can also include virtual components.
Photo by Experience Grand Rapids
Creating a virtual convention campus
Cassell and Schoeneberger also anticipated a growth in the virtual space that goes beyond simple conference calls or webinars: Creating a virtual, 3-D experience in the form of an online campus or convention center with highly stylized graphics.
"Our team went out and researched every single platform we could find, got demos of every one and put together some in-depth analysis," Schoeneberger said. 
"We've settled on a few that we've partnered with to provide to our clients where it makes sense, but there was still a big enough gap that we decided to build our own platform as well."
Braden Graham, vice president of client services for Bluewater, said their platform will address any shortcomings they see in the existing offerings.
"Because we have lived in the live event space for so long, we know what the demands are going to be from a virtual perspective," he said. "That's where the two will marry together really well."
#DreamGrand
Looking for some ideas on how to capitalize on the virtual portion of your next live event? Reach out to Mary, Brandy, or Andie from the Experience Grand Rapids Convention Sales and Services team.
They will be happy to help you make your next meeting in Grand Rapids grand! #DreamGrand