It's not uncommon for celebrities to visit the city of Grand Rapids, whether making appearances during annual events like LaughFest or Grand Rapids Comic-Con, stopping by to perform at Van Andel Arena or DeVos Performance Hall or to film scenes for blockbuster movies.
If while watching a movie you've ever thought to yourself, "That skyline looks familiar," or "Haven't I ordered pizza from that restaurant?", or maybe even, "I think we drank a cup of coffee in that same coffee shop?" there's a good chance you've seen pieces of Grand Rapids on the 'big screen.'
Here are six films that either feature scenes in Grand Rapids or were heavily influenced by the Grand Rapids area.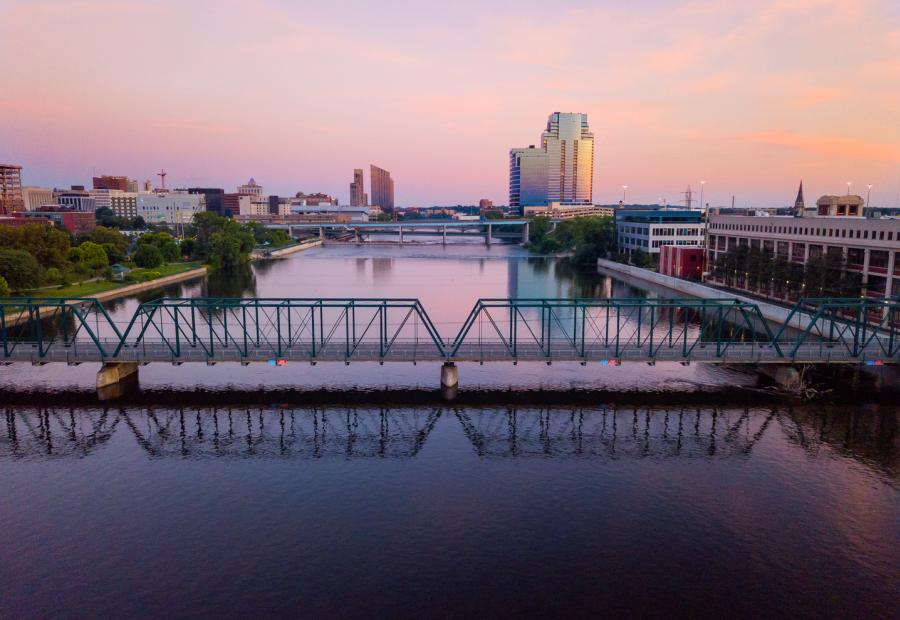 Sixth Street Bridge
Photo by Experience Grand Rapids
30 Minutes or Less (2011)
Cast: Jesse Eisenberg, Danny McBride, Aziz Ansari, Nick Swardson, Dilshad Vadsaria
Director: Ruben Fleischer
30 Minutes or Less is the story of a pizza delivery driver named Nick (Jesse Eisenberg) who is kidnapped by two thugs (Danny McBride and Nick Swardson) in need of some fast cash, and a lot of it. Strapping Nick in a vest with a timer and a bomb, he has 10 hours to rob $100,000 from a bank or the bomb goes up in flames. As the countdown continues, Nick is forced to deal with his kidnappers, the police, and a host of other problems.
In 2010, the film set up shop in Grand Rapids for four months of production, and the city is referenced multiple times throughout the movie.
After the bank robbery takes place, a big car chase scene rolls down South Division Avenue between Fulton Street and Wealthy Street. In a separate scene, Eisenberg's character can be seen driving down familiar red brick roads in the historic Heritage Hill neighborhood while delivering pizzas.
Two Grand Rapids eateries enjoyed their moments in the spotlight during 30 Minutes or Less. Vito's Pizza on West Fulton Street is the restaurant where Eisenberg's character works in the film. And, McBride and Swardson are seen eating "victory tacos" in a restaurant in the movie that many locals will recognize as Taco Boy, "home of the super burrito," located on Plainfield Avenue.
Aziz Ansari's character, Chet, recommends that he and Eisenberg grab some food at another local eatery, Mr. Burger, at one point in the movie. Ansari's character is even a teacher at local Brookside Elementary School and scenes were filmed in the hallways of the school.
The historic Sixth Street Bridge also makes an appearance when Eisenberg runs across the bridge to visit his love interest in the Brass Works Building across the Grand River.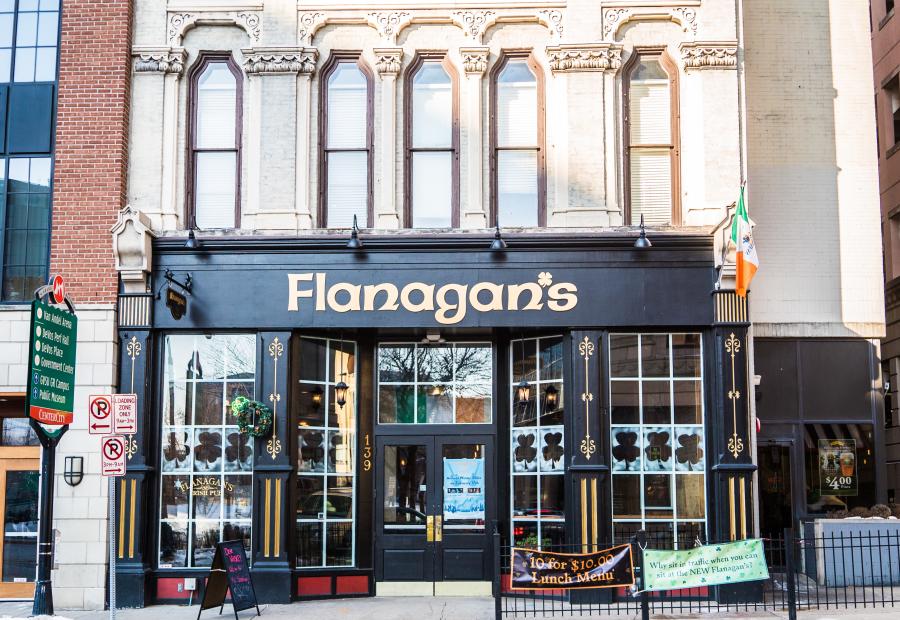 Flanagan's Irish Pub
Photo by Experience Grand Rapids
Why Him? (2016)
Cast: Bryan Cranston, James Franco, Megan Mullally, Zoey Deutch, Cedric the Entertainer
Director: John Hamburg
During the holiday season, Ned (Bryan Cranston), a loving, yet overprotective father, travels to California to visit his daughter Stephanie (Zoey Deutch) at Stanford University. While there, he is surprised by his biggest nightmare: her well-meaning, but socially awkward new boyfriend, Laird (James Franco). Even though Franco is a Silicon Valley multimillionaire, Cranston disapproves of his happy-go-lucky outlook on life and unfiltered persona. His panic levels escalate even further when he learns that Franco plans to ask Deutch to marry him.
In Why Him?, Cranston's family lives in Grand Rapids. Film crews were spotted in the city filming footage for the movie in March 2016.
While watching the film's establishing helicopter shot, the skyline may look familiar because it's Grand Rapids' beautiful skyline! The film also shows the US-131 S-curve (between Pearl Street and Wealthy Street exits) in an aerial shot, as well as a shot of Flanagan's Irish Pub, located near Rosa Parks Circle.
And there are plenty of Grand Rapids-specific references throughout the rest of the movie, including a West Michigan Whitecaps pennant hanging on the wall of Cranston's office. Also, the logo for Uptown hot dog eatery, Yesterdog, gets some considerable screen time on a hoodie worn by actor Zack Pearlman.
We were sharing family stories and talking about where each of us grew up. They were both very nice guys and easy to work with, along with the crew being fantastic.
 Tara Hernandez, Former Marketing and Communications Director for the Gerald R. Ford International Airport Authority
The End of the Tour (2015)
Cast: Jesse Eisenberg, Jason Segel, Joan Cusack, Anna Chlumsky, Ron Livingston
Director: James Ponsoldt
Based on true events, The End of the Tour is the story of the five-day interview between Rolling Stones reporter David Lipsky (Jesse Eisenberg) and acclaimed novelist David Foster Wallace (Jason Segel) in 1996 as Segel traveled the country promoting his groundbreaking novel, Infinite Jest.
Tara Hernandez at the time of filming was the Marketing and Communications Director for the Gerald R. Ford International Airport Authority. She recalled a crew of more than 100 people spending more than 14-hours filming scenes in various locations throughout the Gerald R. Ford International Airport. Grand Rapids stood in as both the Minneapolis-St. Paul International Airport and Chicago's O'Hare International Airport with two different scenes created among the location.
Hernandez remembers the crew being very engaged and friendly with the airport staff. She added that due to limited space in the airport, Eisenberg and Segel used administrative offices as green rooms, with Eisenberg occupying her office.
"At one point Jesse [Eisenberg] came down and said, 'Tara, who's the girl in the photo with you?' He was speaking about a picture of my sister and I, and then he said, 'Is your husband in the military?' because he saw a photo of my husband and I at the Marine Corps Ball," says Hernandez. "We were sharing family stories and talking about where each of us grew up. They were both very nice guys and easy to work with, along with the crew being fantastic."
Two Grand Rapids bookshops are also featured in the film. Redux Books was used in one of the first scenes of the movie during which Eisenberg's character gives a presentation about his 2010 New York Times bestselling book, Although Of Course You End Up Becoming Yourself: A Road Trip with David Foster Wallace.
Schuler's Books & Cafe on 28th Street Southeast was used in one of the last scenes of the movie, standing in for a Barnes & Noble bookstore. The scene features Eisenberg's character reflecting on his conversations with Segel's character while conducting his own book signing.
And if you're visiting the Allendale Campus of Grand Valley State University, be sure to stop in Mackinac Hall where the cast and crew filmed a scene.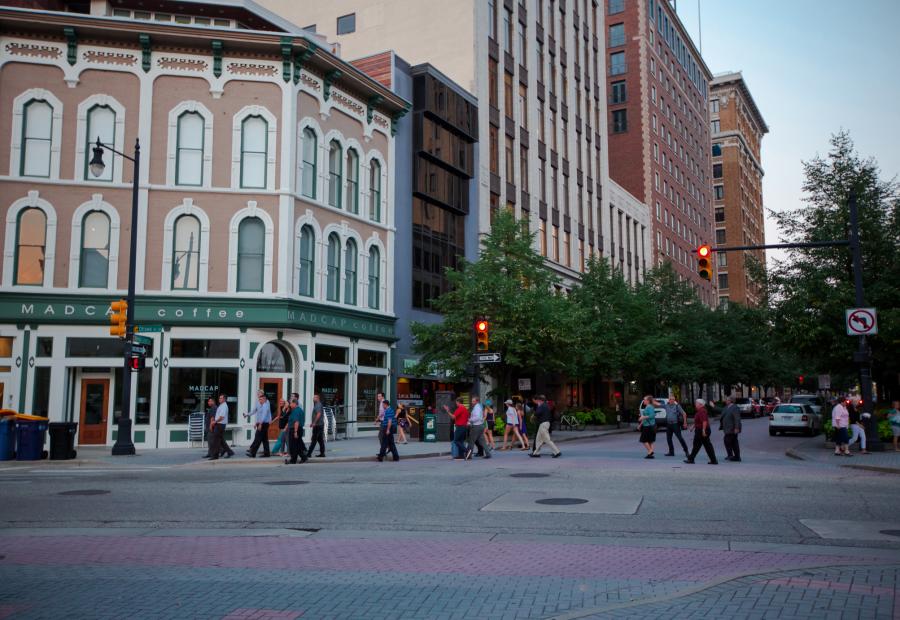 Madcap Coffee - Downtown Grand Rapids
Photo by Experience Grand Rapids
Honorable Mention - Setup (2011)
In the 2011 straight-to-DVD film Setup, three friends, Sonny (Curtis "50 Cent" Jackson), Dave (Brett Granstaff) and Vincent (Ryan Phillippe), plan out a detailed heist that turns deadly when Phillippe betrays the others by taking off with the loot.
Taking matters into his own hands, 50 Cent seeks out his revenge teaming up with the most dangerous mob boss in town (Bruce Willis) to get back what is rightfully his. When he finally comes face-to-face with his longtime friend, he's forced to make a life-changing choice.
While the bulk of the movie's backdrop is set in Detroit, a car chase and shootout sequence were filmed on the corner of Monroe Center Street and Ottawa Avenue. For the scene, stunt windows were installed at Madcap Coffee and blown out. Multiple foot chases were also filmed in the city, one specifically taking place near the Grand Rapids Police Department.
Honorable Mention - American Pie (1999)
Adam Herz wrote the screenplay for the first movie in the American Pie franchise, which he originally titled "East Great Falls High."
The film was written based on Herz's experiences in East Grand Rapids, and attending East Grand Rapids High School where he graduated from in 1991. Although the name of the film changed, the story still takes place in the fictional town of "East Great Falls."
You may have even noticed a reference in the film to a "diner six blocks from downtown" called "Dog Years," which is based on Yesterdog (also mentioned above).
Honorable Mention - The Polar Express (2004)
When Chris Van Allsburg was crafting his popular holiday book, The Polar Express, he drew inspiration from his childhood growing up in Grand Rapids and East Grand Rapids. The department stores seen in the book and the 2004 movie starring Tom Hanks were designed after Herpolsheimer's and Wurzburg's — two former businesses in Grand Rapids that Allsburg would visit as a child during the holidays. Today, the Grand Rapids Art Museum sits on the former location of Wurzburg's. Van Allsburg's mother, Doris, owned and operated local ice cream shop, Jersey Junction, where an autographed model of The Polar Express train is on display. 
Also, the design for the film version of the book's famous locomotive was based on the historic Pere Marquette Railroad steam engine No. 1225. The train still offers rides during the holidays from its current home at the Steam Railroading Institute in Owosso, Michigan.
This post was originally written by Matther Makoski.