It's not uncommon for celebrities to visit the city of Grand Rapids, whether making appearances during annual events like LaughFest or Grand Rapids Comic-Con, stopping by to perform at Van Andel Arena or DeVos Performance Hall, or to film scenes for blockbuster movies.
If while watching a movie you've ever thought to yourself, "That skyline looks familiar," or "Haven't I ordered pizza from that restaurant?", or maybe even, "I think we drank a cup of coffee in that same coffee shop?" there's a good chance you've seen pieces of Grand Rapids on the 'big screen.'
Here are six films (and various honorable mentions) that either feature scenes in Grand Rapids or were heavily influenced by the Grand Rapids area.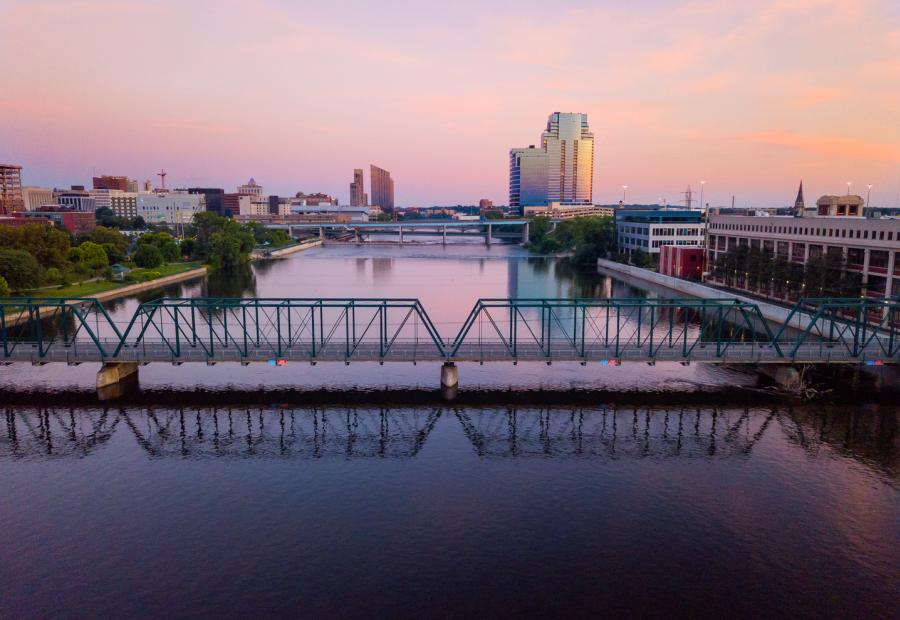 In action comedy film "30 Minutes or Less," Jesse Eisenberg runs across the Sixth Street Bridge to visit his love interest in the Brass Works Building.
Photo by Experience Grand Rapids
30 Minutes or Less (2011)
Cast: Jesse Eisenberg, Danny McBride, Aziz Ansari, Nick Swardson, Dilshad Vadsaria
Director: Ruben Fleischer
30 Minutes or Less is the story of a pizza delivery driver named Nick (Jesse Eisenberg) who is kidnapped by two thugs (Danny McBride and Nick Swardson) in need of some fast cash, and a lot of it. Strapping Nick in a vest with a timer and a bomb, he has 10 hours to rob $100,000 from a bank or the bomb goes up in flames. As the countdown continues, Nick is forced to deal with his kidnappers, the police, and a host of other problems.
In 2010, the film set up shop in Grand Rapids for four months of production, and the city is referenced multiple times throughout the movie.
After the bank robbery takes place, a big car chase scene rolls down South Division Avenue between Fulton Street and Wealthy Street. In a separate scene, Eisenberg's character can be seen driving down familiar red brick roads in the historic Heritage Hill neighborhood while delivering pizzas.
Two Grand Rapids eateries enjoyed their moments in the spotlight during 30 Minutes or Less. Vito's Pizza on West Fulton Street is the restaurant where Eisenberg's character works in the film. And, McBride and Swardson are seen eating "victory tacos" in a restaurant in the movie that many locals will recognize as Taco Boy, "home of the super burrito," located on Plainfield Avenue.
Aziz Ansari's character, Chet, recommends that he and Eisenberg grab some food at another local eatery, Mr. Burger, at one point in the movie. Ansari's character is even a teacher at local Brookside Elementary School and scenes were filmed in the hallways of the school.
The historic Sixth Street Bridge also makes an appearance when Eisenberg runs across the bridge to visit his love interest in the Brass Works Building on the other side of the Grand River.
Block Party (2022)
Cast: Antoinette Robinson, Golden Brooks, Birgundi Baker, Margaret Avery, Charlyne Yi, Luenell, Bill Cobbs, John Amos
Director: Dawn Wilkinson
Billed as the "first Juneteenth family holiday comedy," Block Party tells the tale of recent Harvard grad Keke McQueen (Antoinette Robinson), who is eager to ditch her hometown of Grand Rapids for her dream job in Atlanta. But when Keke discovers that her Grandma Janice (Margaret Avery) is showing early signs of dementia, she puts her career at stake in order to save her Grandma's Juneteenth block party, and in the process, falls back in love with her hometown and its people.
Created and produced by Grand Rapids native Lisa Mathis for her Michigan-based, African American female-owned Branch Out Productions, Block Party is a love letter to the city. Cast and crew filmed in GR during the fall of 2021, with scenes set in and around the neighborhood of Martin Luther King Jr. Park, where the movie's block party takes place.
Mathis told the WGVU Morning Show that, while growing up in Grand Rapids, "I used to always go to Martin Luther King Park, because I had cousins who lived around here. It's just such a wonderful neighborhood when I was growing up, and I really wanted to highlight it because it's something you don't always see."
In addition to the park and surrounding streets and houses showcased in the film, the House of Style – a beauty salon and barber serving the local community for more than 50 years – was the backdrop for several scenes. The bulk of the production was based here, employing more than 200 local people, with some additional scenes shot on location in Detroit.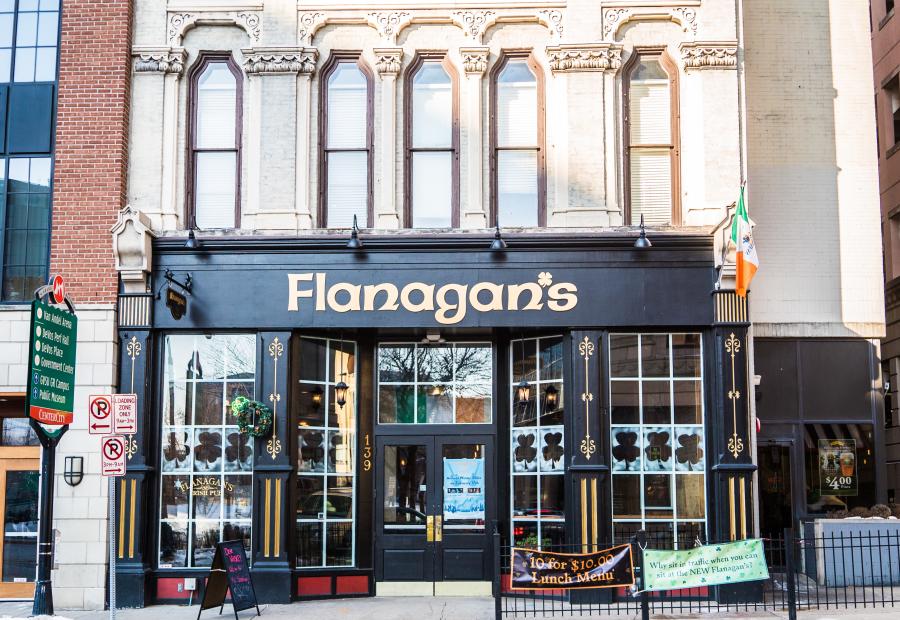 Flanagan's Irish Pub receives screen time in the star-studded film "Why Him?" alongside other recognizable Grand Rapids landmarks.
Photo by Experience Grand Rapids
Why Him? (2016)
Cast: Bryan Cranston, James Franco, Megan Mullally, Zoey Deutch, Cedric the Entertainer
Director: John Hamburg
During the holiday season, Ned (Bryan Cranston), a loving, yet overprotective father, travels to California to visit his daughter Stephanie (Zoey Deutch) at Stanford University. While there, he is surprised by his biggest nightmare: her well-meaning, but socially awkward new boyfriend, Laird (James Franco). Even though Franco is a Silicon Valley multimillionaire, Cranston disapproves of his happy-go-lucky outlook on life and unfiltered persona. His panic levels escalate even further when he learns that Franco plans to ask Deutch to marry him.
In Why Him?, Cranston's family lives in Grand Rapids. Film crews were spotted in the city filming footage for the movie in March 2016.
While watching the film's establishing helicopter shot, the skyline may look familiar because it's Grand Rapids' beautiful skyline! The film also shows the US-131 S-curve (between Pearl Street and Wealthy Street exits) in an aerial shot, as well as a shot of Flanagan's Irish Pub, located near Rosa Parks Circle.
And there are plenty of Grand Rapids-specific references throughout the rest of the movie, including a West Michigan Whitecaps pennant hanging on the wall of Cranston's office. Also, the logo for Uptown hot dog eatery, Yesterdog, gets some considerable screen time on a hoodie worn by actor and Michigan native Zack Pearlman.
Carrie and Jess Save the Universe! (2022)
Cast: Richard Karn, Samantha Berends, Lydia Keen, Kristin Mellian, Robert William Ford, David Brown
Director: Joshua Courtade
Carrie and Jess Save the Universe! is a family-friendly sci-fi adventure written and directed by Joshua Courtade as an homage to comedy-adventure movies of the 1980s. In the film, best friends Carrie and Jess plan a rad vacation to the Beach Planet, but their plans are interrupted when they encounter the heinous Space Queen, who's using a portable black hole to usurp power from the President of Earth. (Did we mention it's also a musical?)
The movie was filmed entirely in Grand Rapids in 2021, though the majority of the scenes were shot on the soundstage at Compass College of Film and Media due to the special effects required. Courtade is a Compass faculty member and he employed fellow faculty as well as school alumni and current students as crew. The movie premiered at Celebration Cinema! North and also played GR Comic-Con before being shopped to distributors and film festivals.
Another Compass College production gives viewers more glimpses of the local landscape: The Watchers is an eight-episode spiritual thriller produced for TV, telling the tale of an earthly battle between the archangel Michael and his brother, the devil. It was shot entirely in Grand Rapids, with locations including the parking garage and alleyways of Celebration Cinema! Studio Park, Heritage Park and Staybridge Suites in Grandville, several office buildings, a church and a brewery. It is streaming on Roku.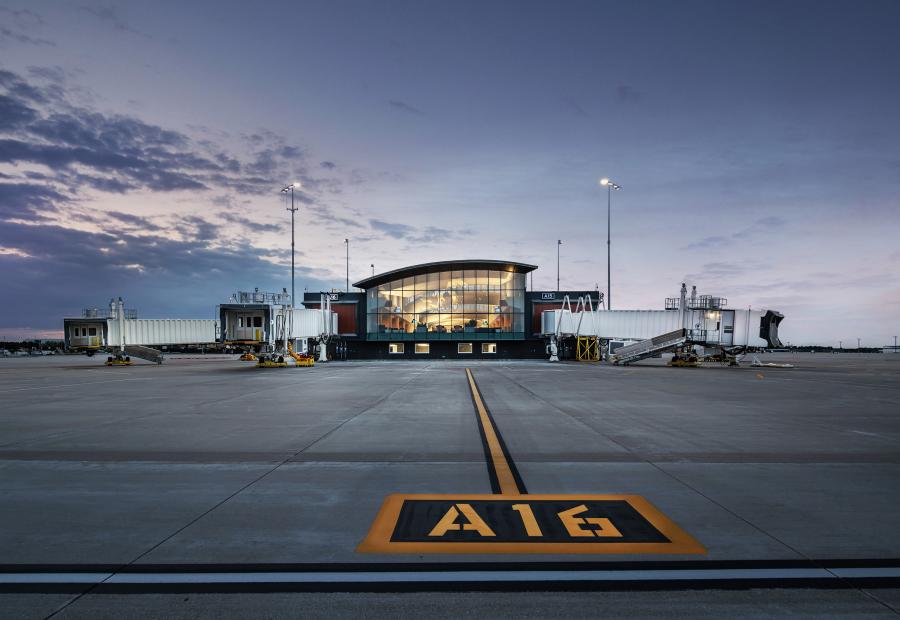 Various spots throughout the Gerald R. Ford International Airport served as filming locations for drama film "The End of the Tour."
Photo by Courtesy of Gerald R. Ford International Airport
The End of the Tour (2015)
Cast: Jesse Eisenberg, Jason Segel, Joan Cusack, Anna Chlumsky, Ron Livingston
Director: James Ponsoldt
Based on true events, The End of the Tour is the story of the five-day interview between Rolling Stones reporter David Lipsky (Jesse Eisenberg) and acclaimed novelist David Foster Wallace (Jason Segel) in 1996 as Segel traveled the country promoting his groundbreaking novel, Infinite Jest.
Tara Hernandez at the time of filming was the Marketing and Communications Director for the Gerald R. Ford International Airport Authority. She recalled a crew of more than 100 people spending more than 14-hours filming scenes in various locations throughout the Gerald R. Ford International Airport. Grand Rapids stood in as both the Minneapolis-St. Paul International Airport and Chicago's O'Hare International Airport with two different scenes created among the location.
Hernandez remembers the crew being very engaged and friendly with the airport staff. She added that due to limited space in the airport, Eisenberg and Segel used administrative offices as green rooms, with Eisenberg occupying her office.
"At one point Jesse [Eisenberg] came down and said, 'Tara, who's the girl in the photo with you?' He was speaking about a picture of my sister and I, and then he said, 'Is your husband in the military?' because he saw a photo of my husband and I at the Marine Corps Ball," says Hernandez. "We were sharing family stories and talking about where each of us grew up. They were both very nice guys and easy to work with, along with the crew being fantastic."
Two Grand Rapids bookshops are also featured in the film. Redux Books was used in one of the first scenes of the movie during which Eisenberg's character gives a presentation about his 2010 New York Times bestselling book, Although Of Course You End Up Becoming Yourself: A Road Trip with David Foster Wallace.
Schuler's Books & Cafe on 28th Street Southeast was used in one of the last scenes of the movie, standing in for a Barnes & Noble bookstore. The scene features Eisenberg's character reflecting on his conversations with Segel's character while conducting his own book signing.
And if you're visiting the Allendale Campus of Grand Valley State University, be sure to stop in Mackinac Hall where the cast and crew filmed a scene.
Miss Rainbow Magic: The Beginning (2022)
Cast: Aghniettia Devlin, Jimmy Flair, Adrienne Mosley, Shyanne Queen, John White
Director: Nuri Bauswell
Miss Rainbow Magic tells the tale of a young Black woman coming to terms with her supernatural abilities and her struggle to break free from the criminal enterprise that has exploited her – and will now go to any lengths necessary to discover the secret of her magic powers.
Grand Rapids-based writer-director-cinematographer-editor Nuri Bauswell filmed the move entirely in Grand Rapids in late 2021 and early 2022, and attentive viewers will spot a number of recognizable locations, including the panoramic skyline of the city.
Miss Rainbow Magic: The Beginning premiered at Celebration Cinema! North.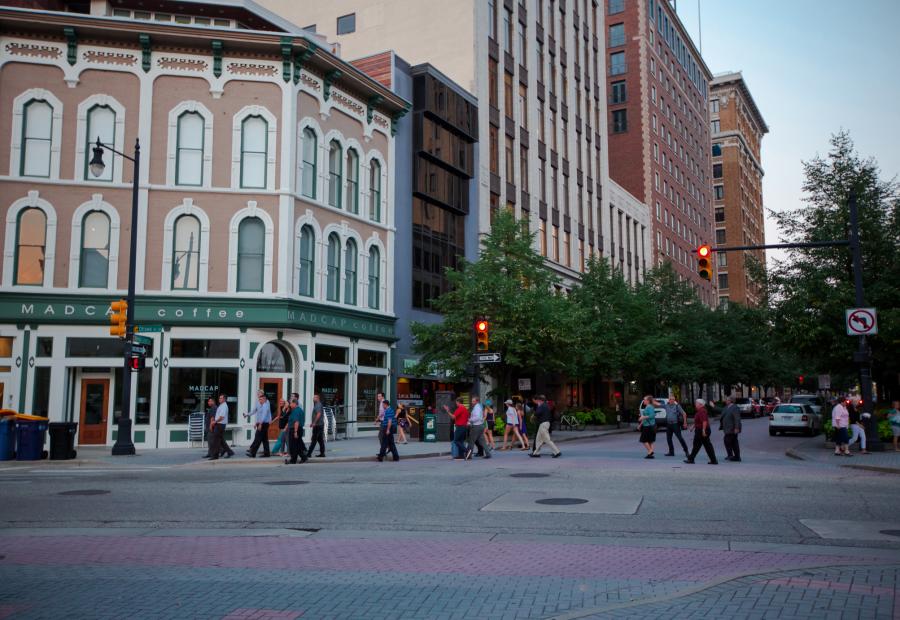 Madcap Coffee served as the site of an action scene in the 2011 film "Setup."
Photo by Experience Grand Rapids
Honorable Mention - Setup (2011)
In the 2011 straight-to-DVD film Setup, three friends, Sonny (Curtis "50 Cent" Jackson), Dave (Brett Granstaff) and Vincent (Ryan Phillippe), plan out a detailed heist that turns deadly when Phillippe betrays the others by taking off with the loot.
Taking matters into his own hands, 50 Cent seeks out his revenge teaming up with the most dangerous mob boss in town (Bruce Willis) to get back what is rightfully his. When he finally comes face-to-face with his longtime friend, he's forced to make a life-changing choice.
While the bulk of the movie's backdrop is set in Detroit, a car chase and shootout sequence were filmed on the corner of Monroe Center Street and Ottawa Avenue. For the scene, stunt windows were installed at Madcap Coffee and blown out. Multiple foot chases were also filmed in the city, one specifically taking place near the Grand Rapids Police Department.
50 Cent also starred in three other movies filmed in Grand Rapids: Caught in the Crossfire (2010), Gun (2010) and All Things Fall Apart (2011), each featuring numerous locations locals will be sure to recognize.
Honorable Mention - The Polar Express (2004)
When Chris Van Allsburg was crafting his popular holiday book, The Polar Express, he drew inspiration from his childhood growing up in Grand Rapids and East Grand Rapids. The department stores seen in the book and the 2004 movie starring Tom Hanks were designed after Herpolsheimer's and Wurzburg's — two former businesses in Grand Rapids that Allsburg would visit as a child during the holidays. Today, the Grand Rapids Art Museum sits on the former location of Wurzburg's. Van Allsburg's mother, Doris, owned and operated local ice cream shop, Jersey Junction, where an autographed model of The Polar Express train is on display. 
Also, the design for the film version of the book's famous locomotive was based on the historic Pere Marquette Railroad steam engine No. 1225. The train still offers rides during the holidays from its current home at the Steam Railroading Institute in Owosso, Michigan.
Pop culture phenomenon "American Pie" takes place in a town strikingly similar to East Grand Rapids, complete with its very own version of the famed hot dog eatery Yesterdog.
Photo by Brian Craig for Experience Grand Rapids
Honorable Mention - American Pie (1999)
Adam Herz wrote the screenplay for the first movie in the American Pie franchise, which he originally titled "East Great Falls High."
The film was written based on Herz's experiences in East Grand Rapids, and attending East Grand Rapids High School where he graduated from in 1991. Although the name of the film changed, the story still takes place in the fictional town of "East Great Falls."
You may have even noticed a reference in the film to a "diner six blocks from downtown" called "Dog Years," which is based on hot dog eatery Yesterdog (also mentioned above).
More Glimpses of GR On Screen:
Hardcore (1979), written and directed by Grand Rapids native Paul Schrader, is a grim-and-gritty drama that opens with snowy scenes of the city's downtown, neighborhoods, parks and factories.
Postmark Paradise (2000) is a gentle comedy set in Paradise, Michigan – but many exterior scenes were shot here and interiors were filmed at a local soundstage.
The Steam Experiment (2009), a thriller starring Val Kilmer and Armand Assante, filmed at the Amway Grand Plaza Hotel, the Grand Rapids Public Museum, the Grand Rapids Police Station, the old Grand Rapids Press building and the now-defunct Bull's Head Tavern.
The Genesis Code (2010) features scenes shot at Calvin University and the Grand Rapids Public Museum.
Hopeful Notes (2010), a drama about an orphan boy who's a violin prodigy, built sets and filmed inside the former home of the Grand Rapids Art Museum, and also shot scenes at John Ball Park and Wealthy Elementary School.
The Christmas Bunny (2010) featured star (Brady Bunch mom) Florence Henderson leading the cast around snowy locations in Alto, Lowell, Wyoming and Zeeland.
Perfectly Prudence (2010) is not a feature film, but rather a Hallmark Channel production that starred Jane Seymour and shot almost every scene at a house in Ada.
Touchback (2011), an inspirational drama starring Kurt Russell and Brian Presley, was shot primarily in Coopersville.
House of the Rising Sun (2011) is an action drama starring Dave Bautista and co-starring GR's own musician/actor Brian Vander Ark, with scenes shot all over Grand Rapids. 
Playback (2012), a horror movie starring Christian Slater, includes scenes shot at Lowell High School, an East Grand Rapids music store and a Wyoming deli.
Vishwaroopam (2013) is an international spy thriller that used the Gerald R. Ford International Airport and several other locations to double for New York City.
A Matter of Faith (2014) is a Christian film that lensed scenes at Aquinas College, Fallasburg Park and other local spots.
Rumors of Wars (2014), starring Eric Roberts, set up shop at Compass College and filmed scenes at Cornerstone University, among other community locations.
Quicksand (2023) is a "bromantic comedy" filmed primarily in the greater Traverse City area, parts of the Upper Peninsula and Grand Rapids – including a driving scene on Fulton Street. Winner of Best Screenplay at the 2022 Grand Rapids Film Festival.
A Holiday I Do (2023) is an LGBTQ+-centered Christmas romance whose filming locations include Grand Rapids bakery Cakabakery, Holland's West Michigan Regional Airport and downtown Saugatuck.