Art doesn't just live in the museums of Grand Rapids, it's also part of the structure of the city, transforming walls, streets, parking lots, mechanical boxes and other utilitarian elements into vehicles for artistic expression.
There are more than 100 murals on display throughout the city, many commissioned by local organizations and others driven by the imagination and will of individual artists. Some downtown murals are past ArtPrize entries – created expressly for the global art competition that takes place in Grand Rapids every year and now a permanent part of the city's creative DNA.
Below is a list of significant downtown (center city) murals. Separate articles spotlight murals in the Heartside, North Quarter, Southtown, Uptown and West Side neighborhoods, as well as the Rad Women A-Z Initiative, which spans 26 mechanical boxes in the downtown area.
For downtown, we're focusing on art closest to major attractions and thoroughfares. This is not an exhaustive list, and there is more street art appearing all the time, but the murals highlighted here will give you a feel for the breadth and richness of our public art scene.
Venture onto the Monroe Center Street retail corridor kitty-corner from the Amway Grand Plaza Hotel, heading southeast: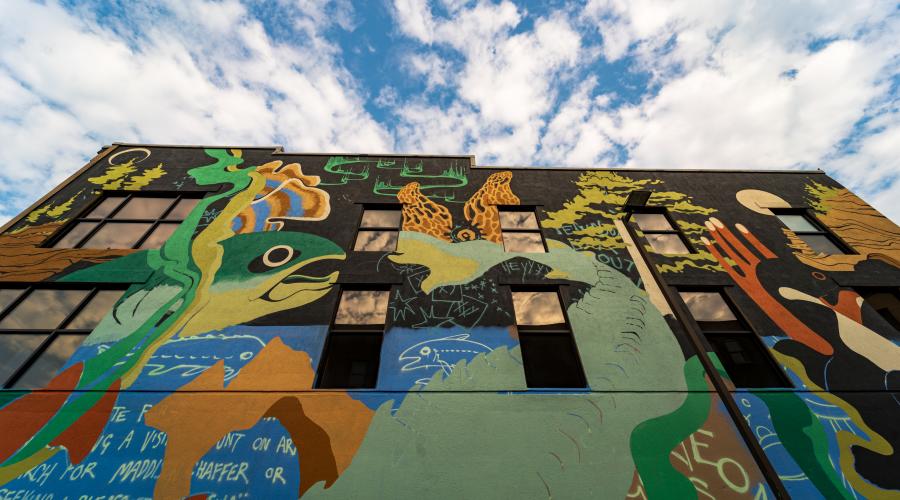 ArtPrize artwork Seeking a Pleasant Peninsula mural
Photo by Nick Irwin for Experience GR. Artwork: Seeking a Pleasant Peninsula by Maddison Chaffer
"Imagine That"
11 Sheldon Ave. E.
This colorful mural by Chicago artist Tracy Van Duinen was the second-place winner in the very first ArtPrize competition (2009). Constructed of various shapes, colors and textures of tiles, the piece is permanently installed on the east façade of the Grand Rapids Children's Museum.
Walk north on Sheldon Avenue.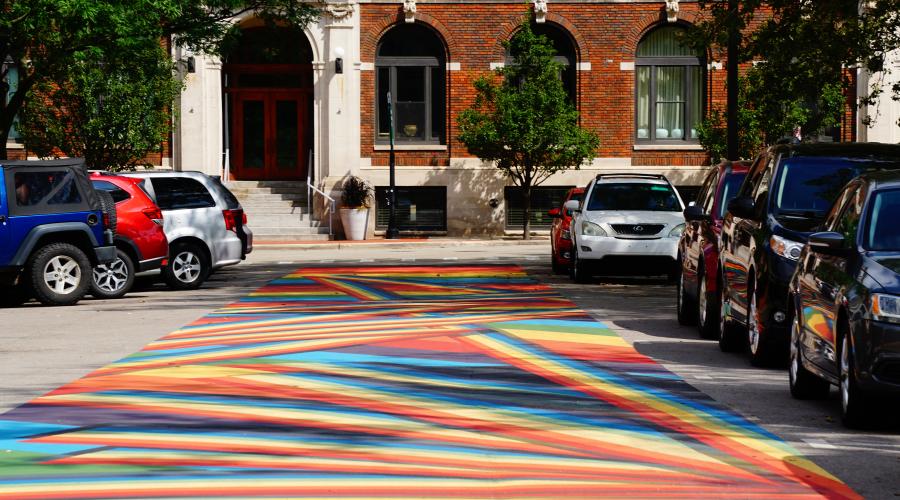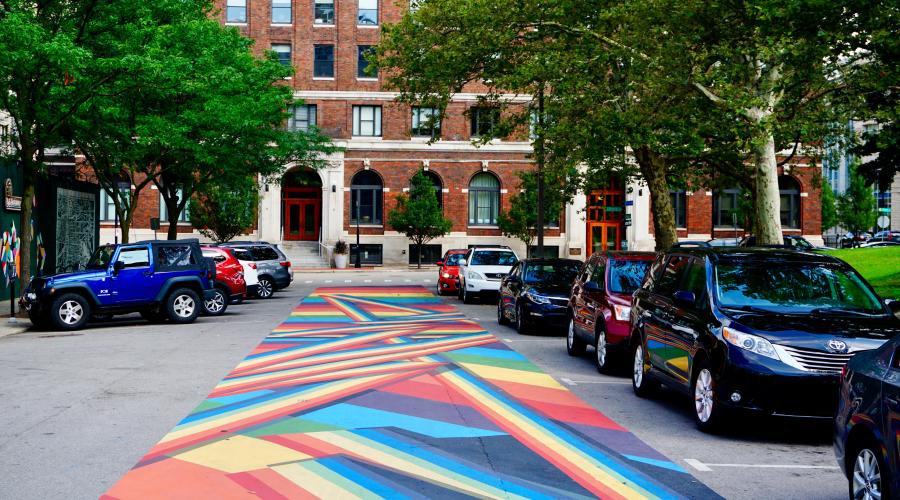 Rainbow Road by Joey Salamon
Photo by Brian Craig for Experience Grand Rapids
"Rainbow Road"
22 Sheldon Ave. E
The city's first official street mural was designed by Michigan artist Joey Salamon in conjunction with Pride Month 2019. It covers about 7,000 sq. ft. of street space, running past The Apartment Lounge, Michigan's oldest gay bar, and is a creative interpretation of the Pride flag associated with the LBGTQIA+ community.
Angeline Kelsey "Naw Kay o say" Yob Way
Walk north past the Children's Museum and you'll encounter a small alley, which has been named for Angeline Kelsey "Naw Kay o say" Yob, an educator, community activist and citizen of the Grand River Bands of Ottawa Indians. Local artist Alan Campo painted the immersive mural as part of the "Woman's Way" initiative, which aspires to elevate the historical narratives of exceptional local leaders while adding new energy and creative interest to often-overlooked public places.
"Sing With Me"
33 Sheldon Ave. E.
Ohio's Britney Gerathy painted this colorful mural on the exterior of The Apartment Lounge for ArtPrize 2016. It is part of a series of works that the artist says, "became my way of controlling and cleaning up the mess before me … my strive for perfection and positivity in a world that demands the former."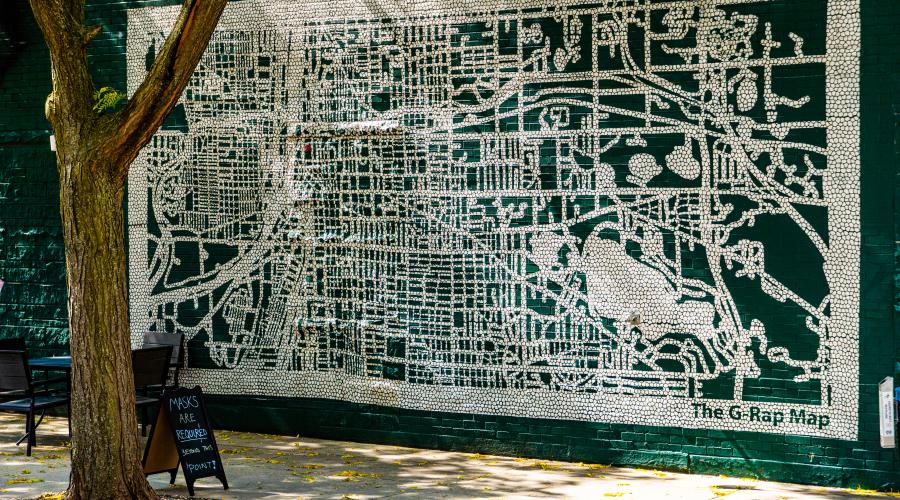 The G-Rap Map, a map of Grand Rapids, on the exterior of the Apartment Lounge
Photo by Brian Craig for Experience Grand Rapids
"The G-Rap Map"
33 Sheldon Ave. E.
An ArtPrize 2013 entry, The G-Rap Map is a graphic representation of Grand Rapids created by San Francisco-based artist Justin Smith. Smith created a map of the city and then laser cut the reverse of the design into large pieces of felt. He applied the felt to the wall outside The Apartment Lounge and then painted the map – similar to using a stencil pattern.
Walk the diagonal path through Veterans Memorial Park (across from The Apartment) until you reach Fulton Street. Look across the street at Fulton and East Park Place to see two huge murals:
"Aztlan"
118 Fulton St. East
West Michigan artist Arturo Morales Romero painted this 15-ft. x 92-ft. mural on an exterior wall of MeXo Tequila & Mezcal Bar & Restaurant\ for ArtPrize 2021. Romero says "Aztlan" means "people from the town of dreams" and the work is meant as a timeline representing Central American cultures from the Mayans and Aztecs to the present day.
"MetaPhorest"
98 Fulton St. East
Situated directly across from "Aztlan," this ArtPrize 2011 finalist was created by artists Tracy Van Duinen, Todd Osborne, Phil Schuster and Andy Bellomo, who worked with 15 student apprentices from West Michigan Center for Arts and Technology (WMCAT) to complete the project. The piece covers roughly 2,400 sq. ft. of wall space.
You can now head west on Fulton, passing Division Avenue until you reach Louis Street/Commerce Avenue. Head left on Louis about 300 feet to an alley known as:
Harriet Woods Hill Way
Local artist Jasmine Bruce brightened the alley with a mural of Harriet Woods Hill, the first Black woman to serve as an officer in the Grand Rapids Police Department. The mural is on a northwest corner wall of GRPD headquarters, and is another installation in the "Women's Way" series.
Head back out to Fulton Street. Cross the street and walk west past Beacon Corner Bar & Coastal Fare and San Chez Bistro. The alley beside San Chez has been named after another local female leader:
Maurilia Ortiz Blakeley Way
Local artist Arturo Morales Romero created this 50-ft. high mural as a tribute to Maurilia (Molly) Ortiz Blakely, whose accomplishments included creating the Hispanic Institute and helping organize the city's first Mexican Festival in 1970. This is another "Woman's Way" installation.
Continue west on Fulton, passing Ionia Avenue and Ottawa Avenue.
"Gramophone"
Fulton St. & Ottawa Ave.
Across the street, at the top of a staircase to the left of GLC Live at 20 Monroe marquee, you'll see this music-themed mural by local artist Nick Nortier. To the right of the stairs, directly underneath the marquee, is another mural, "Show Love, Spread Love," by local artist Kyle DeGroff.
Walk a short block to Monroe Avenue and head north. Look for the alley between GLC Live at 20 Monroe and the AC Hotel by Marriott Grand Rapids Downtown:
Ethel B. Coe Way
This formerly nameless and lifeless alleyway off Monroe Ave is named after Ethel B. Coe, who was a local renaissance woman, community activist, musician, actor and civil rights leader. Local artist Esan Sommersell painted the mural as part of the "Women's Way" initiative.
An untitled mural right next to the Ethel B. Coe image was painted by local artist Michael J. Mayosky. Created for ArtPrize 2017, this stylized guitar appropriately adorns an exterior wall of the GLC Live at 20 Monroe concert venue.
Walk two minutes north, past Rosa Parks Circle, and you're right back where you started, at the intersection of Pearl Street and Monroe Center Street. If you're up for another five-minute walk, head east on Pearl Street to Ionia Avenue and look to the building on the southeast corner:
You Are Here
17 Fountain St. NW
Chicago-based pop artist Jeff Zimmermann got inspiration for this 2010 ArtPrize entry by walking the streets of Grand Rapids and looking for people he felt represented the fabric of the city. This massive mural adorns the north side of the Kendall College of Art and Design building.
Downtown bridge underpasses provide an expansive canvas for muralists:  
"In Our Element"
48 Front Avenue NW
Situated under the US-131 underpass at the intersection of Front Avenue and Mount Vernon Avenue, "In Our Element" tells the history of street art as an artistic medium through the ages. This work by Miami-based urban-pop artist Ruben Ubiera made the jurors' shortlist in the installation category for ArtPrize 2015.
Follow Front Avenue as it curves around to Pearl Street, then head toward the Grand River and descend the stairs to the Riverwalk just past the Grand Rapids Public Museum.
"Anishinaabek"
Pearl Street Bridge
Painted on the tunnel and retaining walls under the Pearl Street Bridge, this mural by local artist Alan Compo celebrates the cultures and contributions of Native American tribes. The artist is part of the Grand River Bands of Ottawa Indians and was moved to incorporate lore and legends from the First people of this area.
Head north on the Riverwalk. You'll soon pass under the Gillett Bridge in front of the Gerald R. Ford Presidential Museum.
"Tunnel Vision"
Gillette Bridge
Grand Rapids artists Nick Nortier and Joe Parsaca collaborated on this mural underneath the Gillett Briddge at Ah-Nab-Awen Park for ArtPrize 2015. The "wild and crazy" characters on display were touched up by Nortier four years later, after river flooding had damaged the original work.
Continue north on the Riverwalk through Ah-Nab-Awen Park to the next bridge, appropriately named Bridge Street.
"Bugspot"
Bridge Street Underpass
Located underneath the Bridge Street overpass along the Riverwalk, "Bugspot" depicts a collection of insects common to the river area. Grand Rapids native Dayna Walton painted this bright, beautiful mural for ArtPrize 2021.
You can cross the river at Bridge Street and head south on the east Riverwalk, past DeVos Place, the Amway Grand Plaza Hotel and JW Marriott Grand Rapids, all the way to Fulton Street, where you started.
Home to such popular destinations as the SpeakEZ Lounge, Embassy Suites by Hilton Grand Rapids Downtown, City Built Brewing, Brickyard Tavern and Linear restaurant, the North Monroe section of downtown GR also boasts a number of interesting murals:
Just a few steps north of Linear, on the opposite side of the street, is Monroe Community Church.
"Planted by the Sacred Streams of Grace"
1020 Monroe Ave.
Lansing-based artist Brian Whitfield painted this mural, depicting an abstract landscape of a flowing river and a tree made of people, on an exterior wall of Monroe Community Church. Inspired by Psalm 1:3, it won ArtPrize 2021's Contemporary Black Art Award.
"We Belong"
1045 Monroe Ave NW
Designed by local artist and Artists Creating Together instructor Derrick Howell, and painted by a small army of collaborating artists, this is actually a series of murals on the exterior walls of a small building in Canal Street Park, on the same side of the street as Linear. The design is meant to represent perspectives of local residents with a diverse range of disabilities and abilities.
Follow Monroe Avenue north to the intersection of Ottawa Avenue. Head south on Ottawa.
Untitled
822 Ottawa Ave. NW
This 111-foot long seascape was painted on a wall behind Sandy Point Beach House, adding to the lakeshore ambiance of this casual fine dining restaurant. The mural was painted by Sotir Davidhi, an Albanian artist who now calls Grand Rapids home.
"Be The Light"
822 Ottawa Ave. NW
Inspired by the Basilica of Sangrada Familia in Barcelona, Spain, Lansing-based artist Tamara Brown created this mural on the side of a building across the parking lot from Sandy Point Beach House. It was an ArtPrize 2017 entry.
"Dreamchaser"
800 Ottawa Ave. NW
Grand Rapids artist Kevin Wolfrom (aka Gump) painted a hand reaching for a blazing celestial body in this mural, which was made possible through Downtown Grand Rapids Inc.'s "Activate This Place" grant program. It's at the corner of Ottawa Ave. and Newberry St.
Walk west on Newberry.
"Grand Rapids Chicks"
805 Ottawa Ave. NW
This portrait of a 1945 female baseball team adorns the south wall of Auto FixIt Body Shop.
Grand Rapids artist Michi Farias created the piece as part of the "Women's Way" public art project, which aims to honor historic local women leaders and enhance often overlooked alleyways.
Continue west on Newberry and turn north on Bond Avenue.
Untitled
819 Ottawa Ave. NW
Grand Rapids artist Kyle DeGroff painted this vibrant untitled mural on the back entrance of Grand Rapids Garage Bar & Grill. DeGroff has also created large-scale exterior murals for Long Road Distillers in Uptown and Graydon's Crossing in the North Quarter, among others.
Head back south on Bond for a block, to Fairbanks Street.
Head west on Newberry, which dead ends onto Monroe Avenue, where you started – and where you have plenty of options for a meal or beverage before continuing on with your day!