There's no shortage of things to do in Grand Rapids. So, when planning a GR getaway, you may be thinking, "Where do I start?" To help you answer this question, we looked to our social media community and asked them to share the top place they would take an out-of-town friend. 

We received so many responses that we decided to select the 23 most-recommended ideas to help you plan your trip to GR in 2023.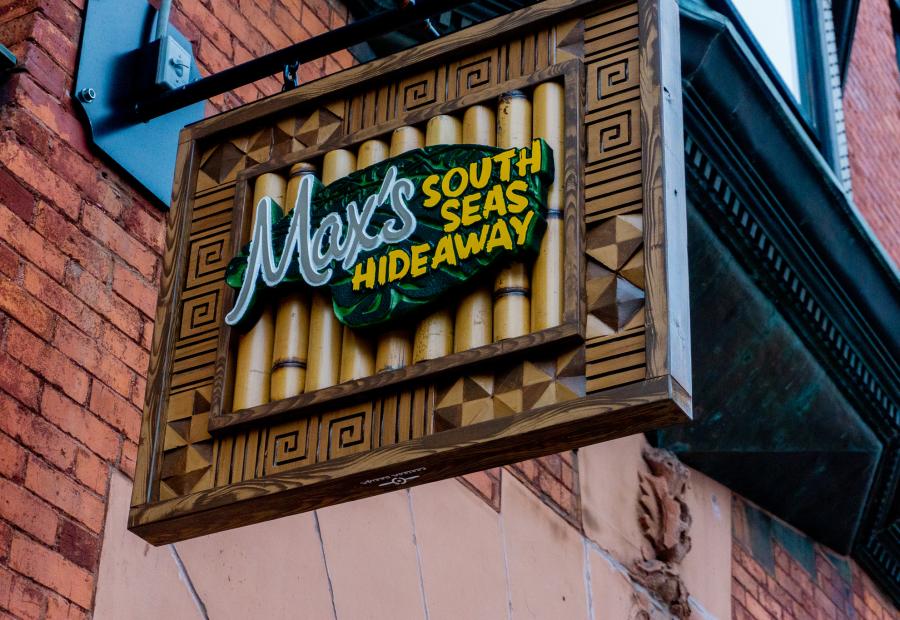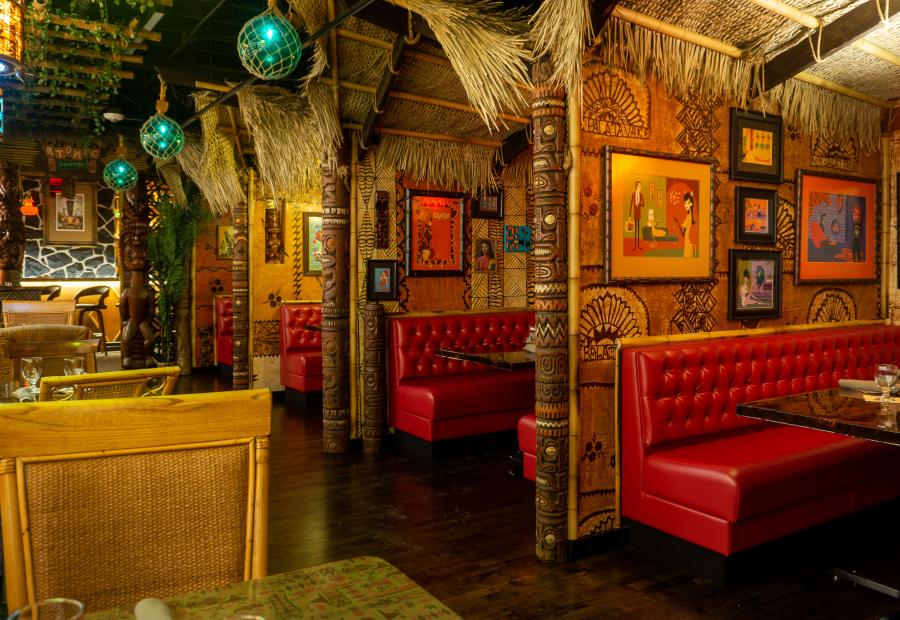 Our followers recommended Max's South Seas Hideaway for its menu and ambiance.
Photo by Brian Craig for Experience Grand Rapids
Restaurants, Breweries, and Bars
Of all the things you could do in GR, places to eat and drink were most frequently mentioned. These are the restaurants, breweries and bars that received the most mentions from our followers:
Field & Fire
Field & Fire has two locations. The bakery is in the Grand Rapids Downtown Market and sells wood-fired bread, pastries, and other baked goods. The café is located in the Monroe North area and offers baked goods plus breakfast and lunch items like skillets, sandwiches, salads, and bowls.
Founders Brewery
Beer lovers pilgrimage to Founders not only to take a tour and enjoy their favorite brew on-tap but also to savor taproom-only brews, along with some great food options.
Max's South Seas Hideaway
Max's isn't just a tiki bar, it's an immersive, two-story Polynesian-inspired experience that boasts an impressive tiki-themed cocktail menu and an eclectic food menu, including vegetarian and vegan options.
MDRD
MDRD (pronounced "Madrid") is perched on the top two floors of the 29-story Amway Grand Plaza hotel, one of the tallest buildings in Grand Rapids. Its floor-to-ceiling windows and private balcony allow for magnificent views with equally delicious modern Spanish cuisine.
MDRD's stunning views of the city pair well with its thoughtfully-prepared modern Spanish cuisine.
Photo by Brian Kelly for Experience GR
San Chez Bistro
San Chez's menu mixes European, Mediterranean, and Latin American cuisine, whether you're there for brunch (available from 9 am-2 pm) or tapas (available all day). San Chez also offers gluten-free and tree-nut-free special menus and vegetarian and vegan options.
Stella's Lounge
Stella's is well-loved for their giant stuffed burgers. It's also become a favorite among local vegans for its extensive plant-based menu. Dietary preferences aside, the vibe is also worth the visit with TVs playing throwback shows and a collection of arcade games.
The B.O.B
The Big Old Building (aka The B.O.B.) is your answer to the question: "What do we do tonight?" The B.O.B. houses six venues under one roof, including a brewery, live music venue, pizzeria, comedy club, and event space.
The Mitten Brewing Co.
The Mitten is a West Side staple loved for two things: its beer and its pizza. Better yet, you can enjoy both as a flight.  
The Old Goat
Located within the Alger Heights neighborhood, The Old Goat is known for its from-scratch fare for brunch, lunch, and dinner.
Wolfgang's Restaurant
Just look for the line of people along Wealthy Street in the Eastown neighborhood, and you'll know you've found Wolfgang's. Trust us -- their all-day breakfast is worth the wait.
Yesterdog
An Uptown tradition, Yesterdog is a must for hot dog lovers… and movie lovers. The restaurant has appeared in two movies: Why Him? and the first film in the American Pie series.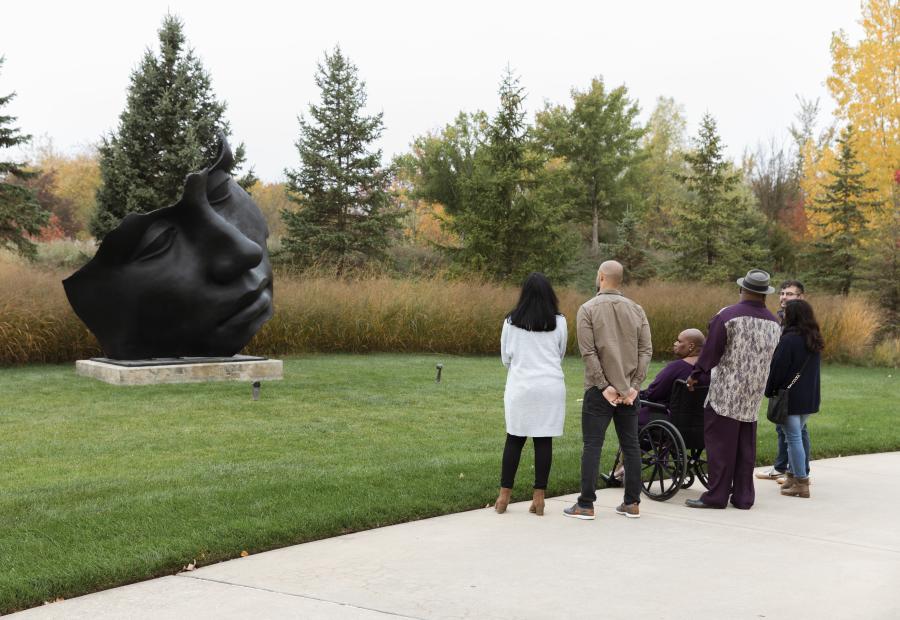 Given the amount mentions it received by our social media followers, Frederik Meijer Gardens & Sculpture Park is a must-visit in Grand Rapids.
Photo by Experience Grand Rapids
Museums and Cultural Attractions
These are the museums and other cultural-hot spots our followers mentioned most frequently:
Frederik Meijer Gardens & Sculpture Park
One of the most recommended activities in Grand Rapids was a visit to Frederik Meijer Gardens & Sculpture Park. Wander through its tropical conservatory, visit its outdoor Japanese Garden, or take in some of the nearly 300 works of art. You'll see why so many Grand Rapidians consider Meijer Gardens a must.
Gerald R. Ford Museum Presidential Museum
The 38th President of the United States grew up in Grand Rapids. The Gerald R. Ford Presidential Museum is a loving tribute to his presidency and life. In addition to permanent exhibits like an exact oval office replica, the museum also offers temporary exhibitions.
Grand Rapids Public Museum
The Grand Rapids Public Museum has three floors of interactive exhibits focusing on science, history, and culture. In addition to riding its newly restored carousel, our followers recommend a visit to the Roger B. Chaffee Planetarium.
Grand Rapids Griffins
The Griffins are the America Hockey League affiliate of the Detroit Red Wings. Their entertaining home games are played at the Van Andel Arena.
John Ball Zoo
The John Ball Zoo is home to over 200 species of animals whose habitats allow for fun and educational experiences. The zoo is a family favorite for its four-story zipline, ropes course, and funicular rides that will take you to the second-highest ridge in Grand Rapids.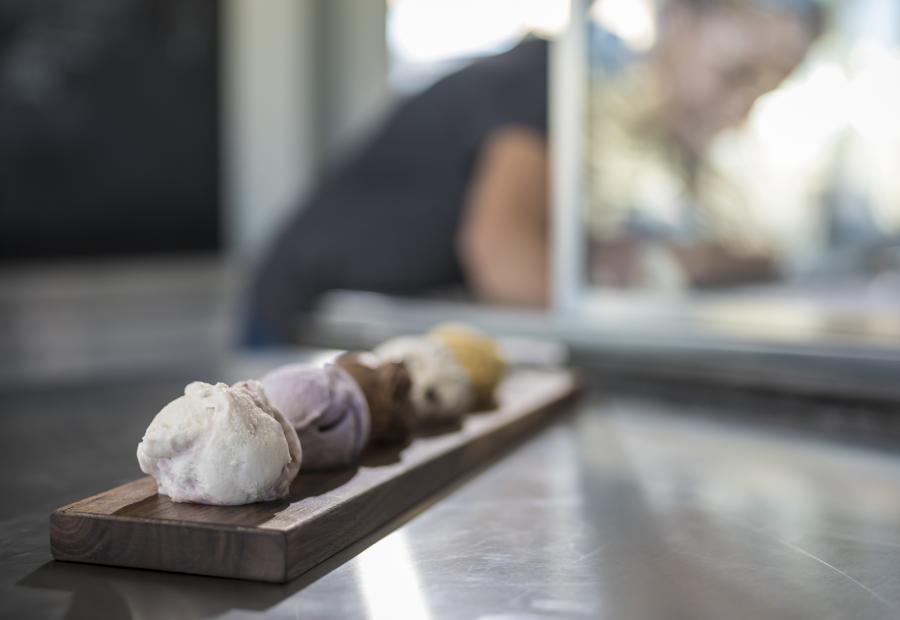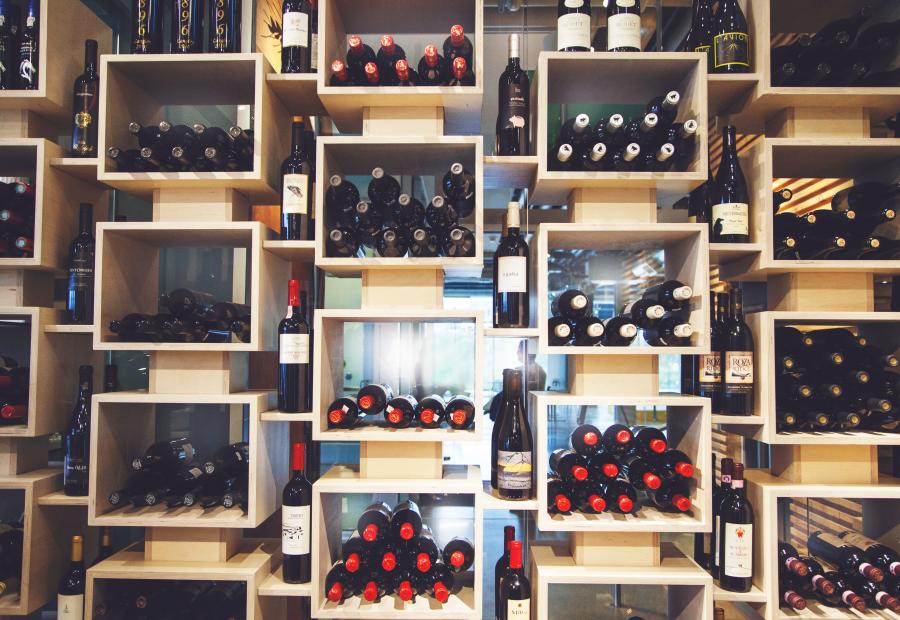 Our followers recommend the Downtown Market for its many specialty shops, take-out spots and dine-in restaurants.
Photo by Experience Grand Rapids
Shopping
Grand Rapids is home to many unique local shops. Here are some of our followers' faves.
Grand Rapids Downtown Market
The Downtown Market is a local-foods emporium filled with retailers, ready-to-eat options, restaurants, and specialty foods. Shop gourmet food vendors like Carvers, Fish Lads, or Spice Merchants, grab a bite from one of the ready-to-eat spots like Juju Bird, Rák Thai, or Tacos El Cuñado to enjoy in the upstairs gallery, or dine in at Love's Ice Cream, Aperitivo or Slows Bar-B-Q.
Fulton Street Farmers Market
Find everything from fresh bread, honey, meat, and baked goods to in-season local produce at the Fulton Street Farmer's Market. The market is open year-round on Saturdays, with additional days and times added in the late spring and summer. Local food trucks and musicians often stop by to provide an extra treat and entertainment for patrons.
Martha's Vineyard
We heard a lot about Martha's Vineyard because, well, Martha's is many things. It's a wine merchant, a gourmet grocer, a boutique liquor store, a deli, and more. While you're there, head next door to Martha's Pizza, one of many local favorite spots to grab a slice (or two).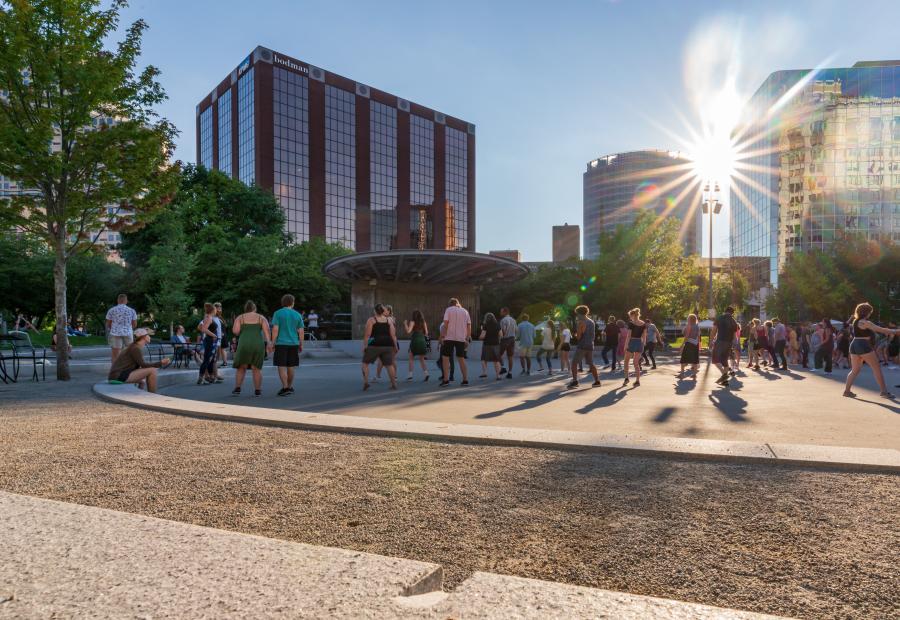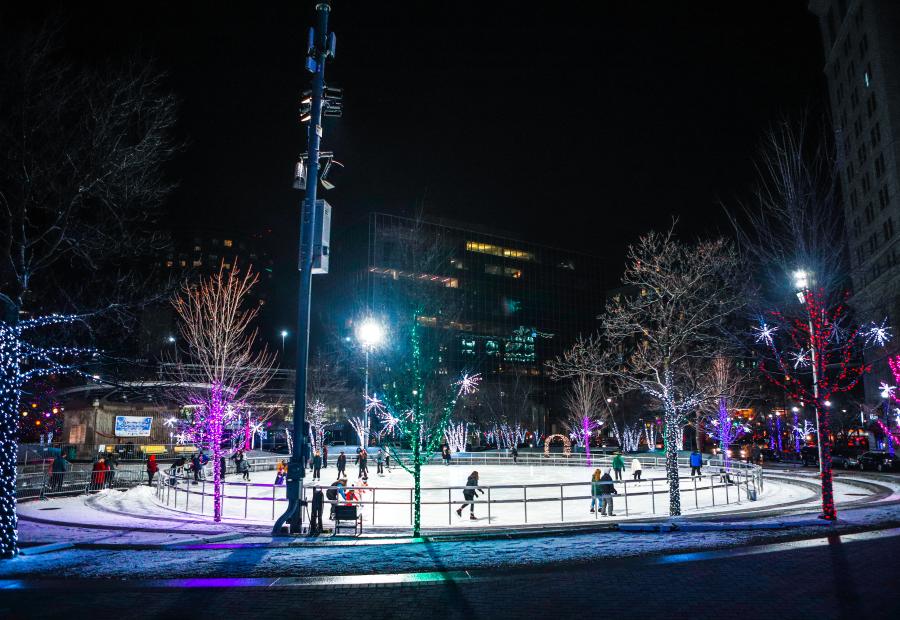 Rosa Parks Circle is a place where locals gather year round.
Photo by Credit: Experience Grand Rapids
Public Art and Other Unique Spots
Grand Rapids is known for its art scene and other fun, surprising places to visit. Here are the places our followers mentioned the most:
Amway Grand Plaza Hotel
The Amway Grand Plaza was cited several times. Many followers mentioned the history of the building. Other followers recommend it for its 70s-themed speakeasy, IDC, for its year-round covered balcony. IDC is open to the public, though you need a secret code to enter. (Sign up for the code at IDC's website… but you didn't hear this from us.)
Fish Ladder Park
Our followers mentioned how much they enjoyed watching salmon, steelhead, and brown trout jump up the "ladder" of Fish Ladder Park. Joseph Kinnebrew designed this functional and compelling work of art. The piece allows migrating fish to get around the Grand River's powerful water flow.
Rosa Parks Circle
For our followers, Rosa Parks Circle is a special place for many reasons: ice skating among twinkling winter lights, swing dancing and salsa dancing with friends, listening to free summer outdoor concerts, and attending festivals and events. What's even more special? Housed within the park is "Ecliptic," a sculpture designed by renowned artist Maya Lin.
The Blue Bridge
The backdrop to many events both large and small, The Blue Bridge is an iconic Grand Rapids location. Besides being a pedestrian bridge spanning the Grand River, this bridge is a public art location, an event site, and a major photo op.
These are just a few of the many places suggested by our social media community. If you're traveling to the Grand Rapids area soon, we hope you'll follow us on Facebook, Instagram, and TikTok for more recommendations!