Whether they come for a business meeting, a weekend getaway, a family vacation, or an annual convention, West Michigan visitors' interests are as diverse as their backgrounds. So, when it comes to defining a truly great visitor destination, I'd start by saying, it must have something for everyone. That's a tall order.
The Grand Rapids Downtown Market is one venue that checks a whole lot of boxes – fresh and innovative local dining, along with food and beverage-centric shopping, creative culinary programs and events, fun family activities, and truly distinctive spaces for corporate and private gatherings.
Growing in the heart of the Heartside Neighborhood since 2013, the Downtown Market now features over 20 local purveyors of food, beverages and specialty products. This hyper-local focus makes the market a draw for visitors and residents, alike, who love to eat local food and support small businesses.
Mimi Fritz, president and CEO of the Downtown Market, says, "The Market is not only a great place to try new foods or sample your way through several cuisines in one visit, but also hosts free public events and is a gathering spot for the community. Whether visitors need a place they can meet for coffee, host a business meeting or event, or enjoy a delicious meal, we offer some amazing local options."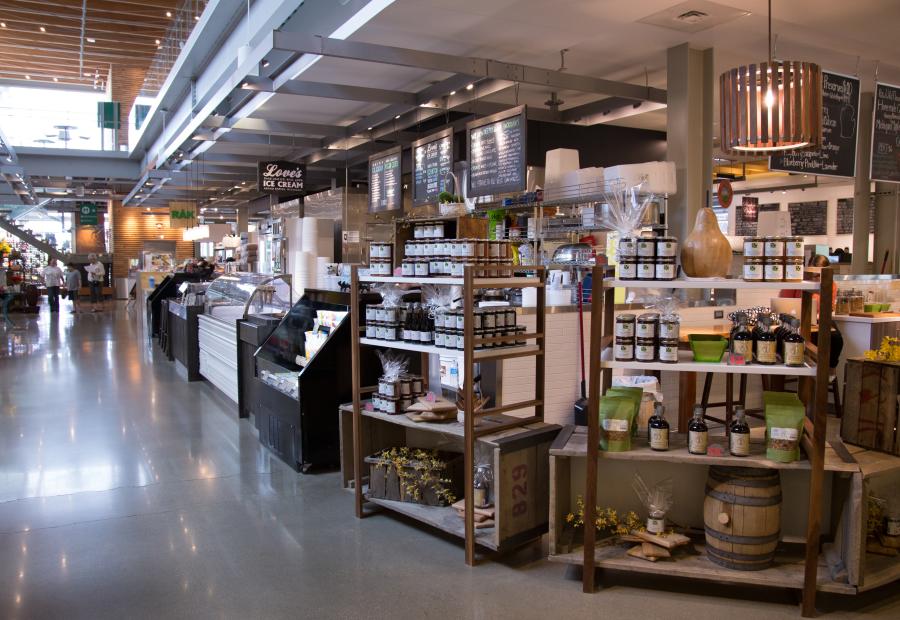 The Downtown Market is open 7 days a week and has over 20+ vendors.
Photo by Photo Courtesy of Experience GR
As many as one million people visit the Downtown Market each year to try new foods, sample different cuisines, attend a free culinary event, and gather with friends or colleagues for a leisurely coffee or off-site meeting. Since the Market's opening, more than 1,000 start-up food entrepreneurs have used its Incubator Kitchen program – which includes professional-grade equipment available 24/7 for food production, packaging, prepping and catering – to further their dreams. Many have gone on to open their own businesses around town.
The Market's impact extends beyond the food arena, as it has also stimulated residential and retail development in formerly vacant warehouses in the surrounding neighborhood – an area some refer to now as the Market District.
These successes have validated organizers' vision that the Downtown Market would not just be a tremendous attraction, but it would also help build a healthier community and economy.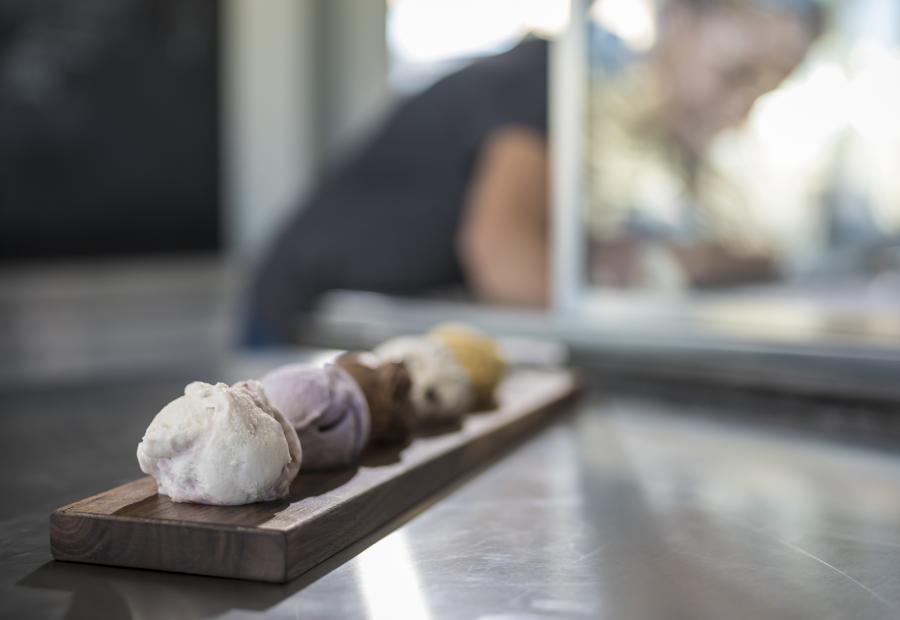 Stop by Love's Ice Cream for their 5 scoop flights or boozy ice cream cocktails.
Photo by Experience Grand Rapids
What to expect when you visit
The Market Hall on the first floor of the facility is laid out so you can easily browse the collection of butchers, bakers, fishmongers and other artisan food vendors, with wide aisles and  prominent signage. You might want to start your visit with a beverage from Alt City Beverage Company, High Tide Soda or Squibb Coffee Bar. That'll give you the energy to power through your culinary adventure.
If you're shopping for home cooking ingredients, you'll want to peruse the fresh seafood at Fish Lads, the premium meats at Carvers, and the many flavor-enhancing items at Old World Olive Co. and Spice Merchants. Hosting a dinner party? Stop by Aperitivo for cheese, charcuterie, wine and beer. Pick up dessert to go at Field & Fire Bakery, Gaby's Gourmandise or Love's Ice Cream & Chocolate. Hit Dorothy & Tony's Gourmet Popcorn to stock up on after-dinner snacks.
Many of these vendors offer selections to enjoy on site, too – including burgers, sandwiches, salads, shrimp, pizza, quiches, cookies, cinnamon buns and so much more. You can enjoy your food and drink on the second floor of the Market or on the outdoor patio, both equipped with comfortable tables and chairs.
Other Market Hall tenants focus on serving lunch and dinner – and even late breakfast, as the Market opens at 10am on Saturday and Sunday (11am on weekdays). There's a world of flavors to explore, from American (Juju Bird, Pinktail Poke and Slows Bar-B-Q) to Asian (Rák Thai and Sushi Market), and from Mediterranean (Café de Miro) to Mexican (Tacos El Cuñado). Some of these restaurants offer private seating inside the Market.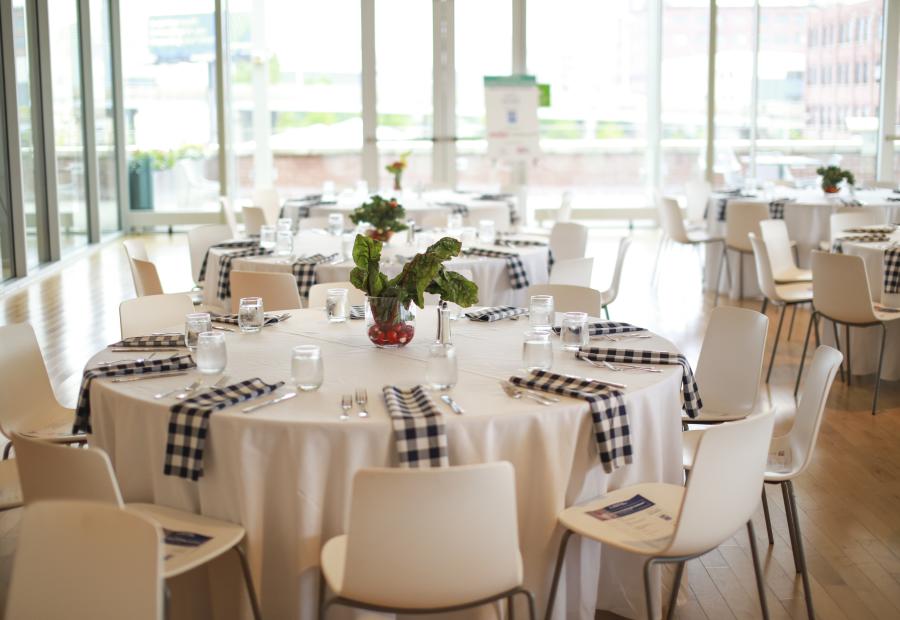 The Banquet Room can seat 180-250 guests for events.
Photo by Grand Rapids Downtown Market
A community gathering spot
The Market also hosts special events throughout the year, each designed to bring the community together for food and fun. COVID-19 put a stop to these celebrations, but they're slowly coming back as people feel more comfortable with large indoor gatherings.
Weddings, corporate outings and team-building events are already back in full force, as the Market's banquet room and rooftop greenhouse, both boasting spectacular city views, are much coveted by brides and businesses.
Whatever your occasion to visit the Downtown Market, you can count on feeling welcome and comfortable. The facility was built to provide an accessible experience for differently abled patrons and abundant sustainability features create an eco- and people-friendly environment.   
The Grand Rapids Downtown Market will satisfy your craving for delicious food and fun ambience. Stop by today – it's open seven days a week!