Whether they come for a business meeting, a weekend getaway, a family vacation, or an annual convention, West Michigan visitors' interests are as diverse as their backgrounds. So, when it comes to defining a truly great visitor destination, I'd start by saying, it must have something for everyone. That's a tall order.
The Downtown Market is one downtown Grand Rapids venue that checks a whole lot of boxes – fresh and innovative local dining, along with food and beverage-centric shopping, creative culinary and horticultural classes, fun family activities and truly distinctive event space.
Growing in the heart of the Heartside Neighborhood since 2013, the Downtown Market now features over 20 local purveyors of food, beverages and specialty products. This hyper-local focus makes the market a draw for visitors and residents, alike, who love to eat local food and support small businesses.
Mimi Fritz, president and CEO of the Downtown Market, says, "The Market is not only a great place to try new foods or sample your way through several cuisines in one visit, but also hosts free public events and is a gathering spot for the community. Whether visitors need a place they can meet for coffee, host a business meeting or event, or enjoy a delicious meal, we offer some amazing local options."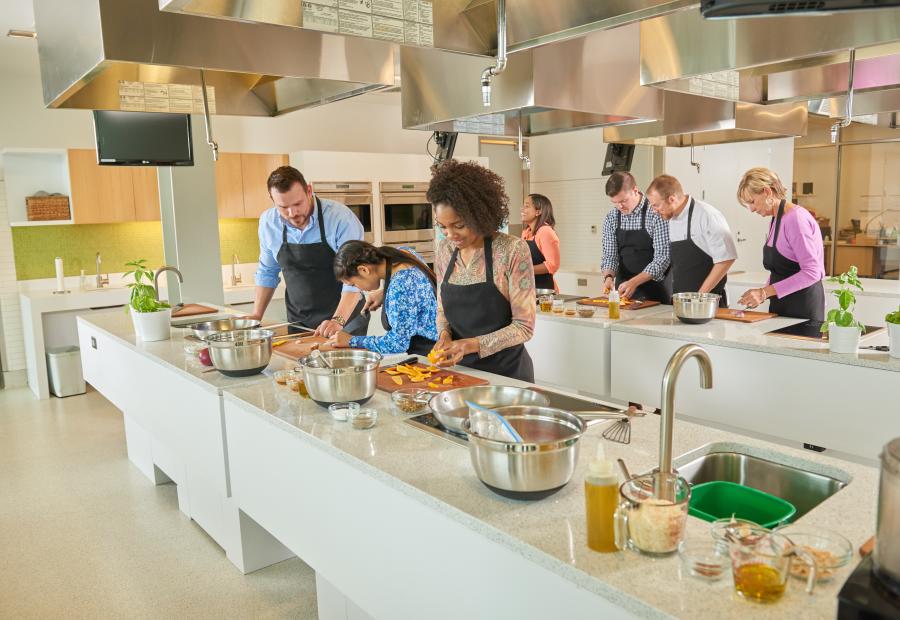 Downtown Market offers cooking classes for all ages and skill levels!
Photo by Downtown Market
Perhaps that's why the Downtown Market welcomed nearly one million visitors in 2017 and celebrated a 14 percent sales increase over the previous year. It's also stimulated residential and retail development in formerly vacant warehouses in the surrounding neighborhood – an area some refer to now as the Market District.
As a founding board member of the Downtown Market, it's been clear to me from opening day that this gathering place would not only be a tremendous attraction, it would also help us build a healthier community and economy.
Why? The best way to answer is to take you there – at least figuratively.
You might start your excursion with a rich Madcap  espresso and a buttery Field & Fire  croissant or a fresh muffin from Sweetie-licious .
Next, up your game in the kitchen with a knife skills or culinary class.  You can even host corporate outings or team-building events in the teaching kitchen.
Maybe you're looking for event space to accommodate a larger group – the banquet room with floor to ceiling windows or rooftop greenhouse boast spectacular city views and a fresh take on meeting and event space.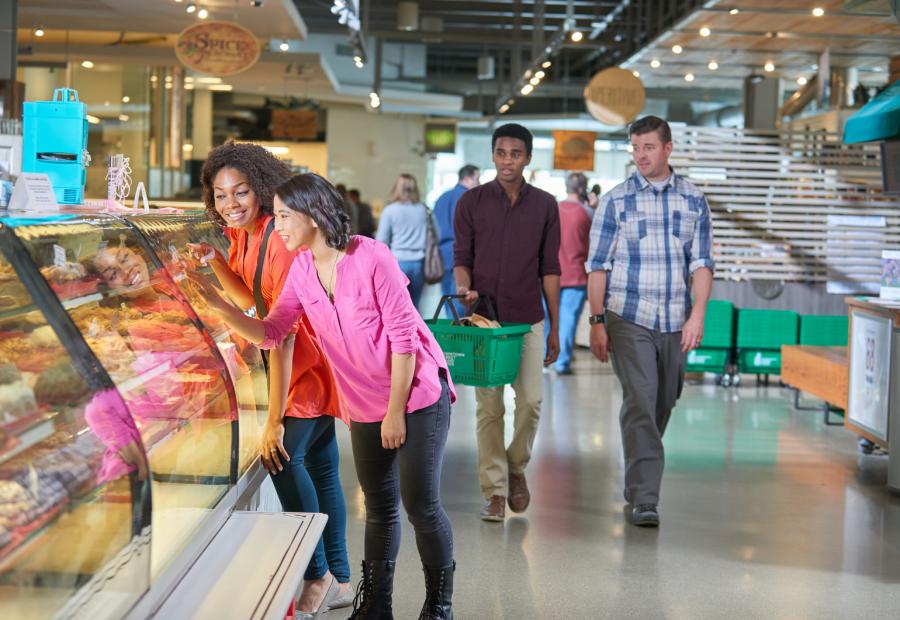 Friends and family shopping and exploring at Downtown Market.
Photo by Experience Grand Rapids
Headed home after your visit? Select some fresh fare from Fish Lads or Carvers and add exotic flavor with a stop at Spice Merchants and Old World Olive Co. Then complete the menu with help from Aperitivo – while you're there, enjoy a charcuterie and perfect wine and cheese pairing. If a sit-down dining experience is your thing, then Slow's BBQ is a wonderful and tasty option.
But at the Downtown Market, it's not just about today's shopping, dining, event or classroom experience. It's also about empowering tomorrow's culinary entrepreneurs.
The market's Incubator Kitchen kick-starts local food start-ups by offering affordable kitchen rates and practical business instruction and tools to budding entrepreneurs looking to start food businesses. The kitchen provides a supportive, flexible environment, fully outfitted with professional-grade equipment ready for food production, packaging, prepping and catering 24/7.
According to Fritz, "Since its inception in 2013, the Downtown Market ecosystem, including the Incubator Kitchen, has launched more than 85 businesses, created 500 jobs and counseled more than 450 entrepreneurs."
That's important because when we foster good food and creative entrepreneurship, we cultivate a great place to visit, do business and live.
So, join us! Whatever your tastes, you can satisfy your craving at the Downtown Market.