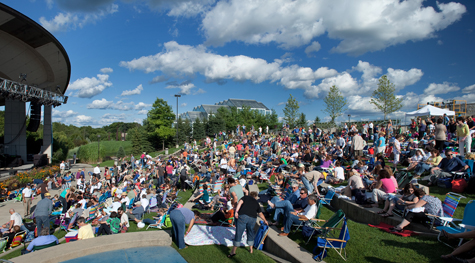 Outdoor Summer Concert Series at Meijer Gardens
Grand Rapids is passionate about the arts, and nowhere is that more evident than in the live music found readily throughout the city. But while live music is a year-round way of life in Grand Rapids, summer is a particularly great time to experience the richness of the local music scene.
Perhaps nowhere is the diversity and enthusiasm of Grand Rapids music lovers better represented than during the annual Outdoor Summer Concert Series at Meijer Gardens. Now in its 11th year, the 2013 line-up features 29 concerts from an impressive line-up of talent, including B.B. King, Sheryl Crow, The Beach Boys and Harry Connick, Jr.
The concert series enjoyed massive success over its first decade, growing from a handful of artists in its first year, to 25 in 2012, says Andrea Wolschleger, Public Relations Manager for Meijer Gardens. And the concert series reaches a broad audience: Wolschleger reports many inquiries from Chicago, Detroit, Ann Arbor, Lansing, and beyond.
"The Outdoor Summer Concert Series offers a unique venue and audience experience in several ways," explains Wolschleger. "We are a relatively small venue our seating capacity is 1900 guests, so audience members enjoy an intimate setting they wouldn't get at a larger venue."
Wolschleger also points to the casual nature of the amphitheater. Visitors are welcome to bring in a picnic dinner or stop and grab a meal on the way, and a variety of beverages are available for purchase on-site.
Seating is general, and audience members may bring in a low-rise lawn chair of no more than 12" maximum from ground to front of seat bottom and 31" maximum to top of chair back in highest position, and a limited number of standard-height chairs in a special seating area are available to rent for $5.
As many of the performers are big names, its not surprising that tickets to the Outdoor Summer Concert Series sell out fast. "If it's a band or artist you really want to see, the best chance of getting a ticket is to become a member of the gardens," suggests Wolschleger, explaining that members are offered a pre-sale opportunity that lasts two weeks before tickets go on sale to the general public. Getting access to the pre-sale is practically a necessity to see certain artists like Harry Connick Jr., whose tickets sold out within the first 20 minutes of the pre-sale.
A newcomer to the Grand Rapids music scene, GRandJazzFest, a free, live jazz festival dedicated to featuring Michigan-area artists, is back for its second year in 2013. "After years of wondering why smaller cities in Michigan were hosting free live jazz festivals and Grand Rapids was not, I approached some other jazz lovers in our community, and GRandJazzFest was created," says Audrey Sundstrom, the events founder and President of GR and Jazz, the non-profit that organizes the festival.
"GRandJazzFest," Sundstrom explains, "built upon the already-rich jazz scene in Grand Rapids, including the WMJS jazz concerts, St. Cecilias Jazz Series, and the live jazz available in local venues year-round."
"Supported by the public and dozens of sponsors, the event's inaugural year turned out to be a huge success, featuring perfect weather and a wonderful turnout from our community and well beyond," says Sundstrom. "Visitors from Boston, Rhode Island, Kansas city, Chicago and elsewhere were among the 4,000+ audience members enjoying and dancing along with the music."
In 2013, GRandJazzFest has been expanded to two days: Saturday, August 17 and Sunday, August 18 at Rosa Parks Circle in downtown Grand Rapids. Nick Colionne, a nationally-acclaimed contemporary jazz guitarist from Chicago, and Phil Denny, a contemporary jazz saxophonist from Lansing, are headlining the twelve-act lineup.
GRandJazzFest prides itself on being a diverse, family-friendly event, accommodating of children and strollers, and welcoming to people of all backgrounds.
The event is also a staunch supporter of local business, offering no vendor sales. "We encourage attendees to visit local businesses during set breaks for food, beverages and shopping or culture, and we use local suppliers for all of our needs," explains Sundstrom.
How to best experience GRandJazzFest? "It's simple," says Sundstrom. "Engage, be inspired by and enjoy an original American art form - jazz! Bring a chair and stay a while."
For even more musical events in Grand Rapids, check out:
Blues on the Mall every Wednesday evening, June 12 August 21 from 6 PM 9 PM, enjoy free live music at Rosa Parks Circle.
City Lights Music Festival fans of house music and electronica will flock to Grand Rapids on July 19 & 20 for this event at Calder Plaza, now in its 5th year.